Written by FRED BROOKS & JILL O'REILLY
Editor's Note: The Organizers' Forum in Cameroon was a unique experience co-sponsored by ACORN International and our French-based transnational campaigning partner, ReAct. Not only did we have a rich menu of constant meetings, but we were able to integrate the dialogues with our organizing colleagues from west-central Africa and become deeply involved in the critical campaign they have been waging against land-grabbing by the multinational, neo-colonial conglomerate, Bollore, which is discussed as well in this special report. We were also struck by the twisted and repressive nature of political life in Cameroon, where election rules and constitutional rights are stacked against popular rule. Registration and eligibility for voting is suppressed, first-past-the-post election rules have made unseating the dictatorship virtually impossible, as are multiple endorsements or fusion by political parties to win by coalescing behind one candidate. As the reports detail, the obstacles and odds faced by organizers are extreme, but as they also indicate the delegation left Cameroon with a deeper commitment to our colleagues and their struggles and real hope for their success.
This year's forum brought together organizers from Cameroon, Morocco, Liberia, Ivory Coast, and France, in addition to our delegations from the U.S. and Canada. Unfortunately, organizers from Sierra Leone, Kenya and Cambodia were scheduled to attend the conference, and even though they had letters suggesting they could get Cameroon Visas upon arrival, were turned away at the Douala airport and sent back on the next flights to their home countries. This lack of flexibility, and authoritarian protocol, foreshadowed the challenging organizing environment that we learned about through numerous stories organizers told us during our week in Cameroon.
One take away from our week in Cameroon, is that the shadow of French colonization for most of the 20th century is long and dark. Even though Cameroon won independence from France in 1960, after a five-year guerilla war followed by what many consider civil war (death estimates range from tens of thousands to several hundred thousand), Cameroon's current President Paul Biya has been in office for the past 34 years. As one dynamic leader from a progressive opposition political party put it "central Africa is the last bastion of dictators on the face of the earth; we have the largest percentage of dictators per square mile than anywhere."
During our week in Cameroon we learned much about the challenges citizens face in organizing for free and fair democratic elections, women's rights, union organizing drives among school teachers and shipyard workers, college student organizing, and several campaigns of citizens seeking redress and compensation around instances of eminent domain or "land grabbing" by the Cameroonian government and the giant industrial palm oil corporation from France called Bolloré. From the organizations we met, it was clear that Cameroonian activists and organizers are unafraid to take bold and risky actions in their fight for improved democratic governance and social and economic justice.

Student Organizing at Universities
Even though a number of reports we heard suggested some degree of "softening" from violent, authoritarian rule since the 1990's; political activism and demonstrations can easily get someone arrested or placed under surveillance quickly even today. Some of the most exciting organizing we heard about was from college student organizers engaged in various campaigns at universities around issues such as lowering fees for Student ID cards, costs for  student housing, and copying charges. A simple campus protest got five students arrested. The official charge was that the student union was not a "registered" student organization (not being a registered organization was a recurrent theme amongst several organizations we met with, and a common government tactic used to suppress organizing). The students spent five days in jail before, just by chance, a friendly attorney they knew was making rounds and they got his attention. It sounded like if this attorney had not been passing by they might have spent weeks or months in jail for simply staging a demonstration. One student leader we spoke with was afraid to travel at night, and survived an incident where authorities put sleeping pills into his drink in an attempt to steal his laptop computer. Clearly, being an activist in Cameroon is not for the faint of heart!
Another youthful student organizer had done an internship in a shipbuilding yard and was "shocked" by how he saw workers treated. He stated that the oppressive working conditions were bad, workers were fired for all types of false accusations, and could be fired for using the bathroom. He reported that the shipyard had won a community benefits agreement, but was still facing a challenging organizing environment. The union organizing drive is yet to get dues paying members or win a collective bargaining agreement. Despite all this, the organizer's resolve was strong to continue the fight for a viable union in shipyard.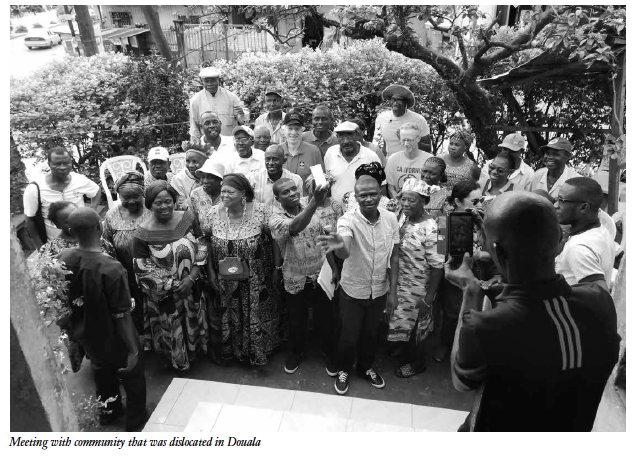 Organizing Evicted Families
During our week in Douala we learned that there is an eminent domain law on the books requiring fair compensation and support for relocations, but the government rarely (if ever) follows through on compensation to families evicted from their homes for public/corporate expansion projects. The problem is so endemic there is a city-wide organization of five different neighborhood groups of evicted families fighting for compensation they were promised by the state.
The most dramatic case we heard during our visit to the Bependa neighborhood in Douala where we met with families who were evicted in 1986 for the expansion of a public utility right of way. At the time the 908 affected families were promised $1.7 billion Cameroonian Francs (which would have been approximately $3,000 US dollars per family). Thirty years later the families have yet to receive any compensation. It was pretty clear that they had not been organizing for 30 straight years on this issue, but over the past couple of years the campaign was resurrected since many of those who were evicted 30 years ago were now senior citizens and they had more time on their hands to rejoin their fight for justice and what they had been promised. Although they have organized several sit-in demonstrations against politicians and government agencies, the campaign appeared hampered by several factors: 1) some of the early leaders of the campaign have passed away, 2) the seniors we met stated it was difficult to get more youth involved, 3) the organization has few financial resources and it costs 120,000 CFA (~ $200) to rent a bus to travel to the Capital of Yaoundé for demonstrations, and 4) the court system seems so arbitrary that expanding tactics to include a law suit did not appear a viable tactic.
We learned that one evicted group had filed a lawsuit several years ago, and to date the suit has never received a hearing. The community organization representing the five evicted groups also fell into the trap of the government not "recognizing" their application to be an organization. The government sat on their application to be an organization for two years before finally approving it. The association seemed reluctant to organize any significant actions/demonstrations over the two years while the application was pending.
In other campaigns we he visited it was difficult to get a handle on how the courts and justice system operated in Cameroon. Although we never met any attorneys who knew the system well, our impression was that the court system in Cameroon is pretty arbitrary and corrupt, and a legitimate lawsuit might never make it to a hearing if the authorities did not want it to.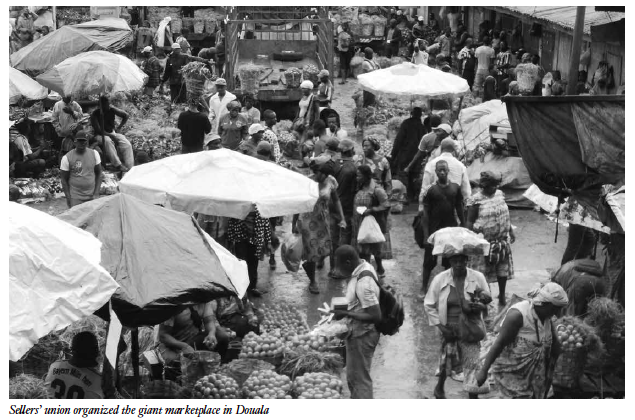 Elections and Voter Registration
We met with the director and several organizers of Un Monde Avenir (A World to Come) which engages in a variety of civic education, voter registration activities, election monitoring, and training youth leaders about democratic participation. Our meeting took place in a board room underneath a huge poster describing the numerous steps Un Monde Avenir organizers take to educate voters and support free and fair elections. A number of steps were dedicated to monitoring the polls and ballot boxes. During the last election Un Monde Avenir trained 1000 election monitors and they have the same goal for the upcoming 2018 elections. This is extremely important work, since we heard from numerous organizers and activists during the week that voter intimidation, suppression, and fraud were common during elections. Two leaders of the Women's International League for Peace & Freedom told us that women "have been killed [trying to exercise their right to vote] during past elections".
The dominant political party of the 34-year rule of President Paul Biya—People's Democratic Movement—has systematically created structural challenges making it difficult for opposition parties to win elections. One rule is that there are no run-off elections, such that oppositional parties sometimes split the majority of the votes, such as in 1992 when Biya won the election with only 40% of the vote. Since there was no run-off Biya won even though oppositional parties split 60% of the vote. Since oppositional parties are not allowed to form alliances, Cameroon has been dominated by one party rule. Oppositional political parties were not even allowed on the ballot until 1990. Another voter suppression tool is the law that to vote you must be 20 years old, even though 18 is the legal age of adulthood. The population of Cameroon skews toward the young, so this law suppresses the youth vote.
Oppositional parties have made progress over the past 25 years; the Social Democratic Front (SDF), the largest oppositional party, currently has 18 Deputies, 14 Senators, 800 local Counselors, and 23 Mayors in elected office across Cameroon. SDF's platform includes fighting to change the Constitution in Cameroon to allow: 1) freedom of association, 2) free thinking and speech, and 3) have the government abide by the United Nations Declaration of Human Rights.
We met with a variety of leaders of two pro-democracy activist organizations: Cameroon Obosso (Obosso stands for In Front) and Stand-Up for Cameroon. Cameroon Obosso is a political, non-partisan, progressive organization, fighting for the rights of women, children and people living with disabilities. They say the majority of the population is marginalized and they fight on behalf of the marginalized. One of their programs is called "Wave of Women" which trains women to run for office and monitor elections. Some Wave of Women participants have won elected office. We met with Edith Kahbang Walla, who was a leader of these organizations and also ran for President in 2011 as a member the Cameroon People's Party (CPP). To insure representation of marginalized groups the CPP has quotas for the percentages of their candidates that must come from marginalized groups. Accordingly, 30% of CPP electoral candidates must be women, 10% people with disabilities, and 50% under the age of 35 (since the majority of the population is not 35 years old). In one 2011 election district Ms. Walla won the majority of votes for President; when she tried to visit the village after the election the local administrator met her on her way into town and told her she could not enter the village. In response Ms. Walla got her two cars to block all traffic entering the town and the administrator finally relented and let her enter the city and talk to the people. Ms. Walla's confidence and hutzpah suggests that the she is helping the moral arc of the universe in Cameroon's bend towards justice.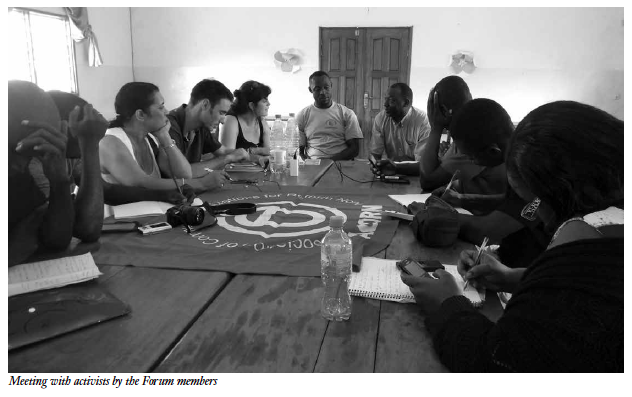 Women's International League for Peace and Freedom
The last day, we met with Mme Sylvie Doucaute and her associates around women's voting rights and violence during elections. Their main objectives are currently focusing all energy in engaging women across the country, developing a pool of leaders to participate in the upcoming election planning process. They explained their deep focus on the north part of the country, where Boko Haram occupies some of the area. Mme Doucaute highlighted meetings with the Ministry of Gender (a teacher herself, no stranger to getting the message across, with persistence and a great deal of patience) she has just attended and the need for a national action plan around the elections allowing women to vote freely without harm. On the whole, we got the sense gender equality is becoming more of a forefront issue but in only recent past. The women we met with told us stories of women's struggles in day to day life: general harassment at markets, lack of supporters for women reporting cases of rape, harassment and violence in schools, judicial barriers and the list goes on.
Mme Doucaute highlighted that her group is receiving support from the UN and working to get international attention and help before the coming election. Women in Cameroon have about a 70% literacy rate, and though we didn't get the exact number, voting is most certainly not a priority for most women. WILPF's general mandate moving forward is getting women leaders involved and inserting themselves in the election process moving forward as well as keeping lines and dialogue open between her group, the ministry and international supporters.

Marche de Sanaga
Our second excursion into the field in Douala was to the largest wholesale produce market in Central Africa: Marche de Sanaga. Between tropical showers we received a thorough tour of the 4,500 vendor, heavily trafficked market from the president of the vendors association. The market was jam packed with vendors, some in sheds with tin ceilings, and others sitting on blankets with their produce spread out on the ground. In addition to thousands of sellers, the place was packed with buyers of every sort—some on foot with head baskets, others on motorcycles packed to the gills, and even assorted mini-vans splashing through the market's narrow muddy lanes.
Compared to almost every other organization we met with during our week in Douala, this seemed to be the most disciplined, membership-dues run organization we encountered. Dues amounted to 500 CFA per week, a little less than $1 US. Maybe not surprising, this membership funded organization, with clear cut self-interest and goals had some of the most concrete organizing victories we heard about during our visit. We learned that over the past year the government attempted to raise the monthly vendor rental fee by ten times (might have been lost in translation but it my notes say from 3,000 CFA (~ $6) to 30,000 CFA per month). The vendors association made it clear to the government that this was unacceptable and the government backed down and the rental price for vendors remained the same. The vendors association is planning a new campaign to get the government to upgrade the market infrastructure with more permanent and tin roofed sheds. They had a simple and straightforward organizing plan: send the owners a series of letters (maximum of 3) stating their demands; if the government did not meet their demands they would initiate a direct action campaign. Our brief tour of the market suggested that solidarity among the vendors is strong; seems like a good bet the vendors association will win their campaign over the next year!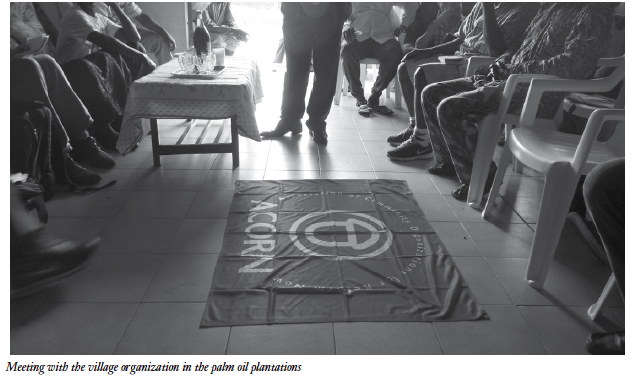 Concluding Thoughts
Probably the most ambitious and challenging campaign we learned about in Cameroon was the anti-land grabbing campaign the villagers in Kougue and Mbambou are mounting against the palm oil industrial giant Bollore. Since that local and international campaign is covered in the companion article in this issue by Eloise Maulet, the only comment we will make here relates to the simple challenge of getting from Douala to the organized villages located across the river some 40 kilometers outside of Douala.
Our midweek field trip to the villages turned out to be quite the adventure. We had rented a van and car service to take our delegation of 20+ organizers to visit the villages. What should have been a 45 minute trip home during the evening turned into a 4 hour marathon. The car broke down on the way out of the plantation about 5 miles from the nearest paved road. It was already dark, no electricity or lights anywhere for miles around. The van was already packed 3-4 passengers over capacity. The local driver was afraid if he stayed with the car he would be beaten-up or killed, and if we just left the car it would be stripped before we could get back. Every 15 minutes or so a local passed by on a motorbike, and we got one to drive to the nearest village and bring back a rope. Due to numerous hills and pot-holes (one of the campaign demands is for Bollore to pave the roads!) the tow rope broke 3 times on the way out and had to be re-tied before resuming at a snail's pace. Eventually we got the car to a gas station on the main road that had 24 hour security. We packed the van even tighter for the final 30 minute ride back to Douala. These mishaps and lack of comfort could have resorted in stress, anxiety and flaring tempers. We were impressed with the humor, camaraderie, and esprit de corps the local organizers displayed by taking this all in stride and even breaking into various organizing songs and chants that turned a high anxiety situation into an uplifting experience!
The icing on the organizing cake here is that the voyage to get to these rural communities is a struggle in and of itself, where organizers spend a day's journey to get to communities via taxi, river boat, and another moto-taxi, and then remain there for the week before returning to Douala. To think organizers in North America yammer about poorly serviced bus routes or transit; we've got no excuse!
Fred Brooks is a professor of Social Work at Georgia State University in Atlanta. Jill O'Reilly is the head organizer of Ottawa ACORN in Canada.