Written by John Anderson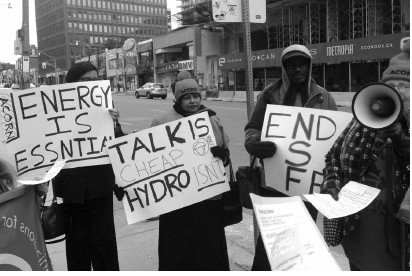 Energy Poverty is a new term for me. Growing up in Ontario where the publicly owned hydroelectric system originating from Niagara Falls provided affordable power, hydro as it's called here, was not something many had to worry about.
This changed when the Mike Harris Progressive Conservative Government dismantled Ontario Hydro in a privatization effort in the late 1990's. Ontario Power Generation, which manages and generates most of the power in the province and Hydro One, which distributes the power to the public, both were intended by the Conservatives to become private commercial companies, but campaign organizing over the years has managed to stop this from happening.
Earlier this month I heard Scott Travers speak about the disastrous effects of privatization in Ontario at the launch of a report he co-wrote with the Canadian Centre for Policy Alternatives. Travers is the President of the Society of Energy Professionals and the facts he pointed out were stark. Electricity rates have more than doubled. Because dismantling Ontario Hydro meant that several corporations were doing what one entity used to do, management costs ballooned, leading to higher rates. The Government had to develop regulations and administer them for each corporation, also leading to higher rates. Customers not only have a higher cost to bear but have a less reliable service overall due to less investment into the grid. Travers even credits the politicization and radicalization of his union to the fight to save Ontario Hydro and stop privatization.
I also have a history fighting hydro privatization, albeit a shorter and far less impactful one. While working away in the print room for the Ontario NDP during the 2003 provincial election, I was tasked with dressing up as a greedy capitalist dinosaur named Hydrozilla and crashing our Conservative opponents' campaign event. I was so
down for this. I dressed in the costume, got a ride to the Conservative campaign event north of Toronto, got out and became the hugest fan of the Conservatives privatization efforts. I clapped, chanted, and even tried to climb a fence to try and get the Conservatives leaders autograph.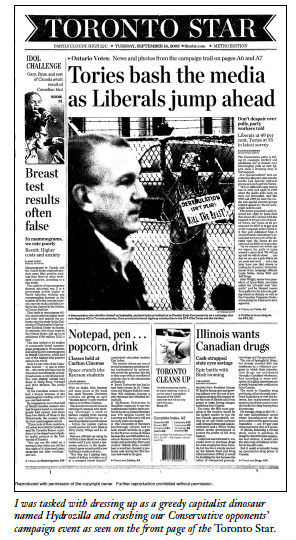 It was as ridiculous as it sounds, but I did get on the front page of the Toronto Star in the same photo as a sad faced Conservative leader a week before Election Day. The banner headline was something like, "Eaves feeling heat on Hydro".
The Liberals won that election. The NDP and their Public Power campaign came a distant third. The privatization fight continued, and sure enough the Liberals did sell 30% of Hydro.
The ramifications of these privatization schemes are felt disproportionally in low-to-moderate income communities. Rural Ontarian's have energy poverty the worst. They pay much higher distribution costs on their electricity bills due to their location. Rural communities are falling behind on their bills, making disconnections common. Predatory billing practices, like $50 for insufficient funds and $25 late payment notices exacerbate the problem. It's common for people to be thousands of dollars behind on their bills and unable to get the money needed to turn their power back on.
In ACORN cities like Ottawa and Toronto people are coming forward with similar stories. Landlords have been slowly passing on costs of electricity after the Liberal Government changed legislation a few years ago. Many ACORN members have fallen victim to predatory energy companies going door to door asking people to sign horrible energy contracts.
Another major issue is the private sub-metering companies who get contracts from landlords to facilitate metering and billing to tenants. ACORN members are livid at the high rates and high late payment fees. A successful quick-hit against WYSE Sub-Metering Solutions won a meeting with their CFO Peter Anderson. At the meeting ACORN leader Kemba Robinson was shown charts showing clearly that WYSE actually charges less in predatory fees than Toronto Hydro and Hydro One does. Good old action research!
We were floored by that meeting and concluded that we needed to change targets and think big. The Provincial Government sets the regulations around fees and billing, as well as rates. The province has also created entitlement programs to help prevent low-income families from being disconnected but these programs have abysmal enrolment rates. It was clear where we had to go.
Recently Ontario ACORN launched the Energy is Essential campaign aimed at the Province to get them to end predatory billing, maximize participation in the low income entitlement programs, as well as stop all privatization of hydro networks in the Province.
Ottawa ACORN launched the campaign with a press conference at their office. They have an ACORN Benefit Centre, which does free and paid income taxes services among other things. They have a small contract with the Provincial Government and get $25 for every member they sign up to the Ontario Energy Support Program (OESP) through their Benefit Centre. Ottawa has felt the pain of enrolling people onto the benefit program, as have their members. At the press conference members described how hard it was to get on the program, how far behind they are on their bills, and successfully made the case that the current 25% enrollment in OESP across the province is an abject failure.
In Toronto, ACORN was able to use the campaign to fight against an effort to privatize Toronto Hydro by Mayor John Tory. A classic six-week campaign resulted in the mayor reneging on previous statements after his council allies were in the paper saying ACORN was bringing too much heat for them to handle.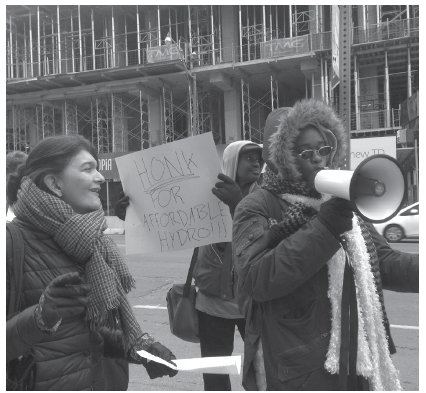 This is from the November 23rd 2016 Toronto Star:
Councilor Paul Ainslie, a member of both Tory's executive and the Toronto Hydro board of directors, said his office has received about 1,000 anti-privatization messages and roughly 100 phone calls per day from residents. "I'm always happy to listen to my residents and I haven't had a petition of this size for a while," said the Ward 43 Scarborough East representative.
The day this story hit, Toronto's Mayor held a press conference saying he was not selling off any part of hydro. The timing was right, but the take away for our labour coalition partners was that if you knock on 10,000 doors in 4 weeks, and do it in the right places, you can scare the privatizers into being all for public power.
Overall Ontario ACORN's Energy is Essential campaign is a response to the privatization schemes that have been forced upon working people over the last three decades. Skyrocketing rates, predatory billing practices, and pitiful enrolment rates in low-income benefit programs are the reason that disconnections are leaving families in the dark with deep energy poverty. We see big things to come on this in Canada!

John Anderson is the Head Organizer of Toronto ACORN. Since 2004 John has helped to develop the ACORN Canada operations in Toronto, Ontario, and British Columbia. He is a graduate of the University of Winnipeg.