Written by Suzanne Gordon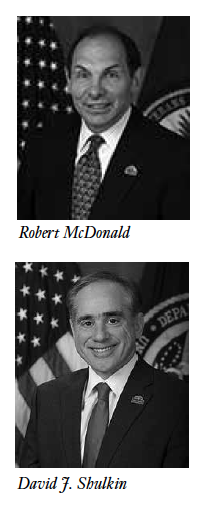 Donald Trump has finally announced his pick for secretary of the Department of Veterans Affairs. Although he rejected the pleas of Veteran Service Organizations (VSOs) who wanted Robert McDonald to continue in the position, he did choose David J. Shulkin, who has served under McDonald as undersecretary for health at the VA. Shulkin actually supports the mission of the agency he will lead and has the qualifications and experience to do the job effectively. This represents a lobbying victory for VSOs and their allies.
Shulkin is not a veteran, but he has worked with McDonald to remedy vexing system problems. His published writings, public testimony, and policy proposals have demonstrated his grasp of the existing system's considerable strengths. In March 2016, in the New England Journal of Medicine, Shulkin reminded readers that the VA outperforms private industry in "lower risk-adjusted mortality rates, better patient-safety statistics, and better performance on a number of other accepted process measures." He does not oppose veterans getting care in the private sector when needed but wants the VHA to coordinate and integrate care within the VHA system.
Shulkin has also been outspoken in explaining how the VHA saves lives through its unfairly maligned Veterans Crisis Line. Under Shulkin and McDonald, the VA added a second Veterans Crisis Line in Atlanta to the one operating in rural Canandaigua, New York. Shulkin understands that locating a crisis line in a major urban area will facilitate recruitment of more staff to perform a very arduous job. These dedicated staff listen to veterans in crisis—many of them at risk of suicide or posing a danger to their families, friends, and community members—hour after hour, day after day.
Most important, Shulkin has consistently countered conservative talking points that government can do no right and the private sector no wrong. After more than twenty-five years practicing as both a physician and hospital executive in the private sector, Shulkin has cogently outlined the facts in speeches, interviews, and articles like the one that appeared in The Federal Practitioner. The VHA is the only system, he wrote, that has developed expertise in the specific, service-related health problems of its veteran patients. Unlike private-sector providers who pay lip service to the concept of team-based, patient-centered care, the VHA practices what it preaches. Plus, unlike the private sector, the VHA pays attention to issues of poverty and homelessness, integrates mental health into primary care, and even supports family members or friends who are caring for veterans. And in an astonishing prediction for a future Trump cabinet member, Shulkin argued that the VA "can lead the way in advancing the nation's health care. This is the appropriate role for government: Do what the private sector cannot or will not do, given the nature of its enterprise."
If Shulkin is allowed to utilize his knowledge and experience—and apply his moral convictions—to his new role, then all veterans and their allies will be better off. Unfortunately, he will be under much pressure from Congress and the White House to adopt bad policies. Despite the VHA's recent progress on reducing wait times, Trump argued during his press conference announcing Shulkin's nomination that veterans are treated "very unfairly" and that they have to wait "fifteen, sixteen, seventeen days for an appointment." (The average wait in the private sector is nineteen days.) Trump even claimed that some veterans whose appointments were delayed and who had early-stage cancers became terminally ill in just a couple of weeks. The president-elect also announced that he had assembled a brain trust of private-sector hospital leaders to "help" Shulkin. In an article in USA Today, Shulkin said that he favors outsourcing some care to the private sector, which could also indicate trouble to come.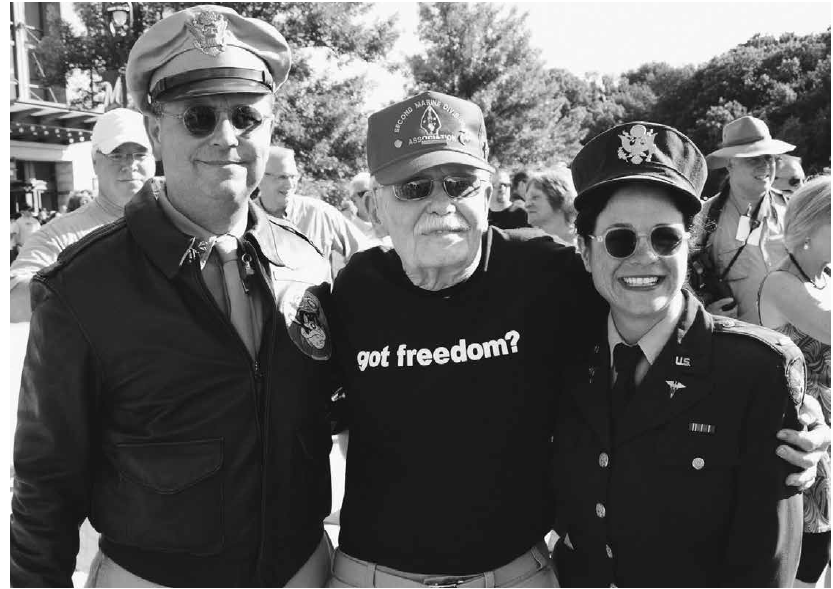 Speaking at his Senate confirmation hearing on February 1, 2017, Shulkin said he opposed any VHA privatization. Many VHA observers worry that actions the administration has taken will present him with serious challenges. Although Trump did not appoint a supporter of the CVA as Secretary, Darin Selnick and other would be privatizers now hold top policy positions in the VHA's Office of Policy and Planning in Washington, D.C. Plus the VHA will face Another threat lies with Congressional efforts to reintroduce bills, like those described earlier, that make the Choice program (which ends in August of 2017) permanent and eliminate restrictions on veteran use of non-VHA healthcare providers.
As undersecretary for health, Shulkin will also be saddled with a VA hiring freeze that will make his job much more difficult and has made the working environment at the VA extremely chaotic. When Trump announced his freeze on federal hiring on Monday, January 23, 2017, it did not exempt the VA. The VHA has over 41,000 unfilled positions throughout its system. Shulkin said that continued progress in providing high-quality care as well as in reducing wait times will depend on filling those positions.
To provide care, the VHA, like any other hospital system, must be able to expeditiously hire people when someone dies, retires, or leaves the system for employment elsewhere. (This is a big problem in the VHA, which for regulatory and budgetary reasons, does not offer salaries that are competitive with the private sector). Politicians have been urging the VHA to expeditiously fire any incompetent or employees guilty of wrong-doing. When they do, the positions left vacant must also be filled.
Under Trump's initial order, the VHA would not have been able to hire a single new primary-care physician, psychiatrist, nurse, nurse-practitioner, physical therapist, social worker, or counselor. It would not have been able to hire another urologist or cardiologist to help deal with the epidemic of Agent Orange–related prostate cancer or heart disease, from which so many Vietnam veterans suffer. It wouldn't have been able to add a single new neurologist or psychologist to deal with the twin afflictions of TBI and PTSD—signature problems for the veterans of our wars in Iraq and Afghanistan.
The VHA would not have been able to fully staff its two suicide crisis hotlines—one in rural Canandaigua, New York, and a newly opened facility in Atlanta, Georgia. At the time of this writing, crisis lines are currently short 171 employees, of whom only 26 would directly respond and follow up on calls from veterans in crisis. Three thousand psychology interns who were waiting to find out if they would be hired for internships in the VHA were also worried about the freeze. The VHA depends on these interns to care for patients.
Keeping veterans healthy is also the work of other VHA employees. Housekeepers and janitors make sure hospitals are free of the dangerous germs that cause hospital-acquired infections. Lab and radiation technicians play a vital role in the process of diagnosing medical conditions. VA police are specially trained to deescalate crisis situations so that mentally ill veterans don't harm themselves or others or commit what is known as suicide by cop. Hiring such staff and filling many more positions were initially prohibited under the freeze.
Because of more protests from VSOs as well as members of Congress from both parties, the administration relented and, on Thursday, January 27, acting VA Secretary Robert D. Snyder sent out a memorandum that exempted many frontline and support positions from the freeze, as well as health professional trainees like psychology interns. Many VA leaders, caregivers, and veterans' groups breathed a sigh of relief.
While memorandum exempting many categories of VA staff was another triumph of VSO organizing, it nonetheless left out many other employees who make it possible for the system to fill its tripartite mission. It takes administrators, as well as human relations staff—neither of them exempt from the hiring freeze—to hire sufficient numbers of, as well as supervise, frontline caregivers and medical support staff to meet the urgent healthcare needs of veterans. Under the Trump freeze, these positions, when they become vacant, will die. That will make VHA hiring delays even longer and the agency's already bureaucratic hiring process even more cumbersome.
The VHA also depends on researchers and research assistants to fulfill its mission to conduct cutting-edge research. The current freeze has generated considerable uncertainty over who can and cannot be hired to assist with this research.
In August 2016 the VHA opened the 61,000-squarefoot Simulation, Learning, Education, and Research Network (SimLEARN), which uses high-technology simulations to enhance healthcare training and outcomes. Medical simulation is now recognized as critical to the delivery of high-quality, safe patient care. The taxpayers' $20-million investment has produced one of the ten largest medical simulation facilities in the country. But now, under the Trump freeze, SimLEARN cannot hire educational technicians, curriculum developers, simulation operators, researchers, or project managers.
Moreover, the VA's two Veterans Crisis Lines may now hire emergency responders but not other staff important to helping potentially suicidal veterans. Hiring staff to help the VHA fulfill the mandate of the Comprehensive Addiction and Recovery Act, as of this writing, is also frozen.  As one administrator told me, "We are in limbo and may have to renege on offers to candidates who have already been selected."
Another casualty of the VA hiring freeze: more delays for veterans trying to process claims at the chronically understaffed Veterans Benefits Administration. This agency determines whether a veteran has a service-connected disability and is therefore eligible for compensation and access to such VHA services as housing assistance, home loans, vocational rehabilitation, and educational benefits. Veterans have complained for years about delays at the Veterans Benefits Administration. These waits are about to get a lot longer.
Things will get even worse for veterans if Trump and congressional Republicans repeal the Affordable Care Act (ACA). Carrie Farmer, a health policy researcher at the RAND Corporation, pointed out that three million veterans enrolled in the VHA actually receive healthcare through employer-based plans or ACA exchanges. Farmer said she did not know how many of those veterans would flood into the VHA if the ACA were repealed. "I would expect that the number of veterans using VA healthcare will increase, which will only provide a further challenge for VA to provide timely and accessible care," she told NPR's Quil Lawrence in a radio interview. With more vets seeking care, and not enough professionals to serve them, access will only get worse, and veterans' frustration will mount.
Faced with what will certainly be continued threats, veterans of all kinds must defend the thousands of VHA employees whose special expertise cannot be replicated through private-sector outsourcing without reducing the quality of care. I have observed these caregivers at work in more than twenty-five hospitals and clinics across the country. I have sat in on meetings with patients, therapy sessions, and home visits and seen VHA staff in action in rehabilitation and mental health facilities and many other settings. Nurses, physicians, social workers, psychologists, clerks, and many other VHA staff—including administrators—embody a commitment to serving patients often missing in other healthcare systems because of the way the latter are structured and run.
Even VHA staff members from civilian backgrounds see their professional practice as a calling, not just a career. As Rebecca Shunk, an internist at the San Francisco VA Health Care System, told me, "I didn't go to work at the VA to devote my life to veterans, but the minute I saw my first veteran patient, I knew this was my life's work." Many VHA staff, like Shunk, could earn more in private-sector jobs, yet they choose to remain at the side of those who served in uniform.
For Shunk and many others, one unanticipated and demoralizing reward for this life of service has been endlessly negative, factually inaccurate, and unfair media coverage. Intentionally or not, that VHA bashing in the press helped lay the groundwork for current political efforts to dismantle the VHA and steer veterans elsewhere. Amplified by the media, Donald Trump's own ignorant and insensitive remark about veterans with emotional problems has already damaged VHA efforts to destigmatize mental illness and encourage more vets to sign up for much needed treatment. On top of all this comes the chaos of the new hiring freeze, which means that, instead of spending time on patient care, administrators, researchers, and clinicians must try to figure out whether they will have the staff to deliver that care and beg for additional exemptions.
One chief of medical staff at a large VHA medical center observed privately that no other hospital system could be expected to conduct business in such a chaotic environment. This physician, who asked not to be named, worried that news of the freeze would also discourage people from even applying for jobs at the system. Given the choice between a job offer from the VHA and a privatesector employer, the physician wondered, who would choose to work in a place where the future is so uncertain?
All of this confusion will certainly impact services. But maybe that's the point. The worse things get at the VA, the more justification Trump will have to push for his real goal: privatization—despite the opposition of the vast majority of veterans and VSOs.
Fortunately, the ranks of the VHA are filled with people who are not "summer soldiers" or "sunshine patriots" in the field of healthcare delivery. Determined to continue providing "the best care anywhere," they have remained at their posts despite political attacks, media
derision, understaffing, and the daily challenge of dealing with patients whose wounds, both mental and physical, are often difficult to heal. All who are concerned with veterans' health and the future of American healthcare must join with veterans' advocates to build on the nation's seventy-year investment in one of the great healthcare systems in the world. If the critical mission of their agency is undermined by Trump or Congress, Americans who have no connection to veterans will lose a shining model of coordinated, team-based, integrated care—a genuine community of care—that is largely unavailable in the private sector. But of course, the biggest losers of all will be the millions of veterans and their families who have sacrificed their health to serve a nation that too often seems unwilling to continue caring for them.
Suzanne Gordon is an award-winning journalist and author specializing in healthcare. She is also co-editor of the Culture and Politics of Health Care Work series at Cornell University Press. "The Battle for Veterans' Healthcare" is excerpted with permission from the press and available through them at www.cornellpress.cornell.edu.