Written by Nick Ballard and Anny Cullum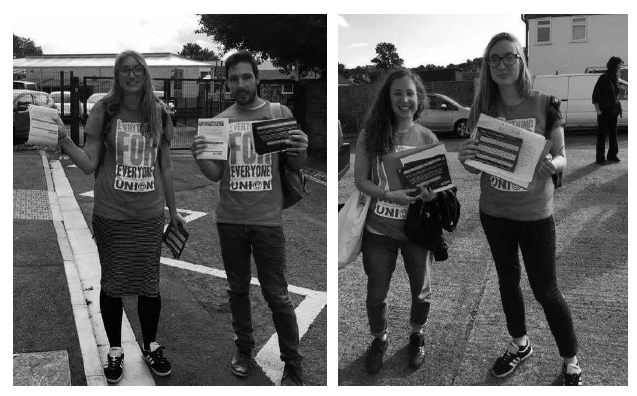 ACORN Bristol recently celebrated victory after winning our campaign forcing the Bristol City Council (BCC) to retain the Council Tax Reduction. Council Tax is a tax collected by local British authorities and used to fund public services and social care.
Many British people are critical of the regressive nature of Council Tax because the amount a household is expected to pay is determined by the value of the house or flat as of 1991 (if the house was built after 1991 then it would be assigned a council tax 'band' of a similar sized house in the area). There are 8 Council Tax bands, A the lowest up, to H the highest, and people in band A houses in Bristol are charged just over £100 per month for 10 months of the year.
People on low incomes, pensions or in receipt of certain benefits used to be eligible for Council Tax Benefit, a centrally administered benefit which was scrapped in 2013. Following this, the Government passed on the administration of any Council Tax relief to local authorities. Since then councils have been running Council Tax Reduction Schemes through which individuals can apply for a reduction in the amount of tax they have to pay. Those on the lowest incomes were eligible for a 100% exemption (unemployment benefit in the UK is around £70 per week, it would be incredibly difficult for individuals to lose £25 of that to Council Tax).
These Reduction Schemes legally have to be revisited every year by local authorities and under the economic context of austerity and further government cuts, Councils across the country have opted to reduce the support they offer to low income households by setting limits on the amount of reduction people can apply for. The most common method has been to impose a minimum charge on all households, so that everyone would have to pay, for example, at least 25% of the bill for their area.
Being the last major city to still maintain a 100 % exemption policy, Bristol City Council planned to scrap this from April 2018 when the new tax year started. In July this year, they created an online consultation which offered Bristolians three options for the Council Tax Reduction Scheme; cut, cut or cut. Each option would have seen those on very low incomes having to pay around £5 - £10 per week. That may not sound a lot of money to some, but when you are trying to survive on unemployment benefit, that money can be the difference between putting food on the table and heating your home.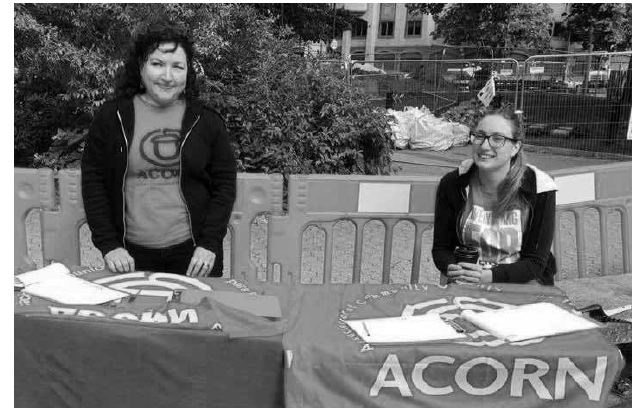 At our July quarterly meeting, ACORN members outraged by these proposals to take even more money from those struggling the most, voted to challenge the council's proposals and to campaign for them to keep a 100% reduction for people on low incomes. This was a move
away from our usual focus on housing, but many members would be directly affected if the changes went ahead, and in the climate of zero-hours contracts and low job security many of us could find ourselves unemployed with little warning and having to worry about paying council tax on top of everything else. It was also a conscious effort to make a move to becoming the multi-issue organization we've always intended ACORN to be.
The campaign began with members running two evening strategy sessions in August in which they conducted a power analysis, evaluated our own organizational resources and explored the leverage we could bring to bear upon potential targets. An escalating campaign strategy was developed with direct action to coincide with key developments and dates and the decision that if necessary we would co-ordinate a council tax strike and defend members from eviction due to rent arrears arising from the change in policy. It was also clear that exerting pressure on the politicians through the grassroots of the ruling Labour Party would be vital.
Members also identified the three most affected areas of the city in which to concentrate our organizing efforts that also rank among the most deprived nationally: Lawrence Hill (where our offices are based and close to our heartland of Easton), Hartcliffe – an estate on the South West edge of the city, and Lawrence Weston – an estate on the north-west edge of the city.
Making a virtue of necessity, we run an extremely tight ship, staff-wise, and instead rely on our members to take on as many traditionally staff roles as possible. Not only is this essential for our survival as an organization but it also increases the democracy and sense of ownership and investment members feel for ACORN. Member organizers are divided into teams with a particular remit to facilitate efficient division of labour.
Given the iron grip that centrally-imposed austerity is exercising on local government it was clear that fighting solely on the human cost would be insufficient to sway politicians facing disastrous city finances and without the political will to mount a meaningful existence. Our campaign therefore also had to demonstrate that the proposed plans would have the opposite to intended effect and actually cost the city money. Our research team found studies confirming our belief in the false economy of these measures and that the short-term savings would increases larger problems such as homelessness, and can lead to a greater strain on public services.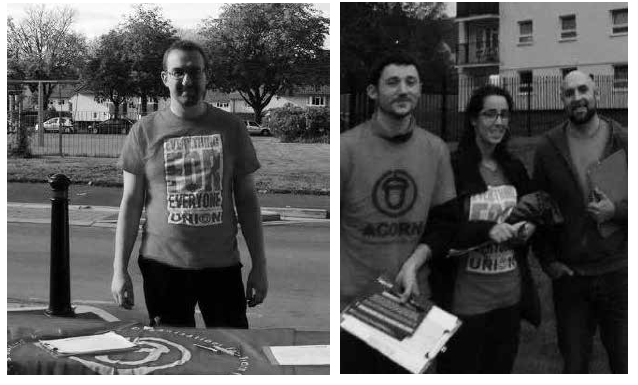 A change of this sort necessitates a public consultation, a recommendation by Council Officers (high-level unelected council managers) to the Mayor's Cabinet who in turn make a recommendation to Full Council to vote on. The Cabinet meeting was scheduled for the end of
October and the council vote for December. We would need to convince dozens of Councillors from the ruling party to rebel in order to win a straight vote, so our best case scenario goal was to kill off the plans before they got to that stage.
Given the time constraints dictated by the Council's decision-making process we were limited to only two weeks on the ground in each area meaning that we had to hit it hard and fast. Members were out at least three times a week between late August and early October. Taking each in turn ACORN members hustled their way into tower blocks to knock doors and held stalls outside shopping centres, schools and other community hubs. We focused on generating 'none of the above' responses to the Council's consultation and on gathering signatures on an online and offline petition to build our mandate and network.
Local meetings were organized and then mini-actions where residents and ACORN members would meet with Councillors and let them know that we expected them to vote against the proposals should it come to it and work to prevent this. Largely due to time constraints, the first two public meetings were small, prompting a shift from hit and miss doorknocking to a centrally-located stall to both engage greater numbers and allow follow-up conversations as we became more of a fixture. This approach seemed more successful for the couple of weeks spent in Lawrence Weston, however we found out that we had won the campaign before holding the public meeting, so a full evaluation of the relative merits was not possible.
Online outreach has been a key part of our expansion in Bristol and for this campaign volunteer organizers from our communications team created videos of ACORN members explaining what the loss of income would mean for them and their families. Social media was a very
important tool as its provides a very public platform, not only to spread the campaign but also to engage with Councillors and apply pressure to them. Given our lack of office staff, our data team was also invaluable transferring contact details from paper to our database in short order; allowing quick email follow up and circulation of campaign updates and media content.
Our initial focus on mobilizing responses to the consultation to deny the Council a mandate and a petition to build our own was very successful with the Council forced to admit that 40% of all responses had come via ACORN and called for 'none of the above.' This, coupled
with the 4000 petition signatures gathered made it clear where public feeling lay and who commanded it. ACORN members also organized within the Labour party to pass several supportive motions at both the constituency and ward levels, applying upwards pressure on Councillors and a Mayor already coming under fire from their own grassroots for their lukewarm opposition to austerity.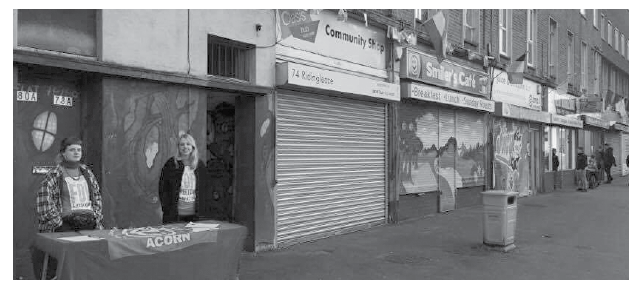 Bristol's 73 seat council is comprised of the ruling Labour party with 37 seats and the rest divided between the Conservatives, Greens and Liberal Democrats. We had already secured commitments from the Greens and Liberal Democrats to vote against any changes, and we had discounted Conservative support given that they had attempted to bring in these same measures in February. To win a Council vote we would need to swing large numbers of Labour Councillors and convince them to defy their Mayor - no easy task as the Labour Mayor Marvin Rees had expressed public support for the proposed changes when questioned by the media. We were asking councillors to vote against their party leadership but with their wider party values.
We felt a better option would be to make the issue so politically damaging to the Mayor that rather than face a public rebellion of Councillors (even one with insufficient strength to win the vote outright) he would abandon the plans at the earliest possible stage.
After conducting an analysis of Labour Councillors and their relative sympathy with our cause, members made plans to visit them in turn with a small delegation to demand that they support our position should the issue go to a vote. We first went after the low-hanging fruit of those most likely to rebel in order to publicize our gains and so pile on the pressure on those less ready to put their heads above the parapet. In the first week we got commitments from four Councillors ready to defy the party line while the same number again committed to working behind the scenes to pressuring the Mayor to scrap the plans. We were told several times that we were winning the argument among Councillors but that the Mayor was holding firm. A sympathetic Councillor told us of an upcoming weekend retreat where the policy would be discussed and suggested we prepare a document for the Councillors laying out our position. We did this, highlighting not only the economic arguments but also the incongruity of a Labour administration penalizing the poorest given the national party's rhetoric of 'For the many, not the few' and committing ourselves to exacting the maximum political cost. We circulated this widely on social media, so that no-one could claim ignorance.
With 24 hours to go a Councillor ally and ACORN member leaked us a document prepared by the Mayor's Office that attempted to discredit our position and very worryingly, the result of the consultation, stating that because we had mobilized people to participate in the
democratic process it had somehow become invalidated! Rather than issue a rebuttal and so endanger our source we prepped several Councillors with counter-arguments and left them to it.
Allies within the Council meeting indicated early on that we had successfully persuaded a majority of Labour Councillors to support our position and that Mayor and his supporters had conceded defeat, agreeing to keep the scheme unchanged. This was confirmed a few days later by way of the Mayor's 'State of the City Address' speech.
Our initial plans for the campaign saw us preparing to apply serious pressure in the form of a non-payment campaign or the threat of such, right up to mid-December when the vote was scheduled. As it turned out our ground-level operation, quality research and ability to organize/apply pressure within the Labour Party, combined with a willingness to take serious direct action meant that the Mayor decided the political cost was not worth battle. The end result then was ACORN's biggest UK win to date, delivered under budget and two months ahead of schedule translating to up to £8 million saved for 25,000 low income Bristolians and developing increased experience and confidence in our leadership.
Nick is a founding staffer and South West Regional Organiser of ACORN UK. Anny is a founding member of ACORN Bristol, the first Branch of ACORN UK and has been a key leader ever since. She recently completed a four month internship during which she headed up the ground operation of the Council Tax campaign referred to in this article.