Written by Lew Finfer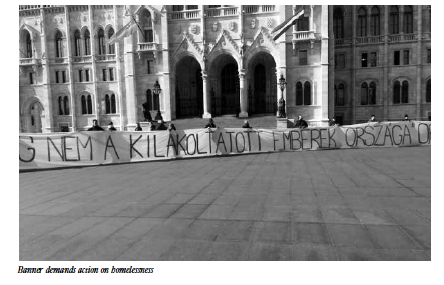 I saw Hungary's leader trying to rewrite history so it reflected his world view and his relentless use of anti-immigrant and subtle anti-Semitic statements. I heard the head of the Justice Department calling for the firing of a special prosecutor investigating corruption and it was in Romania not the US. I saw a Roma family of 6 living in a single 8'x8' feet room and learned that hundreds of thousands of Roma were slaves until the mid-nineteenth century. I saw a society beset by corruption in a regime that is a continuation of the communist party rule that supposedly ended in 1989 but never ended. I heard the story of how Romanian women are trapped by human traffickers.
I visited Hungary and Romania under an exchange program that first brings Eastern European workers from non-profit groups to the United States to do an internship in an American community organization and learn about community organizing here. The US community organizers who host then visit them in their countries to work further with them in support of their organizing projects.
MCAN, the Massachusetts Community Action Network, had hosted Vivien, a Roma human rights lawyer from Budapest, Hungary; Silvia, a crusading journalist and non-profit worker from Focsani, Romania, and Irina who worked with a community group in Bucharest, Romania. [Editor: concerns over repression and retaliation have necessitated use of only first names.]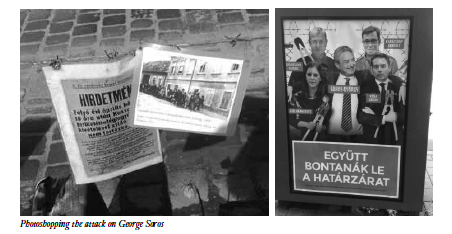 Budapest, Hungary
After arriving in Budapest, Vivien, her friend Henrietta, and I discussed her recent work with the Roma. Roma are the largest minority group in Europe---they emigrated to Eastern Europe from India over 500 years ago. They are greatly discriminated against in employment, schooling, and housing through western and eastern Europe. Many employers won't hire Roma or rent apartments to them. Some schools put Roma in separate classrooms alleging that they are behind in their academic knowledge so they are perpetuating separate but unequal schools. Roma were actually slaves in Romania and some other parts of Eastern Europe until the 1850's. Their situation of slavery in the past and second-class citizenship since then is like that of African-Americans in the United States. Roma seem about where African-Americans were in 1950. There have been instances of organized violence against Roma in Hungary from Jobbik, a right wing political party.
In subsequent days, I facilitated discussion of political and social barriers to organizing in Hungary. The government of Victor Orban is trying to pass restrictions on non-profits making them disclose on their website that they get foreign funding and trying to tax some of this funding. 
In 2013 on an earlier visit to Hungary, someone referring to the 1989 revolution had said that it can take a month to make a revolution, 6 months to install a new economy, but a generation to develop a new civil society. I think it will take more than a generation. American organizing words like "leaders" are sometimes suspect because of communist era connotations of leadership. Membership is not a completely comfortable term because membership in the communist party was the key to getting a good job and people had to compromise their views or hold their tongues if they were in the party.
My Hungarian cousin Gyorgy and I went to a demonstration in front of Parliament organized by a group involved in the intern program and training. The issue was a pending bill that would lessen homelessness by stopping evictions of mothers with children. The group had a little booth where they enacted a skit with masks while their spokespeople speak to the media.
Two leaders of opposition parties in the Parliament also spoke to the media about their support for the bill. One of these members of Parliament brought the news that the majority party Fidesz headed by Prime Minister Victor Orban has blocked a vote on this bill.
The group unfurled a 40-foot sign on sheets that we joined participants in holding up. It featured in big letters, a quote by Orban, "'There are no homeless children in Hungary'--- Victor Oban". In a dramatic move, caught on cameras by the media, one of the women in the demonstration and a small child of one of the leaders took a can of black spray paint and sprayed "No" (Nem) over the word so the banner read "There are homeless children in Hungary".
We also attended a demonstration at the Central European University. This university was founded by businessman and philanthropist George Soros who was from Hungary. He funds progressive causes in Europe and the United States through the Open Society Foundation.
Orban has campaigned against Soros, accusing him of being behind schemes to undermine the nation. His party has paid for big posters that are posted across Hungary on street billboards. The accusation has anti-Semitic allusions and there are many instances of graffiti on the picture of Soros calling him a "dirty Jew". One of the posters has a smiling Soros together with 4 leaders of opposition parties all holding bolt cutters in front of the barbed wire fence at the border and saying they want to let the immigrants flood in….of course the bolt cutters and border fence are photo-shopped into the posters.
In a bitter irony, Orban was one of the leaders of Hungary's 1989 revolution to overthrow communism, but later moved his political party to the right. In the last election his party got 42% of the vote winning over two thirds of the seats in Parliament. He used his majority to pass numerous constitutional amendments giving his party complete control over the government and judiciary so he rules a faux democracy in an authoritarian way similar to Putin in Russia. Orban has increasingly sided against the European Union leadership though Hungary still belongs and greatly benefits from the large amount of aid the EU gives to its poorer member countries in Eastern Europe.
Orban is working to close the Central European University because it was founded by Soros and is a progressive institution. It has made efforts to admit Roma students who are always the first persons in their families who ever go to college. A massive demonstration in support of the university with many tens of thousands of marchers was held last year in Budapest.
After the protest, we walked through Liberty Square. The square features a statue commemorating the liberation of Budapest from the German Army by the Russian Army during World War II. There's also a statue of Ronald Reagan in Liberty Square. Most disturbing was a statue the Orban government built as they try to rewrite Hungarian history. It depicts a black eagle symbolizing Nazi Germany swooping down on poor Hungary symbolized by the Angel Gabriel. Orban in this memorial and also at the Museum of Terror he developed in Budapest seeks to portray Hungary was the victim of the outside forces of Nazi Germany and Russian communists. Actually, Hungary was allied with Germany in World War II and joined them in the invasion of Russia. Hungary has the terrible distinction of probably doing the most to round up its own Jewish residents and sending them to concentration camps where over 600,000 were killed. The Horthy government of Hungary considered breaking off its alliance with Germany in 1944, once it was clear Germany was losing the war. Germany supported a coup that installed the fascist Arrow Cross Party in power which viciously persecuted the Jews. Hungary's current second biggest party called Jobbik is explicitly descended from the Arrow Cross Party and has used its outlawed symbols and had members march in brown shirts and jackboots while violently attacking Roma. More recently they have been trying to moderate their statements against Jews and Roma in an effort to clean up their act somewhat like Marie LaPen has been trying with her party in France.
It is very moving that a few feet from Orban's memorial, people have erected an exhibit of photos of Hungarians who died in the Holocaust betrayed by Hungarians. Most direct and striking is one sign reading, "My mother died in Auschwitz, thanks Angel Gabriel".
There's also a poignant memorial to the Jews that the Arrow Cross government executed in 1944-45 along the Danube River which runs through Budapest. They would have them remove their shoes, then shoot them and push them into the Danube. Along the river, not far from the Parliament building is a set of bronzed shoes. People leave flowers and memorial candles around the shoes.
After visiting Liberty Square, we moved over to Central European University later that afternoon, where 25 Roma students and Roma NGO workers attended a discussion, organized by Vivien and Silvia. There seems to be a nucleus of Roma leaders who could try to organize some kind of group to campaign on issues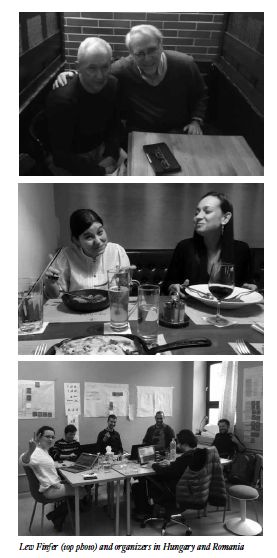 Bucharest, Romania
We headed to Bucharest, Romania where I had a series of individual meetings with five committed and experienced Romanian women organizers. They are considering a campaign on housing issues and I spoke about campaign organizing, coalitions, researching possible issues, some American organizing done on different housing issues, and their situation. Hundreds of thousands of people have no leases on their apartments and are subject to arbitrary evictions. Rents and home prices are high in Bucharest. Apartment conditions can be squalid especially for Roma people.
Later that afternoon I was able to speak with the former Organizing Director and Director of Ce-Re and Board Member of the European Organizing Network. Interestingly, she told me that she is beginning a new job with Habitat for Humanity where she will be allowed to work on a housing organizing campaign with the other organizers, who look to her for direction.
While meeting with Vlad, current Organizing Director of Ce-Re, I learned that they are providing technical assistance for neighborhood civic groups and their citywide association. They feel the need to be more intentional in working with Roma and other low-income residents of Bucharest. He feels that he can't supervise and train other organizers as well as he wants unless he does a piece of direct organizing with Roma and low-income communities.
Silvia drove me to the city of Focsani which is about a 3-hour drive through her home county, mostly through farmland with many vineyards. Silvia told me the story of when she was a young journalist exposing government corruption. The leader of the party controlling the city and county government had people threaten to kill her if she didn't stop this reporting. He also tried to blackmail her with a tape he obtained of Silvia dancing at a party when she was 18. He also had a newspaper he controlled run three days of front page articles alleging that Silvia was a porn star and did not have the moral right to be a journalist. He also filed numerous cases in court. Silvia stood her ground and won awards for her journalism.
The US State Department in their 2002 Annual Report of Human Rights violations in countries around the world included this campaign against Silvia and her newspaper by this political leader. Under pressure, he later had to make a public apology to Silvia.
We heard news reports that Romania's Justice Minister is calling for dismissal of the Special Prosecutor investigating numerous members of Parliament for corruption. The Justice Minister alleges various so-called prosecutorial errors and overreaching by the Special Prosecutor. Sounds very similar to President Trump wanting to fire the special prosecutor Robert Mueller. Demonstrations were mounted against the government in response.
The 1989 revolution in Romania was different from the 1989 revolutions that overthrew the communist governments in Poland, Czechoslovakia, Hungary, and East Germany. The Romanian revolution was marked by significant violence with 3,000 people dying. Dramatically, when the dictator Ceausescu tried to talk to a huge demonstration in a square between the former Royal Palace and a government building someone started to boo and the crowd joined in. He fled to the roof and flew off in a helicopter with his wife Elena. He was murdered by political opponents a few days later. However, the other communist party leaders continued in power and are in power to this day. That was not true for the other Eastern European countries where parties of former communists have never retaken power.
Corruption is rife throughout Romanian society and government. Numerous members of Parliament live in opulent houses and are under investigation for corruption. The Romanian government is trying to pass laws essentially saying that corruption of less than $70,000 is not a crime so as to protect these officials. Many hundreds of thousands demonstrated in Bucharest last year and across the country and again in January to oppose this. They waved flags and chanted "thieves!" and they wore the button #REZIST. This issue is not settled.
There's a large population drain as large numbers of people from Eastern Europe migrate to prosperous Western European countries in order to make money for their children and families. Families are broken up, and people are separated from their cultures and support systems. The city of Focsani in Romania used to have 100,000 residents and now has only 75,000 because of this emigration.
Silvia organized a workshop in Focsani at the Atheneum building and it was attended by about 25 NGO workers and others. I spoke about community organizing principles and told the story illustrating them regarding the campaign MCAN and affiliates participated in, called Raise UP Massachusetts to increase the minimum wage. I also spoke of a local issue campaign when United Interfaith Action worked with a senior's high rise in Fall River to get a crossing light installed. I included the story of the indomitable 94 year old Yvette Mancini leading that campaign!
After the workshop, we visited an apartment building housing Roma. It used to be a kind of dormitory for factory workers. It has a muddy front yard, a very deteriorated stairway and one section has wide open windows. We talked with a Roma family of six who live in a tiny room, maybe 8'x8', that is taken up by a big bed on which the mother and four children sat with her husband and one of the grandmothers. They have no water in this room and get water and cook meals in the long hallway. Families are packed in forty-five such rooms. The building is owned by the local government so is a form of substandard public housing and is called social housing. It's not clear what was going on and Silvia spoke by phone to a local Roma leader. It sounded like the local government has cancelled their leases and wants to relocate them but that proposed housing is even worse with no electricity and no running water.
Silvia's friend Mihaela drove for 5 hours to support Silvia. She is a leader of groups in the Transylvanian city of Sighisoara. She has worked on battered women's issues, jobs issues, and a program where Americans raise money and come to work with Roma to build playgrounds at schools. She is a Roma woman but only after a religious spiritual experience did she begin to embrace her Roma identity.
We were supposed to do a workshop for a youth group that Silvia has organized. A story got out about a separate effort to hear a speaker on transgender issues and officials refused to host the workshop on youth issues because they associate it with the transgender issue. We relocated the workshop to a coffee shop. Chairs were moved around and about thirty attended. Eight were high school youth, five from a newly formed disability rights group that Silvia is helping too, and the rest were from other NGO's.
 Several talked about teachers who don't seem to be interested in them or respect them. One said, "no one takes us seriously". I spoke about how the youth organizing group affiliated with us changed its name from the Youth Job Coalition to "I Have a Future" as an affirmation of their aspirations and a challenge to adults who say "youth are our future," but don't fully live up to that with their actions.
We discussed the high cost of bus fares. Most rural areas beyond the city have no high schools so the education ends at 8th grade and some commute four hours roundtrip or board in the city in order to get a high school education. We discussed how they might organize on these issues.
A brave youth spoke about bullying she has received in school, and we discussed what can be done about this as well as what is being tried in the US. She was supported by other young people and adults during this workshop and as it continued after a break.
We then met with five people who are starting a disability rights group. One of them who lost half his leg and walks on crutches had a cab refuse to give him a ride. Employers of fifty or more workers are supposed to hire a percentage of handicapped but can buy their way out of this by making a payment to the government but the collected fees do not go to making buildings accessible as intended.
I got a ride with Silvia's friend Mihaela and another friend of Silvia's named Aurora. Aurora told the story of how she organized to get a kind of speed bump installed after two road accidents that killed people. She said two hours after her petition was posted on line, it had 2000 signatures and there were calls from TV stations. We drive over the speed bumps on the way to Bucharest.
On much of the three-hour drive back, I learned about Aurora's heart-breaking work for the government in a small department dealing with human trafficking. Romania is the largest center of human trafficking in Europe. Fake agencies promise jobs in Western European countries and when the young women arrive, they are kidnapped and forced into prostitution.
Aurora organized trips to speak at high schools in eight regions about the dangers of such schemes. She says over 80% of the students want to go work in Western European countries and are misled and captured in human trafficking networks. Aurora wants to raise money for a kind of traveling bus with exhibits to educate young women against the dangers of being captured by trafficking.
She also told of large scale exploitation where young woman are recruited to live with elderly Italians as home care workers and must be there 24 hours a day and only get a 1/2 day off a week. Additionally, she reported that women from the agricultural area of the Moldovan part of Romania who work on farms in Sicily are often sexually exploited and victims of wage theft. She said last year these Romanian women had numerous abortions in Sicilian hospitals due to exploitation by the farm owners and their relatives. She believes there's mafia involvement in this overall exploitation of agricultural workers.
Community organizing in Hungary and Romania is hard and struggling work that teaches its own lessons and deserves support.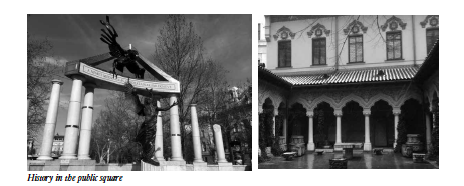 Lew Finfer is a longtime community organizer and director of MCAN in Boston. He participated in a Professional Fellows exchange program where Eastern European organizers were placed with US-based organizations which then sent organizers to visit and follow-up on the work of their interns.