Written by Eric Parsley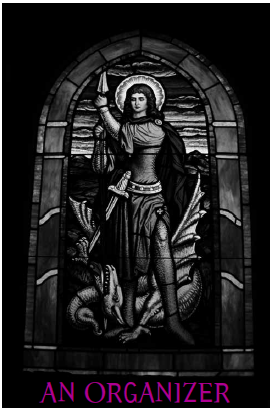 And on the 8th day, God looked down on his planned paradise and said, "I am going to need an advocate for the workers of this world."
SO GOD MADE AN ORGANIZER!
God said," I need somebody to get up at the crack of dawn in order to read, return texts and emails along with phone calls, then work all day in the field, read, return texts and emails again along with phone calls, eat supper and go to town and stay past midnight at a meeting of the school board."
SO GOD MADE AN ORGANIZER!
"I need somebody that has a strong will. Strong enough to stand up for workers' rights to fair representation, yet gentle enough to explain their importance to the uninformed. Somebody to strategically place salts, develop peppers and tame the cantankerous organizing management systems, come home hungry and have to wait for dinner until his wife is done feeding and visiting with the potential organized members wives and telling them to be sure to come back real soon—And mean it.
SO GOD MADE AN ORGANIZER!
God said," I need somebody willing to invest a full year into a card signing campaign, stay up all night to monitor the representation election, lose badly and then dry the sweat from his brow and say 'Maybe next time'."
God said, "I need someone who can shape the idea of a Volunteer Organizing Committee, execute covert data retrieval techniques, design a successful campaign out of third party opinions, fake news, lies and rumors. And who during election season and peak manpower needs will finish his forty-hour week by Tuesday at noon. Then weary from sleep deprivation, put in another seventy hours.
SO GOD MADE AN ORGANIZER!
God had to have somebody willing to ride the thankless political ruts at double speed to assure the labor movement's concerns are heard and yet stop at mid- stroke and race to help when he sees the first sign of trouble coming from a neighboring local's campaign.
SO GOD MADE AN ORGANIZER!
God said, "I need somebody strong enough to sign contractors, strip quality workers and yet gentle enough to recruit vocational school students, wean the worthy and tend to the newly organized members. Somebody who during contract negotiations will take the time to educate his own local negotiating committee members on the constructs, trends and current needs of their own market."
SO GOD MADE AN ORGANIZER!
It had to be someone who would learn and earn the respect of their craft and not cut corners. Somebody to strip, rip, picket and flip; to reach and teach and sometimes catch and release. Somebody who could thrive in the constant threat of anti-prevailing wage and right to work legislation and then persevere when it gets pushed through in the eleventh- hour of a lame duck session.
Somebody to replenish the new marketing t-shirt pile for members and finish the week with a 140-mile drive to a Friday night union meeting. Somebody who could bring a membership together with the soft, strong bond of sharing a meal sponsored at a union hall. Who would laugh and then sigh and then respond with smiling eyes, when their child says they want to spend their life 'doing what dad does.'
SO GOD MADE AN ORGANIZER!
Adapted by Eric Parsley from Paul Harvey's "So God Made a Farmer " broadcast of 1978. Eric is President of Heat and Frost Insulators, Local 50, Columbus, Ohio, and is also the Local's organizer.