Written by Willie Cosme
Education has not always received the recognition it deserves in Paraguay. This is changing as political stability returns, although the poorer
children in more rural areas still are not reached by the same opportunities, especially in terms of hours per day at school. As a result, 10 to 15 percent of them are still illiterate. The six years of primary school start nominally at age seven, and education is mandatory through until age fourteen.
The secondary school program is split into two phases of three years, and is not well regarded by the local people who prefer to send their
children across to Chile if they can afford it. This is causing conflict between educational authorities, which the Education Minister of Paraguay is addressing by improving local facilities at home.
The higher education system in Paraguay does not enjoy widespread recognition despite the government having introduced a number of new institutions in recent years. As a consequence, brighter students often go overseas in search of world-class degrees, find work there, and remain away.
The oldest university in Paraguay is the Universidad Nacional de Asunción founded in 1889. Its twelve schools are spread out in campuses across the country.
The self-sustainable agricultural school
Agricultural education represents a great opportunity for youth to acquire skills to face the main causes of poverty and underdevelopment, predominant in countries like Paraguay where half the population is rural. The core problem lies in the fact that the income levels of rural families are too low to be able to pay for high quality education.
The educational model proposed undertakes a different path in the struggle to eradicate poverty.
In addition to top quality education, self-sufficient productive business units that contribute to profitability are incorporated. Their contribution helps cover the school's operating costs. This model uses a "Learn by Doing, Selling and Earning" methodology, which has a curriculum based
on theory classes complemented by hands-on field practice. All this seeks to make a difference and above all, ensure that more youth in situations of vulnerability acquire the skills and knowledge necessary to begin their own rural enterprises, access a decent job in the agriculture/livestock sector or continue studying. This is why, the school combines theory with the "Learn by Doing, Selling and Earning" methodology where students participate in the complete productive cycle including the marketing of products. This motivates them to be entrepreneurial and to acquire job skills. As a result, it increases their self-esteem, and on top of this, the earnings from these sales pay the school's operating costs. Escuela Agrícola San Francisco
In the small rural town of Cerrito, Paraguay, an agricultural high school hopes to change the way business is done in schools around the world. When Cerrito's San Francisco Agricultural School was faced with drastic cuts in government funding, it struggled to pay teachers' salaries and had few funds left to maintain its farm. The government funding was further reduced in response to a decline in enrollment. Then, in 2002, the Congregation of the La Salle Brothers transferred the School to the NGO Fundación Paraguaya, Paraguay's first microfinance institution, with the hope that the organization could find a way to support it by committing to continue the educational work that had been carried out since 1962.
Fundación Paraguaya was able to recognize and take advantage of the opportunity and take responsibility for the development of a new type of school; a school that would provide rural youth in situations of vulnerability with a relevant, quality education that would enable them to find a decent job, continue studying or help to create their own rural micro-enterprise, and thus be able to overcome poverty.
In order to promote the spirit of entrepreneurship in rural youth and provide them with high quality and accessible education, the school has almost 75,347 sq. ft. of buildings consisting of classrooms, library, computer lab, administrative and academic area, multi-purpose hall, student cooperative, dining hall, soccer field, men and women's dormitories, and restroom facilities, among other installations.
On the 153 acres of the property where the school is located, hands-on work is done accordingly at the different productive units, among which are: raising goats, layer hens and broilers; a dairy and milk processing plant; bio-intensive vegetable gardening; extensive cropping; raising swine; beekeeping, and managing a tree nursery, a rural hotel, and roadside stores.
Among the greatest achievements of the school are:
• 100% employability. All graduates are working in the agriculture-livestock sector, continuing their studies or have set up their own rural micro-enterprise.
• 100% financial self-sufficiency. 2011 was the fifth consecutive year the school covered its entire budget.
• 100% market-oriented curriculum. Young rural graduates earn two diplomas upon completion of their studies; this is unique in the country.
• 100% business plans and credit lines. To graduate, students must draft a business plan for which a credit line is allotted for future implementation.
This school has been leading a small revolution in rural development, at once tackling rural education, rural entrepreneurship, and agricultural productivity. Graduates typically go on to start their own enterprises (often integrated into the family farm), become agricultural teachers or extension agents, or attend college. Fundación Paraguaya is now responsible for four self-sustaining schools in Paraguay.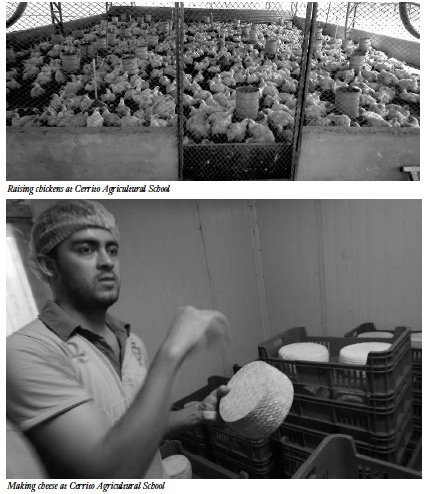 Mbaracayu Educational Center
The Mbaracayu Educational Center is located in the Mbaracayu Forest Nature Reserve near Villa Ygatymí in the Department of Canindeyú. This Center opened its doors in 2009 and is an initiative of Fundación Paraguaya in alliance with Fundación Moisés Bertoni, the owner of the Center, and Fundación Mbaracayu, which owns the property.
Fundación Paraguaya contributes the educational model of self-sufficient schools, seeking to replicate the San Francisco School, but exclusively targeting young rural and indigenous girls. At the beginning this School had support from Nike Foundation.
The graduates from the Center earn a high school diploma in Environmental Sciences as Technicians. The students of the Center come from the Mbaracayu Forest Biosphere Reserve and their origins are varied: from rural smallholder Paraguayan families, indigenous girls from the Aché, Avá Guaraní and Toba Qom ethnic groups, Brazilians and "Brazilian-Paraguayans." Since 2011 they have been joined by girls from Bolivia.
Belén Agriculture School
Fundación Paraguaya took over the administration of the Belén Agriculture School in 2010. Ceded to the Fundación by Aldeas Infantiles SOS, it is located in the District of Belén, Department of Concepción. This school is dedicated to training Agriculture-Livestock Promoters from different rural organizations of the country. The idea is that through the technical and methodological skills they acquire they will be able to support sustainable rural development in their communities.
The young men and women over the age of eighteen who attend the school receive training in theory and practice in: beekeeping, orchard growing, milk production, crop farming, raising swine, horticulture, hotel management and tourism, marketing, business plans and entrepreneurship. At the same time they take courses oriented to immediate job placement such as artificial insemination techniques, and ranch hand responsibilities, among others.
San Pedro Agriculture School
The farm is located in the urban area of the District of San Pedro del Ycuamandyyu, the Department of San Pedro. In 2011, the Bishopric of San Pedro transferred the farm for a term of twenty years to Fundación Paraguaya. The main objective was to install a Self-Sufficient Training Center to provide accessible and high quality education to the young men and women of this Department, which has one of the highest rates of youth exodus of all the Departments. The very year of start-up, the students trained with the Banks in Action program imparted by the Entrepreneurial Education Program of Fundación Paraguaya and got the highest points at the national level.
The Self-Sustainable Agricultural School model has also been reproduced in more than twenty countries including Bolivia, Nicaragua, El Salvador, Kenya, Malawi, Tanzania, Uganda, Cambodia, and Pakistan with scale-up support from contributors such as the Nike Foundation, the MasterCard Foundation, and the U.S. Agency for International Development.
Willie Cosme is a former director of migrant education for the Arkansas Department of Education and continues to be a longtime volunteer host and engineer with KABF-FM 88.3 in central Arkansas and the Affiliated Media Foundation Movement (AM/FM, Inc.). He is based in Puerto Rico.