Written by Emily Bloch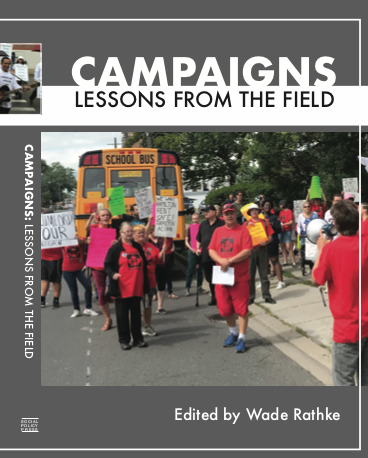 Many of the 125,000 immigrants living in the Merrimack Valley cities of Lowell, Lawrence, and Haverhill, Massachusetts, face difficult lives because of their uncertain immigration status, and the low-wage jobs that often go with this status. With increased enforcement of immigration laws by U.S. Immigration and Enforcement (ICE), immigrants' lives are further at risk.
In Lawrence, a city of 80,000, a majority immigrant city, Merrimack Valley Project (MVP) chapter leaders decided to push their city council to pass the Massachusetts Transparency and Responsibility Using State Tools (TRUST) Act, which would prohibit the police from cooperating with ICE.
This is an account of the Lawrence chapter leaders' campaign. MVP was organized in 1989 by regional religious, labor, and community organizations to build power for justice by uniting leaders across lines of difference—helping them develop their leadership skills and win campaigns for good jobs, affordable housing, and immigrant rights. MVP is a founding member of the InterValley Project (IVP), a New England organizing network.
We spent two months listening to people share their stories over cups of coffee in living rooms and church basements. Some talked about family members who had been deported a few months earlier for driving without a license and their fear of being stopped by the police while driving children to school. Others talked about recent break-ins, gun shots that could be heard in a park on summer nights, and slow police response time after a congregant and his nine-year old niece were stabbed walking home from services. The pain of these stories brought the community together around the shared values of family and safety but also tore it apart with seemingly different ideas what was needed to increase safety.
At first these stories were shared within pockets of people who mostly already knew each other, the Ecuadorians with the Ecuadorians, the Dominicans with the Dominicans, and the Guatemalans with the Guatemalans. But it was clear that if these stories could not be shared across communities we would hit a dead end in terms of what issues to work on.
There was tension in the room at the first organizing meeting where we brought these different groups together. A Dominican grandmother spoke about losing her son to gun violence and a Guatemalan woman shared a story about her uncle who had been stopped by local police and deported a few years earlier.
The stories in the room were real and heavy. After more relationship building, research, and deliberation, the leaders in Lawrence decided to work on passing a city council TRUST Act to end collaboration between local police and ICE, and a non-binding resolution encouraging the state legislature to pass a driver's license for undocumented immigrants.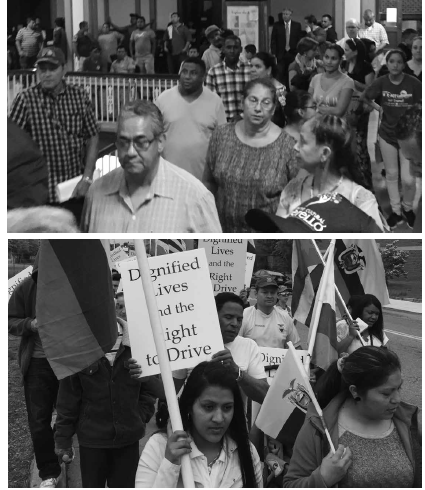 The campaign was led by a multi-racial, multi-lingual group of MVP leaders. In early spring of 2015, along with a coalition of statewide and local groups who hoped to use Lawrence as a model that could be replicated across the state, we set out to push the nine-member city council and Mayor Daniel Rivera to agree to our demands.
We knew we only had a few months to introduce the legislation and get it passed before the city council was off for the summer. We set up meetings with the mayor and each city councilor, sending leaders to explain the issue and get a sense of who was supportive and who we needed to persuade.
Early one morning five leaders gathered in the lobby of city hall to invite Mayor Rivera to a large community forum. He committed to coming to the forum but wouldn't tell us if he would support the campaign. A few months earlier he had told an organizer at the local labor union we were working with that he would be supportive, but his reluctance to come out and publicly support made us nervous that he had changed his mind.
Agustin and I went to the local park where the Ecuadorians played volleyball and we handed out fliers, Jacqueline went from church to church on Sunday morning making announcements, and Sonia talked to everyone who came into her store about the community forum. A week later 350 people packed into the gym at St. Mary's of the Assumption. As people streamed in, the city council members that we invited took their seats in the front row. The mayor though was nowhere to be found.
After some last-minute decision-making we decided to start anyway. We heard stories from people about why this issue mattered to them, about why they had poured hours of their time into this campaign. Still Mayor Rivera had not arrived. Wilson talked about the next steps in the campaign and Jacqueline passed out surveys and asked people to sign up to get involved. Still Mayor Rivera had not arrived. Then one by one we brought forward the city council members who were there—each one pledging to support the campaign and pass the TRUST Act.
The energy in the room at this point was thick with anticipation. What would we do if the Mayor didn't show up? And just then, over an hour late, Mayor Rivera came in through the back door and with all eyes in his direction he walked up to the front of the room. In Spanish, Jacqueline and Wilson invited him to the stage, ready to ask the question if he would sign the TRUST Act and the driver's license resolution. Before they could ask the question, the mayor took the microphone, launching into a campaign speech which included a mumbled apology blaming his lateness on changing diapers and a new baby.
As Mayor Rivera droned on all the air left the room. Jacqueline looked across the stage nervously to the other leaders wondering what to do, and a few seconds later with a deep breath she grabbed the other microphone and said, interrupting him, "Mayor Rivera, thank you for coming, we have a few specific questions for you." He looked around startled and Jacqueline launched into her questions. "Mayor Rivera, will you sign a resolution encouraging the state legislature to pass a bill for driver's licenses for undocumented immigrants?"
"Yes, I care about the safety of all residents of Lawrence."
Everyone cheered and before he could restart his campaign speech Jacqueline interjected, "Mayor Rivera will you sign the Trust Act ending ICE police collaboration in the city of Lawrence?"
"No," he said, and the sense of victory that had filled the room a few minutes earlier vanished.
As the Mayor sat down Wilson stood back up, and with urgency in his voice said that it was more important than ever that people show up at the city council meeting where they would be voting on our bills.
Two weeks later the city council meeting room was packed full, with a hundred more waiting outside. Families were there with their children, construction workers in their work clothes, and community members were there in their button up shirts and church dresses waiting to share their stories and signing up to speak in public for the first time. After the speeches of support and opposition and hours of debate, the city council finally voted 7-2 to pass the TRUST Act and a resolution encouraging the state legislature to pass a bill for driver's licenses for undocumented immigrants.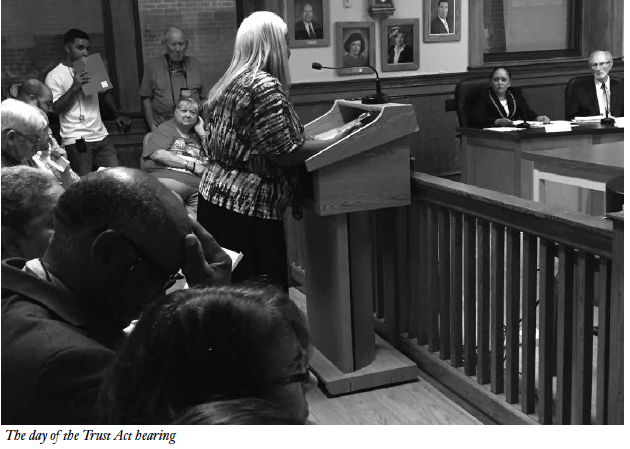 Still we didn't know if that vote would hold if the mayor vetoed the bill. Leaders went again to meet with mayor, newspapers were interviewing him, and the statewide Spanish language TV news picked up the story. Still the Mayor wouldn't commit to anything, the leaders felt like he was worried that it could be used against him if he ran for higher office in a district that would include the conservative suburbs around the city.
We kept up the pressure knowing that he only had ten days to veto once the bills were passed by the city council. We had priests drop in on his office, long time community leaders make phone calls, and community members write public letters in support.
Newspaper articles were coming out every other day, everyone wanted to know if the only Latino mayor in Massachusetts was going to turn on the will of the people.
And in the end, MVP won. The mayor did not veto the bill, acknowledging the will of the people as expressed through our campaign and the vote of the council.
This campaign united the diverse immigrant community in Lawrence by helping leaders share and listen to each other's stories. It moved people into action based on direct, face-to-face contact, not just through the work of the organizer, but, more importantly, by leaders acting as volunteer organizers, in churches, workplaces, and stores. It was based on clear-cut demands, persistent and strategic pressure.
It has provided a backdrop for MVP's current Sanctuary Network campaign in which eighteen Valley urban and suburban congregations have committed to protecting undocumented immigrants from deportation by shielding them from ICE.
Emily Bloch is the organizer who staffed the MVP immigrant rights campaign. This piece and thirty more are case studies included in Campaigns: Lessons from the Field available from Social Policy Press at www.socialpolicypress.org.