Written by Mike Miller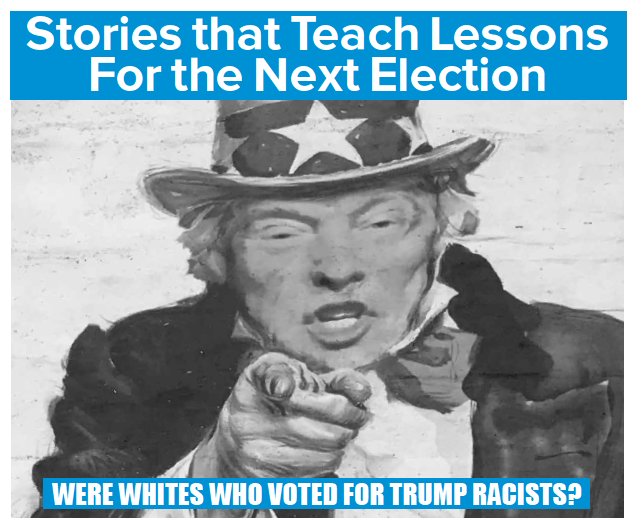 If a white voted for Obama in 2008 or 2012, but voted for Trump in the 2016 election, was she not a racist? I think there is no adequate answer to these framings of the question. Instead I propose that we ask what happened in circumstances when white-black (or any other people vs. another group of people) unity overcame otherwise divisive understandings of self-interest and prejudicial views. The question is whether people with small "d" democratic values can successfully engage others who may disagree with them.
The interplay of class and "identity" (as the term now is widely used to describe statuses other than class) needs more discussion if we are to win the support of white working class people who voted for Donald Trump. To win issues around "identity," one set of alliances is made: immigration reform advocates make alliances with corporations that want to hire cheap labor; women's movement organizations whose only criterion for endorsements is that you be a female endorse anti-union Republicans.
To win issues around class, minorities make alliances with "whites", typically to form unions but also in anti-freeway, urban renewal, massive development, affordable housing and other issues. When community campaigns are used to form on-going relationships (as in multi-issue community organizations), the possibility exists to transform old prejudices—as the stories above demonstrate. So, too, can relationships in a multi-ethnic/racial union change attitudes and understandings of "white" members.
The dominance today of "identity politics" precludes these latter possibilities. But minorities, women, and other groups have separate battles that need to be fought as well. Achieving a strategic balance is necessary. It is also difficult to achieve.
Here are two stories, one from an industrial union organizer of the 1930s, and the other my application of his story to an organizing project in the early 1970s in which I was the lead organizer.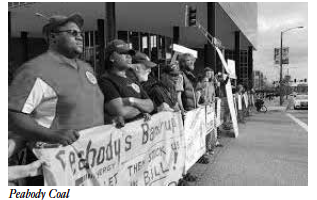 Organizing Peabody Coal
An old-timer I met in the early 1960s, who worked as an organizer for the United Mine Workers Union in the 1930's, told me this story about how he organized prejudiced white workers at the Peabody Coal Co. in Kentucky (but it could have been elsewhere in the South):
Organizer : "Wanna talk about the Mine Workers Union?"
White Worker: "Ain't you the Union let's in the niggers?" When he heard that the organizer would take the white worker by the arm and walk with him until they saw a black worker.
Organizer: "See that fella over there?" (Organizer points to the black worker.)
White Worker: "Yeah."
Organizer: "Who's he work for?"
White Worker: "Peabody."
Organizer: "Who do you work for?"
White Worker: "Peabody."
Organizer: "You think about it; we'll talk more later."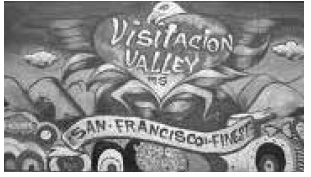 Visitacion Valley, San Francisco
I grew up in the Sunnydale Housing Project, at its western edge Visitacion Valley, a neighborhood in San Francisco. I left in 1954 to go to UC Berkeley. My mother lived in the valley long enough to see it become a largely-African American place of residence. Twenty years after I left, I returned as the lead organizer for what was initially the Visitacion Valley Organizing Committee (VVOC), an effort to build a multi-issue federation that would be a people power organization for the mostly- low-to-middle income residents of what was then a very racially and ethnically diverse neighborhood.
In my "organizing plan" for building the VVOC into what became All Peoples Coalition (APC), I had Sunnydale groups I was hoping to recruit to membership, and the Visitacion Valley Improvement Association (VVIA) largely made up of white ethnic homeowners.
A major obstacle to VVIA joining the newly forming community organization was its President, Joe Brajkovich. It was from him that I learned what VVIA wanted from Sunset Scavenger Company, one of the city's two garbage pickup outfits was a dollar a year lease of a small lot it owned so that it could be used as a "postage stamp" park in Little Hollywood (a sub-neighborhood), and a better way to cover its trucks so that debris wouldn't fly from them as they passed through Little Hollywood on the way to the City Dump—this was before the day of modern "packers".
Brajkovich was the 1972 George Wallace-for-President Campaign Coordinator for San Francisco. Wallace was the racist former Governor of Alabama who spewed forth a mix of populism and racism. His success with white working- and lower-middle-class voters sent a chill down the spine of mainline Democratic Party activists; he was a precursor of what became the "Reagan Democrats" phenomenon in 1980. Whenever I talked with Brakovich about becoming part of the organizing committee that created APC, he unleashed a lot of vitriol about Sunnydale Housing Project, Geneva Towers (a HUD-subsidized, 500-unit, two 16 story buildings in the middle of the neighborhood), blacks, welfare recipients, and how they were all subsidized by working people like himself and his neighbors who had made it in America by pulling themselves up by their own bootstraps. When we met a next time, he would rant and rave some more about welfare, public housing, and Blacks getting everything. I just listened.
I also listened to what pained and angered him, and what he hoped he could accomplish for his members. He was pained by the fact that the neighborhood was going downhill (which, in fact, it was if you looked at things like housing deterioration, city services, and other "standard" indicators), and that the Sunset Scavengers ignored his requests to meet. He wanted to deliver for his people.
He was angry that he couldn't get "city hall" (or the scavenger company) to meet with VVIA and deal with these issues. He was most angered by the fact that Visitacion Valley had a "broker," a realtor named Henry Schindel who owned lots of property in Vis Valley, who set himself up between "downtown" and the neighborhood and dispatched favors here and there to keep himself in that "broker" position.
I kept bringing our conversations back to this point: Brajkovich wasn't getting respect for VVIA and he didn't have the power to do anything about it. I wasn't telling him anything he didn't know. But I did have an idea how he might get what he wanted: by joining with "those people" with whom he didn't want to join. Whenever he gave me his litany about "them," I asked him whether what he was now doing was working. I did that for about three months. Meanwhile, a number of churches, tenant associations, block clubs and other groups in the neighborhood were in the process of becoming part of the organizing committee that was putting together the founding convention of what became All Peoples Coalition (APC). If he wanted his issues to be part of the convention's resolutions and subsequently acted upon, his people to be among the officers, and a voice in the adoption of a constitution and by-laws for the organization, then he and they would have to join.
I even told him that if he didn't want the Sunnydale or Towers people to be part of the organization, he could propose different boundary lines for the neighborhood—lines that would exclude the housing project and Towers. Then I'd ask him what "downtown" would do with that piece of information if the organization presented itself as the "voice of the neighborhood." He knew that he couldn't get around the neighborhood broker if the organization, by its constitution, excluded what was generally considered to be a part of the neighborhood.
After several encounters, he invited me to be a guest speaker at a VVIA meeting. "No," I told him, "I don't want to be a guest speaker. I'll come to answer questions about the community organization if you'll recommend that VVIA join." Brajkovich finally agreed to make that recommendation. VVIA joined. And he didn't propose a constitutional amendment excluding Sunnydale and the Geneva Towers.
In fact, with APC support, an agreement was reached with the Sunset Scavengers on both littering and the postage stamp park. Ron Morton, President of APC, was part of the negotiating committee. He was an African-American locksmith whose shop was on Leland Street, Visitacion Valley's neighborhood commercial strip. Other African-Americans who lived in the federally subsidized Geneva Towers participated in some of the direct action events that put the pressure on that got the Scavengers to finally meet; so did some people from Sunnydale.
Eddie Wafford Shows Up
In the brief period preceding the following story, APC had undertaken campaigns for improved neighborhood traffic controls, recreation facilities, job opportunities and public housing. In the Mayor's revenue sharing hearings, APC demonstrated itself to be the "voice of the neighborhood."
Eddie Wafford was a retired Teamster Business Agent living in Visitacion Valley. He shared the anti-Black prejudices of his fellow Irishmen in the neighborhood. But he was a member of the Visitacion Valley Improvement Association (VVIA), attended APC's founding convention and participated in some of the action that led to the agreement with Sunset Scavenger Company, as well as a few other APC activities.
About a year later, the tenants in the Geneva Towers, with APC organizing staff assistance, developed the Geneva Towers Tenants Association (GTTA) and joined APC. By that time probably 80% or more African-American in its make-up, the 500+ units high-rise Towers stood out in more ways than one in a neighborhood that was primarily single-family homes and duplexes. (Years later, the Department of Housing and Urban Development paid to literally blow the high-rise Towers up and replace them with townhouse subsidized units.) GTTA wanted Towers management to meet with it and negotiate a series of improvements and services in the two buildings. After showing up for a first meeting, management refused to
further discuss things with its tenants. Direct action by the tenant association followed. (Along with some of the other organizers of APC, I've written the story of this tenant association in The People Fight Back: Building Tenant Union.)
Eddie showed up on a Saturday morning to ride a rented bus to the Towers owner's home in nearby fancy Marin County. Eddie was one of a number of whites from the neighborhood who participated in the day's action. By that time I'd gotten to know him pretty well. Given what I knew about his feelings toward blacks, I was a bit surprised to see him, and said so when I first saw him that morning.
On the way home from the picketing, he and I had this conversation:
Mike: I was a little surprised to see you here today, Eddie.
Eddie: Why's that, Mike?
Mike: Well, you know, you told me a while back you didn't have much use for Black people, particularly those living in the Towers.
Eddie: Aw, that was before I got to know them and they showed up for me and Little Hollywood. This is the least I could do.
Mike: So how do you feel about the Towers people now?
Eddie: There's some real nice people there, Mike.
Mike: Whose interests do you think were served by the way you used to think about the Black people there?
Eddie: What do you mean?
Mike: You think about it; we'll talk a little more later.
When we talked about it later, Eddie understood that "downtown," the Sunset Scavengers and Henry Schindel, the old-style neighborhood political "broker," were the people who benefited from his prejudices against his black neighbors.
The racist President of VVIA may have never changed his mind about "them" or "those people" (I don't know whether he did or not). But some of "his people" did, Eddie Wafford included. Equally important, they concluded their interests were better met in relationship with people they hadn't wanted to work or associate with in the past. I wouldn't have gotten to talk with the VVIA people if I had "led with race"—telling Joe Brajkovich that he and his members were wrong about their racism, were "privileged whites" or whatever. (That was the then-common approach of "anti-racism" organizers.) The door would quickly have been shut or the phone hung up when I called.
Other Stories
Almost every veteran community or labor organizer I know can tell stories like those above—whether about Mexican Americans and Filipinos in Cesar Chavez' organizing of farm workers in California's Central Valley, blacks and whites in Arkansas ACORN, native Hawaiians, Portuguese, Japanese, Chinese and Filipinos in the organization of pineapple and sugar plantations by the International Longshoremen's & Warehousemen's Union (ILWU) in Hawaii, the same union's experience with blacks and whites on the California west coast, blacks and whites in the Packinghouse Workers Organizing Committee and Back of the Yards Neighborhood Council organization of Chicago's stockyards, Puerto Ricans, African-Americans and white ethnics in the anti-Crosstown Freeway fight in Chicago, blacks and whites in Laurel, Mississippi's International Woodworkers of America (IWA) experience with Masonite Corporation (here former Student Nonviolent Coordinating Committee white organizers achieved racial breakthroughs that included KKK members), blacks and white ethnics in a variety of anti-redlining/block-busting campaigns across the country as well as in on-going multi-issue community organizations, blacks, Latinos (many undocumented) and a small number of whites in the United Food & Commercial Workers of America (UFCW)Tar Heel, North Carolina Smithfield hogkilling plant organizing campaign that took 15 years to win.
And here's one that deserves careful attention. In Indianola, Mississippi, when UFCW striking catfish-farm workers (90% African-American) sought support from the black majority of the Indianola city council, it wasn't forthcoming. The black politicians had reached electoral and governance comity with the white former plantation owners who now owned the Mississippi Delta's catfish farms. Fortunately for the workers, they had a union that included both blacks and whites.
A Different Approach To Racism (and Other "Isms")
My conclusions from the above experiences:
• Draw the "boundary lines" (industrial union, multiracial/ethnic turf or multi-racial/ethnic organization which chapters join) so that people come into relationships with "The Other."
• Look for circumstances of cognitive dissonance— when people's experiences don't fit the stereotypes they came to the experience with.
• Use self-interest issues—either of the "you scratch my back and I'll scratch yours" or the bigger than anyone of us can handle alone variety—to create opportunities for new relationships that cut across historic lines of division.
• Place those self-interest issues in a larger framework of justice, fairness and democracy values.
• Those circumstances, interests, values and relationships create teachable moments— opportunities when an organizer or educator really can get people to change their minds.
Contrary to what most sociologists and "leading with race" organizers say, peoples' prejudices can quickly be put on "the back burner" and soon fade to the background when the circumstances are right and the conversation based on those circumstances provides a new way to frame reality.
Elections Sum Up What Has Preceded Them
Organizing across racial lines, and other lines that divide a potential majority constituency, is a year-round proposition that will bear fruit at election time. Also note that for these stories are in specific local places. That's where organizing has to begin because it's where continuing relationships can be established. Finally, it's where victories can be won as a result of struggle and solidarity. Without these victories, the fragile unity that begins such efforts will fade into the past, and old prejudices will return.
In the absence of this kind of organizing, the kind of campaign that Donald Trump won is likely to gain traction in the white constituencies he appealed to. And consider this: if there are not organizations of the kind I'm describing, what would happen if in a next election a Sanders—whether him or someone like him—wins? It is impossible to conceive of a US government that could quickly reverse what has been going on for 50 years. In the absence of a rich civil society infrastructure that can be part of a process of social transformation, that transformation will die on the vine, its participants at the base feeling betrayed by the candidate(s) they elected.
This kind of organizing can overcome the "isms," not simply for a single election cycle when the isms are momentarily overcome by consumers who buy the same product (as they did with Barack Obama) but for the long-haul struggle that will be required if we are to come close to what Bernie Sanders advocated, let alone a more participatory, egalitarian and democratic society that we might imagine.
Mike Miller was lead organizer for the All Peoples Coalition (APC) (1971-72). He was a field secretary for the Student Nonviolent Coordinating Committee (1962 to the end of 1966), directed Saul Alinsky's Kansas City, MO organizing project (1967-68) and continued his organizing work for another 40+ years as director of ORGANIZE! Training Center. He is author of A Community Organizer's Tale: People and Power in San Francisco, and co-author/editor of People Power: The Community Organizing Tradition of Saul Alinsky.