Written by NICK LICATA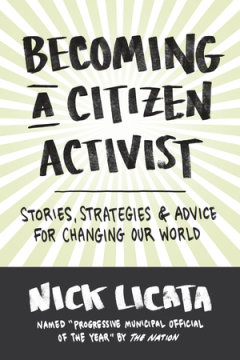 Societies have two kinds of power: people power and institutional power. In a representative democratic government, these two powers are balanced through a transparent application of laws. But when political or economic power becomes concentrated in too few hands, then you need to acquire power to realign the balance.
One approach is for a group to create a parallel power structure without receiving approval from a higher established institution. The parallel power structure not only assumes power but also acts as a legitimate authority for carrying out its functions.
The proliferation of self-managed homeless encampments, often in some of our wealthiest cities, like Seattle and Portland in the Northwest, is an example. Here individuals create their own self-governed communities because they have no other way to and secure shelter for the night.
The development of Seattle's encampments illustrates what tactics have been used to secure land and political support for their existence until affordable housing for their inhabitants once again becomes available. Scott Morrow has been working with homeless people organizing tent encampments since 1990, with the longest continuing one, Tent City 3, dating back to March 31, 2000. Previously, Morrow had been working with the Tenants Union of Washington State and was moved by seeing renters being tossed out of their homes and becoming homeless. Over time he began to see that people who found themselves homeless had different tactics and goals than the housing activists. While the activists were focused on longer-term goals like finding apartments or building new ones to provide permanent housing, those living on the streets were most concerned about where to find a safe shelter for that night.
Morrow began meeting once a week with a dozen people who were homeless to better understand their needs. At their first meeting they sought to protect themselves from being displaced during the Goodwill Games that were being held in Seattle in 1990. The Games were highlighting the competition's role in fostering good Soviet-US relations. But a possible unintended consequence might have been removing homeless people from their makeshift shelters in vacant lots and alleys. The City responded by allowing homeless encampments to use Myrtle Edwards Park during the day while the Games were going on.
With Morrow's assistance, the original group of homeless people he had met with formed the Seattle Housing and Resource Effort (SHARE), and in preparation for the winter season they tried to rent a warehouse to provide them with twenty-four-hour shelter seven days a week. Unable to find one, they decided to erect a tent encampment when they found that inexpensive military tents could be acquired at auctions. Keep in mind that tent encampments were not the first choice. The occupants would have preferred to find indoor shelter, but having been rejected by private property owners, they had no other choice.
They found an empty lot owned by Barry Ackerley, who also owned the Sonics professional basketball team. They dropped him a note asking to negotiate an arrangement, but he didn't respond. After they camped out for two weeks, newly elected mayor Norm Rice intervened and offered them a bus barn in the Lower Queen Anne neighborhood, where the Bill and Melinda Gates Foundation is now located. SHARE accepted the offer under the condition that they could manage their own shelter.
To his credit, Rice trusted that homeless people could responsibly do so and limited the barn's occupancy to one hundred people, while making sure they had access to hot water and bathroom facilities. SHARE, recognizing that there is strength through a united community, initially turned down the offer because their two-week tent encampment at Ackerley's site had attracted 152 people. They did not want to leave anyone outside. The City acknowledged that need and arranged to make available a hall in the Assumption Catholic Church just at night, meanwhile keeping the bus barn open 24/7.
The Queen Anne neighborhood's response to the encampment was divided. Their chamber received a promise from the mayor to close it down after winter. However, the neighborhood advisory group created by the City to work with the shelter people voted to let SHARE to stay. The encampment built goodwill by having transparent operations and issuing reports when people in the shelter broke their encampment code of conduct, which required sobriety, no violence, no loitering, and respecting neighbors. Most importantly, any members who broke the code could be and often were expelled from the camp by a vote by those in the encampment. In other words, discipline was self-imposed in a democratic manner.
Despite having the support of the advisory group, SHARE left the Queen Anne site when the mayor asked them to. Confrontations with the police would not have served SHARE well. They wanted the public to understand that they were cooperative and respectful of others but still committed to establishing homeless encampments. Their willingness to move from any site when requested has built goodwill with the broader public. Consequently they have continued to move around the city, most often to church properties where they have been invited to stay for a limited period of time.
One of the elements contributing to their cohesiveness is having paid staff and resident leaders. The staff get paid minimum wage, and the resident leaders are people who have lived at the camp long enough to have a knowledge of the history of what has worked for the organization, like the need to have rules to keep order. Even with 75 percent of the residents being there less than a year, the people staying in a well-managed tent encampment can develop a strong sense of purpose and community.
Richard LeMieux aptly described that sense of helping one another in an op-ed in the Seattle Times. He had fallen into depression after he lost everything in a major business failure: his waterfront home, possessions, friends, spouse, and family. For three years he was homeless, living on the streets or in his van. Then he found a self-managed tent encampment and saw it as a place "where miracles can happen, through mutual kindness and compassion. It can be a place where local neighbors can visit and learn that the homeless are no different from themselves—other than not having a warm, permanent place to call 'home.'" This is a condition that isn't created by an outside nonprofit agency imposing order; it grows from the working relationships that develop within a self-help community.
Encampments are not the solution to homelessness, however. From 2011 to 2014, the number of unsheltered people sleeping outside in Seattle went from just over 1,700 to more than 2,300. And that was not including roughly 6,000 people who were in area emergency shelters and transitional housing programs. As in other large cities, small clusters of homeless people, mostly men, take refuge in greenbelts or under bridges; most of these are informal, temporary arrangements without enforceable rules.
Seattle's three self-managed encampments stand out from the rest in their adherence to orderly conduct and safety. In 2015 the largest one—with the previously adopted name Nickelsville after former mayor Greg Nickels, which was not meant as, nor seen as, an honor—had 130 people. The other two were smaller; one had ninety-five residents, and the other had forty. All three camps, like others run by SHARE before them, had security workers on duty twenty-four hours a day and litter patrols outside the camp on a daily basis. The camps also provided bus tickets for residents to get to work or appointments. There was a food-preparation area, and volunteers often brought hot meals in the evening. No public funds had been spent for maintaining any of Seattle's encampments until the city council authorized funds to be spent to provide some minimum basic services in 2015.
Two different mayors convened citizen task forces to review the homeless situation and make recommendations. Both groups concluded that homeless encampments were useful and should be accommodated. The council came close to acting but retreated when neighborhoods opposed permanent encampments. The council passed legislation in April of 2015 with the mayor's support, designating city land for up to three encampments with a maximum of a hundred residents each.
The camps would be subject to a code of conduct similar to what was being enforced by SHARE. The council subsequently received a list of possible sites from the mayor for making the final selection so that the camps could be operational before the end of the year.
Sharon Lee, the executive director of the Low Income Housing Institute (LIHI), has been working with SHARE for over twenty years. She described self-managed encampments as "a safe 24/7 environment for people, offering stability and a good crises response solution. Caseworkers often have better access to the people who are homeless at encampments than overnight shelters."
In creating a power structure parallel to the outside world, self-managed encampments provide their residents with an opportunity to learn how to handle donations and public relations. They take personal responsibility for and have ownership over their environment. Lee concluded that "when people have a sense of ownership, they gain confidence and they hold each other accountable. They need not just physical stability but also social responsibility." In other words, they are becoming citizens.
Excerpt from "Becoming a Citizen Activist: Stories, Strategies, and Advice for Changing Our World," by Nick Licata available through Sasquatch Books in Seattle at www.sasquatchbooks.com.
Nick Licata was a long time city, 4-term member of the Seattle City Council, co-founded and chaired the board of Local Progress, a national network of progressive municipal officials, and was once named "Progressive Municipal Official of the Year" by The Nation.