Written by SP Editor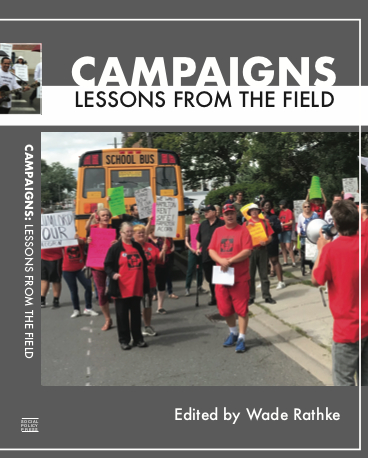 Campaigns: Lessons from the Field outlines how issue-based campaigns build peoples' power and deliver victories, with sections on Jobs, Income, Health, Housing, Rights and Safety, Taxes and City Services, Land and Resources, and Development.
Essays include contributions from Nik Belanger, Lew Finfer, Mike Miller, Drew Astolfi, Claire Gallagher, Bill Pastreich, Steven Kest, Judy Duncan, LeeAnn Hall, Zach Polett, John Anderson, Marva Burnet, Davin Cardenas, Adrien Roux, Randy Shaw, Dine' Butler, David Tozzo, Beth Butler, Ruth Rinehart, Joe Szakos, Emily Bloch, Nick Ballard, Anny Cullum, Robert Fisher, Fred Brooks, Daniel Russell, Eloise Maulet, Dominic Moulden, Gregory Squires, Randy Cunningham, Darcy Pumphrey, Kenneth Reardon, Antonio Raciti, and Wade Rathke, who also served as editor for the volume.
If you want to move an issue to a solution, you need a campaign and Campaigns: Lessons from the Field details the way it is done by community organizers and community organizations every day working in field. Paperback $15 (plus shipping).
You can also purchase on Amazon
or direct from Social Policy Press