Written by John Anderson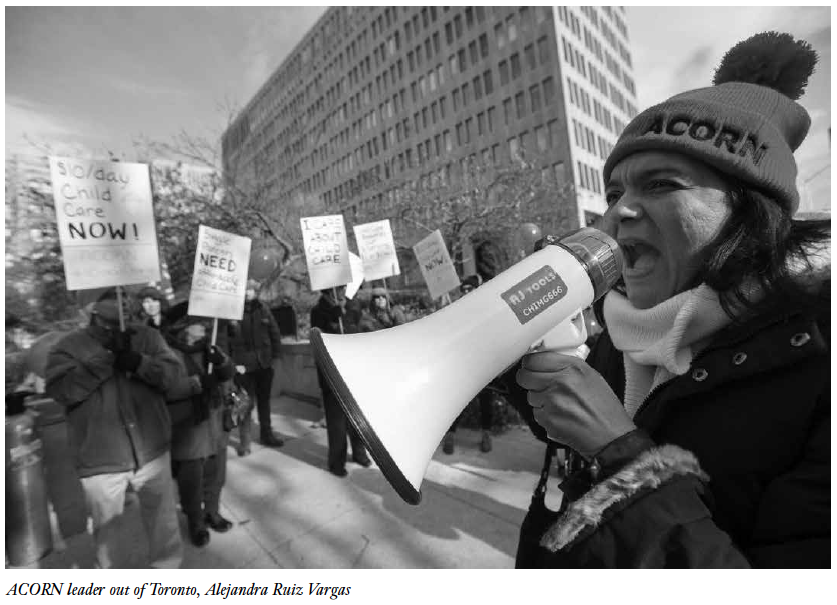 My partner and I will pay around $24,000 in childcare fees this year for our two-year-old son Ace. We are both working in jobs we both need and like. We can't quit, and luckily, we don't have to. We find a way to pay for it.
The childcare center Ace attends is run by the City of Toronto. It's licensed and has a unionized workforce of early childhood educators. It's really is a wonderful center doing really important work.
The center is close to my work, so most days on the way home Ace does his best to tell me how his day was. He does by listing the people he saw during the day, as if doing a roll-call. It's my favorite!
"Sharon there! Carol there! Ziggie there! Razia there! Saima there!"
Most of the days he only lists the workers, and not his peers. They are all women of color. All pros. And they all know how to care for, and educate, kids.
Alejandra Ruiz Vargas and I were discussing all of this on a recent trip to Vancouver. Alejandra is an ACORN leader out of Toronto. One of our funders was flying her out to Vancouver to present on community benefit campaigns to a group of labor and community leaders. I got in on the free flight / free hotel bonanza and was able to catch up with BC ACORN staff and leaders in person. During a flight delay Alejandra was sounding off about the problems with childcare as she sees it.
She had qualified for a childcare subsidy back when her daughter was of age — at that time Alejandra was a newcomer to Canada from Colombia. Even with the subsidy, she still needed to pay a significant portion of her income in childcare fees. The costs left her without money to pay for anything else for her daughter. This included municipal recreation programming. She did not qualify for this because her income was too high.
Perhaps the worst position to be in in the city is having an income just above the subsidy cutoff. It's normal for these parents to quit their job to take care of the kids. The parents who end up quitting jobs to care for kids are mainly women, and more precisely women of color, and this is a leading cause for the gender pay gap. Seriously, who's going to work a lower-waged job when it doesn't cover the cost of childcare on a daily basis?
There are non-licensed options that are more affordable for these parents. Once a week I see parents drop kids off at a second-floor apartment on the Danforth near the ACORN office. Cheaper for the parents, making it possible to keep employment, and in all likelihood, you can rest assured that your kid is safe and sound when you are at work. However, unlicensed childcare is lacking. They are likely not trained early childhood educators, and without regulatory oversight, who knows what exactly is going on exactly when your kid is there all day.
ACORN, and many organizations before us, have made campaigns calling for the systematic changes to the system that are needed.
A couple years back Marva Burnett — ACORN International President — simultaneously led an organizing drive in her licensed not-for-profit childcare
center and a $10 a day childcare campaign with ACORN leading up to the 2018 provincial election. ACORN lost the campaign, Doug Ford's conservatives won the election, but Marva did successfully negotiate a collective agreement at her center with the Canadian Union of Public Employees. Good jobs and decent pay is key to any successful childcare system.
Marva continues to push her Scarborough chapter towards affordable childcare campaigning. And there is a lot to fight for.
The solution to the childcare crisis brought forth by the Conservative Government in Ontario has predictably been a failure. The childcare benefit where every family gets an inadequate amount of money to 'decide for themselves' where their money goes, as Ford says, has done nothing to alleviate the burden that parents and childcare workers are facing. Premier Doug Ford, when pressed, once alluded that maybe women should just stay at home. As if women like Alejandra and Marva can afford to be, or want to be, June Cleaver.
Conservatives also cut the funding that goes towards the municipal childcare subsidies for low-income parents, and funding that goes to the centers like the one Ace is in. It's estimated by the City of Toronto that over 700 subsidies will be lost due to these cuts.
Marva and Alejandra and the rest of the Toronto ACORN board are strategizing ways to push the city to find funding for the programs themselves, despite the provincial cuts. They are starting with an action at Scarborough Centre MPP's office set for just before Christmas. I've put that action in my calendar. Working parents deserve a break!
John Anderson is the Field Director for ACORN Canada. Since 2004 John has helped to develop the ACORN Canada operations in Toronto, Ontario, and British Columbia. He is a graduate of the University of Winnipeg.