Written by Olivia O'Connor, ACORN Canada and Sammy Ndirangu, ACORN Kenya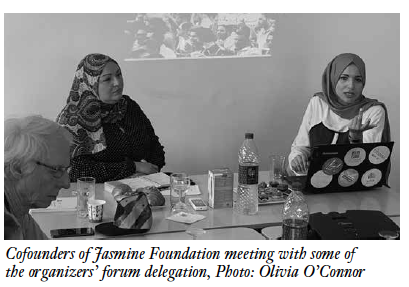 Tunisia has experienced an explosion of civil society organizations since the 2011 revolution. It has been eight years since the small North African country entered the unknown territory of democracy. Since its political revolution, communities across Tunisia have come alive and realized the power in community organizing to ensure both a successful transition and leverage new found power in local decision making and their communities. During our week in the capital, our delegation met with the Jasmine foundation and its organizing arm El Comita, an affiliate of ACORN, which was our chance to see community organizing in action!
Co-founders Dr. Tasnim Chirchi, and Intissar Kheriji describe the Jasmine Foundation as a think-and-do tank. Formed in 2013, the foundation's mission is to strengthen democratic stability and economic prosperity by building the capacity of communities to have a say in the democratic process. They have organized successful projects both in urban and rural communities. One project they were proud to share was a community garden project, which established a sense of community and trust in a neighborhood that lacked citizen participation.
Like many of the community and labor organization we met with, youth were the targeted group for organizing. Organizers focus their outreach efforts where young people gather and host 'youth cafes' to initiate involvement. Jasmine's founders say these projects give young people a taste for community involvement with many project participants going on to run and win positions in municipal government. After two meetings with Jasmine leaders, it is clear the foundation is playing an important role in facilitating citizen participation in vulnerable neighborhoods and having an impact on Tunisia's road to democracy after sixty-three years of dictatorship.
In addition to Jasmine's research and project work, the foundation began a community organizing pilot in 2016 called El-Comita - 'union of the people'. El Comita is now an official affiliate of ACORN International, Wade Rathke ACORN chief organizer sealed the deal with the sharing of ACORN flags. Like all ACORN affiliates, El-Comitia is aiming to build a mass membership organization of low to moderate income families in and around Tunis. So far, they have five neighborhood chapters with dues paying members and issues of the membership have been prioritized. El-Comita's lead organizer shared some of the actions members had organized. One action stood out as particularly clever and successful in achieving the member's demands. In response to the issue of stray dogs, members organized an action outside the targeted municipal office wearing dog masks and barking. New to such a display of direct action, municipal elected officials ran frightened but the action got the concerns of members taken seriously.
Our delegation also had the opportunity to visit one of the communities El-Comita was organizing in Borj Chakir. The neighborhood is adjacent to a massive landfill that poses serious and life-threatening health dangers. Organizers are going door-to-door getting petitions signed and aligning with environmental groups to find a solution.
In our last meeting with El-Comita, we got a chance to share a campaign from Hamilton, Canada, about renovictions and displacement of low-income tenants in the city's downtown core. Tunis organizers shared that this is also happening in the Medina of Tunis with foreign investors capitalizing on cheap real estate and surge in tourism. The overlap of issues across continents was an important reminder of the fundamentals of grassroots organizing. Organizers from all affiliates appreciated the opportunity to share best practices in developing community leaders and effective direct action. As organizers in Canada and Kenya, we look forward to watching the progress of our new affiliate El-Comita navigate a new world of community organizing in Tunisia.
Olivia O'Connor is the head organizer of ACORN Hamilton in Hamilton, Ontario, Canada, and Sammy Ndirangu is the head organizer of ACORN Kenya in Nairobi.