Written by Stuart Lavietes
EDITOR'S NOTE: Frank Riessman was the founding editor of Social Policy. Fifty years on, it continues to be part of his legacy, just as it was a central part of his obituary when he passed away. As the current editor, I felt lucky to have known Riessman and the journal "back in the day." It was almost the first place that every published anything that I wrote about organizing. We hope the apple hasn't rolled too far from the tree.
New York Times (March 14, 2004)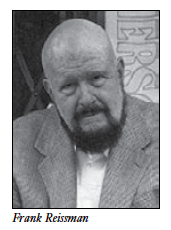 Frank Riessman, a social psychologist and founding editor of the journal Social Policy, who stressed the importance of self-help as an agent of social and political change, died in Manhattan on March 1. He was 79.
He was at a nursing home, suffering from Parkinson's disease and diabetes, at the time of his death, his daughter Robin Riessman said.
Dr. Riessman, who during his career was on the faculties of Bard College, New York University, Queens College and the Graduate Center of the City University of New York, was active in the antipoverty movement of the 1960's. Early in the decade, he worked with Mobilization for Youth, an educational program for minority students.
In 1964, he became director of the New Careers Development Center at N.Y.U., which provided job training for the chronically poor, particularly in the human services field. He believed that an expansion of careers in education, social work and health care would help break the cycle of poverty, providing meaningful work for the poor while attacking problems like drug abuse, crime and despair.
In 1970, Dr. Riessman help create Social Policy, a quarterly journal devoted to participatory reform and to uniting advocates of social change. As editor, he urged the federal government to seek full employment by creating jobs in the human services and environmental conservation fields, contending that new job programs would be less expensive than unemployment benefits.
In 1976, he founded the National Self-Help Clearinghouse, an educational and research organization dedicated to increasing awareness of the importance of mutual support. In an interview on the organization's Web site, he said that self-help programs—including everything from Alcoholics Anonymous to Act Up, the protest group concerned with AIDS issues—are valuable because they encourage members to rely on themselves and their experiences rather than on external help. He also said that members benefit most by providing help to others and that the organizations help democratize the way services are provided.
Frank Riessman was born in Manhattan on April 9, 1924. He graduated from City College and received his Ph.D. in social psychology from Columbia. Dr. Riessman wrote or edited 16 books, including ''New Careers for the Poor'' (1965); ''Social Class and Social Policy,'' with S. M. Miller (1968); ''Children Teach Children'' (1971); ''The Inner City Child'' (1976); ''The Self-Help Revolution,'' with Alan Gartner (1984); and ''Redefining Self-Help,'' with David Carroll (1995).