Written by Ellen Ryan
EDITOR'S NOTE: We'll be sharing essays from the archives throughout our 50th year celebration. During this election season, Ellen Ryan's piece was still amazingly current is speaking to what we need to remember in politics, action, and organizing today a decade later.
Do you think the flurry of canvasses, phone banks, house meetings, and demonstrations activists have been doing for the last few years is something called grassroots organizing? It isn't. It's mobilizing. Herding people into voting booths, robo-calling lists of phone numbers to generate calls and letters to elected officials, and drumming up suitable poster children to deliver carefully scripted messages composed by public communications operatives at public hearings is mobilizing cut off from its organizing roots, and eventually weakens the base for sustained economic and social progress.
President Obama gave a speech in Portland, Maine on April 1st to thank supporters of health care and education financing reform, as well as outline immediate and long-term improvements that result from the new law. In his thanks, he said,
"When the special interests sent an army of lobbyists to Congress and blanketed the airwaves with millions of dollars in negative ads, all of you mobilized and organized and you refused to give up."
Frankly, perhaps unbeknownst to the President, what we did was mobilize and mobilize and mobilize. It's time to reconnect the roots and focus on organizing people in local communities across the country to build a healthy economy and just society together where they live.
The election of Barack Obama as U.S. President in 2008 and his much-publicized early work as a community organizer have no doubt played a role in conflating mobilizing people with organizing in the minds of many who have never experienced the difference between the two.
In Obama's Dreams from My Father: A Story of Race and Inheritance, published in 1995, the President recounts his early experience as a community organizer. He worked in a neighborhood on Chicago's south side, and went out to meet and converse with people who lived or worked in the community. He was hoping to find people willing to work together with others to make their community a better place to live, not to identify which political candidates or ballot measures they supported. In fact, Obama asked community residents their points of view on what they wanted to see improved in their community, rather than offering them solutions to their problems. Obama hoped not only to return to see the people he contacted over and over again, he hoped to weave relationships among them to form an ongoing organization of people with mutual interests in the community focused on exercising their power together to make it a better place to live.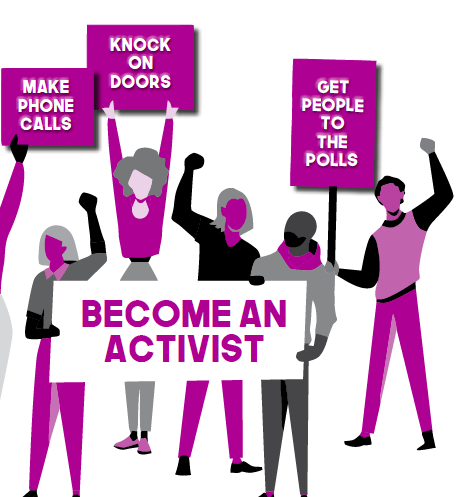 This form of organizing is challenging and painstaking. Nevertheless, its key objectives are finding and developing people with the leadership capacity to work effectively with other people in the community and beyond to build public relationships, develop strategies, and take effective action to achieve their goals. Community organizers intentionally weave the relationships among the members and potential members of the organizations they work for into as strong and dense a community fabric as possible, and connect the organization to the wider community as well. Members of community organizations aren't merely individuals with the ability to act, but participants in working groups who know one another and the other people they organize. Organizing for electoral campaigns or policy issues are forms of organizing that work best when they are rooted in these ongoing local community organizations, unions, faith communities, political organizations, and other groups that provide their own members with a broad and ongoing context for action.
The term activist is popular among electoral and issue campaign mobilizers. They're looking for activists to make phone calls, door knock, host house meetings, get people to the polls, speak at a public hearing or to a legislator. The goals and tasks are already defined and the grassroots activists perform tasks. Community organizers are looking for members, people who participate in defining the issues to work on and the strategies and tactics needed to address them. Community organizers are also looking for and developing leaders, people who have and use their ongoing connections to other people to invite and inspire them to get involved in the work of the organization.
Leaders aren't strangers who appear out of the blue at your door asking you to vote or write a letter to your senator. Grassroots leaders are people you know, or at least who know someone you know, live in your community, invite your ideas, take time to talk about the pros and cons of various issues with you, and hope you'll develop an ongoing relationship by working with the organization based in your own community.
Mobilizing isolated from organizing is merely the mechanical application of turnout methods separated from careful consideration of what needs to be done and the best ways to do it by all the people with a stake in the outcome and a willingness to do the work to get there. Isolated from organizing, mobilizing voters has the same effect as skimming short-term profits on Wall Street—weakening the fundamentals and sapping potential over the long-term.
Missed Opportunities: An Example
After agreeing when asked to host house meetings, knock on doors, make phone calls, lobby, write letters, contribute money, and turn out for hearings and rallies for four different campaign mobilizations in Maine over the last couple years, I think all these scrambles to win would be more effective if they created space for people to develop public and community relationships, wider analysis, deeper commitment, and from these, more practical, simple, and effective tactics.
To illustrate with one example, I received a phone call from a volunteer I'd never spoken to before asking me to volunteer for a door-to-door canvass in my city of Augusta last November to get out the vote in support of same-sex marriage. I agreed, but my thirty-years' experience as a community organizer soon led me to question the wisdom in the tiny slice of mobilizing tactics I had signed on for.
On the Saturday before the election, my husband and I participated in the training session scheduled before the canvass took place that afternoon. Volunteer facilitators distributed a script, maps, brochures, stickers, and street sheets to the 50 or so volunteers who showed up. After brief introductions, they told us the election results would be very close and every vote counted. They thanked us for volunteering to help, and then demonstrated with other volunteers how to knock on doors. After introducing ourselves as volunteers for the No on One campaign and asking to speak to the person listed on the street sheet, we were told to ask whether the person supported same-sex marriage. If the person said, "No" we were to say, "Have a good day," and leave. If the person said, "Yes," and hadn't already voted early, we were to urge them to vote on Monday, the day before the election, at City Hall, instead of Tuesday at the polls, and ask them if they needed transportation. We were told not to leave brochures, which were in short supply, or spend any time talking with people who were not in support of same-sex marriage.
One volunteer questioned some wording that she didn't agree with in the script, and a facilitator replied that professionals had developed the script to clearly communicate our message, so we should stick to the script. Another volunteer questioned our primary assignment to ask voters to vote Monday rather than go to the polls on Tuesday, since she liked the festive atmosphere at the polls on Election Day and thought early voting was just for people who couldn't get there on Tuesday. A facilitator replied that a supporter might get hit by a truck on the way to the polls Tuesday, so should vote Monday before that happened. A volunteer muttered softly that a supporter was just as likely to be hit by a truck on the way to City Hall on Monday. Another facilitator interjected that it would save the campaign time making calls on Tuesday if as many people as possible voted on Monday.
The training ended with instructions that we leave in pairs and work opposite sides of the streets on our maps, keeping an eye out for our partners as we went. We were issued cell phones with an emergency number to call if we ran into any problems, asked to return to drop off our phones and street sheets later in the afternoon, and then spent some time testing our cell phones. Ours didn't work, but we didn't want one anyway and took the dead phone with us rather than asking for another one.
My husband and I were assigned to knock on 90 doors in a working-class Augusta neighborhood not far from our own working-class Augusta neighborhood. On the way out the door, I asked an organizer whom I'd never met before and haven't since if we could be assigned to our own neighborhood instead. He said the street lists had already been assigned, and we'd be talking only to people who supported same-sex marriage anyway. He may have surmised I was afraid to go to an unfamiliar neighborhood and wanted to reassure me it didn't matter by pointing out I'd be talking only to people who already agreed with me, and that I had a cell phone and emergency number to call if I ran into any problems.
I wasn't afraid. Had my husband and I been recruited earlier in the campaign to canvass our neighborhood, we would have had the opportunity to build a network of block captains who knew one another and their neighbors well enough to engage in thoughtful give-and-take about the pros and cons of legalizing same-sex marriage, as well as talk about other matters of neighborhood concern, ranging from street paving to adequate care for the mentally ill. Short of that, had we simply gone into our own neighborhood that Saturday before the election, we would at least have known some people well enough to have easy, substantive conversations. We'd also have been more likely to get to know others we'd see again and begin to develop relationships with them over the long-term. Instead, we were strangers sent out on a one-time assignment to encourage people who already supported same sex marriage to get out and vote—on Monday.
For a one-shot deal, my husband and I were as good a pair as any to assign to an unfamiliar neighborhood, although no one running the training session that day knew we had worked as community organizers, canvassers, and on political campaigns in the past. We modified our instructions a bit by door knocking together rather than separating to work opposite sides of the streets. Aside from enjoying one another's company, we were an easily welcomed gray-haired couple at the doors and more efficient navigators of sometimes confusing warrens of tenement apartment entrances than we would have been working solo. Although focused on our task, it was impossible not to notice the high vacancy rates in many of the tenements, for sale signs on several deteriorating properties, and long-uncollected trash piled high outside more than a few multi-unit residences, all community issues that strong neighborhood organizations, where and when they exist, address effectively.
We found some people who supported same-sex marriage. Some said they had already voted early, some agreed to vote on Monday, and others said they'd vote on Tuesday. We found other people who opposed same-sex marriage. Some voters no longer lived at the addresses on our lists. But we also found some people who said, "I don't know yet," or "I'm not sure," when we asked them if they supported same-sex marriage. So, we bent the rules a little more by spending time talking with them. We briefly shared the pain of a woman who was torn between her religious beliefs and her love for her gay nephew. We clarified the concerns of a young man who wanted to vote for same sex marriage but was worried about the opposition's claim that gay marriage would be taught to school children if the law stood as written. We were asked about and explained the counter-intuitive matter that a no vote on the referendum would leave the gay marriage law intact and a yes vote would veto it to a couple who never clearly declared their positions on the issue. And we discussed the pros and cons, not of gay marriage, but the TABOR question on the ballot with a husband and wife. One had already voted early against same-sex marriage and the other was undecided but leaning toward supporting the gay marriage law while opposing TABOR. We also expressed our sympathy to a grieving husband who told us the voter on our list, his wife, had died more than a year ago. We finished our door knocking about a half hour early and returned our cell phone and completed street sheets to the campaign meeting site. We declined the invitation to stay at the site and munch on pizza until everyone returned for a debriefing session. I was tired and wanted to rest.
On Election Day, two young girls volunteering for the same-sex marriage campaign knocked on my door to offer literature, explain the importance of upholding the same-sex marriage law, and encourage me to go to the polls. I pleasantly assured them I had voted in favor of legalizing same-sex marriage with my husband early that morning, thanked them for stopping by, and watched them happily return to the idling station wagon with an adult driver waiting for them in the street. I waved good-bye as the car proceeded a few blocks without stopping at another house along the way. The "No on One" campaign director sent an e-mail after the election saying thanks for supporting the campaign, and despite the defeat, the effort to secure same-sex marriage rights would continue. I haven't heard anything about the campaign since then.
The point here is that just mobilizing isn't organizing. It's a set of tactics rather than a substitute for building organizations with strong community commitment and long-term strategies forged within a broad and deep base of members and leaders. Effective mobilizing is dependent upon strong organizations and a set of long-term relationships already in place. Building and maintaining those relationships takes face-to-face communication, deeply rooted and densely woven organizations, and trust that comes from healthy give-and-take among members and leaders about values, goals, and methods to achieve them.
The Tea Party is an Opportunity
What would it be like if community leaders, as distinct from activists, raised $22 per voter in the last election to build community organizations in Maine or any other place in the country? Issues of same-sex marriage, taxation, health care, energy, agriculture, immigration, education, environmental protection, and creating a viable economy are all important, as are a host of others. But the means to achieve improvements can't rest only or primarily on expensive technologies for voter turnout and coalitions composed mostly of activist organizations without members and leaders building long-term relationships with people in their communities. People need to be asked what they want now and for the future, and whether they're willing to take a broad look with other people from a variety of viewpoints in order to define and move forward with plans to make life better where they live.
The Tea Party movement is a case in point. It reminds me of the movement that emerged during the 1980's farm crisis, when tens of thousands of farm families lost their land and livelihoods in the wake of corporate consolidation of agriculture. Conspiracy theories abounded in the heartland at the time, particularly one that claimed the economic crisis was the intentional result of a conspiracy of Jewish bankers in New York. Fear of losing one's farm led to anti-Semitic scapegoating for many, and a host of hate-mongering organizations stood at the ready to fuel it with widely-circulated pamphlets and audio tapes. The difference then was that family farm organization leaders, members, and organizers didn't write off their anti-Semitic neighbors, but talked to them, engaged them in serious analysis of what was happening in the farm economy, and invited them to plan strategies and actions to address the practical things they needed—to stop farm foreclosures, restructure farm debt, adopt sustainable farming methods, and fight for a fair price for their products—instead of wallow in the worst fears and hatreds that stalk the human heart and mind.
Canvassers parachuting into a neighborhood or careful scripts and images for television ads can't counter fear and hate, only identify or mobilize those who already agree with whatever policy issue or candidate they're promoting. Strong community organizations composed of community leaders and members willing to communicate with the so-called opposition can. While it's important to mobilize the base in elections, it's even more important to build the base every day or there's no base to mobilize when turnout counts. In spite of President Obama's observation that every day is Election Day in Congress, for people who aren't politicians every day is a chance to make things better or worse than they were the day before. Community organizations serve as a way for ordinary people to make things better rather than worse.
Showing up without introduction at the doors of strangers, or on their phones and e-mail accounts to ask them to vote isn't necessarily a bad thing to do, but it doesn't build commitment, leadership, or trust, either. Building actual community organizations, rather than leaving crucial issues to virtual networks of strategists, mobilizers, and activists, does. The ability of diverse communities to talk things through and exercise their power to improve community life through organizations they design, govern, and control deserves the effort and money it takes to develop and enhance them. And when needed, the most effective mobilization for voter participation and lobbying comes from within strong local membership organizations with solid community connections and commitments, not random phone calls from strangers residing in other states.
Organizing gives people a chance to share what they know and build their analysis and strategies together. The conflicted and undecided voters I talked to in Augusta wanted me to listen to them as they weighed their own thoughts, not just expound on my position, or worse, write them off as a waste of time. That I and many of my neighbors might not pass the litmus test for what it now means to be progressive doesn't mean we have nothing to contribute toward building a sound economy and just society. That we don't articulate our ideas or declare our positions in shallow 30-second sound bites is a hopeful rather than problematic state of affairs.
Even in the last-minute haste of an electoral campaign, certainly the most fast-paced, winner-take-all form of organizing, it's still possible for candidates and ballot issue organizers to listen to, respect, and learn from their constituents. Everyone who does it finds community organizing frustrating sometimes. But in committing ourselves to it we're also more likely to build a growing base of people who can deliberate, set goals, and take action together over the long term, reaching out to bring in more people to build deeper and wider organizations as the work unfolds. We need to use the latest technologies and tactics as tools to deepen and widen this work, not as a substitute for building the connections, trust, and deliberation that illuminate the meaning of, and motivation for, trying against enormous odds to leave the world in better condition than we found it.
Some talented people who came of age as organizers within the mobilization frenzy of the last two years are worn out, and think a saner way to make a difference is tostudy public policy in graduate school. Others characterize the work of an organizer as constantly calling people you don't know to ask them to contact their elected officials, and would prefer to find another way to make a living. Many seasoned organizers and leaders would prefer not to receive even one more call to mobilize, not because the issues aren't important, but because the basic community organizations they build every day are weakened for lack of day-in and day-out attention to cultivating relationships among people, developing leaders, facilitating popular education, research, community and power analysis, identifying potential issues within the membership, and forging strategy, action, and negotiations with decision-makers that energize people in their daily lives.
Surely the last presidential election created a special moment in history, and the less than perfect health care and college loan reform law is an enormous milestone on the long road to social justice. Strong community organizations throughout the country pulled out all the stops to make those things happen, many fueled with money and technology that added to the effort but weren't the source of progress itself.
Some issue campaign operations in Maine have simply folded in the last few months, having tantalized activists with the promise of long-term change only to pack up long lists of names and go on indefinite hiatus. New campaign operations are already starting up by calling their lists of names. Community organizations that amassed lists of hundreds of thousands of names of people they mobilized now need to organize those people as well as reach out to others. It's time to bring the victories home and focus on building healthy economies and justice where we live, not merely gear up for the next mobilization. Just as the President says he wants Congress to change the way it does business so that every day isn't Election Day, it's time to change organizing so that every day isn't mobilizing day. The special moment upon us now is to build community organizations with deeper and wider roots, not continue to beat the bushes to turn out the low-hanging fruit. President Obama wrote in a 1988 article for Illinois Issues that people often asked him why he, a bright, young, college-educated man, spent his time doing community organizing work. He said the shortest answer is, "It needs to be done, and not enough folks are doing it."
ELLEN RYAN was a community organizer and trainer with extensive experience in New England and Virginia who was living in Maine when this was written and published a decade ago and still lives there now.