Written by John Anderson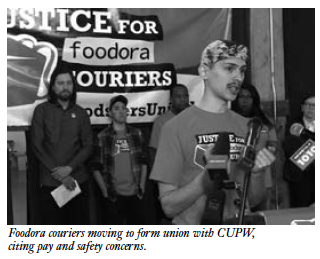 This last month CUPW won a precedent setting case that opens the door for large scale organizing of gig economy workers in Canada. The ruling by the Ontario Labour Relations Board states that couriers at the food delivery service Foodora cannot be classified as independent contractors, but instead are direct employees of the company.
Foodora is a food delivery service based in Berlin that operates in six countries. You order through their app and pay a large markup on the food and the courier—usually on a bicycle in Toronto—picks up the food and gets it to your door.
Generally, the Foodora couriers in Toronto are young, keen, hip, and politically active. One of the field organizers at Toronto ACORN was doing deliveries with Foodora before working with us. The organizing drive was important to him, so he did his best to keep a couple of shifts even after taking the job with ACORN. The group is solid and it is clear why CUPW would want to have them leading a precedent setting case.
Going to the Labour Relations Board was the primary tactic for CUPW. It worked, and that is great, but before we hail this is a new ground breaking way of organizing in Canada, we need to question how different it really was, seeing that the entire campaign was dependent on labour lawyers in suits winning at the LRB.
I can't help but wish that they used direct action as a tactic in the campaign. [Editor's note: see early excerpt by Cant on Deliveroo.]
Regular actions by the Foodora couriers against Foodora bosses could be highly effective at winning demands for the members with or without formal unionization. Unions and workers are going to lose cases at the LRB, and they need to be fighting regardless of what and how the governments classify them.
But all that may be too much nitpicking at a resounding success.
CUPW has doubled down on the win by opening a Warehouse Workers Centre (WWC) in suburban Toronto. Opening in January, the WCC will provide workers space for events, training, legal aid, and more importantly act as an organizing base for the union.
The WWC is located in Brampton, just northwest of Toronto. Brampton is among Canada's largest distribution hubs, with Amazon having a large presence. Amazon is a natural organizing target for CUPW, with not only warehouse workers remaining unorganized but a huge number of courier drivers who are classified as independent contractors or, as recently uncovered, are employees of shell companies set up at arm's length from Amazon. [See article on Montreal warehouse workers center in recent issue]
CUPW is hosting workshops every Saturday at WWC on basic labour rights, as well as holding community meetings. Long way to go to get it up to where it needs to be an effective base for organizing, but everything starts somewhere, and this is a very worthwhile effort that should have everyone's full support.
Both of these examples show how serious CUPW is about reshaping their union which is being decimated by the Federal Government cuts to Canada Post.
With some wind at their backs from the Foodora victory, CUPW is blazing a new trail in its fight for survival.
JOHN ANDERSON is the Field Director for ACORN Canada. Since 2004 John has helped to develop the ACORN Canada operations in Toronto, Ontario, and British Columbia. He is a graduate of the University of Winnipeg