Written by Dine' Butler
The New York City economy is booming1, and the unemployment rate is at an all time low, yet there is a persistent concentration of poverty and high unemployment among residents in public housing authority buildings. Virtually all public housing residents earn below 80% of Area Median Income2 (Conley, 2018) and would have a hard time finding housing that they could afford in New York City outside of New York City Housing Authority (NYCHA) (Austin & Gerand, 2018). Currently, policies do not exist at the local or federal level that effectively repair this problem. The market has also failed to address this problem on its own.
Public housing provides shelter to the largest number of the poorest households in New York City. As of the last American Community Services Survey in January 2016, there were over 400,000 residents making an annual average of a little more than $19,000 in the 183,080 public housing apartments (American Community Services, 2017). The study showed unemployment was almost three times higher among NYCHA residents than the rest of New York, which has an average of 4% unemployment rate (Seymour, 2018). "Even as New York City's overall poverty rate has stabilized, poverty has become increasingly concentrated in many census tracts in which a majority of households live in poverty, and nearly two-thirds of NYCHA developments are located in these extremely poor census tracts" (Pratt, 2009). One example of the dichotomy is the high rates of poverty in Community District Six, an average of 22% of the working age adults are unemployed, and the average household income is $23,660 per year (see Table 1), whereas the average income in its Community District Six is $104,652.00 (American Community Services, 2017).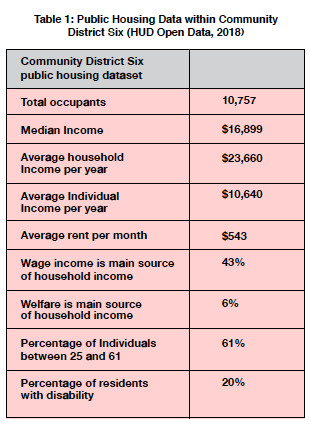 While poverty restricts NYCHA residents' freedom, NYCHA buildings providing critical stability. NYCHA, although in bad condition, is a secure and stable residency because its' residents have a right to "affordable" rent and will not be evicted as long as they follow the stringent rules and regulations. Unfortunately, New York City's unique combination of rising rents and cost of living, and the NYCHA high unemployment rate and the low wages control their ability to seek other living arrangements. Public housing residents are mandated to pay 30 percent of their gross income, which ensures that they will not have their rent increased and become even more rent-burdened.3 According to the latest report published in December of 2018 by the Furman Center, 61% of the public housing units were occupied by extremely low-income households (30% of area median income), whereas outside of public housing, there were only 80,000 housing units in the five boroughs with rents affordable to this same bracket of households (Austin & Gerand, 2018).4
Public housing residents need increased resources (financial and otherwise) so that the cycle of generational poverty is broken and that they have more options, including the option to pursue other housing.5 Public housing residents live in substandard, deteriorating apartments and buildings with poor air quality and mold-lined apartments that require substantive remediation, but residents have little choice about whether they can move out of these apartments. Departure from public housing to the private housing market puts low-income families at risk -- only publicly subsidized developments guarantee housing when there is loss of employment. Although Mayor Bill De Blasio's Affordable Housing Mandatory Inclusionary Housing Options creates more affordable housing, most of that housing will remain out of reach. The deepest affordability of the four options developers can choose (Option 3) only requires that 20 percent of new development include that "rent-restricted units be affordable to families making 40 percent AMI, $37,4560 for a family of three" (Kully, 2019) (See Table 2).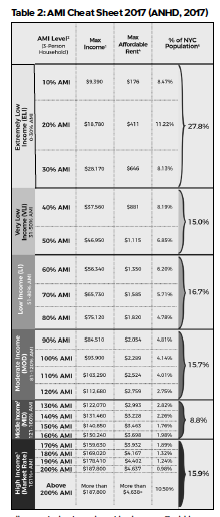 Causal Network
NYCHA is the largest landlord in New York and represents eight percent (NYCHA Fact Sheet, 2018) of all renters in the city, and provides the most affordable homes to over 107,000 households with extreme low incomes (Furman Center, 2018). There are many layers of underlying causes to the problem of high unemployment, underemployment and generational poverty within NYCHA. Citywide NYCHA tenants compromise 31 percent of all residents living in neighborhoods of concentrated poverty (NYCHA Fact Sheet, 2018)." First, there are structural barriers to prevent low-income, people of color, working age adults who do and do not have disabilities from obtaining employment.
When NYCHA residents have had the chance to report on why they are unemployed, one in four residents stated that they were in school or another training program, but physical illness or disability accounted for an even higher percent of 26.1% and retirement accounted for almost 30% of the population (Pratt CDC, 2009). "Just 43 percent of working age adults are in the labor force, compared with 66 percent of all working age New Yorkers… Much of the gap is due to a high representation of people with disabilities and young children, many public housing residents who could and want to be working are not." (Pratt CDC, 2009). Another reason almost 10% of NYCHA residents cannot obtain employment is that they have family responsibilities, like childcare, elder care, caring for family members with disabilities, etc. This kind of under and unemployment increases the cycle of unemployment because employers do not want to hire people who have gaps in their work history.
NYCHA residents have more than physical ailments and disabilities impeding their employment, there are ongoing physical repairs needed that deteriorate the indoor environmental hazards that can create toxic living environments for NYCHA residents. A report created by Red Hook Initiative, "The Impact of Mold on Red Hook NYCHA Tenants," has called the conditions a public health crisis in public housing because they found that mold and leaks are rampant and "cause extensive damage… mold has a severe impact on individual and family health, especially for children… and when tenants do reach out for help the found NYCHA to be unresponsive." (Red Hook initiative, 2016). Air quality, indoor toxins, and the general state of disrepair of NYCHA buildings create physical and mental stressors on residents' household and can become hurdles that are harder to jump over as time passes. Of the Red Hook residents surveyed,
45% of households reported that at least one member of the family suffered from a respiratory illness: asthma (23%), bronchitis (12%), sinusitis (8%), chronic obstructive pulmonary disease (2%), and 27% reported that they suffered from allergies (RHI, 2016).
Physical ailments in addition to physical barriers, make it hard for people to reliably arrive on time for school or work. It is hard for many public housing residents to get to work due to the structural inequality intrinsic to the fact that there is a lack of diverse transportation methods close to NYCHA public housing complexes, which decrease residents' ability to arrive on time to a potential employer. The average NYCHA resident lives half of a mile from the nearest subway stop and nearly thirty percent of NYCHA residents live in units located farther than that, which means roughly 113,000 NYCHA residents face either a long walk, or a bus ride and then one or more transfers, in order to access the subway system (Pratt CDC, 2009).
Employers also create barriers to entry. Most job applications and employers ask questions that will automatically allow for discrimination on criminal background, work experience, and education levels. When NYCHA residents have to fill out the address section, it may allow for potential employers to discriminate based on the address used in the application and biased views against NYCHA residents. There are also an additional estimated 100,000 household residents who are not formally on the lease, also known as "ghost tenants." Some of these ghost tenants are residents have experienced the criminal justice system, which can be used to ban a resident from NYCHA.
Many residents lack the kind of work experience that allow them to be hired for higher-skilled, higher-paying jobs. One reason NYCHA residents may not be able to achieve higher skilled opportunities is due to the lower levels of education. The Furman Center reports that public school students living in NYCHA housing are concentrated in a handful of schools and just the nature of living in NYCHA seems to have an adverse effect on performance in elementary school. They found that
25% of all NYCHA students attend just 4% of the City's public elementary schools. In which their peers are more likely to be poor and more likely to be racial and ethnic minorities…5th grade students living in public housing perform worse on standardized tests than those living elsewhere (Furman Center, 2011, p 20).
There are complicating factors that keep extremely and low-income households from completing high school, or obtaining undergraduate degrees, which in turn keeps them out of the running for higher paying jobs. Pratt Center for Community Development found that 38% of adult NYCHA residents do not have a high school degree or the equivalent certification and less than 9% hold a college degree (2018). All of these barriers created by physical environments, discriminatory practices, inequality and inequity in the workplace and educational system create walls that can be too high to climb.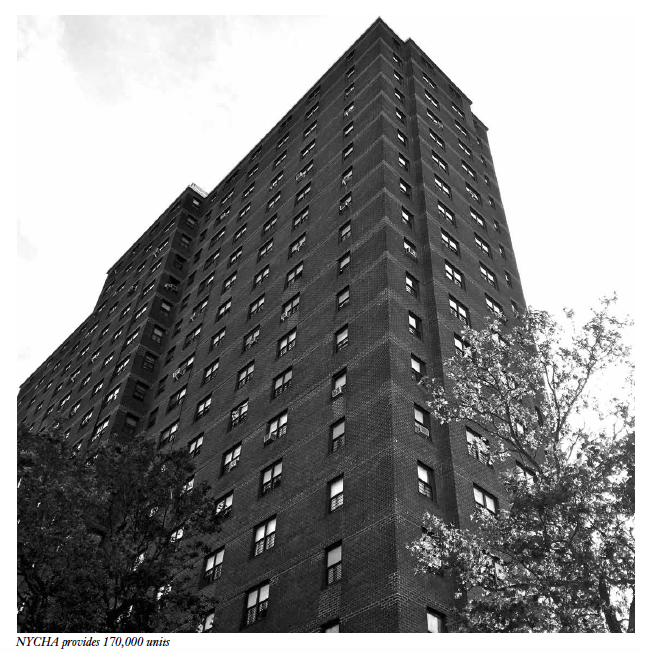 Stakeholder Analysis — Power and Influence
The primary stakeholders who would benefit the most and are the most interested in the reduction of the unemployment rate in NYCHA housing are the individual residents. There is a current structure within NYCHA to allow for resident engagement and advocacy within an internal political structure. There are formalized Resident Associations (tenant associations, resident councils, or tenant councils). These associations have executive boards, association members, and are supposed to work with NYCHA management at every level (NYCHA Engagement, 2019). Often, NYCHA residents have conflicting relationships with selected Resident Association members and there are divergent opinions within tenant populations about whether or not these elected representatives effectively or actively represent NYCHA residents as a whole, versus the Resident Leaders' circle offamily and friends.6
Nonprofits work with NYCHA residents and Resident Associations to advocate on behalf of the NYCHA residents for policy changes, additional programming and funding for NYCHA residents, improved emergency preparedness plans, and benefits to the NYCHA residents from area-wide economic activity. Some nonprofits have power and influence with politicians and city and/or state agencies depending on the history of the non-profit. They can place pressure on NYCHA and the government by meeting with appropriate parties, writing op-eds, writing press releases, holding community educational events, and organizing actions.
The city began to build public housing in 1934 (Viteritti, 2017). NYCHA cannot be separated from the governmental agencies and politicians who decide its fate from the Mayor up to the President. NYCHA reports to the mayor of New York City, who then appoints a chair of the board to manage its budget (Pratt, 2009). NYCHA historically received funding from the state and federal government, but has been systematically underfunded by the federal government since the 1990s. The President dictates policy to the HUD Secretary, which can support or push for the closure of public housing. New York State Senators and Governors also have the ability to help fund or defund public housing. The city and its Mayor have to fill in the financial gaps for public housing when NYCHA's budget is slashed, depending on who is in higher positions of power. Currently, the city under Bill de Blasio has created a NYCHA 2.0 Comprehensive plan to creatively fund $24 billion in capital and maintenance plans.
Policies: Current and Alternative Proposals
The following section will provide an overview of the status quo, the current policy, and/or an example of a policy that presents a precedent for the proposed alternative policy. The policy description will explain its effects and then recommendations for improvement. The first two current policies explained are the current NYCHA lease regulations, and HUD's Section 3, which provides employment and economic opportunities to public housing and low-income persons. The third and fourth examples are policy proposals and relevant case studies. The third proposal is local and targeted hiring policies for all publicly subsidized projects over $250,000. The final alternative policy is to develop a Guaranteed Basic Income pilot project for targeted NYCHA residents. Each policy will be evaluated based on its ability to be effective in increasing unemployment, whether or not it is politically feasible and equitable.
NYCHA Rental Regulations and Policies: Background and Context
NYCHA, the largest landlord in New York, has incredibly strict rules regarding the tenants who live in their buildings. In 2018, NYCHA served 173,946 families and 392,259 authorized residents, including 4,112 Section 8 households with a waiting list of 209,180 families and 148,084 families on the waiting list for Section 8 housing (NYCHA Fact Sheet 2018). With a waiting list that is triple the number of families that live in the apartments, there is someone ready to move into the apartment the moment someone leaves public housing, whether they leave by choice or mandate. The rent for public housing residents (not Section 8) is determined upon an annual review and recertification process. Household members (on the lease) are to report their income, assets, expenses, and household composition during the annual review. "NYCHA sets the rent at either 30 percent of the adjusted gross income or the flat rent, whichever is lower." (NYCHA, 2017) In 2016, President Barack Obama passed the Housing Opportunity Through Modernization Act regulations which created a Fair Market Rent for units and created a mechanism for households to move out of public housing buildings if they make more than the maximum income two years in a row (Furman Center, 2018).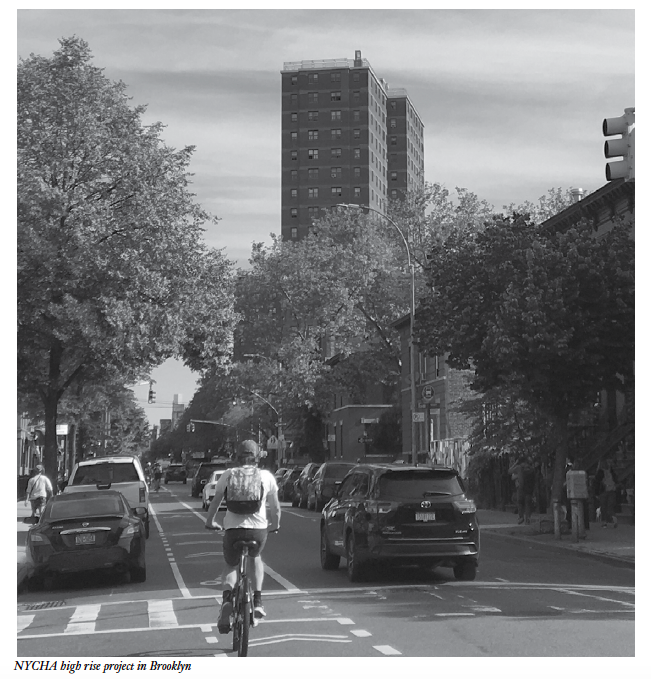 NYCHA Rental Regulations and Policies: Critique
There are many threats to stable residency at NYCHA, yet the average NYCHA resident stays in public housing for 19 years (Pratt, 2009), whereas nationally it is about six years (HUD, n.d.). NYCHA residents can be evicted for a number of reasons. One, if you interact with the criminal justice system you may be permanently excluded as a NYCHA resident and only available to live in NYCHA again as a participant in a NYCHA Reentry Pilot Program on a temporary basis. Two, NYCHA may begin the Termination of Tenancy process if a resident "causes damage to people or property, creates a nuisance, breaches NYCHA rules, is chronically delinquent in the payment of rent, or violates the lease." (NYCHA Highlights of House Rules, Lease, Law, and NYCHA Policies). Other rules that make compliance difficult include the requirement that a tenant must be present if a NYCHA employee needs to access your household. Sometimes this becomes a blame game between tenants and NYCHA employees that ultimately may end in a threat of eviction. You also can be threatened if you are caught smoking or engaging in any drug activity on site, and if you are not keeping a clean home.
At a time when the real estate market in New York means ever-increasing rents, extremely and low-income people have less options. A research and evaluation team found nationally, that where "market conditions influence length of stay in assisted housing… where the rents on housing in the private marketplace are comparatively high or the availability of rental housing is comparatively low, households in assisted housing tend to stay longer" (HUD, 2018), which explains why NYCHA residents stay an average of 10 years longer and how important NYCHA is to the existing landscape of the housing needs.
NYCHA Rental Regulations and Policies: Economic Self-Sufficiency
Although underfunded, NYCHA households have access to economic self-sufficiency programs funded by HUD. Under the Bill Clinton administration and welfare reform, the Quality Housing and Work Responsibility Act was passed to require all non-exempt public housing residents to perform eight hours of community service or participate in eight hours of economic self-sufficiency activities each month (or be subject to eviction) (NYCHA, 2011). This act is an example of the paternalistic requirements developed during welfare reform when the myth of the welfare queen was perpetuated. It also, requires that agencies and HUD develop programs to help residents fulfill these activities. The following Economic Self-Sufficiency programs count towards this credit: apprenticeship, workfare, GED or ESL, financial management program/counseling, employment, NYCHA Resident Employment Service or Resident Economic Empowerment & Sustainability Programs or Orientations (NYCHA, 2011). Although only ten-percent of residents are not-exempt from this credit, these programs funded by HUD agencies are promoted as a path to self-sufficiency.
NYCHA Rental Regulations and Policies: Pros and Cons
While NYCHA has a progressive rental policy requiring people to pay a percentage of income that the government seems fair (30% of gross income) versus a flat fee (which is what all non-subsidized tenants pay), it can discourage households from increasing income. Ghost tenants (children who age out in their teens, family members who move in) may not come out of the shadows to join the lease because they will be required to pay a percentage of their income on rent when it is more desperately needed for other bills. It is widely understood that it is more expensive to be poor. The low-income have less money with which to pay for basic needs including food, utilities, phone bills, transportation, healthcare, caretaking, clothing, and other need, all of which eat up their lower annual income and leave them with little left. By reviewing tenants' income on an annual basis, it deters households from reporting their income and in some ways can deter residents from taking on formal employment, or taking on full-time minimum wage jobs when it can feel like a penalty just to work.
NYCHA Rental Regulations and Policies: An Alternative
This proposal is a three-part policy proposal: A.) Change rental guidelines so that when income increases, family members have three years before their rent increases. B.) Pass the NYCHA Family Reentry policy C.) Provide rental amnesty for all family members presently not on lease.
Part A is designed to help disincentivize household members from signing on to a NYCHA lease and engaging in informal employment. These unreported wages allow household members to catch up on bills and allow for residents to potentially save money for the household safety net. By changing the policy so that households have three years to build up their savings and therefore would not be incentivized to work off the books. Part B refers to the NYCHA Family Reentry pilot program that allows for household members who have been banned from public housing due to their criminal background to be allowed back into their family's apartment on a temporary basis. This pilot program should be a permanent policy to allow those who have been criminalized a pathway to stable housing. Part C would allow household members who have been left off the lease to officially register to the household leases without penalty to anyone in the household.
NYCHA Rental Regulations and Policies: Evaluation of Alternative Policies
This policy would be moderately effective. By changing rental rules, residents will not feel penalized for increasing formal income. Bringing ghost tenants out of the shadows allows access to official workforce and educational programs and would not force households to spend more of their paltry income on rent immediately, which would create more accurate reporting. If there are too many household members there may be an issue of legal overcrowding, although this policy creates equitable access to employment for NYCHA residents. Poor people should not be penalized for being poor. This program has low political feasibility because NYCHA is an incredible bureaucratic institution, and this kind of change would require a ton of paperwork.
HUD Section 3: Background and Context
The Department of Housing and Urban Development not only created a federal public housing program, but in 1968 HUD also created workforce development and economic opportunities by leveraging the vast amounts of resources within HUD to require public housing agencies and those who benefit from their resources to hire public housing residents and other low-income residents through HUD Section 3 (see requirements and description in Section 3 Hiring Plan in Appendix on-line at www. socialpolicy.org). Pratt CDC created a one-page handout explainer to simplify the HUD Section 3 Policy. This policy requires:
• Projects which receive at least $200,000 in funding by HUD and all HUD-subsidized housing projects to provide employment and economic opportunities to public housing residents and low-income persons
• Projects must hire 30% of all new hires from the targeted population
• Hiring priorities are given to NYCHA residents living in the developments where the project improvements are taking place
• And to residents living in other NYCHA developments, participants of NYC HUD Youthbuild programs, and other low-, very low-, and extremely low-income New York City residents
• Section 3 Businesses are also a priority and must be 51% owned by Section 3 Residents or employing 30% Section 3 employees
• Other requirements are that ten percent of construction contracts, and three percent of non-construction contracts subcontract to Section 3 Businesses (2018).
NYCHA went above national requirements to expand Section 3 by creating a NYCHA Resident Employment Program in 2001 requiring 15% of total projected labor cost on capital and modernization contracts in excess of $500,000 to be allocated to recent hires (Pratt CDC, 2018). Unfortunately, Section 3 has been underutilized as a program with only "20 percent of the 3,600 public housing agencies filing hiring and contracting reports as required by the law" (Austin & Gerend, 2009).
HUD Section 3: Upcoming Opportunities
In an attempt to find additional funding and alternative solutions to the poor physical state of public housing buildings, Mayor de Blasio has adopted an Obamaera federal program Rental Assistance Demonstration (RAD), which will use public-private partnership to convert public housing buildings to privately managed and maintained buildings. There is an additional NYCHA Next Generation ten-year plan to allow private developers to build private developments on NYCHA land. Between these two programs and the required $17 billion worth of repairs necessary to its buildings (NYCHA Fact Sheet, 2018) there will be more than enough opportunities for public housing residents to all become fully employed in well-paying jobs if they apply for construction, repair, and maintenance jobs through Section 3.
HUD Section 3: Alternative Policy Proposal
Add a Workforce Development interagency (NYCHA - SBS - EDC - HPD - Labor Unions - Resident Associations) Oversight and Accountability Committee mandated to ensure that Section 3 requirements are met on local projects.
HUD Section 3 and NYCHA's Residential Employment Program are by themselves very good programs. The problem with the policy as it stands is that HUD nor NYCHA monitors the contractors to meet the Section 3 requirements and goals. This proposal is to create an interagency Oversight and Accountability Committee that includes the major players: NYCHA, NY Department of Small Business Services (SBS), New York Economic Development Corporation (NYEDC or EDC), NYC Housing Preservation and Development (HPD), and labor unions who are all needed at the table to discuss ongoing and pipeline projects to eliminate barriers and devise solutions to the program. The inclusion of labor unions in this committee is critical to connect the hiring employers with the skilled labor. Unions will offer an apprenticeship and hiring pipeline, as well as accountability to ensure that the unions prioritize training NYCHA residents so that they are ready to be hired.
HUD Section 3: Evaluation of Alternative Policy
HUD Section 3, as it is written today, could help put a very large percentage of New Yorkers into employment tomorrow, but without the mandatory and routinized oversight and accountability of the rules and regulations, contractors and subcontractors can continue on the much easier path by hiring whomever they want without going through the extra bureaucracy. With this oversight mechanism there would be a much higher chance that the unemployed would go through existing training programs like NYC Residential Economic Empowerment & Sustainability (REES) because there would be real jobs at the end of the apprenticeships or training programs. What would not work is apprenticeships and the training programs as they exist now since they require residents to pay fees or provide training that is unpaid. This kind of oversight committee is not politically feasible currently on the national stage because HUD has actively sought to underfund public housing agencies under HUD Secretary Ben Carson. On a local level, this kind of committee could be possible, if there was someone with that motivation in the Mayor's office or on local NYCHA Board. Currently there is not. Nonetheless, the creation of such a committee that would force vendors and subcontractors who receive public money to hire the most stigmatized workforce would be a major step in creating equity.
Hire NYC & Local Hire Policies: Background
Leveraging public money to incentivize and/or mandate public and private employers to hire certain populations are called "local hire" policies. According to the Association for Neighborhood and Housing Development, Inc (ANHD), local hire refers to "a policy or set of policies that either require or set a goal to hire and/or prioritize hiring from a determined geography or population (ANHD, 2017)." There are many types of local hire policies, from targeted hire, to "first look" hire and "first source" hire, community benefits agreements, project labor agreements, or local procurement policies with varying levels of effectiveness.
Mayor Bill de Blasio tasked his administration to create a first source hiring program, HireNYC, through a public-private partnership between the NYCEDC, HPD, and SBS to "provide free, high-quality recruitment services to vendors and businesses filling open positions through City contracts and development projects" (HireNYC, 2018). As it exists now, the HireNYC program:
• Applies to companies who receive goods and services amounting to more than one million dollars by the city
• Connects employers to potential employees who come to the SBS Workforce1 Centers7 around the city to find available employment
• Sets aspirational goals for companies to: hire the Target Population,8 which is anyone who makes less than 200% of the Federal Poverty ($42,660)
• For 50% of all new permanent jobs created, retain 40% of all employees hired for the employer for at least nine months from the date of hire,
• To promote 30% of all hired positions to a higher paid position with one year of hire
• Provide skills-training or higher education opportunities to the Target population (HireNYC, 2018).
• Fines up to $2,500 if companies subject to HireNYC fail to register their available job openings with the HireNYC program (NYCEDC, 2018).
HireNYC & Local Hire Policies: The Critique
This current program does not effectively hire people. In eighteen months, between 2016 and 2017, there were only 63 individuals hired that were referred through the Workforce1 centers. An additional critique of this policy is that the jobs that are available through the HireNYC pay lower wages (Savitch-Lew A, 2017). The goals of HireNYC are not solely to have people get hired on short-term development projects and become permanently employed. HireNYC Permanent Jobs requirement is monitored by the EDC who estimated that there was a total of 1,413 permanent low-income hires in one year (ibid.). EDC monitors the Permanent Hire program, which may result in the higher success rate. Finally, the current penalties are only $2,500 if employers do not comply. This fee is too low to be a real deterrent.
HireNYC & Local Hire Policies: The Archer Greens Queens Case Study
A pilot project headed up by EDC and SBS to redevelop the Queens New York Police Department parking garage on 168th Street into a mixed-use, market rate, and affordable housing development with community space and retail, called Archer Green, is a prime example of a publicly-subsidized project that uses tailored policy aimed to economically revitalize the affected vulnerable populations. The developers, Omni New York LLC and Construction Corporation, and the project's construction management team have committed to use HireNYC to successfully meet their own Targeted Population goals: 25% Minority and Women Owned Business Enterprises (M/WBE) and 35% minority and female workforce participation in construction jobs and new staff positions created (NYCEDC, 2018). The project is expected to create 350 construction jobs and more than 300 permanent jobs (ibid). While this is a small number of jobs in the grand scheme of things, this kind of local hire policy is a good stepping stone towards the kind of local and targeted hire policy that should be created across the city. This case sets better hiring goals than HireNYC and establishes a precedent for an improved target population. This case study proves that the city is willing to support its agencies to try and improve on the existing local hire policy and use of HireNYC.
Hire NYC, Local Hire Policies: HireNYC Human Services case study
One other important local hire case study in New York City that is an effective use of a local hire target population is the HireNYC Human Services requirement that human service agencies and its vendors must make a "good faith effort to hire one person on public assistance for every $250,000 received in city financing (NYCEDC, 2018)." Under this program they found that 3,423 public assistance recipients were hired through 467 contracts between January 2016 until November 21, 2017 (Savitch-Lew A, 2017). This appears to have a much higher success rate and focuses on a much lower income population than the current HireNYC population. This case study also sets precedent for mandating public housing residents to be included in an improved local hire policy.
Hire NYC & Local Hire Policies: An Alternative Policy
A.) Publicly subsidized projects over $250,000 will require contractors and sub-contractors to hire 35% of all new staff from the Target Population. B.) Goal is to hire the Target Population for 40% of the permanent staff positions. C.) Require 15% of Target Population hires to advance into higher staff positions. D.) There will be a tiered prioritization for hiring within the Target Population: 1) geographic preference will be given to any of the following Target Population from the Community District where the project or development takes place. 2) NYCHA residents 3) Extremely Low and Low-Income women of color. 4) Citywide Low-Income households. E.) Include steeper fines and other penalties if requirements not met.
This alternative policy would transform HireNYC from a first look9 aspirational policy into a targeted hire/first source policy. First source policies or programs require those who contract with a city agency to hire an applicant from the citry's workforce development system.
The first change would be to alter the HireNYC Target Population to include the households defined as Extremely Low and Low-Income population (See Table 2). Alter the existing HireNYC policy to include new definitions for Target Populations and local
hire requirements for all public-funded projects over $250,000.10 Require companies to use the HireNYC platform to hire the Target Population: 35% of all new staff (similar to the Archer Green Apartments case study), 40% of permanent staff positions, and 15% of advanced positions. Using the Archer Green case study as a precedent, there should be a geographic preference for the Target Populations who live in the Community District where the development or project takes place. Within that geographic reference, there will be preference, there would be tiered categories, #1 prioritize NYCHA residents #2 extremely Low-Income and Low-income women of color. Finally, if no one fits into those categories then any Extremely Low-Income or Low- Income person (Table 2) may apply through the Workforce1. To incentivize companies to meet their goals, this policy proposal is to set higher fines and increased penalties from 5% of the total labor cost to banning employers from future city contracts.11 These fines would be used to fund training programs to help the Target Population gain the skills needed to be eligible for the HireNYC jobs.
Hire NYC & Local Hire Policies: Evaluation of Alternative Policy
The existing HireNYC program would be more effective if they increased the penalties and enforced them. Penalties would make the companies more likely to hire from the HireNYC applicant pool. By altering the policy to include a preference for NYCHA, there will be a direct effect in the increase of the NYCHA employment and average income and would therefore reduce unemployment. The policy is moderately politically feasible because there are multiple precedents. One, some of the goals mimic the Queens Case Study and two, HUD's Section Three requirements apply to all HUD-funded projects over $100,000, which prioritizes hiring NYCHA residents, and, three, the NYC Human Services case study mandates the hiring of people on public assistance. While precedent is important, this policy is likely not very feasible because developers and unions are major political contributors and will not want to change their current practices or pay fines when they choose to hire their preferred employees or members. The city would need a mayor radically impassioned by the elimination of poverty for the poorest. Often times the city looks at the more generalized health of the population and does not focus on specific concentrated pockets of populations.
This proposal creates a government solution to market failure by forcing the market to solve the problem. The Mayor attempted to address issues of equity by using procurement policies to enforce the HireNYC program addresses through its local hire policy.12 From an equity standpoint, there should be a mandate to require publicly-subsidized employers hire the most vulnerable population. It would be a fair trade-off for the City to spend public money enforcing this rule by preparing and training NYCHA residents and therefore allowing residents to economically benefit. This will have a positive spillover effect by alleviating some of the public costs of poverty.
Guaranteed Basic Income: Background and Case Studies
There have been a handful of Guaranteed Basic Income or Universal Basic Income experiments throughout the world. The idea behind universal basic income is that if you give low-income people a standardized salary that each person in their community receives, the stigmatization of poverty and public assistance decreases while a safety net is created to allow people to create their own educational and/or workforce development experiments.
Joshua Copeland writes about several cases of basic income experiments for the Seven Pillars Institute (2018). He found that there were common themes among these experiments. The 1974 Manitoba13 Annual Income Experiment (The Mincome Experiment) and the 2008 Namibia Basic Income Guarantee (BIG) found that health, social, and educational outcomes improve markedly. Copeland also found that the methodology used, data collection and analysis of household income and employment rates were not good enough in each experiment to understand their effect on employment and income. These experiments show that poverty correlates to poorer public health rates and lower educational attainment, while guaranteed basic incomes can increase access to health care and education.
Similarly, the Finland basic income experiment proved a boost to overall wellbeing and happiness, but not employment. The improvement here appears to be psychological (Reuters, 2019). This experiment is also flawed. The 2000 participants were randomly chosen from those who were eligible for unemployment benefits. The experiment was designed to redefine welfare by giving participants "a basic income," which was only 50 euro per month more than unemployment benefits. Another issue is that they were only able to analyze one year of data. This experiment rebrands "welfare" in an attempt to have unemployed UBI recipients feel less of the stigmatization of poverty, deal with fewer bureaucratic reporting requirements, and continue to receive financial payments even when they became employed to give them a safety net. The experiment does effectively improve their wellbeing, but does not improve employment.
Guaranteed Basic Income: Potential Opportunities
New York City would be an interesting place for a basic income experiment because the city has a much lower unemployment rate of 4.5% in March of 2019, and a larger pool of employment options. Unlike the Namibian or Finnish experiments where the unemployment rates were 51% in 2008 (Ministry of Labour), or 8.7%, (Trading Economics, 2019) respectively. According to Pratt CDC, in New York City, there is a strong demand for skilled production workers:
• An estimated 3 ½ million manufacturing jobs need to be filled (2015-2025)
• The skills gap will leave 2 million unfilled jobs
• average annual cost to company is $14k/unfilled job
• 82% CEO respondents believe skills gap will impact their ability to meet consumer demand" (Pratt, 2015)
The number of high-paying employment opportunities and the projected need for skilled labor implies that if given the training, educational opportunities, time, facilitation, and financial safety guards, the unemployed could move through the obstacle course towards employment.
Guaranteed Basic Income: An Alternative Policy and Pilot Program
A.) Every working age, able-bodied NYCHA resident will receive a basic income for two years to three years.
B.) A local CBO will work with them as their financial advocate and workforce development counselor.
This proposal would provide every working age, unemployed, able-bodied NYCHA resident a salaried living wage (based on the geographic area cost of living not the minimum wage) basic income from two to three years. To fulfill HUD's original core mission to provide transitional support when families are in need by providing the safety net needed for Extremely Low and Low-Income NYCHA residents to obtain the training or education needed to allow them to support their families with ease. This pilot program would be stewarded by community-based organizations in the neighborhoods near the public housing buildings. These CBOs would employ financial advocates and workforce development counselors to work with families through the many hurdles. By decreasing the financial worries families have about childcare, care of disabled family members, different forms of debt, transportation issues, and the choices that they need to make, households will have mental room to experiment with the financial and workforce counsel and advocacy needed. These CBOs can guide participants to trainings and educational workshops geared towards higher-skilled employment. There would be an evaluation component to this pilot program to assess the extent to which people are able to successfully move out of NYCHA.
Guaranteed Basic Income: Evaluation of Alternative Policy and Pilot Program
New York City has the capacity and dire need to try something radically new to solve the ongoing crisis in public housing. The past guaranteed basic income experiments prove that people feel less stigmatized when receiving public assistance, and there is a critical increase in overall physical and mental wellness. Mental and physical wellbeing paired with a community-based guide that can effectively bridge the unemployed to trainings and education and/or low-cost childcare programs would immensely help the unemployed access the programs they need to apply for the jobs that exist. This would increase employment.
This is not politically feasible at the moment. The real estate mogul President Donald Trump does not believe in supporting publicly subsidized housing through HUD, which is why he appointed Republican Ben Carson as HUD Secretary. Something like this could get might be allowed under a progressive future administration. Some current candidates like Senators Elizabeth Warren and Bernie Sanders have expressed tentative support along these lines. The City of New York might fund a program like this if there was a pilot project and a research study proved that they could effectively cycle residents out of public housing, into privately funded housing, and move homeless families out of shelters and into public housing — cycle repeat.
This policy would be highly equitable. Financially and holistically supporting those living in extreme poverty in neighborhoods where the cost of living has increased considerably, means that generational poverty could be ended. In the previous basic income experiments, there were higher rates of high school graduation, which could help prevent future cycles of poverty. Historically speaking, this kind of program would get closer to a form of reparations. This program is not very equitable in that it continues a paternalistic approach of imposing strings upon impoverished families to obtain financial support. It is highly equitable to give money, space, and time to families who have faced generations of systemic discrimination.
Conclusion
The only way to create successful employment for the poorest New Yorkers is to counter the historic paternalistic approach towards alleviating poverty and decreasing unemployment by using a maternalistic supportive approach that engages the entire wellbeing of a household. Real solutions will combine policy, programs, and sufficient funding. Through research and analysis of existing policies and programs, I would propose that the city, NYCHA, and HUD adopt all of the alternative policies proposed: NYCHA should change their rental policies, the city should create a Workplace Development Interagency Oversight and Accountability Committee to enforce Section 3 hiring requirements, the City should refine the Target Population in its existing HireNYC policies and increase penalties. Finally, a guaranteed basic income experiment should be funded to give residents the financial support they need to access the time and wellbeing so that they may take advantage of all of the existing resources. The guaranteed basic income with CBO guidance will help NYCHA residents traverse the obstacle course towards stable, permanent, well-paid employment.
Diné Butler is finishing a masters in Public Policy at Hunter College in New York where she focused on issues of community resiliency. She recently completed a community development fellowship at Fifth Avenue Committee where she worked on community resiliency projects and is currently a Project Assistant at the Democratizing Planning Initiative at the Pratt Center for Development. She is a former community and labor organizer and research director for the ACORN Home Savers Campaign.
Appendix
Section 3 Resident Hiring Brochure
Footnotes
1. New York City's economy is booming, with 702,200 jobs added between 2009 and 2017 — the longest economic expansion in more than 70 years, according to state comptroller Thomas DiNapoli
2. AMI is calculated and released every year by the U.S. Department of Housing and Urban Development (HUD).
3. Whereas in the rest of the city "about 56 percent of renter households households are considered rent burdened" (Savitch-Lew, 2018) (these households pay more than 30 percent of their income on rent).
4. There is a discrepancy in the Furman Center data,which used the 2010 US Census-based data from HUD, whereas the American Community Services Survey data is from January 2016.
5. Most recently, Mayor Bill de Blasio released the ten-year NYCHA 2.0 comprehensive plan to preserve public housing, which aims to tackle $24 billion in essential repairs external buildings and internal apartments (NYC City Hall, 2018)
6. My participation as a Technical Assistant to the Gowanus Neighborhood Coalition for Justice gave me insight into some of these issues between official Resident Associations and actual community leaders.
7. Workforce1 Centers are funded HireNYC defined Target Population by the federal government and authorized by the Workforce Innovation and Opportunity Act.
8. Target Population is defined by ANHD as the specific population that should benefit from new employment opportunities. ANHD (2017)
9. ANHD defined First look hiring programs, as those that merely "require that employers consider local residents when making hiring decisions.
10. The precedent for the lower amount of $250,000 used is the amount that triggers the local and targeted hire policies for the HireNYC Human Services public assistance hiring mandate.
11. Currently, the fine is only $2,500. Washington D.C. has a first source ordinance that punishes employers who do not meet minimum hiring requirements and fails to obtain a waiver of good faith compliance (ANHD, 2017).
12. A policy or set of policies that require or set a goal to hire and /or prioritize hiring from a determined geography or population… that helps ensure that tax dollars are invested back into the local economy, fosters community involvement, and preserves local employment opportunities in new investment and development initiatives (ANHD 2017).
13. The entire town of Dauphin was populated by Low-Income households who met the income ceiling of $9,000 per family required to participate. Unfortunately, the experiment ended before official analysis could begin.
14. The Manitoba Mincome Experiment showed that hospitalization rates plummeted due to less injury and accidents as well as mental health diagnoses. The Namibian BIG experiment showed that their health clinics profits increased dramatically.
References Cited
Austin, D. M., & Gerend, M. M. (2009). The Scope and Potential of Section 3 As Currently Implemented. In Source: Journal of Affordable Housing & Community Development Law (Vol. 19). Retrieved from https://www-jstor.org.proxy.wexler.hunter.cuny.edu/stable/pdf/25781136.pdf?refreqid=excelsior%3Aad48e454330824bff2e265d9e333af6
Albetski, R., Antelmi, R., Bisker, J., & Calmes, M,. et al., (n.d.). East Harlem Resiliency Studio Report Retrieved from http://www.hunterurban.org/wp-content/uploads/2017/07/ Hunter-Urban-Policy-and-Planning_Studio_East-Harlem-Report_FINAL.pdf

Allen Consulting Group. (2008, February). The Economic Benefit of Investment in Adult Community Education in Victoria. Retrieved from                                                                    https://www.education.vic.gov.au/Documents/about/research/acfepublications/economicbenef.pdf
American Community Survey (2017). Survey of Gowanus population. Retrieved from https://www.census.gov/programs-surveys/acs/
Anderson, Mary anne; Kauff, Jacqueline F.; Cavadel, E. W. (2017). Improving Outcomes Among Employment Program Participants Through Goal Attainment: A Conceptual Framework.      Retrieved from https://www.acf.hhs.gov/opre
Association for Neighborhood & Housing Developments. (2017). A Citywide Workforce Strategy The Serves Our Communities. (handout) Retrieved November 24th, 2018.
ANHD (2017). AMI Cheat Sheet. Retrieve May 17, 2019 From https://anhd.org/report/ami-cheat-sheet-2017
Austin, D. M., & Gerend, M. M. (2009). The Scope and Potential of Section 3 As Currently Implemented. Journal of Affordable Housing & Community Development Law, 19(1), 89-102.
Barnett, Chip. (2018). An Ounce of Prevention: NYC Council Wants More Reserves in Budget.  The Bond Buyer, 390 (34891), The Bond Buyer, April 11, 2018, Vol.390(34891).
Busa, Alessandro. (2017),  The Creative Destruction of New York City: ENgineering the City for the Elite. Oxford University Press.
Blumgart, Jake. (March 3, 2016). The Ghost Tenants oF new York City. Slate.com. Retrieved May 11, 2019 from https://slate.com/business/2016/03/new-york-city-public-housing
-could-have-more-than-100000-ghost-tenants-living-off-the-books-heres-why.html
Cantrell, J. D., & Jain, S. (2013). Enforceability of Local Hire Preference Programs.  https://doi.org/10.17226/22591
Change Capital Fund. (2018).  Combining Adult Education and Sector-Based Workforce Development. Retrieved from https://changecapitalfund.org/wp-content/uploads/2018/03/FAC_CostBenefit_p1.png
Conley, K. February 22, 2018. NYC just saw its biggest economic boom in 70 years. New York Post. Retrieved from: https://nypost.com/2018/02/22/nyc-just-saw-its-biggest-economic- boom-in-70-years/Cramer,
Copeland, Joshua. 2018, May 16. Universal Basic Income: More Empirical Studies. Seven Pillars Institute. Retrieved from: https://sevenpillarsinstitute.org/universal-basic-income-   more-empirical-studies/
Cramer, Robert J. 2016, September 6. Report on Workforce Innovation and Opportunity Act. Retrieved from https://www.gao.gov/assets/680/679984.pdf
De Blasio Mayor, B., Glen, A., Brezenoff, S., & Mustaciuolo, V. (2018). NextGeneration\NYCHA Permanent Affordability Commitment Together (PACT) Unfunded Units: LLC II/City & State Developments Rental Assistance Demonstration (RAD) Sites in Brooklyn Request for Proposals RFP# 67930. Retrieved from http://www1.nyc.gov/site/nycha/business/vendors.page.
Department of City Planning (2018). Gowanus: A Framework for a Sustainable, Inclusive, Mixed-Use Neighborhood Retrieved from:   https://www1.nyc.gov/assets/planning/download/pdf/plans-studies/gowanus/gowanus-framework-full.pdf
Department of Housing, Urban Development, U. (n.d.). Length of Stay in Assisted Housing.  Retrieved from https://www.huduser.gov/portal/sites/default/files/pdf/LengthofStay.pd
Edin, K., & Lein, L. (1997). Work, Welfare, and Single Mothers' Economic Survival Strategies. American Sociological Review,62(2), 253-266. Retrieved from http://www.jstor.org.proxy.wexler.hunter.cuny.edu/stable/2657303
Freedman, M. (2015). Place-based programs and the geographic dispersion of employment. Regional Science and Urban Economics, 53, 1–19. https://doi.org/10.1016/j.regsciurbeco.2015.04.002
Furman Center. (December 17, 2018) NYCHA's Outsized Role in Housing New York's Poorest Households (Issue brief). Retrieved February 26, 2019, from NYU Furman Center website: http://furmancenter.org/files/NYCHA_Brief_12-17-18.pdf

HireNYC. (n.d.). Retrieved December 4, 2018, from https://www1.nyc.gov/site/careerpathways/strategy/hireNYC.page
HR&A Advisors, Inc. (2015) Demographic Overview: D.A.R.E.S. Report
Jacobs, B. (n.d.). LIST OF PARTICIPATING SERVICE PROVIDERS Center for Alternative Sentencing and Employment Services (CASES) Ask for. Retrieved from  www.nyc.gov/NYCHA
HUD Open Data. (2018). Gowanus and Red Hook Public Housing Data. Retrieved from https://hudgishud.opendata.arcgis.com/datasets/52a6a3a2ef1e4489837f97dcedaf8e27_0?gem etry=-282.393%2C11.69%2C52.119%2C58.902
Kully, Sadef Ali. (April 22, 2019) City Planning Commission Approves Bay Street Rezoning. City Limits. Retrieved from https://citylimits.org/2019/04/22/city-planning-commission-approves-bay-street-rezoning/
Mark Paul, William Darity Jr., Darrick Hamilton, & Khaing Zaw. (2018). A Path to Ending Poverty by Way of Ending Unemployment: A Federal Job Guarantee. RSF: The Russell Sage Foundation Journal of the Social Sciences, 4(3), 44. https://doi.org/10.7758/rsf.2018.4.3.03
Ministry of Labour. (n.d.). Namibian Unemployment Rate. Retrieved May 15, 2019, from http://www.namibiaatwork.gov.na/index.php/namibian-unemployment-rate
Newman, Andy. (2017, October 13). Can Gowanus Survive Its Renaissance? New York Times.
Nichols, A., Mitchell, J., & Lindner, S. (2013). Consequences of Long-Term Unemployment.
NYCEDC. (September 21, 2018) Frequently Asked Questions for Businesses. [Press Release] Retrieved from https://www.nycedc.com/sites/default/files/filemanager/Programs/
HireNYC/HireNYC_AQ_General.___pdf
NYC Bridge Bank. (2018). NYC Bridge Bank: What is a Bridge Program? Accessed December 4, 2018. Retrieved from:  https://www1.nyc.gov/site/careerpathways/strategy/nyc-bridge-bank.page.

NYCHA. (2018). 2018 FACT SHEET. Retrieved May 15, 2019, from https://www1.nyc.gov/assets/nycha/downloads/pdf/NYCHA-Fact-Sheet_2018_Final.pdf
NYCHA. (2011). Community Service Presentation to Residents. [Powerpoint] Retrieved May 17, 2019 from https://www1.nyc.gov/assets/nycha/downloads/pdf/community-service-presentation-English.pdf
NYCHA. (n.d)  Engagement. Retrieved May 17, 2019 from https://www1.nyc.gov/site/nycha/residents/getting-involved-as-a-resident.page

NYCHA. (2017). NYCHA: A Home to be Proud of: A handbook for residents. Retrieved from https://www1.nyc.gov/assets/nycha/downloads/pdf/nycha-tenant-handbook-2017.pdf

NYCHA. (n.d.). Highlights of House Rules, Lease, Law and NYCHA Policies. Retrieved from www.nyc.gov/nycha

NYCHA. NYCHA: Mayor de_Blasio Announces Comprehensive Plan to Renovate NYCHA Apartments and Preserve Public Housing [Press release]. (2018, December 12).  Retrieved May 14, 2019. From: https://www1.nyc.gov/office-of-the-mayor/news/591-18/fixing-nycha-mayor-de-blasio-comprehensie-plan-renovate-nycha-apartments-and#/0
NYC HPD (n.d.) NYC HPD: TIL Tenant Associations. Retrieved May 15, 2019, from: https://www1.nyc.gov/site/hpd/renters/tenant-associations.page

Osterkamp, R. (2013). The Basic Income Grant Pilot Project in Namibia: A Critical Assessment.  Basic Income Studies, 8(1). https://doi.org/10.1515/bis-2012-0007

Pratt Center for Community Development (2009). Building Communities of Opportunity-Public Housing Authority: Pratt Center for Community Development. Brooklyn, NY. page  3.
Pratt Center for Community Development (2017). Equip for NALEO af. [Slideshow]. Brooklyn, NY. Retrieved from https://d3n8a8pro7vhmx.cloudfront.net/naleo/pages/1413/attachments/original/1526491645/NALEO_PI_WorkforceDev_SessionVII_PPT_Mr.Friedman_4.28.18.pdf?1526491645
Pratt Center for Community Development (2019). Before you Rezone Fix Our Homes.  [Handout]. Brooklyn, NY
Pratt Center for Community Development (2018). Section 3: How it Works, Who it works for and What's Missing. [Handout]. Brooklyn, NY

Pratt Center for Community Development (2015). The Skills Gap In U.S. Manufacturing, 2015 And Beyond, [Slideshow]. Brooklyn, NY from https://d3n8a8pro7vhmx.cloudfront.net/naleo/pages/1413/attachments/original/1526491645/NALEO_PI_WorkforceDev_SessionVII_PPT_Mr.Friedman_4.28.18.pdf?1526491645)
Raby, Sam. (December 21, 2017). Curbed NY. Mapping New York City's affordability gap.  Curbed New York. Retrieved May 17, 2018 from: https://ny.curbed.com/2017/12/21/16752942/affordable-housing-new-york-ami-interactive-map
Reuters. 2019, February 9. Finland's Basic Income Trial Boosts Happiness, but Not Employment.NYTimes. Retrieved May 14, 2019. From: https://www.nytimes.com/2019/02/09/world/europe/finland-basic-income.htm

Savitch-Lew, A. (2018, March 20). Evaluating the Rent Crisis: 10 Facts from the Housing Vacancy Survey and Advocates' Reactions. City Limits. Retrieved February 26, 2019. From: https://citylimits.org/2018/03/20/evaluating-the-rent-crisis-10-facts-from-the-housing-vac an

Savitch-Lew A. (2017, November 21). The Data on HireNYC. City Limits. Retrieved May 13, 2019, from citylimits.org/2017/11/21/the-data-on-hirenyc/

Savitch-Lew, A. (2016, December 22). Labor, Law and Lessons from California: The Debate Over Local Hiring and the Rezonings. City Limits. Retrieved from https://citylimits.org/2016/12/22/labor-law-v-and-lessons-from-california-the-debate-over-local-hiring-and-the-rezonings
SEIU32BJ. Accessed December 3, 2018. Details on Tentative Contract Agreement. http://www.seiu32bj.org/blog/details-on-the-tentative-contract-agreement/
Seymour, A. (2018, December 17). Brooklyn Navy Yard Sees Challenges And Success in Community Engagement. Retrieved February 26, 2019, from https://bklyner.com/brooklyn-navy-yard-sees-challenges-and-success-in- community-engagement/

Trading Economics. Finland Unemployment Rate. Retrieved May 17, 2019. From https://tradingeconomics.com/finland/unemployment-rate

U.S. Department of Housing and Urban Development (HUD). Accessed September 27, 2018. "Physical Needs Assessment" Retrieved from: https://www.hud.gov/program_offices/public_indian_housing/programs/ph/capfund/physicalassessment
Viteritti, Joseph P. (2017). The Pragmatist. Oxford, England. Oxford University  Press. 
Warerkar, T. (2018, October 12). Nearly half of NYC households are rent burdened. Retrieved February 26, 2019,_from https://ny.curbed.com/2018/10/12/17965416/nyc-rent-burden-households-affordable-housing
Yates, Brett. March 8 2019. The Red Hook Star Revue. Retrieved May 15, 2019, from: http://www.star-revue.com/nycha-announces-maximum-income-policy-and-section-18-dispositions/#sthash.tCcyzoCL.dpbs