Written by Kenneth Reardon
Editor's Note: After detailing plans made and projects implemented in university-community partnerships in East St. Louis, Reardon in this excerpt details some of the political blowback that can come in basic development work as the partnerships expanded into new neighborhoods and sought support.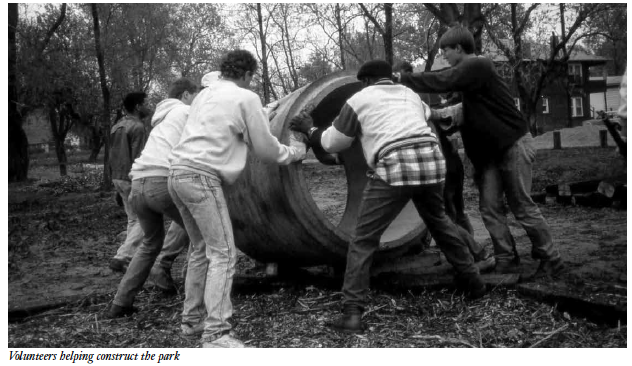 The organizational capacity section of the plan featured a series of initiatives to expand the organization's membership base; identify and train new leaders, especially among the neighborhood's many young adults; develop a more ample and diversified funding base; and recruit, train, and supervise a small staff of community development professionals to support the self-help efforts of local residents and leaders. This section concluded with a discussion of the local, state, and national affiliations the neighborhood association should establish to secure the external funding and technical assistance needed to implement the plan's most complex projects.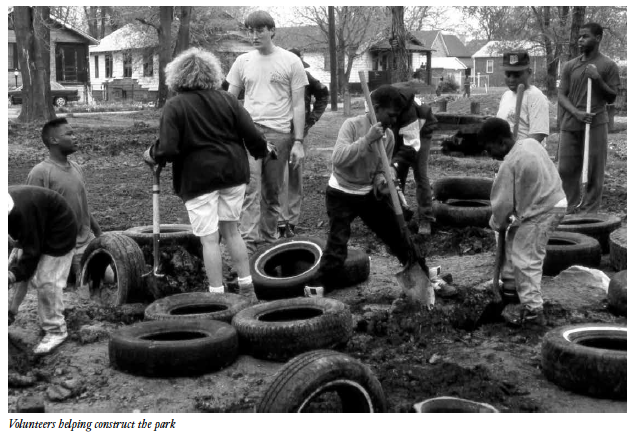 Olivette Park residents and leaders, especially it's leading businesspersons and pastors, were enthusiastic supporters of the plan. Shortly after stakeholders at the Summit adopted the plan, city officials invited the neighborhood association to apply for $50,000 in CDBG funding to initiate several of the neighborhood plan's immediate and intermediate-term beautification, home repair, and community-based arts projects. When the Association's receipt of a $50,000 CDBG grant from the City was reported in the local press, officers of the Olivette Park Neighborhood Association and ESLARP faculty were invited to meet with Mayor Gordon Bush. When our delegation arrived at his several days later, we found Mayor Bush, the director of a local business association, and a religious leader. Following an exchange of pleasantries, the Mayor stated that he had only recently learned about the neighborhood association's grant. After congratulating our team on the success of our application, he encouraged us to consider using the long-established Olivette Park Local Development Corporation as our fiscal agent in light of their experience managing such funding.
Both of the community leaders attending the meeting were board members of the Olivette Park Local Development Corporation who explained the benefits of using an established 501c3 as an intermediary on our first major grant and the relatively modest costs associated in doing so.
I explained that we had already made arrangements with the Katherine Dunham Centers for Arts and Humanities to serve as the fiscal agent for our grant. After thanking these leaders for their generous offer to serve as our fiscal agent, I told them that we could not imagine having a better fiscal agent for our grant, the majority of which was going to fund arts programming for children, than Katherine Dunham who had been one of the very first recipients of the Kennedy Center's Lifetime Achievement Award as well as a U.S. State Department's Cultural Ambassador-at-Large to Africa. When these representatives raised the non-resident nature of Dunham's board, I asked them how many members of the Olivette Park Local Development Corporation's Board were current residents of Olivette Park.
Frustrated by our refusal to run our first neighborhood planning grant through the Olivette Park Local Development Corporation, these individuals predicted serious implementation problems if we failed to heed their "fiscal agent" advice. They highlighted their concerns by emphasizing our lack of experience managing government grants and mentioning the probationary or temporary nature of my university employment since I was in the final year of my probationary period for promotion and tenure at UIUC.
One of the development corporation representatives asked, "What impact would charges of discriminatory planning and practices by ESLARP and the Olivette Park Neighborhood Association have upon the long-term success of your East St. Louis efforts?" I responded by inviting the mayor to ask Katherine Dunham what she thought of the development corporation's proposal to make their organization, that had never received and administered a major arts award, the fiscal agent for this grant, rather than her organization. I went on to say that if Dunham was prepared to approve this change than we would enthusiastically support it. Without her support, however, we were unwilling to accept the development corporation's offer to manage our grant for a fee, an offer made with a not so subtle political threat which I viewed as nothing less than extortion.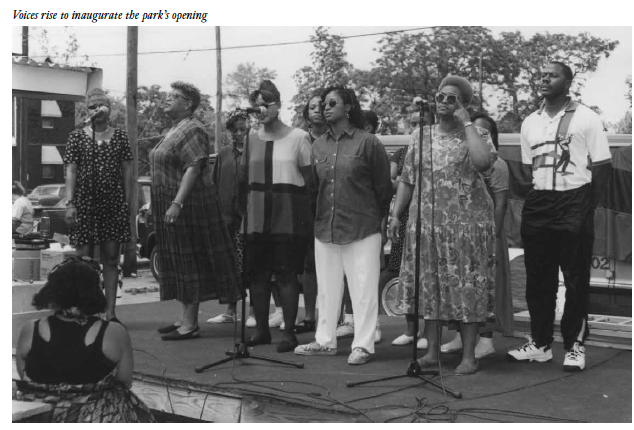 When the Olivette Park Neighborhood Association and ESLARP subsequently reaffirmed its commitment to using the Katherine Dunham Centers for Arts and Humanities as its fiscal agent for the grant, Ishaq Shafiq, who was then serving as Mayor Bush's chief of staff, warned us that we were courting political disaster by not agreeing to the development corporation's request. Eager to initiate work on the neighborhood beautification, community arts, and housing preservation projects identified as immediate-term projects in the Olivette Park Neighborhood Revitalization Plan, and unwilling to pay what I regarded as an "extortion fee" I decided to ignore this warning from my former graduate assistant.
In less than six months, the ESLARP faculty was invited to the UIUC Chancellor's office where we were informed that the Illinois Legislative Black Caucus had unanimously passed a resolution condemning ESLARP as a racist organization that was using state funds to pursue policies designed to silence the voices of indigenous African-American leaders to perpetuate uneven patterns of metropolitan development responsible for persistent poverty in East St. Louis. We were informed by the Vice-Chancellor for Affirmative Action and Diversity that a formal complaint accusing me of racially discriminatory practices had been filed. My appearance was required before a university-wide tribunal that would take place before faculty in my department and college would be considering my promotion and tenure.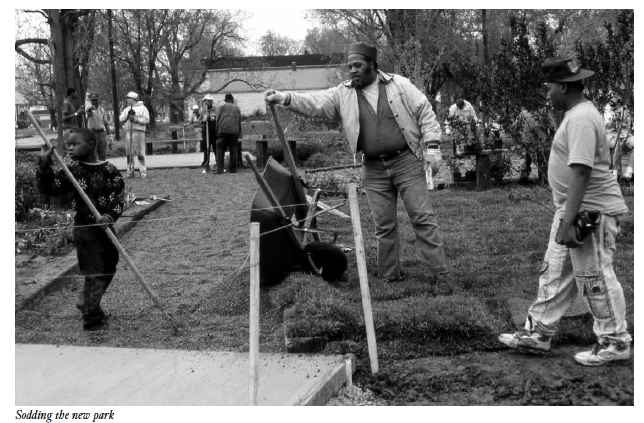 The Vice-Chancellor shared copies of the Illinois Legislative Black Caucus' resolution as well as their formal complaint against me. While the resolution might cause a certain amount of public relations concern among university administrators, the formal complaint could, in fact, have caused me to be formally sanctioned and/or terminated as a probationary UIUC faculty member. As a result, I was much more concerned about the formal complaint that charged me with a long list of discriminatory practices during the recently complete Olivette Park planning process, including:
1. Failure to invite representatives of local African- American civic, fraternal, professional and civil rights organizations to participate in the Olivette Park planning process.
2. Refusal to include representatives from these organizations on the steering committee for an Olivette Park Neighborhood Revitalization Plan.
3. Denial of the rights of such organizational representatives to speak at the sub-committee meetings, neighborhood assemblies, and community summit at which times the content of the Olivette Park Neighborhood Revitalization Plan was formulated.
4. Exclusion of such organizations from consideration as grantees and sub-contractors under externally funded grants secured during the implementation phase of the Olivette Park Neighborhood Revitalization Plan.
While my administratively and politically-astute department head, Lew Hopkins, was telling me not to worry about the complaint; the Vice-Chancellor, who attended the meeting and would be chairing the panel that would hear this complaint, described these as serious charges that needed to be refuted if we are "to clear your good name." After reviewing the specific charges alleged in the complaint, the students who had worked on the plan and I were confident that we possessed overwhelming evidence to refute charges.
Before leaving the meeting, Angie Morgan Marks, Patricia Nolan, and Eric Stoller, who had served as our graduate research assistants for the Olivette Park Neighborhood Revitalization Plan, had already begun identifying the evidence we had to address the charges contained in the complaint. Disregarding Professor Hopkins advice to not mount a "Clarence Darrow-like defense," the students and I prepared a long memo responding to the primary charge of systematic exclusion of local African-American leaders from meaningful participation in the Olivette Park planning process.
This response was possible, in large part, due to the systematic approach these students had taken to ensure that the resident-led planning process in Olivette Park reflected the hopes and aspirations of local stakeholders. Among the most compelling evidence my students and I gathered to document the inclusionary and democratic nature of the Olivette Park planning process were the following items:
1. A comprehensive list of more than fifty African-American resident, business, labor, fraternal, religious, professional, political, and human service organizations that had been regularly invited to participate in the Olivette Park planning process.
2. A comprehensive list of the more than 600 local residents, business owners, and institutional leaders, nearly all of whom were people of color, who had attended one or more of the community meetings that had taken place during the planning process. The names of nearly all of the individuals who had signed the formal complaint against me appeared on these sign-in sheets.
3. A list of more than forty local leaders, with their organizational affiliations, with whom we had conducted one-on-one interviews in order to elicit their perceptions and views of current community conditions as well as their preferred redevelopment scenarios.
4. A tally of the number of local heads of households we had surveyed during our door-to-door resident interviews to elicit their views of current conditions and preferred redevelopment strategies. Again, nearly all of those we had signed the complaint against me had been interviewed.
5. A reflective essay identifying the multiple community sources that were the inspiration for each of the immediate, intermediate, and long-term community development projects featured in the Olivette Park Neighborhood Revitalization Plan.
6. A review of the local affiliations of each member of the steering committee for an Olivette Park Neighborhood Revitalization Plan that documented their deep roots within the city's African-American community.
In addition to our extended brief we had a series of video clips from our planning meetings in which the very individuals who were charging me with "denying people of color their voice" were shown addressing these forums.
As the hearing date approached, I received a call from Jeanelle Stovall, special assistant to Katherine Dunham, who explained that she had recently heard about my predicament. Stovall explained Dunham's desire to provide a strong letter of support for ESLARP's and my work in Olivette Park. I was deeply touched by Dunham's willingness to "go to bat" for us and said that we would welcome a letter from her to the Vice-Chancellor.
A few weeks later, Professor Hopkins, my students, and I sat in a conference room in the UIUC Administration building waiting for the formal hearing on my discrimination complaint to begin. The session started with the Vice-Chancellor reading the Olivette Park Local Development Corporation's complaint against me. He then asked me to review the highlights of my brief for the hearing panel that was composed of several campus deans. As I was about to begin my refutation of the Olivette Park Local Development Corporation's charges, one of the deans on the panel raised a "point of order." He explained that the panel, as a quasi-judicial body with the power to recommend sanctions against me, had the responsibility to ensure that those bringing charges had made a strong prima facie case of actual wrongdoing before asking me to defend myself. In his opinion, the Olivette Park Local Development Corporation had failed to provide concrete evidence that I had excluded anyone from participating in the Olivette Park planning process. He concluded his remarks by chiding the Vice-Chancellor, who was presiding over the hearing for stating in his opening remarks his desire to see "my good name cleared of these charges." The dean stated, "We do Prof. Reardon and his colleagues a disservice by stating our hopes to exonerate them from charges that have been offered without any empirical proof."
Noting his procedural concern, which the other two deans on the panel appeared to share, the Vice Chancellor invited me respond to the charges. For the next thirty minutes, I reviewed the specific charges contained in the Olivette Park Local Development Corporation's letter of complaint using the data contained in our brief. I concluded my remarks by showing clips of several of those who had charged me with denying them and other people of color "voice" within a publicly sponsored and funded community planning process addressing the Olivette Park neighborhood summit at which the programmatic content of the Neighborhood Revitalization Plan was formulated with the participation of more than eighty neighborhood stakeholders. In doing so, I made a special effort to show that many of the recommendations offered by my accusers during the video clips had been incorporated into the final draft of the Olivette Park Neighborhood Revitalization Plan.
Following my remarks, the Vice-Chancellor invited the deans participating on the review panel to ask me any questions they might have. At this point, one of the deans asked me why I thought a small but influential group of local leaders had chosen to file a formal complaint against a project that, on the surface, appeared to be "doing everything right." I explained how the eighty-year old political machine controlling East St. Louis had created conditions under which any individual and/or organization seeking to implement a significant economic and/or community development project requiring city regulatory approval or financial support was expected to provide "benefits" to their allies either in the form of jobs and contracts. I explained how we were working with local leaders committed to challenging such corrupt practices in hopes of reestablishing democratic governance in this community explaining that we could not help them achieve this goal if we participated in local political patronage.
Before proceeding to the hearing's deliberation phase the Vice-Chancellor said he had received a letter from a significant African-American leader within the community who had participated in the Olivette Park planning process. He then read excerpts from a handwritten letter from Katherine Dunham praising our work and characterizing those who had lodged the complaint against us as little better than petty thieves. She concluded her letter by saying that our work deserved nothing less than the university's full support.
At this point, one of the deans on the panel offered a resolution rejecting the Olivette Park Local Development Corporation's charges based upon their failure to provide evidence supporting these claims and the Olivette Park planning team's extensive documentation of the highly participatory and inclusive nature of our planning process. Within minutes the other deans on the review panel voiced their support of this resolution. The Vice-Chancellor conducting the hearing indicated he would inform those who had lodged the complaint that a thorough review of the charges had been conducted by an independent body at UIUC that cleared myself and ESLARP of these charges.
Leaving the hearing, my students and I shared our relief in having survived a potentially deadly political challenge. We also shared our deep disappointment that Rep. Younge, whom we had worked with for so long, had co-sponsored the Illinois Legislative Black Caucus's resolution citing our work as examples of unexamined white privilege and academic colonialism. Her public support of those attacking us, despite our close cooperation with her office, helped us appreciate the delicate position of local reformers. As much as she admired the participatory planning work we were doing in the city's poorest neighborhoods, her reelection still depended on the support of the East St. Louis and St. Clair County Democratic organizations. In the absence of a broad-based citizen movement for municipal reform, officials such as Rep. Younge would be forced to "throw us under the bus," regardless of their respect for us if our activities threatened their political allies.
This close call in Olivette Park made us critically aware of three things. First, our efforts to empower the city's poor and working-class families were being increasingly viewed as a threat to the local political machine. Second, public support from influential African-American leaders, such as Dunham, was essential to our long-term political survival within the city. Third, we had to scrupulously document our methods and findings to be able to defend ourselves against future charges that would most certainly come.
Ken Reardon is a professor at the University of Massachusetts at Boston specializing in urban and regional planning. His book, Building Bridges, about his experiences with community and university partnerships is forthcoming and available from Social Policy Press at www.socialpolicypress.org