Written by Ernest Dumas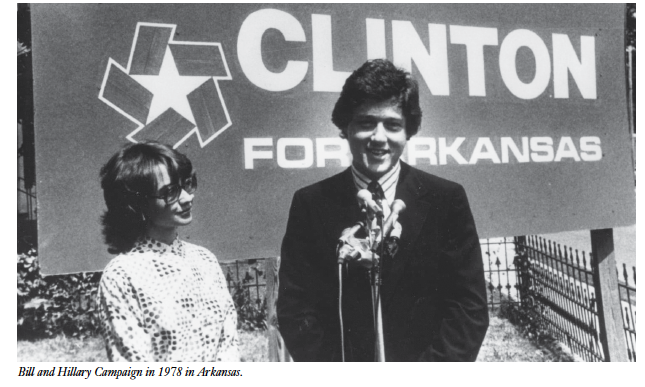 In January 1992, three months after Bill Clinton announced his candidacy for president, Jeff Gerth arrived in Little Rock to look into the candidate's economic circumstances, as he told me in our first telephone conversation about his investigations. I had ceased being the New York Times's Arkansas stringer a decade earlier, but we had talked numerous times when he was working on the first Witt Stephens article in 1978, and he knew that I was familiar with the sources of the Stephenses' economic and political clout and also with Clinton. I figured he had talked extensively to Sheffield Nelson, who would be quoted critically about the Stephenses and their tightness with the new presidential candidate in the article that the Times published on February 5. Gerth wondered if I was familiar with any legal work that Hillary Clinton might have done for Stephens Inc. or the family. If she did, I said, it was not of sufficient magnitude that it had made the newspapers.
"Wealthy Investment Family a Big Help to Clinton," the headline on Gerth's story in the Times proclaimed. It was the first of a string of major stories by Gerth in the Times that suggested, often spuriously and sometimes inaccurately, that the governor and his wife enjoyed close and unethical relationships with powerful financial interests in Arkansas that rewarded the businesses with government assistance and tepid regulation. The articles in the world's leading journal would form a narrative that would follow the Clintons, especially Hillary, the rest of their careers. The February 5 article on the Clintons and Stephenses began by recounting Bill Clinton's appeal to the Stephenses in the final days of his 1990 race against Nelson to help him borrow money to answer Nelson's last-minute onslaught suggesting that Clinton planned more big tax increases. The drift of Gerth's article was that the Stephens family had enjoyed immense power both in business and the government, which Clinton and his wife had facilitated.
Witt Stephens had, indeed, enjoyed a reputation as a kingmaker in Arkansas politics from the late 1940s through the '60s, but while Witt's and his family's business interests were no less successful financially after that, their political influence had been in steady decline since 1971. Even the young Sheffield Nelson [CEO of Arkla Gas] had overpowered them in the legislature after their standoff over renegotiating supply contracts and piping Stephens gas to Midwestern clients through Arkla's pipes. Clinton in 1985 had ended Stephens's total dominance of municipal bond underwriting, but he earned their grace again in the 1990 governor's race by taking down their nemesis Nelson, who had beaten their man Tommy Robinson in the Republican primary.
"Mrs. Clinton has had connections, too," Gerth reported. "According to a Stephens official who asked not to be identified, Mrs. Clinton once represented them in litigation. Public records also show that her firm has represented a number of Stephens entities." He didn't mention which public records showed that.
On the record, top Stephens officials, including chairman Warren Stephens, have always said they knew of no legal work Hillary had ever done for them. Lawyers at the Rose firm who worked closely with Clinton could recall no work that she had done for Stephens Inc. or any kind of legal work for the big financial house that she could have been called upon to do. The Rose law firm, like several other big law firms, had once done bond and other work for Stephens but that was well before she had joined the law firm. Even if she had handled some legal matter for the company, it would have been neither illegal nor unethical, unless it involved some clear conflict with the governor's regulatory prerogatives, and there was no suggestion that it was. Gerth wrote that her annual income for lawyering had been below $100,000 before 1991, the previous tax year.
After Gerth's article, the Clinton-Stephens nexus would become a frequent topic of national news and commentary. The common implication was that her work had to raise ethical questions since her husband was in charge of the whole state government and nearly every business, even if only by paying taxes to the state, was under some kind of regulatory jurisdiction. The article pointed to no advantage that the government under Clinton had given to any Stephens enterprise.
A band of reporters surrounded Hillary at a campaign event in Chicago on March 5 and asked her about her representation of Arkansas businesses and local agencies, such as a municipal airport commission. She snapped and a torrent of criticism followed. Critics said she was denigrating women who did not follow a career outside the home.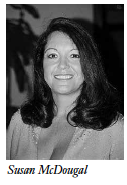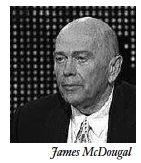 Three days after her cookie riposte, Jeff Gerth landed a story on the front page of the Times—Whitewater—that would bedevil the Clintons for the next ten years and arguably lead to the president's impeachment. The furor set off by Gerth's story would last until the fall of 2000, when the third special federal prosecutor to examine the matter admitted that Whitewater had all been much ado about nothing. The Clintons had done nothing illegal. The prosecutors by then had spent upwards of sixty million dollars investigating the little land project and its offshoots. Gerth telephoned me one day in February 1992 asking if anybody had ever written anything about the Clintons' investment in a remote vacation development called Whitewater in 1978, before he became governor. Yes, I said, it was fairly common knowledge and it had caused a minor dustup in the governor's race in 1986. The Clintons and Jim and Susan McDougal had borrowed some money and bought 230 acres of remote wilderness land on a ridge overlooking the White River and Crooked Creek in Marion County and tried to develop it for vacation homes and fishing cabins.
Clinton had been elected attorney general, and Hillary had left the law faculty at Fayetteville with him and joined the Rose law firm at Little Rock. Interest rates at the time had soared high into the double digits, the worst inflation spiral of the century, and no one was borrowing money for such pleasure ventures, which the Clintons realized too late. The stupidity of the venture became apparent to them before long. McDougal, who had sold them on the project, couldn't sell a single lot because no one was borrowing money anywhere, but the couples were paying high interest on their loans.
Clinton's political career would rise and fall and rise again in the next fourteen years, while McDougal would work briefly for Clinton in the governor's office and then try his hand at running a couple of small financial institutions—in the worst climate for such enterprises since the 1930s—before losing everything and sinking into despair.
In 1992, when Gerth arrived in Little Rock, a federal jury had vindicated McDougal on charges that he had defrauded his little savings and loan company, but he was jobless and living in penury in a trailer at his friend Bob Riley's home in Arkadelphia. McDougal's mother had moved in with him after Jim's father's death. She told him that Bill Clinton had telephoned there one night and that she had beseeched him to find a state-government job for her desperate son, who suffered from clinical depression. McDougal said his mother told him that Bill had promised her that he would try to find a job for Jim in the government. Clinton never did get him a job. McDougal said he never expected Clinton to come through, but he resented that Bill had broken his old mother's heart.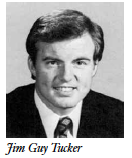 McDougal was nursing that slight when his friend and former business partner Sheffield Nelson introduced him to Gerth, who was investigating the Clintons' background for the Times. McDougal had gone to Nelson, a lawyer, asking him to sue his old friend Lieutenant Governor Jim Guy Tucker over $59,000 that he thought Tucker owed him. McDougal was happy to oblige Gerth and tell him all the troubles he had had with Tucker, and also the trouble with the Clintons over the old Whitewater development and Hillary's lucky investment in stock futures. He would quickly regret it. For his trouble that day, McDougal would die eight years later to the day after Gerth's Whitewater story appeared in the Times. He died on a cot in "the hole"—solitary confinement—in a federal prison near Fort Worth, Texas, because, although willing, he could not give the special prosecutor any evidence that either Clinton had committed a crime. He had only his claim that Clinton had once asked David Hale, at a chance meeting of the three, if he had approved a small-business loan to Susan McDougal's media company—a fraudulent loan application that Jim McDougal had prepared.
Hillary liked McDougal's idea of developing wilderness estates when he described it to her and her husband over lunch in January 1978 at the Black-Eyed Pea restaurant on Rebsamen Park Road in Little Rock. McDougal said Bill showed no particular interest—he never evinced any interest in making money—but he agreed to go along if Hillary wanted to. The Clintons, McDougal, and his wife, Susan—a student he met while he was teaching at the little Baptist college—obtained $203,000 in bank loans to buy the land, form the Whitewater Development Corporation, and begin the rudimentary development on a heavily forested ridge on the White River. Hillary eventually contracted to build a speculative cabin in the woods to entice people to build there, but there were no takers and the whole project foundered. The two couples had trouble paying down their bank debts. When congressional investigators and sleuths for the Resolution Trust Corporation got into the old files of the Whitewater Development Corporation many years later, they found numerous notes back and forth and baffling side transactions trying to salvage the project in some way, all of which found their way into national news stories in the 1990s.
"Clintons Joined S. & L. Operator In an Ozark Real-Estate Venture" was the headline on Gerth's blockbuster article on the front page of the Times on March 8, 1992. The front page of the New York Times, then as now, proclaims to the news world each day what big issues the press should be following. The headline sounded scandalous, because savings and loans had recently collapsed all across the country, costing the taxpayers billions of dollars in bailouts. Numerous scandals reaching into politics—Lincoln S&L and the Keating Five (Senator John McCain and four other senators), Silverado S&L (President George H. W. Bush's son Neil), and Vernon S&L (House Speaker Jim Wright)—had turned "S. & L. Operator" into an ominous phrase. Here was a governor, who was supposed to be regulating a few of the thriftless thrifts, actually going into business with one of the miscreants.
The headline was blatantly wrong, although Gerth's murky text obviously led the headline writer into the errors. McDougal was not an "S. & L. Operator" in 1978, and Clinton was not the governor. The Clintons had entered a real-estate venture not with an S&L operator but with a teacher at a small Baptist college and his wife. McDougal would not set up a small state-chartered savings and loan in Little Rock until four years later, after he had worked for a while in the governor's office in 1979 and after quitting the governor's office and running a tiny bank for a while in the unincorporated community of Kingston in Madison County. In 1982, while Clinton was out of office and McDougal was running for Congress, McDougal acquired a small thrift in Woodruff County, renamed it Madison Guaranty Savings and Loan, and then moved it to South Main Street in Little Rock, where he began handing out loans to virtually anyone who asked for one. He had gotten into trouble as the governor's economic-development adviser for criticizing Arkansas banks for being too conservative in lending money for start-up businesses. With his little thrift, McDougal put his philosophy into practice, right after the Reagan administration had deregulated the institutions and encouraged them to go out and throw money at entrepreneurs, not just homebuyers. Like about a third of the nation's thrifts, McDougal went at it with abandon and lost everything. In his case, he lost his businesses, his reputation, and eventually his life. Scores of "S. & L. operators" across the country were prosecuted or subjected to civil lawsuits for recoveries from their freewheeling and sometimes self-serving ways.
One of McDougal's development investments at Madison Guaranty was Campobello Island in New Brunswick, Canada, once a vacation escape for his hero Franklin Roosevelt. McDougal got Sheffield Nelson and Jerry Jones—remember them from the Arkoma gas imbroglio?—to invest as limited partners. Desolate, dreary Campobello was a financial disaster, too, but the receiver for the federal Resolution Trust Corporation was a former Razorback teammate of Jerry Jones [now owner of Dallas Cowboys], and he handed the pair a profit on their investments in Campobello before bailing out McDougal's thrift—but not McDougal himself—with tax funds and turning it over to a Little Rock bank. Like hundreds of S&Ls across the country, McDougal's thrift had begun to get in trouble in 1985, when federal examiners said inflated profits from speculative investments might have jeopardized the company's solvency, but it would be a couple of years before state and federal regulators put it into receivership and the U.S. attorney brought charges against him.
Gerth's story about Whitewater and the Clintons gave an ominous cast to all the intricate arrangements the two couples made while trying to salvage the little investment, all the while promoting the idea that the governor and his wife had an ethical conflict in having done business with a man who in the future would operate a savings and loan association. That story and those that followed suggested that McDougal, not the Clintons, bore the brunt of the losses, which seemed to be part of McDougal's pique. Gerth's story made Madison Guaranty sound like a financial behemoth. He called it "one of the largest" state-chartered S&Ls in the state, when it was actually one of the tiniest S&Ls in the state and the country. State-chartered banks and thrifts were few and tended to be very small operators. Most large thrifts were federally chartered.
The March 8 story was not the last on Whitewater, even in the campaign. That article and subsequent ones suggested that Hillary Clinton, whose law firm did legal work such as title opinions for Madison Guaranty, might have exercised undue influence on the state securities commissioner, Beverly Bassett, a Fayetteville lawyer whom Clinton had appointed to the post. Bassett had approved a plan suggested by McDougal and drafted at the Rose law firm for rescuing the company, but McDougal ignored it. Bassett later moved to put McDougal's firm into federal receivership.
Gerth would write more long investigative articles on the Clintons for the New York Times, all with the same dark hints that something was cunning and sinister about what the Arkansas couple had done—not stupid, but wrong. What the lead on the original Whitewater exposé should have said, if it were worthy of reporting at all, was that this ambitious Yale-educated couple now wanting to run the country had fourteen years earlier gone into debt for a real-estate project in a poor and rugged area that had little chance of success, even in a normal business climate, much less in the raging inflation of 1978.
But Gerth was not alone. There was pressure on reporters for other major journals to catch up with the Times on the Clinton scandals. One was Susan Schmidt of the Washington Post, who regularly got confidential "leaks" from the independent counse—notably from the young zealot Brett Kavanaugh—about what the prosecutors and FBI agents were finding in the Clintons' machinations in the Arkansas government and with the Arkansas power establishment.
One of Gerth's bombshells was that in 1978, when Clinton was attorney general and running for governor, Hillary invested $1,000 in the cattle futures market and closed her account the next year after reaping a profit of $99,000. The scandal was that she had been guided in the trading by a young lawyer named James B. "Jim" Blair, who would in the future become general counsel for Tyson Foods. In Gerth's telling, the powerful Tyson Foods helped the future first lady make a small killing in the market in order to gain leverage with the man who would one day be governor and then perhaps senator or president. Gerth proceeded to recount how the food giant, after helping her make $99,000, ran roughshod over pollution laws and reaped millions in aid from the state government under Clinton. He wrote that Tyson had obtained $9 million in loans from the state government under Clinton. I was intrigued when I read the story, because the state had no such loan program. I tried to call Gerth, who had told me about his story before he wrote it, but couldn't reach him, so I told the Times's national editor that the sentence was an error and probably ought to be corrected. A few weeks later, a correction appeared on page two of the paper. It did not say what the error was, only that Tyson received no loans from the state. The Times has since become more transparent about its mistakes.
Hillary opened the account in October 1978 and cashed out the next year—right before the bull market crashed. What Gerth failed to mention was that Blair and others in his orbit stayed in when Hillary got out, and they lost a fortune. A broker named Robert "Red" Bone, who founded Refco, Inc., a brokerage at Springdale, was the wizard who advised all of them. After the crash, he became a villain. Gerth failed to mention that the connection with Blair was not business with Tyson Foods but personal. Blair's wife, Diane, the eminent political scientist, was Hillary's best friend and confidante for life. Jim and Diane were in the Clintons' wedding, and Bill performed the Blairs' wedding. The couples vacationed together.  When Diane Blair was dying of cancer in 2000, Hillary telephoned her daily from the White House and visited her at Fayetteville just before she died. Tyson Foods had nothing to do with her relationship with the Blairs and her stock trading.
Don Tyson, the CEO, had written a letter to the Gazette in 1980 urging Clinton's defeat. While Tyson and the poultry industry were inveterate polluters in a state whose population was never bothered much by industrial and agricultural pollution, Clinton had twice, in 1979 and 1991, passed laws that stiffened regulations and fines for Tyson's pollution.
But there might have been an ethical slip that Gerth missed in his reporting on the ancient cattle trades. One of the lawsuits filed against Bone and his brokerage after the crash was by Hayden McIlroy, a prominent banker at Fayetteville, who stayed in the cattle trades when Clinton withdrew and lost $800,000 as a result. McIlroy blamed Refco and Bone. One of his lawyers was Hillary Rodham of the Rose firm. Looking through the case file when the cattle story broke in 1994, I noticed that she had withdrawn as counsel for McIlroy. My assumption was that a senior partner at Rose, upon hearing from Hillary that she had once traded with Refco, said that she ought to withdraw from the case because it presented the appearance of a conflict of interest. The case was fifteen years old then, and I did not follow up to learn if that was the cause. McIlroy lost his case before U.S. District Judge Henry Woods, who had alerted me to the suit, and also before the Eighth U.S. Circuit Court of Appeals. Hillary's Tyson-aided cattle-futures profit, as Gerth and others ruthlessly characterized it, would resurface whenever Hillary ran for office, a dark reflection on her character.
Gerth late in the decade would share a Pulitzer Prize, as did Sue Schmidt at the Washington Post; he lost credibility soon afterward when he was exposed as having unfairly destroyed the reputation and career of Wen Ho Lee, a nuclear scientist at Los Alamos National Laboratory who was accused of stealing secrets for Communist China, although Gerth's stories had not identified him by name. Eventually, the judge apologized to Lee for putting him in solitary confinement and denounced the government for misconduct. The federal government and five news organizations paid Lee $1.6 million to settle a civil suit. As for Hillary, Gerth and another Times reporter in 2007 wrote the most vindictive of all the Clinton books—Her Way: The Hopes and Ambitions of Hillary Rodham Clinton— with the obvious purpose of undermining her campaign for president in 2008.
Early in Bill Clinton's presidency, committees of the Senate and House of Representatives began to hold hearings to get to the bottom of the Times's bewildering Whitewater revelations, along with a cascade of other dustups— Clinton's firing of President Bush's travel-office staff, the handling of some FBI files in their first weeks in the White House, and, finally, the suicide of the deputy White House counsel, Vince Foster, Clinton's kindergarten classmate and next-door playmate at Hope, whose body was found in Fort Marcy military park with his father's antique pistol at his side. A shredded note in his wastebasket back at the White House complained about newspapers destroying people's reputations and lives for fun. Foster apparently was not alluding then to the Times but to the Wall Street Journal, which had carried several editorials doubting the character of Foster, a paragon of lawyerly virtue who happened to possess his former law firm's billing records on Madison Guaranty.
When Whitewater wouldn't go away and Republicans chanted for the appointment of an independent counsel to investigate the fifteen-year-old Whitewater transaction and Foster's death, Clinton, his wife, and his top aides conferred by transatlantic phone in January 1994 while the president was in Moscow. David Gergen, a Republican counselor whom Clinton had hired, had been arguing for Hillary to turn over the law firm's billing records on Madison Guaranty to the Washington Post, which was clamoring to see them and was now competing with the Times for who could publish the most details about Whitewater. Gergen said that would end any questions about whether there was some misconduct in Hillary's representation of McDougal's little company. She refused. Those were confidential private records and none of the public's business, none of Congress's business, and none of the newspapers' business, she said. Clinton and others pleaded also, according to Gergen, but she would not relent. She and Clinton agreed by telephone that night that he should have the attorney general appoint an independent counsel and put the whole mess behind them. George Stephanopoulos offered the worst advice any aide ever gave to a president. He argued that an independent counsel appointed by the attorney general would soon settle the whole crazy matter and it would go away.
Meantime, the White House could get back to doing the people's business. Clinton's chief counsel, Bernard Nussbaum, who had experience with the Watergate prosecution twenty years earlier, pleaded with the president not to do it, because an independent counsel, especially one who might be appointed by a partisan judicial panel, would be a partisan himself who would never quit until he unearthed something, however flimsy, that could be used to impeach the president. Clinton would write in his memoir that accepting Stephanopoulos's advice and ignoring Nussbaum's was the worst mistake of his life.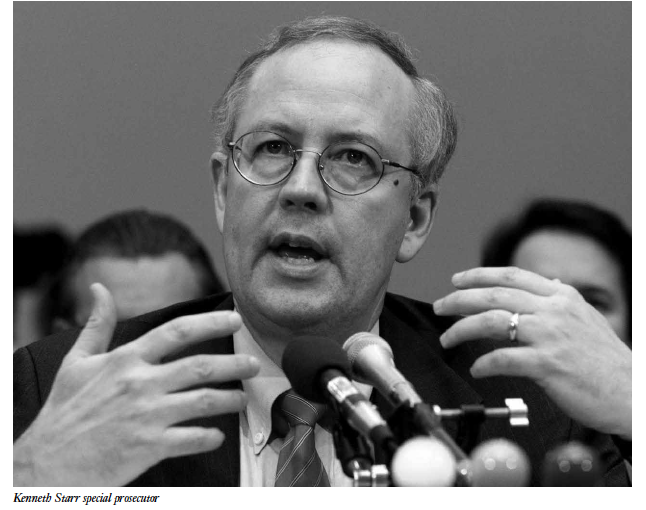 The first independent counsel, a former Republican federal judge named Robert B. Fiske Jr., investigated the most urgent matter, the wild charge by right-wing radio commentator Rush Limbaugh that the Clintons probably had their friend Foster murdered for some unknown reason that might be connected with the acreage near Flippin. Federal and local investigators had already concluded that it was a suicide. When Fiske concluded the same thing and suggested that he wasn't finding any wrongdoing by the principals in the Whitewater and Madison Guaranty matter, a federal judicial panel fired him and appointed Kenneth B. Starr, whom Clinton had previously removed as the solicitor general. Starr hired a young Republican lawyer, Brett Kavanaugh, to direct a fresh investigation of Foster's death to see if it could be pinned on the Clintons. After spending three years and a few million dollars in the pursuit, Kavanaugh's sleuths could find nothing to support anything but suicide, the same conclusion that local and federal investigating agencies and two bipartisan congressional committees had reached. Kavanaugh went back to private practice, only to rejoin Starr's team when they stumbled upon evidence that Clinton had had sexual liaisons with Monica Lewinsky. Kavanaugh and Starr widened the investigation of the old Marion County land deal to include a former Arkansas state employee's claims that Clinton had once exposed himself to her, as well as the allegations that he had had an office affair with Lewinsky and lied publicly and under oath when he said he hadn't. They pursued that until the Republican House of Representatives impeached the president for not being truthful about his trysts with Lewinsky. Decades later, Kavanaugh parlayed it into a seat on the U.S. Supreme Court.
The appearance of favoritism under Starr, had anyone in the media noticed, was formidable. He prosecuted Hale's partners who were suspected of being Democrats, like Jim GuyTucker and McDougal, but left alone three delinquent state Republican officials who got loans from Hale. Starr hoped to indict Clinton or at least implicate him in Hale's unlawful loan to McDougal, but no record of Clinton having any transaction or influence with Hale ever surfaced. Hale had supported Tucker against Clinton in 1982 and Frank White against Clinton in 1986, so the governor was unlikely to expect any favors from him, or Hale from the governor. Transactions that McDougal and Tucker had with Hale's lending company formed the grounds upon which Tucker, along with Jim and Susan McDougal, were convicted in 1996. Tucker resigned and Lieutenant Governor Mike Huckabee became governor.
By the midterm in 1994, the co-presidency was not working out to the satisfaction of either the president or his wife. He had had some early success with the Democratic Congress. Within weeks of his inauguration, he had passed a bill creating the AmeriCorps program and his family-leave bill, which guaranteed people up to twelve weeks of unpaid leave to recover from childbirth or medical emergencies. Congress passed his bill to ban the sale of military-style weapons for ten years, over the bitter opposition of the National Rifle Association.
All of that seemed to be overshadowed by the Whitewater-spawned investigations and media revelations, and by the media's infatuation with silly dustups like the erroneous story that he had held up airline flights at the Los Angeles International Airport while he got a $200 trim by a hair stylist on Air Force One.
By the summer of 1994, as the Whitewater investigations in Congress and by the independent counsel were heating up, the first couple had lost their most vaunted goal, an overhaul of the country's health-care system to give every American access to medical care at a reasonable cost. All the Democratic candidates for president in 1992 had promised it, and Clinton had insisted that it was not even an issue because universal health care would be enacted no matter which of them was elected. Polls showed that an overwhelming majority of Americans wanted universal health care. Just as he had put Hillary in charge of the big education-reform drive in Arkansas in 1983, he put her in charge of a task force that would produce a comprehensive overhaul that he vowed Congress would pass in the first one hundred days. It was an unrealistic goal. The task was far more difficult than either of them imagined, accustomed as they were to a state legislative body that produced nearly a thousand laws in a hundred days.
Hillary threw herself into the work with messianic zeal, leading closed working sessions, making speeches across the country, testifying before congressional committees, and buttonholing senators and congressmen in their offices for long private discussions about the intricacies of the healthcare system and how various schemes to cover everyone and finance the system might work. To her, it was the most important domestic undertaking in sixty years. Health care was the Hillary Project. When it failed, it was her failure.
She apparently never anticipated that others would have different solutions that were perhaps not as comprehensive or costly as hers. She insisted that every single American had to be insured and she was certain that the complicated plan that she and the rest of her team had devised was the only one that would work. Universal coverage was a principle that she insisted could not be compromised. Health care was a community problem; every family went through the physical and emotional traumas of illness and death. Likewise, she said, the whole community had to be invested in taking care of the least and poorest among them. "Until all people are secure, no one is," she kept insisting.
A congressman from Tennessee produced his own plan for near-universal coverage and so did a congressman from Oregon. The conservative think tank Heritage Foundation had proposed a system similar to what would become Obamacare, based on individual coverage rather than mandated employer coverage, and many Republican senators introduced the bill. The employer mandate became increasingly unpopular. Parts of the insurance industry began running TV commercials ridiculing Hillarycare and suggesting, erroneously, that it would not allow people to choose their doctors and hospitals—the same false claim made by critics of the Affordable Care Act fifteen years later. She became more and more brittle, attacking the plans offered by members of Congress as a surrender to the status quo and to the commercial interests that wanted to keep the system unchanged. She repelled intercessions by friendly Democratic senators that they compromise and live with something that, at least for the moment, would not cover everyone. The president, though he hinted to others that a compromise might be workable, would not tell her that they were going to take something less than the whole pie. As with seemingly everything, he would not override her.
By the summer of 1994, with the mid-term congressional elections approaching, health care was dead and the post-mortems began. Republicans swept the mid-term elections in November and the Clintons faced a hostile Republican Congress led by Representative Newt Gingrich for the next six years. The future of his presidency and their mutual political careers looked grim.
The post-mortems on health-care reform were all about Hillary, starting with her decision at the outset to keep the formative deliberations more or less secret. The teams that were formed to work on different aspects of the health-care problem would work in private until preliminary plans were worked out. It obviously did not sit well with the media and undoubtedly affected the tenor of the reporting. It raised suspicions about what interests were being taken care of behind closed doors, although the big interests like the pharmaceutical companies, physician organizations, and the insurance industry were shut out of
the deliberations themselves.
She made no secret of her distrust of the media. Subjecting every suggestion raised in the task-force deliberations to public criticism made it hard to arrive at a considered and rational solution, she believed. In a speech in Nebraska, she referred to "the bane of all people in political life—the unfair, unjust, inaccurate reporting that goes on from coast to coast, north to south, east to west."
Others involved in the project, like the technocrat Ira Magaziner, would conclude that the effort to control the reporting on the work from the outset was a decisive mistake because it affected the developing attitudes in Congress and beyond about the whole project. Her unyielding insistence that hers was the only plan with a moral foundation—taking care of everybody—doomed it in the end, although the profound disagreements, not all of them philosophical, about how medical care should be regulated and paid for, and who was entitled to get government help, have always made it seemingly impossible to achieve the universal system that every other advanced democratic country reached long ago.
On May 30, 1994, The New Yorker, the weekly magazine of the American cognoscenti, produced a cover story about the first lady that put a permanent cast on her persona—a brilliant and idealistic woman who was also virulently ambitious, calculating, hardheaded, steely, and, well, unlikable to lots of people who knew her. Likeability would be the big issue in her two losing presidential races. The 32,000-word magnum opus, titled "Hillary the Pol," was written by Connie Bruck, who had interviewed the president and scores of Hillary's friends and colleagues from her college days, her Arkansas sojourn, and her year and a half in the capital. The story covered all her battles—education reform in Arkansas, Whitewater, her cattle-futures trades, health-care reform—in excruciating detail, often with Jeff Gerth's pejorative slants. Hillary came across on the whole as brilliant and hard-working but also deeply political, intensely private, hard to get close to, and not a woman who shared much of herself and her inner musings with anyone but her closest family. It would be a persona upon which crafty opponents could easily install more sinister lineaments. She referred to the first lady's "steeliness." Bruck's piece could be viewed in another light—it remarked upon her high intellect, idealism, dedication, ingenuity, and analytical powers—but readers and listeners always tend to carry away the more inimical impressions.
Everyone Bruck quoted—most of them identified by name, a few anonymous—spoke reverentially of her ability and intelligence, her single-minded dedication to whatever the cause, but a few drifted off into descriptions that would contribute to the popular negative views of her: her reserve, her lack of demonstrative warmth, her shrewdness, her political calculation.
They were descriptions that male politicians would not mind, but women were better admired for warmth and congeniality. Hillary would strive mightily over the years to overcome all the stereotypes, but they stuck. Although the president granted Bruck two interviews and was effusive in his praise of Hillary, the first lady, as usual, had not talked to the reporter. She apparently was furious over the piece. A few days after it appeared, I received a call from her press secretary, Lisa Caputo. I was quoted in the article talking about how Hillary had co-opted the managing editor of the Arkansas Democrat and giving her credit for turning the editor and the paper from scourges of Governor Clinton into cheerleaders for most of his last ten years in office. Caputo said she had been talking to others who were quoted in the article and who said they had been misquoted or their remarks taken out of context. She said Hillary figured that was true of mine, too. Bruck had this direct quotation from me: "Hillary and Betsey Wright decided they had to neutralize the Democrat. They knew that John Robert Starr had a tremendous ego, that he was weak, that they could pander to him. Before long, you'd see Hillary and Starr at lunch over in a corner. We found it nauseating. And for eight years he wrote very little bad about Bill." I said that, while I couldn't say whether the quotation was exactly what I had said to Bruck, she accurately described the point I had been making. Caputo thanked me archly and hung up.
She knew newspapermen. She had had enough experience with us. Whatever she said was apt to show up in print (by this time I was writing a political column for the Arkansas Times) and there was no telling how her response would be portrayed. Bruck's article only proved again that she couldn't trust any of us.
We were all junior-level Jeff Gerths. Her deep misgivings about the news media—the entire tribe of reporters and their opinionated counterparts—were a natural consequence of Hillary Clinton's abiding obsession with privacy. It was not merely a constitutional value, guaranteed by the Bill of Rights, but a personal one. It was not a character flaw but simply who she was, a product probably of her childhood experience, a legacy perhaps of her mother. It did not suit her for a political career, which rewards extroversion and amiability—qualities that her husband had in spades, in spite of his flaws. Still, she was elected twice, overwhelmingly, to the U.S. Senate from the third most populous state in the union, served a term as secretary of state, and left
both jobs with high public approval ratings. But the obsession cost her the presidency.
Her hostility to the press—yes, and her paranoia, too—invited more investigative reporting on everything in which she was involved. The reporting by the Wall Street Journal, the New York Times, and others that interpreted global philanthropies to the family foundation as malignant efforts to win favors from the senator and secretary of state was an example. The great email scandal, one of the most preposterous supposed scandals in modern history, cost her the election in 2016. Donald Trump told cheering crowds that she should be thrown in prison for using a private email server rather than the government server when she was secretary of state, or else for having someone destroy many of the old emails after she left office in 2013. She had a substantial lead in the polls until the FBI director announced dramatically a few days before the election that the FBI was reopening its investigation because a new cache of emails had been discovered. It turned out to be a false alarm. There never was any evidence that she had violated the law, even innocently.
Emails were a digital innovation that replaced telephone calls, handwritten notes, or visits to colleagues down the hall. But when President George W. Bush took office, it had begun to occur to government officials everywhere, including in the office of Governor Mike Huckabee of Arkansas, that unlike phone conversations, office conversations, and notes, emails could be considered public records and were subject to freedom-of-information laws. Newspaper reporters could demand the emails. In Washington, the Bush White House and scores of agencies quietly turned to the private server operated by the Republican National Committee.
The first revelation of high public officials using a private server was not Hillary Clinton's, but it did involve an Arkansawyer, the U.S. attorney for the Eastern District of Arkansas, Bud Cummins. Hillary Clinton might have raised the episode in her defense, but she never did. Karl Rove, the White House political director, wanted eight Republican U.S. attorneys removed because they would not go after Democratic officials before the 2006 elections. The Justice Department fired eight prosecutors, including Cummins, who was replaced by a former political aide of Rove, Tim Griffin, who is now the lieutenant governor. Congressional investigators looking into the political firing of independent prosecutors discovered that Rove's chief deputy was using a gwb43.com email account to discuss firing Cummins and appointing Griffin in his place. Gwb43 stood for George W. Bush, the 43rd president, and the Republican National Committee owned the domain. Investigators considered the private emails a violation of the Presidential Records Act, although no one was ever charged.
Eventually, it was discovered that many agencies and officials were using the private server and protecting their emails from public scrutiny. In 2009, 22 million emails were alleged to have been destroyed, although subsequently they were found on backup tapes. The Obama administration settled a lawsuit filed by two groups seeking access to the 22 million emails but took no action against anyone who might have violated the Presidential Records Act or the freedom-of-information laws. Nobody in the White House screamed or tweeted, "Lock them up! Lock them up!"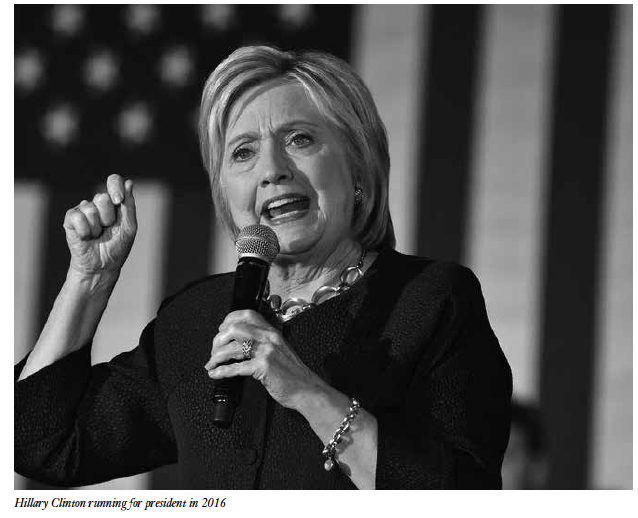 Clinton was at first defiant about using her private email server, saying it was for convenience since many of her emails were private family communications that had nothing to do government business. Moreover, former secretary of state Colin Powell had advised her to do it. The State Department server was constantly under attack by hackers. WikiLeaks dumped thousands of State Department emails onto the Internet but none of Clinton's. She might have explained with perfect candor that she wanted to keep her private and public business away from prying, unfair newspaper reporters.
A few of her detractors, maybe even Donald Trump, might have found it plausible and even forgivable.
Ernie Dumas was a political reporter, editorial writer, and columnist for 34 years at the Arkansas Gazette until 1991. He continues to write a column for the Arkansas Times along with other projects. The Education of Ernie Dumas is available from Butler Center Books at www.butlercenter.org