Spring 2023
Written by Mike Miller
I met Casey when I was the Northern California "field secretary" for the Student Nonviolent Coordinating Committee (SNCC).  She was my point person in the national office, coaching me on what SNCC wanted from "Friends of SNCC" groups across the country—money, political support, recruits and educating people about how SNCC was different—an organization of organizers working among those most marginalized in American society.
We stayed in touch over the years, and were doubly connected by the coincidence of her husband being the Episcopal priest and community organizer Paul Buckwalter, who came to an organizing workshop I led in Arizona years before he met Casey, and went on to become an organizer with the Industrial Areas Foundation (IAF).  The following is a collection of some of her writing—selected from her public writing and correspondence with me.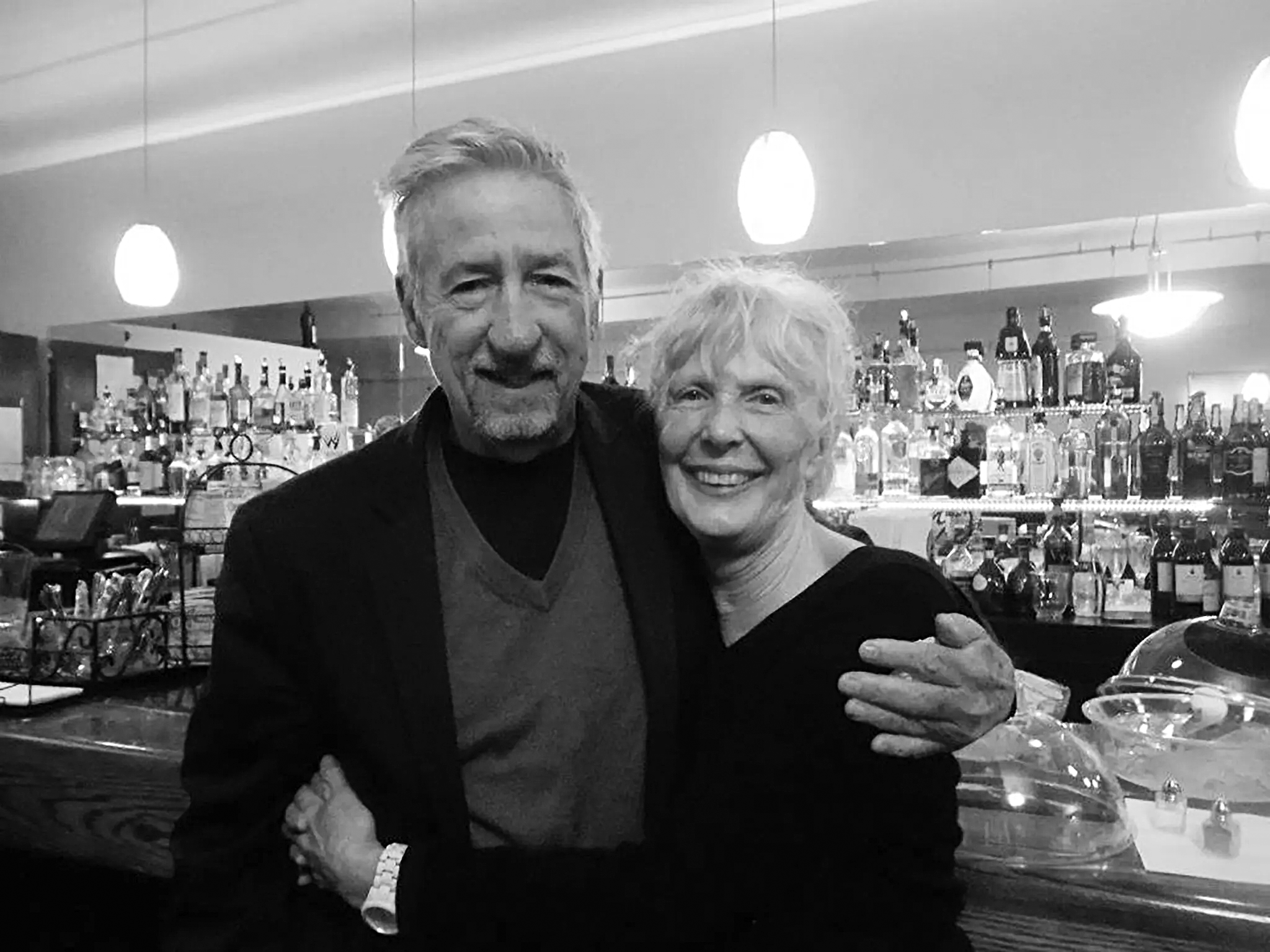 From her Self-Written Obituary.  2023.
Casey Hayden, one of the few white Southerners to join the anti-segregation movement of the 60's in the South, and a widely recognized precursor of the women's liberation movement, died on 1/4/23 with her children holding her hands.
Born Sandra Cason, a name she continued to use legally, she was the child of divorced Texas liberals, William Charles Cason and Eula Weisiger Cason Beams. Raised by her grandparents and her single mother in Victoria, Texas, she was fourth generation, her grandfather the county sheriff. She attended local public schools, Victoria Junior College, and the University of Texas, where she graduated with honors as a member of Mortarboard, the senior women's honorary society. An activist and a student leader in the Campus YWCA locally and nationally, she was as well a scholar/resident of the radical Christian existentialist Christian Faith and Life Community.
She was swept up into the 60's by the student sit-in movement of black college students in the deep South, starting February 1, 1960, which she joined as a graduate student. Following a six-week summer residential training for Southern campus leaders sponsored by the Field Foundation and the United States National Student Association, she spoke for civil disobedience at the National Congress of USNSA, quoting Thoreau and swinging support to the new Student Nonviolent Coordinating Committee.
…She was a founding member of Students for a Democratic Society; attended the Port Huron Conference; and served as first Northern Coordinator of SNCC, creating nationwide support. In 1963 she moved to Mississippi to research and train staff for the challenge to the seating of the all-white Mississippi delegation by the Mississippi Freedom Democratic Party at the 1964 Atlantic City convention; took up photography as first woman in SNCC to do so, and co-authored two papers which are widely credited with launching women's liberation and second wave feminism.
After the South, she joined the counter culture, establishing a commune in Vermont with other Southern movement dropouts and then the first yoga center in San Francisco with the father of her children, Donald C. Boyce III, as well as the home-birth movement in which she bore two children.
Letter to Mike Miller, July 5, 2017
…the dems were scared and partly for that reason moved in the direction of inclusiveness by '68…black power worked to open the liberal dems to black participation in the party and the society, but had the long term effect of stifling radical mass organizing on a class basis, and still does…and the emphasis on race at the expense of interracial alliance re class issues is one element in the rise of right populism….dem politics in that regard are a key to what is happening now and the dem party evidently has no capacity for self analysis or correction…nor does the black intellectual community….except for maybe [Cornell] West…
we were black and white together in sncc for awhile and the beloved community was color blind because god loves us all. and the rich use race to separate us. the poor racists are pawns in their game.
… you are right that the idea never caught on. whites and blacks don't like each other. that doesn't mean it's not what needs to happen. 
at least among ourselves we can recognize that something besides the past is needed. 
From "In the Attics of My Mind." Written for Hands on the Freedom Plow: Personal Accounts by Women in SNCC.  Tucson, 2010
…Casey worked with and for SNCC from 1960 until the fall of 1965. She attended SNCC's second organizing conference in 1960, and worked for Ella Baker out of Atlanta as a campus traveler for a human relations project across the South, taking minutes at staff meetings, helping out in the SNCC office, and riding on the Albany Freedom Ride on her off days, in 1961-62. She joined Friends of SNCC in Michigan and returned to Atlanta as SNCC's first northern coordinator in early 1963. She staffed a literacy project in Mississippi, where she also helped administer the Freedom Votes and the MFDP, and strategized, researched, and wrote organizing materials for the challenge to the seating of the Mississippi delegation to the Democratic Convention in 1964. In 1965 she initiated a Mississippi photo project and organized poor white welfare women in Chicago.
Casey co-authored two papers which root second wave feminism in SNCC.
About the Women's Papers in SNCC
The first of the two pieces of writing about women in which I had a hand was composed at the Waveland SNCC conference in the fall of 1964, an important setting. We were in disarray after the summer of '64 on all fronts. The field staff needed to regroup and plan, and the Atlanta administration needed to manage the overgrown staff and raise the money to support us. These needs arose as conflicting, although they weren't necessarily so. I could see both sides. I spoke up for power to the field and decisions to the workers. On the other hand, as Bob [Moses] has said, "We should have helped Jim raise money." While he wasn't talking specifically about the Waveland meeting, this comment strikes me as a good synopsis of this whole event.
In this setting the Waveland Women's Position Paper was definitely an aside. Still, as Bernice Reagon has said, "SNCC was where it could happen." Organizations like the Y, in the Student Christian Movement had educated on the changing role of men and women back in the fifties, and I'd been involved with the Y as a national leader before coming to SNCC. But the Waveland women's Position Paper represents a break out into public political discussion in this generation. It was precipitated by the list at its beginning, noting gender inequalities in work within SNCC, all concerning black women as far as I can tell. The list was probably drafted by Mary King over the months following the women's protest on exactly this topic in Jim's office the year before. The openness of SNCC and the movement in theory and reality, the sheer spaciousness of understanding race as a cultural construct, as well as the invitation to critique the organization which led to many papers at this time, provided the arena. The paper entered the historical landscape when Sara Evans published her book Personal Politics in 1979, and much of the subsequent conversation was about the ideas in that book rather than the paper itself.
…I thought that if men had titular power positions, black women wanted them to be there, and I followed suit. Alice Walker in the title to her 1983 book In Search of Our Mothers' Gardens, called her writing "womanist prose." I didn't have that language, but I think now that I saw SNCC then as womanist, feminist with a black twist. I'm not arguing for this position, but that is how I observed SNCC to be at the time. I also had a more white feminist perspective, which had by now become more commonly discussed following publications by European women on the left. That is the perspective of the Position Paper's critique. I was into outing that perspective now, for much the same reasons I came forward in our larger debates, because I believed deeply that honesty builds trust. But I was uneasy.
I used to think this paper was angry, and that I wasn't, but as I read it now it doesn't seem angry. Perhaps a bit scolding, a family squabble. I used to think that I was disinclined to write because I was fearful it would exacerbate racial tensions that I was holding back, but that wasn't quite it, either. The girl I was then was accustomed to hearing colleagues discuss their racial feelings. In fact, she had run workshops which were designed to elicit such feelings from blacks and whites. And her friendships inside SNCC were intact. I think we were all anxious at this time, overwhelmed by the size of the movement we had created and the new racial imbalance following the summer project. The more invested we were the more anxious we were. But my conflict about this paper lay elsewhere.
I was aware that the perspectives and priorities of white women and black women, for the most part rooted in racial and cultural identities, were different…I was anxious to be coming out on one The girl I was at WaveLand faced into these insights, bravely taking the lead in putting the paper together, perhaps, in this instance as in others, beyond her capacity to handle the stress it occasioned.
I chose the Uptown neighborhood in Chicago, officially SNCC staff on loan to an SDS Economic Research and Action Project for the summer, to experiment with organizing poor whites, Appalachian migrants. Gender contradictions inside the project, that is, contradictions in the interests, and even in the safety, of the women I was organizing and the street thugs SDS was organizing, led directly to the memo Sex and Caste, which sparked organizing among white women on the left. I had to have some help, get some other women involved. The paper critiqued the culture from a feminist perspective and then argued for conversations among women inside the movement as a way to strengthen it, hoping honesty, openness, and mutual support among women would strengthen the radical momentum we had generated so we could all keep going together. I don't know why I said that, when it wasn't working for me. Maybe because it wasn't, and I didn't know what else to do, I drafted this piece with a pencil on a train ride back east from Berkeley, where I'd traveled with Mike James of SDS after Chicago, en route to a labor organizing workshop at Highlander, fall of 1965. Mike paid for my ticket.
So that was the women's memos. The second is not usually credited to SNCC, but it was written as a direct result of work for which SNCC was paying my salary, a generous move toward interracial class solidarity that has also not been recognized.
Social movements are chaotic and ambiguous and creative. And so was I.
About SNCC Culture
At the first of our historical reviews of SNCC in the mid eighties I was on a panel on women in SNCC. I cried all the way through my talk. That's how much the loss of SNCC still represented to me at that time. The other women were coherent, and talked to the topic. I talked about SNCC culture, rather incoherently, as it turned out, due to all that weeping. I had a purpose to in this approach, however. I thought our culture was where the women in SNCC were truly revealed, and that this was what made SNCC unique. Since that time I have come to see the many ways in which what we see is both what we get and what we bring to our experience, and also the extent it represents what we need to see. SNCC was a great fit for me, reconciling many competing needs on my part. I could be good by being bad, and vice versa. I could be powerful by deferring. I could break taboos effortlessly, and I could escape the claustrophobia of my experience of the culture of the white South.
Being an elder means one has some wisdom, which shows up uninvited, and not always pleasantly, mostly as a result of hard won self understanding and forgiveness. So having owned my life more completely, I don't write about "we" much anymore, or talk about essences, and I try to avoid generalities. When I wrote the words below 15 years ago, I thought I was writing history. Now it seems more mythical than that. But myths are both true and untrue. I've carried this one around in the attics of my mind for years, and talked about it for years, too. I couldn't write it now, but it captures the vision and the experience of the young woman I was, inside SNCC, in the South in the 60's, back in the day:
"The SNCC I knew was radically humanistic, placing human values above those of law and order, insisting that values could and should be acted out to be realized. One's actions were in fact the source of the unity of ends and means. Nonviolent direct action was a transforming experience — a new self was created. We assumed a new identity and this new identity was, I believe, the essence of SNCC. We actually experienced freedom and equality — in race, in gender — not completely, but perhaps as close as it gets. We actually experienced integration. We may have been the only people in this country who ever really have."
"Nonviolent civil disobedience created a new community of folks willing to risk everything for their beliefs. Together as this community, I thought, we were new people, free of the old stereotypes of gender, class, and race. This was the beloved community and the point was to organize it everywhere, redeeming the culture, undermining the old power structures — women's culture and black culture, merging for me in the southern freedom movement, especially in SNCC, free of the constraints and values of the white patriarchy, would lead the way.
"Strategically, nonviolence had to do with where you put your weight. If you didn't have any weight, you had to figure out how to throw yourself around to catch the other guy off base. We acted this out as volunteers and then we started doing it full time. We created a profession for ourselves. We gave it a name — we called it organizer. We funded it. We also funded ourselves to be publicists, theorists, mythmakers, and speakers, printers, and car mechanics. To be an organizer was very asexual. What you could do, you did. There really weren't any limits."
The Style. The Feeling
As a white Southerner, I considered the southern freedom movement against segregation mine as much as anyone else's. I was working for my right to be with whom I chose to be with as I chose to be with them. It was my freedom in question; however, when I worked full time in the black community , I was considered a guest of that community , which required decency and good manners, as every Southerner knows.
I viewed myself as a support person; my appropriate role was to work behind the lines, not to be a leader in any public way. In fact, one of the major goals of SNCC was to create a new kind of black leadership. This idea of new and uncorrupted local black leaders could be traced to Ella Baker. Traditionally, as soon as leaders rose up, they were no longer of the class they sought to represent and couldn't be trusted. So, new black leaders were needed.
Working in an office in no sense meant that I did office work as it is traditionally understood. I carried weight, and in all my numerous roles in SNCC, I did the work all the way up and down: the headwork of research and strategizing as well as the footwork, the physical work. That means I did my own typing and mimeographing and mailing and I also did my own research and analysis and writing and decision-making, the latter usually in conversation with other staff. I was self-directing, although often in consultation and community with others. I thought we in SNCC stood the division of labor on its head.
As we said at the time, both about our constituencies and ourselves, "The people who do the work should make the decisions." There were no traditional secretaries in SNCC, with the exception of Norma Collins in the Atlanta office, and there was no office hierarchy. I was at the center of the organization, unlimited except by my own choices and challenged at every turn to think and do and grow and care. The need was great in the Movement for skills of all kind; I had some and I was happy to be useful.
During these movement years, angry white men chased me out of Heywood and Fayette counties in Eastern Tennessee at gunpoint. At the trials following the Freedom Ride to Albany, Georgia, on which I traveled as a designated observer, city police dragged me from a courtroom after I sat in the black section. White men rear-ended my car and ran me off the road outside of Greenwood. I worked in offices without air conditioning in the summer and barely heated by tiny open gas heaters in the winter. In Atlanta I lived in a rat-infested garage apartment near Five Points and a tiny hot apartment in a black project. I lived in the bucolic funky Literacy House in Tougaloo, Mississippi, as well as on various couches and in and out of suitcases. I often owned only the clothes I wore, usually denim, usually had no money, and was often fed by kind local people. I hitchhiked and drove, took trains, buses, and planes and sometimes hid under blankets on the floor of integrated cars. I worked hard, partied hard, laughed a lot, loved a lot, was often frightened and was sometimes lonely on the road.
I both found and helped create in SNCC a world that worked for me: all for one and one for all, organizing rather than directing and dominating, a model I believed could work for deep social change. Like children we were wild, pragmatic, spontaneous. But we were supported by our nurturing family structure, which enabled us to keep going and circumvent, overthrow, and. organize a mass movement right out from under the established order, both black and white. Sisters and brothers.
And, as Chuck McDew first said, many minds, one heart.
Sex and Caste:  A Kind of Memo.  
Casey Hayden & Mary King.  1965.
We've talked a lot, to each other and to some of you, about our own and other women's problems in trying to live in our personal lives and in our work as independent and creative people. In these conversations we've found what seem to be recurrent ideas or themes. Maybe we can look at these things many of us perceive, often as a result of insights learned from the movement:
Sex and caste: There seem to be many parallels that can be drawn between treatment of Negroes and treatment of women in our society as a whole. But in particular, women we've talked to who work in the movement seem to be caught up in a common-law caste system that operates, sometimes subtly, forcing them to work around or outside hierarchical structures of power which may exclude them. Women seem to be placed in the same position of assumed subordination in personal situations too. It is a caste system which, at its worst, uses and exploits women.
This is complicated by several facts, among them:
The caste system is not institutionalized by law (women have the right to vote, to sue for divorce, etc.);

Women can't withdraw from the situation (a la nationalism) or overthrow it;
There are biological differences (even though those biological differences are usually discussed or accepted without taking present and future technology into account so we probably can't be sure what these differences mean). 
Many people who are very hip to the implications of the racial caste system, even people in the movement, don't seem to be able to see the sexual caste system and if the question is raised they respond with: "That's the way it's supposed to be. There are biological differences." Or with other statements which recall a white segregationist confronted with integration.
Women and personal relations with men: Having learned from the movement to think radically about the personal worth and abilities of people whose role in society had gone unchallenged before, a lot of women in the movement have begun trying to apply those lessons to their own relations with men. Each of us probably has her own story of the various results, and of the internal struggle occasioned by trying to break out of very deeply learned fears, needs, and self?perceptions, and of what happens when we try to replace them with concepts of people and freedom learned from the movement and organizing.
Men's reactions to the questions raised here: A very few men seem to feel, when they hear conversations involving these problems, that they have a right to be present and participate in them, since they are so deeply involved. At the same time, very few men can respond non-defensively, since the whole idea is either beyond their comprehension or threatens and exposes them. The usual response is laughter. That inability to see the whole issue as serious, as the straitjacketing of both sexes, and as societally determined often shapes our own response so that we learn to think in their terms about ourselves and to feel silly rather than trust our inner feelings. The problems we're listing here, and what others have said about them, are therefore largely drawn from conversations among women only and that difficulty in establishing dialogue with men is a recurring theme among people we've talked to.
From the SNCC Digital Gateway website
As SNCC began to confront a growing sense of black consciousness and how to reorganize itself in the mid-1960s, Hayden struggled, as did many whites in the organization, with what her role should be.  "I took seriously the notion that whites should work with whites," she remembered, and in 1965, she began organizing poor white welfare women in the Uptown neighborhood of Chicago.  [SNCC field secretary] Ivanhoe Donaldson later said to her, "Casey, when we said whites should work with whites, we didn't mean you."
---
MIKE MILLER and his work can be found at www.organizetrainingcenter.org