Spring 2023
Written by Mike Miller
A review of The Great Escape:  A True Story of Forced Labor and Immigrant Dreams in America. Saket Soni. Algonquin Books. 2023. 
A Heroic Tale
Five hundred Indian immigrant workers were promised Green Cards, making them permanent residents of the United States, if they paid their recruiter—a "liberal" New Orleans attorney named Malvern Burnet—up to $20,000 each.  Not only did he lie to them, he persuaded them he was their ally.   
In order to enter the United States, each worker had to tell the U.S. government what Burnett knew was a lie.  One lie led to another:  having discovered the initial lie, the men lied to their families in India—some because they were ashamed of themselves, others because they rightly feared how much damage the truth might cause those who had sacrificed a great deal to send them to the United States.  The trap of lies could have made their futures as trafficked workers indescribably miserable and destroyed families at home.  Instead, a heroic tale was created.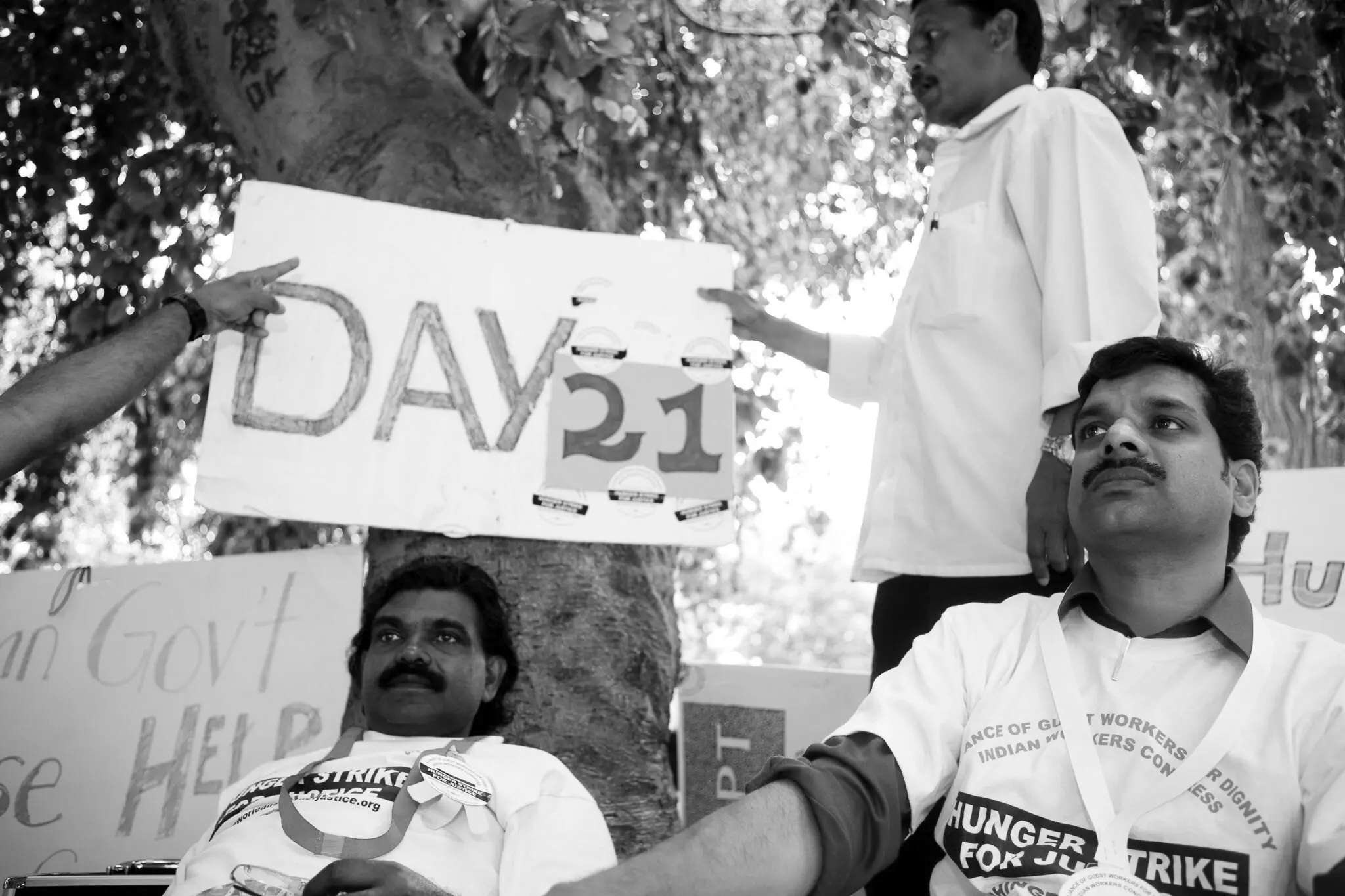 The Employer:  Signal International
The Indians were contracted as skilled construction workers for Signal International which was rebuilding Deep South infrastructure destroyed by Hurricane Katrina.  It's illegal to replace American workers with foreign imports.  So much for the law when there are neither unions to demand enforcement, nor government interested in it, and globalization continues to be the mantra for progress.
In India, scattered across the vast diversity of geography, ethnicity, language, religion and culture, the workers' family sacrifices were monumental.  Many went deeply into debt.  Others mortgaged homes.  Still others sacrificed savings that had been set aside for children's dowries or future education in the belief that this sacrifice would pay great reward and lift them all from poverty.  
Enter Sake Soni, an Indian Hindu educated in the U.S. as a playwright (it shows in the book), who became a community organizer.  
The Campaign
One of the workers realized they had been deceived and anonymously called the New Orleans Workers' Center for Racial Justice, the nonprofit Soni co-founded.  He followed-up.  One lead led to another.  He discovered the workers lived in camps with atrocious living conditions, watched over by security guards who prevented their leaving.  
Soni initially hoped for government recognition of the problems, and that justice would follow.  In former President George W. Bush's Justice or Immigration Departments that was not to be the case.  Soni began organizing the workers.  They planned and executed a march on Washington D.C. after they tricked their guards into letting them leave.  Along the way they were aided by Catholic radicals and mainstreamers, and some mainline Protestants too.  On the route, they found allies among veterans of the Deep South civil rights movement, including John O'Neal and Hollis Watkins, people I knew from my days as a Student Nonviolent Coordinating Committee ("Snick") field secretary. 
In Greensboro, NC they met a former participant in an effort to organize an interracial union there during which five of them were murdered by members of a local law enforcement-Ku Klux Klan conspiracy as they marched nonviolently through the town.  Nelson Johnson, a Black survivor who later became a clergyman, opened the door to the Congressional Black Caucus.
Relentless in his search for allies, Soni enlisted a breadth of support that paralleled that of the 1955-1965 civil rights movement period in the Deep South:  liberals in Congress; the Southern Poverty Law Center, which recruited an army of volunteer lawyers; the NAACP,  Lawyers' Committee for Civil Rights under Law, Oxfam, ACLU; and the community organization ISAIAH.  Julia Preston, "the unflappable" New York Times immigration correspondent wrote a favorable story that was a big breakthrough.  
Luck helped:  John Cotton Richmond, a Justice Department lawyer who took his religious faith seriously, became committed personally to the case, as well as " a judge who saw the larger truth underneath the lies the immigrants told various government agencies…."  The truth was told in court by Shawkat Ali Sheikh, a Muslim who had deep regrets about the initial lies he told and was determined to tell the full truth.  Soni sums up the two of them: "One man of faith had found another."
Extraordinarily, they discovered that a Signal corporate official reported in a deposition that he had been told by an ICE official how to lie about how he got the immigrants into the U.S.  That led to a New York Times editorial that began, "A federal agency appears to have collaborated in an effort to silence foreign workers…They were trapped as surely as if they had been shackled."  Luck here took work:  an exhaustive search of the records discovered this conspiracy.
The change from the Bush to Obama Administration was another stroke of luck along the way.  If ever a story illustrated the importance of "lesser of two evils," this one does. 
I do not want to tell too much of the story.  It is a cliff-hanger, equal in drama to any of my favorite Michael Connolly Detective Hieronymus "Harry" Bosch mysteries.  
Questions
Leadership
Pipefitter Rajan Pazhambadakode was Soni's comrade in arms; he emerged from among the Indian workers, first as one of a group of leaders, then as the leader among them.  "Rajans" are a blessing for anyone building people power, and a reward of the work. Yet in a crucial decision-making situation, Soni bypassed him.  
Hunger striker Paul Konar was nearing critical life-threatening consequences from his heroic action.  Soni said ending the fast was his decision to make, and that from an organizational point of view it was a powerful weapon in the workers' struggle.  But Soni thought it was too dangerous to allow it to continue.  He unilaterally bypassed Rajan, and convinced Konar to end it.  On the face of it, the decision seems to be a tactically correct one.
But what a price was paid!  Here I quote at some length the exchange that took place between Soni and Rajan:
Soni:  "We need to talk."
Rajan:  "Now you want to talk!  You violated our process. Went behind our backs. Paul would have lasted three more days."
Soni:  "There's something I knew that you didn't—I've been waiting to tell you."
Rajan "registered my news like a blow and shot back.  'And you didn't think to tell us?'  All he heard was more betrayal."
Soni:  "Rajan, brother, we're facing a serious threat."
Rajan:  "No, we (emphasis added) are facing a threat.  You are moving on.  I get it.  You got your New York Times story…Now you go scouting for your next poor immigrant to trot out on stage.  That's it, isn't it?  That's how you make your money."
Soni:  "Then he did the unthinkable.  He spat at me."
Why not this option:  convene a discussion of the most trusted of the leaders, and if there's a near-consensus, try to persuade Konar to adopt it?  If not, let him hear the debate and draw his own conclusion, since he has undertaken the courageous act of offering his life for the cause.
Credit Soni for telling this story in the book.  It deeply disturbed him.  There is a directness and honesty in his reportage.  I hope it will lead him to greater reflection on a unilateralism that characterizes some of his action.  And while he's at it, about the foundation-nonprofit industry complex on which he depends for funds that is both a blessing and curse on people power organizing.   
Empathy
Soni tracked down and interviewed Alvin Ladner, the ICE agent most responsible for the relentless government pursuit and persecution of the workers.  He found him retired in the Gulf backwoods, and persuaded him to talk.  It took place after victory had been won.  
But Soni wants us to know he "empathizes" with this worker tormenter.  Why?  It's not clear.  In an interview, he says, 
"I showed up ready to fight him, to confront him over all the pain he had caused, and to write him into the book as a villain. As it turns out, it's hard to spend six hours on a porch with someone—peering into their life, trying to understand from their point of view why they made the most consequential decisions of their life—and not come away with some sense of connection, some empathy. I went there ready to demand understanding from him, but it turned out that I had to be able to give it too. I had to treat him the way I wanted him to treat others. The encounter wound up being not just the climax of a conflict, but the beginning of a friendship I never could have expected."
Is that all that should be concluded about Ladner?  I don't think so.  No doubt sociopaths who brutalize people may themselves have been the objects of horrendous childhoods or the victims of genetic twists of misfortune.  But there are villains in history, and they need to be judged.  Soni himself calls the events that transpired "evil."  This question leads to the wider ones of forgiveness and reconciliation.
Reconciliation?
After settlement was reached—the company pursued multiple routes to fight it and ran out of options—Signal's CEO sent a letter of apology to the workers.  Soni seems to take it at face value. 
As a child of the Deep South nonviolent movement, I value the possibility of conversion and the prospect of a tormenter becoming a good citizen.  But there needs to be evidence.  The South African Truth and Reconciliation Commission was an effort to achieve that result.  With all its safeguards against being hustled, it was not immune.  In this case, the company gets cheap grace.
Theologian Dietrich Bonhoffer, who participated in the attempted late World War II assassination of Hitler and was executed by the Nazis for it, tells us in The Cost of Discipleship:
"Cheap grace is the preaching of forgiveness without requiring repentance, baptism without church discipline, Communion without confession, absolution without personal confession. Cheap grace is grace without discipleship, grace without the cross, grace without Jesus Christ, living and incarnate."
Restorative justice is a good thing, far better than retributive justice.  But it is a treasure to be spent with great care.  Years ago, I met Ruth First's daughter Gillian.  First was a white Communist leader in the South African anti-Apartheid movement, and was assassinated by government agents.  About the entire process, William Kentridge, director of Ubu and the Truth Commission, said,
"A full confession can bring amnesty and immunity from prosecution or civil procedures for the crimes committed. Therein lies the central irony of the Commission. As people give more and more evidence of the things they have done they get closer and closer to amnesty and it gets more and more intolerable that these people should be given amnesty."
First's daughter did not believe her mother's assassin's apology.  Without something more, Soni would do better to hold Signal's apology in abeyance pending further evidence of its good faith.
What's Next?
You are going to hear more about Saket Soni.  He now directs Resilience Force, an organizing/advocacy nonprofit that aims at addressing the American immigration system's abuse of foreign workers.  Resilience Force describes itself as "a national initiative to transform America's response to disasters by strengthening and securing America's Resilience Workforce—the millions of people whose work, heart and expertise make sustainable recovery from disasters possible."  If it has not already made it, Resilience faces a critical path choice:  will it mobilize workers, and advocate on their behalf, or will it organize them to become their own powerful advocates?  Most readers of his book will be fuzzy on this distinction.  I think he is not.  I hope he will choose the latter.
I suspect this book will become a major film.  I expect his organization will become a favorite of foundations like Ford which imagine themselves on the cutting edge of responsible social change.  My questions suggest a cautionary note.  I hope I'm wrong.
---
MIKE MILLER and his work can be found at www.organizetrainingcenter.org