Written by SP Editor
SALE on Back Issues of Social Policy Magazine
Back issues of exceptional issues of Social Policy Magazine are now on sale.  Shipped directly from Social Policy Magazine to readers in the United States for $5/per issue plus $2.50 for shipping.  See what we have available and click the paypal link at the bottom.  International readers please email This email address is being protected from spambots. You need JavaScript enabled to view it. for shipping costs.  More issues will be added so please check back often.
Double Issue Vol. 34 No. 2 & No. 3
Features:  Labor Against the War; Fighting Wal-Mart in Chicago; Organizers' Forum: Elections 2004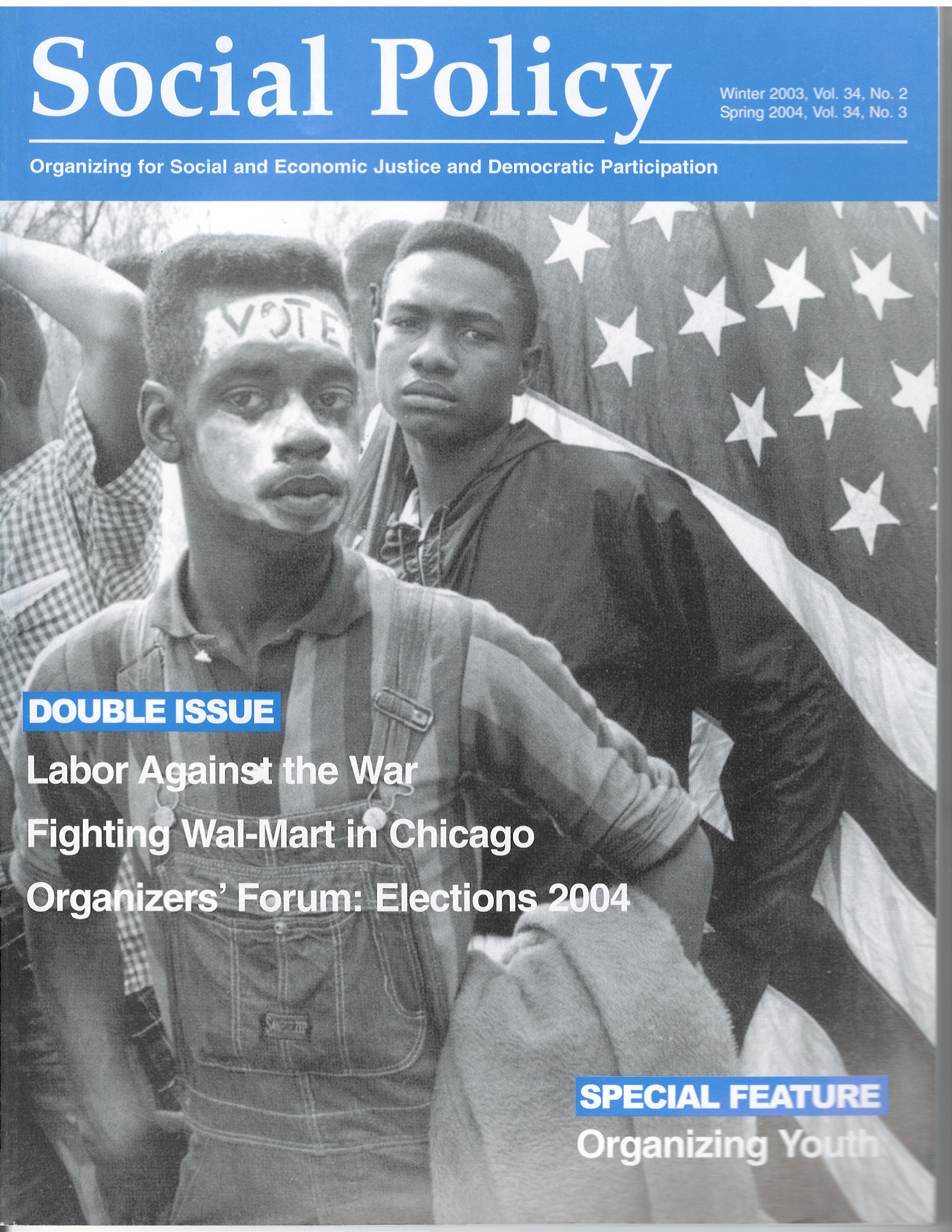 Vol. 39 No. 2
Features:  A Community Organizer's Tale:  People & Power in San Francisco; Citizen Wealth:  The Campaign to Save Working Families; An Economy of Faith; North of Poverty:  Community Labor Organizing & Living Wage Campaigns in Canada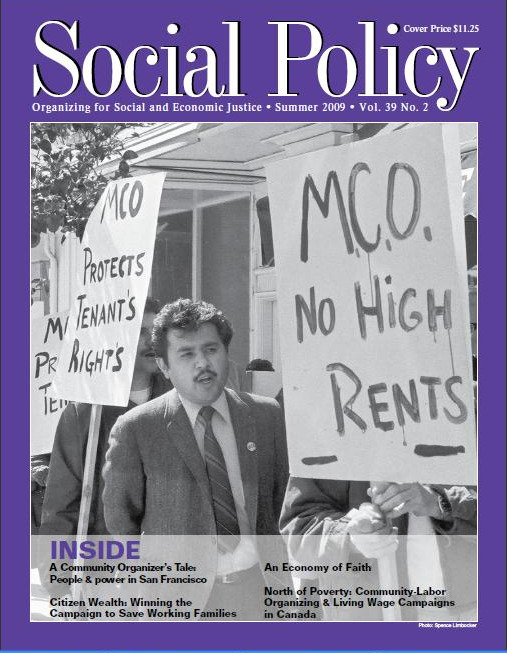 Vol. 39 No. 3
Features:  Timebanking as a Catalyst for Community and Economic Regeneration; A New, New Deal: How Regional Activism Will Re-Shape the American Labor Movement; The Saga of the Smithfield Workers in Tar Heel, NC; The Community Organizer Genealogy Project; A Close Look at the Work of Michael Yates; Reports on Organizing in Thailand and Europe.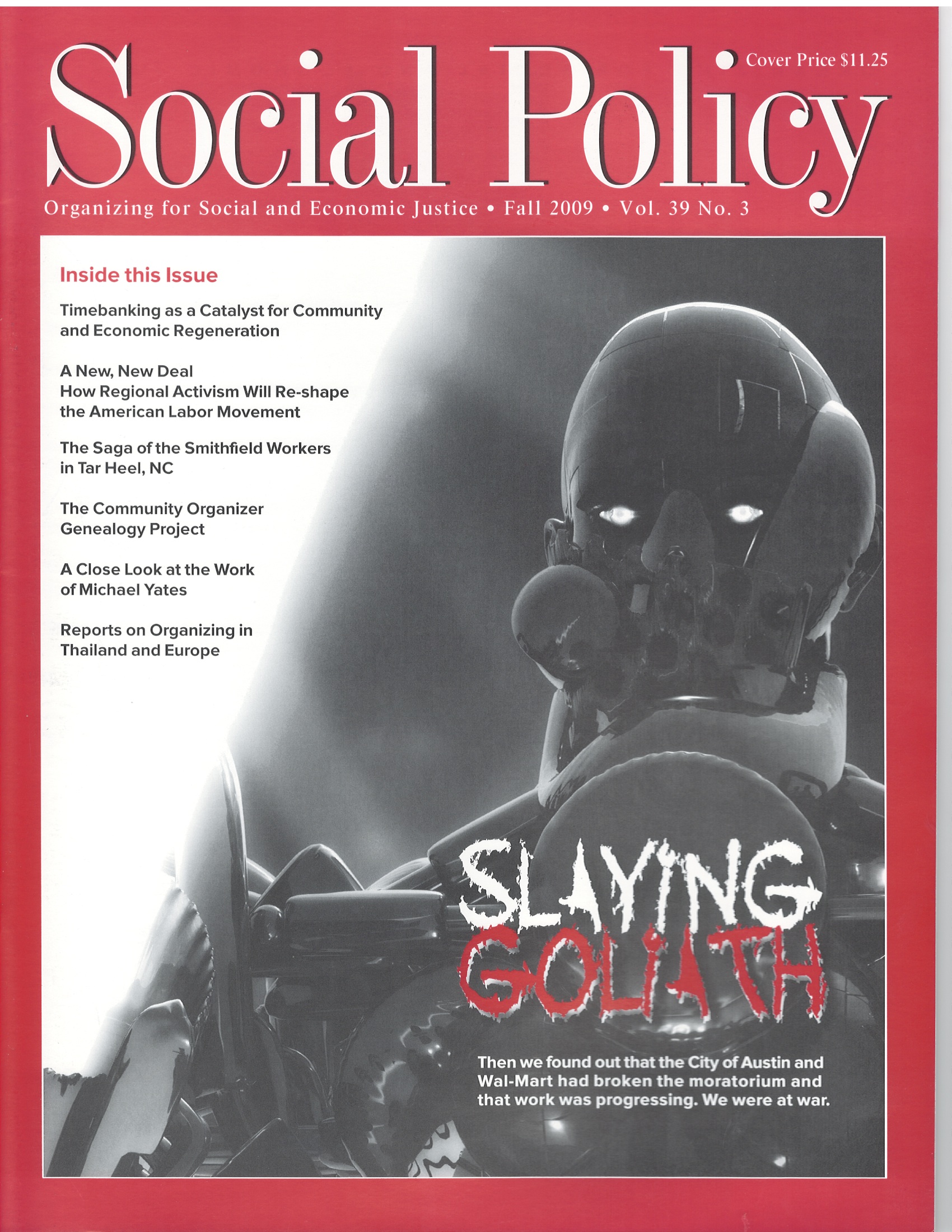 Vol. 39 No. 4
Features:  Community Organizing Goes Green, The Philadelphia Security Workers Union, Staley the Fight for a New Labor Movement, Guilty on All Counts:  The Death Penalty in America Today, Reports from Thailand and Burma, Pedro Alvarado on Immigrant Rights in Phoenix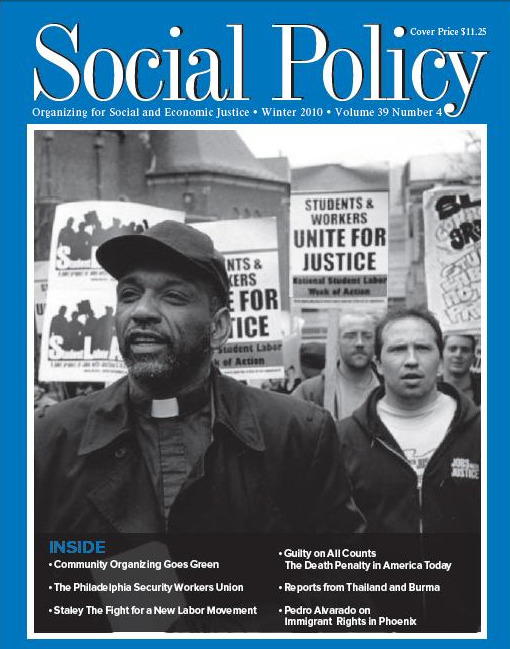 Vol. 40 No. 1
Features:  How the UFW and other Organizing "Incubators" Build Grassroots Power, Democratizing Cleveland:  The Rise and Fall of Community Organizing in Cleveland, Ohio 1975-1985; Strengthening Democracy, Increasing Opportunities: Impacts of Advocacy, Organizing and Community Engagement in Los Angeles County.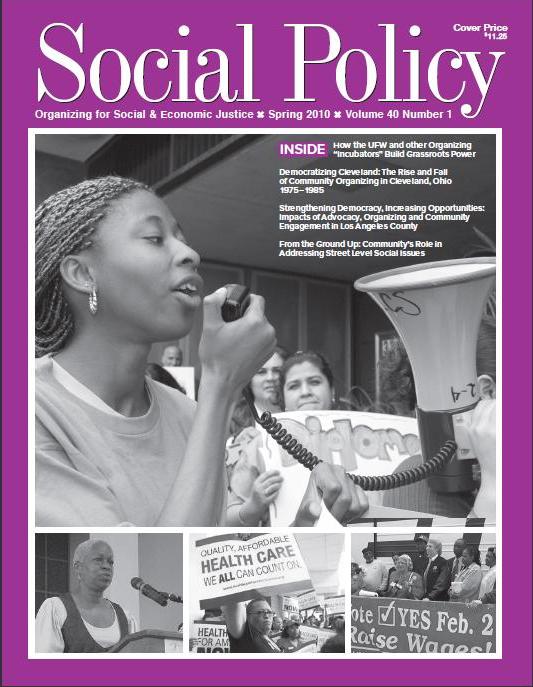 Vol. 40 No. 3
Features:  Wall Street and our Campaign to Decriminalize Immigrants; Then, Overnight, It is Washed Away; The History of Day Labor Organizing in Los Angeles; Why Judges Should be Elected; What's Wrong with Electing Judges; The Dark Side of Family Business; The United States Social Forum and its Window into Organizing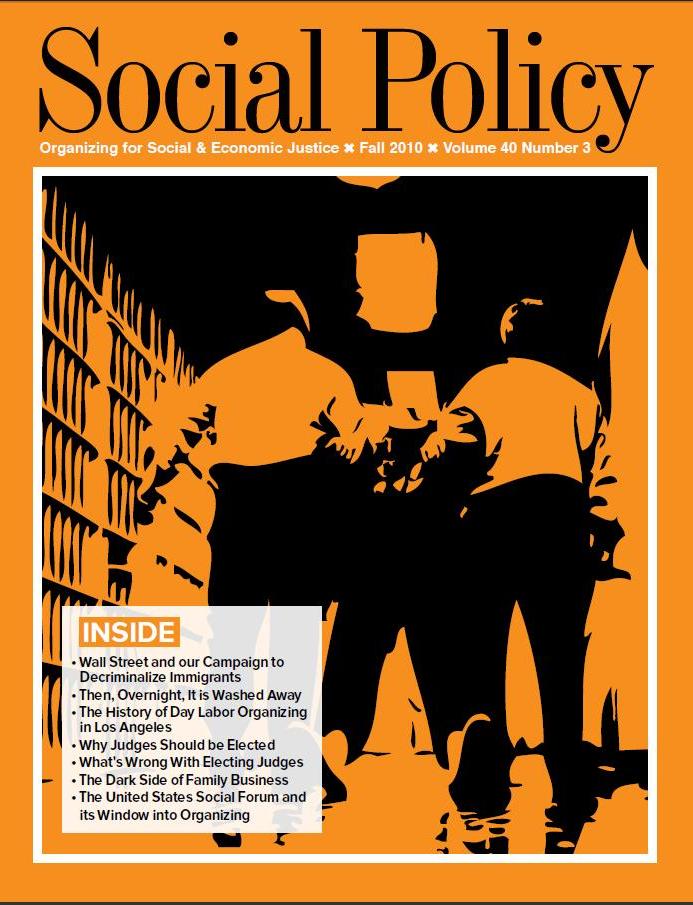 Vol. 40 No. 4
Features:  Hotel Organizing in Los Angeles; Recovery Organizing in New Orleans; Organizers' Forum Reports from Vietnam; Winnability Debate; Understanding Debt; Building Coalitions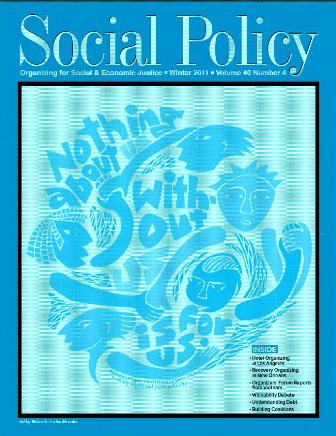 Vol. 41 No. 2
Features:  Vermont Breakthrough; Green Development in Buffalo; Reflections on Immigration Reform; Powerful Sister Cityhood; Lessons from Indian Women's Movement; Disillusion with Democracy in Brazil; Egyptian Education Spurs Revolution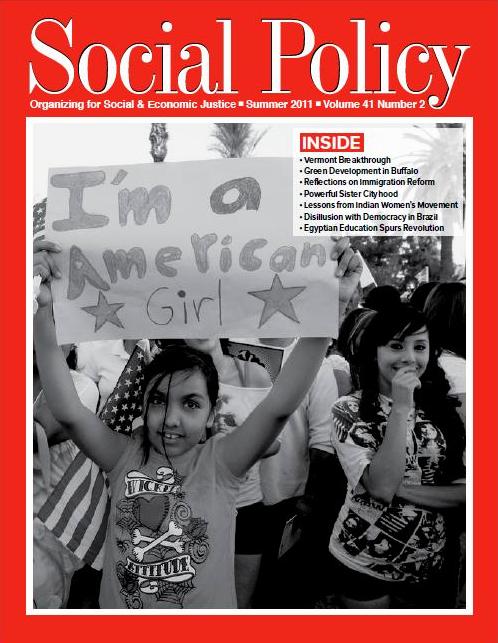 Vol. 41 No. 3
Features:  Daniel HoSang on Anti-Racism Lessons from California; Rich Stolz on Lessons from the Immigration Reform Campaign; David Livingstone on the Manufacturing Meltdown; Jeremy Brecher on the Naugatuck Valley Project in Connecticut; James Lorence on the Unemployed Peoples' Movement in Georgia; John Bauman on PICO in Rwanda & Central America from Global Grassroots; Wade Rathke on the Continuing Fight to Rebuild New Orleans from Battle for the Ninth Ward.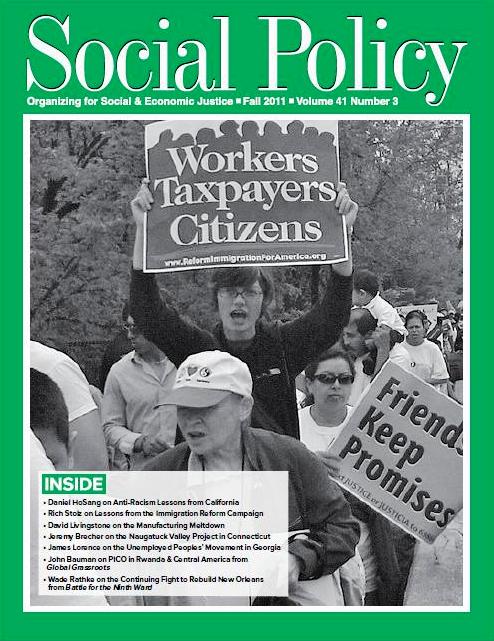 Vol. 41 No. 4
Features:  Steve Early on Union Reform Movements from Mineworkers to Teamsters and CWA; Joseph McCartin on the Impact of Reagan's PATCO Strikebreaking from Collision Course; Donata Secondo and Josh Lerner on Participatory Budgeting in New York City; Melanie Craxton and Wade Rathke on Unfair Fairtrade; International Organizers' Forum Special Report on the Revolution in Egypt; Special Reports from New York, Miami and Oakland on the Occupy Movement