Summer 2021
Summer 2021
Details

Written by SP Editor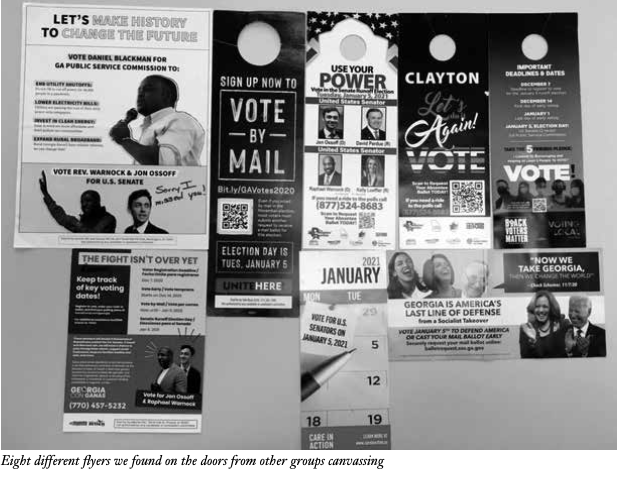 If you, your family, friends, or anyone you organize received a $1400 stimulus check, a child tax credit, an extension on unemployment compensation, or in any other way benefitted from the $1.9 Trillion Covid relief bill that President Biden signed on March 11, you can thank the thousands of canvassers in Georgia that knocked on millions of doors and motivated enough voters to elect Democratic Senators Raphael Warnock and Jon Ossoff in the January 5, 2021 runoff election. Without both of them winning, Republicans would still control the US Senate, Mitch McConnell would be the Majority Leader, and Biden's stimulus bill would have been dead in the water. Just a few months into the new administration the two freshmen Senators from Georgia have already made a difference in legislation improving the quality of life of low and moderate income citizens.
Less than a week after the Nov. 3 election, I was having a conversation with Wade and (half jokingly) told Rathke if he could raise some money, we should run a straight up GOTV canvass in Atlanta. He told me to come up with a budget and he would see what he could do. This article takes the position that Get Out the Vote (GOTV) canvassing by some 60 community and labor organizations was the difference-maker for these come-from-behind, upset victories by both candidates, neither one having ever held elected office.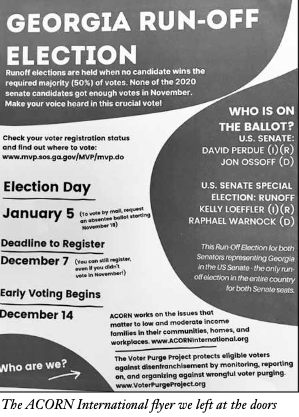 Jon Ossoff overcame an 88,000 vote deficit in the Nov. 3 election against incumbent Senator David Perdue to beat him by 54,000 votes in the runoff just eight weeks later. It is extremely rare for someone who has never won an election to defeat an incumbent U.S. Senator. Reverend Warnock defeated appointed incumbent Senator Kelly Loeffler. By any measure these were historic victories, Warnock is the first black Democratic Senator from the south in history, while Ossoff is the first Jewish Senator from a southern state in over 120 years. This article offers a rather detailed view from the canvassed turf.
BACKGROUND
I had the good fortune of having the right skill set at the right time to make a small difference in this historic election. Having a decade of experience directing canvass operations in multiple cities for ACORN, in addition to
Over lunch I spent 30 minutes calculating the costs of 10-15 canvassers x 6 days x 6 weeks, and within two days Rathke had raised enough money to fund the operation through the holidays. Rathke told me that in his 50+ years of organizing this was the easiest money he ever raised!
I wasted no time and on November 14, I selected the northern-most neighborhood in Clayton County, an 85% BIPOC (eg. Black, Indigenous, People of Color) county just south of Hartsfield-Jackson International Airport, and I hit the doors for four hours to pilot my rap so I could start training canvassers two days later. Biden & Harris won 85% of the vote in Clayton County, so it appeared to be great turf for a non-partisan GOTV rap. The neighborhood I canvassed that day turned out to be very diverse: 50% African American; 30% Asian (with some language barriers for myself); 20% Latinx, African and other. Within a two block area there was a store-front Mosque and a Buddhist Temple. Over that weekend I posted a Job Announcement advertising part-time canvassing jobs, and began zoom interviews with applicants interested in earning $20 an hour doing GOTV canvassing from 2:00 to 6:00pm. Within a week I had trained and was fielding a full crew of volunteer GOTV canvassing for the John Kerry, Barack Obama and Hillary Clinton campaigns, I am no stranger to the doors.
I also collaborated with Wade Rathke and the Voter Purge Project during the summer of 2020 knocking on doors in metro Atlanta collecting data on the percentages of voters who were illegitimately purged from the voter rolls earlier in the year. Prior to the Nov. 3 election, Rathke and I shared the same emphatic position that if Biden & Harris lost the election it would be because of the Democratic party's reluctance to mask-up and hit the doors. It was well established that Republicans were canvassing extensively in many states in the run-up to the general election, but with a few exceptions (e.g. UNITE HERE in Nevada, Arizona, and Pennsylvania) Democrats were largely absent from a widespread ground game during summer and fall 2020. In Georgia, Mijente was the only organization I was aware of that canvassed for Democratic turnout prior to the General Election. They exclusively targeted the Latinx vote. Since Harris and Biden had the narrowest of winning margins in Georgia, just 11,000 votes, Mijente canvassers are probably responsible for that victory, the first Democratic presidential candidate to carry Georgia since Bill Clinton.
A FAST START-UP

12 canvassers! As someone who has run canvasses across the country, this was the fastest start-up I had ever seen! I found out later that we were paying canvassers considerably more than most other groups which seemed to be in the $14-$15 range.
Since everyone in the country was aware that the balance of power in Washington depended on the outcome in Georgia we had organizers and canvassers coming out of the woodwork and emailing me about coming to Georgia to help out. In the end, we welcomed two experienced canvassers from Pittsburgh (former ACORN organizers), and two Local 100 union organizers from Arkansas and Texas, and even Wade Rathke himself hit the doors on the chilly Atlanta nights the week before Christmas!
Voter registration re-opened between Nov. 3 and would close on December 7, so our strategy was to hit every door, encourage all registered voters to vote, ask if anyone in the household needed to register (rare, but we registered 25 new voters during that brief window). To tighten down registered voters' commitment to vote we asked people to sign a "Count on Me" pledge card that included name, address, signature, and cell phone number. The plan was to follow-up with respondents by text or phone to insure they had voted. After December 7 we continued to knock on every door, asked to speak to any registered voters, hear about their voting plans, inform them of early voting starting Dec. 14 and the locations near them where they could vote early, and asked them to sign the Count on Me cards.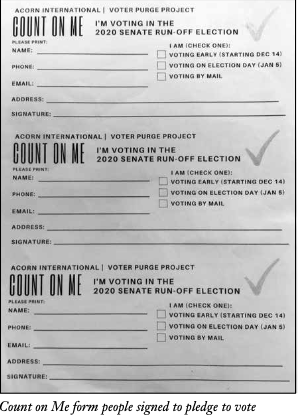 CANVASSING DURING COVID

Our canvass operated by observing the standard CDC protocols: all canvassers wore masks, stood 6 feet from the door, stayed outside (with Georgia weather most days this was not problematic, but a few cold and breezy days made this challenging for the people who opened their doors). No canvassers tested positive during the six-week operation.
Canvassing during Covid seemed to cut both ways. Compared to canvassing during non-pandemic times, fewer households came to the door and a higher percentage did not open the door. We assigned 70 homes a night and pre-Covid we would expect to make 50 in-person contacts; during Covid, this was reduced by 10 to 15 doors per night. So the typical night a canvasser would talk to 35 to 40 people. Canvassing 6 feet away with a mask on also probably diminished the quality of the interaction and resulted in fewer respondents taking the clipboard to sign the Count on Me pledge. On the upside, many respondents, especially senior citizens who might be living alone, seemed delighted that someone dropped by to talk about the highest-profile election in the history of Georgia. The isolation associated with the pandemic seemed to make some people more welcoming of a friendly conversation with a canvasser at the door.
Having directed plenty of fundraising canvasses I have a bias toward managing canvassers around a quota. On a good day at the start of our GOTV canvass, I was getting 3-4 Count on Me's signed per hour and hoped to establish a quota of 15 signed pledges a night. In reality, individual canvasser productivity varied widely from a low of only 2 or 3 to our star canvasser turning in 32 Count on Me's on her best night! Two other factors in this time-limited operation made it difficult to establish a quota: 1) early voting opened December 14 so we quickly began canvassing people who had already voted either absentee or in-person; 2) crowded turf.
CROWDED TURF

I personally canvassed only one household where the person that answered the door stated the registered voters could not come to the door because they were sick with Covid. I apologized for disturbing them and quickly moved on. For the first week or two we did not bump into any canvassers from different organizations but that quickly changed and by late November we discovered numerous flyers on doors from other organizations and on a number of occasions we ran into canvassers covering the same turf on the same day as we were! If we had been canvassing for donations this would have been a serious obstacle that we would rectify by coordinating with the other organization(s) to space out our canvassing operations. I made calls to the two largest organizations canvassing including UNITE HERE labor union and the New Georgia Project to try and coordinate turf. My contact at UNITE HERE informed me that their union was fielding 1000 of their laid-off hospitality workers and they were aware of another 300 canvassers going out for NACA (Neighborhood Assistance Corporation of America). While it was not clear that the largest organizations were partitioning the turf, if they were my small operation was never invited to the meetings. We just shrugged our shoulders, considered this a good problem to have, and kept canvassing.
Evidence that turf was not being coordinated in metro- Atlanta was such that by mid-December we were able to count GOTV flyers on the doors we were canvassing by
5 other groups (UNITE HERE, Black Voters Matter, Sunrise PAC, Care In Action, Mijente and New Georgia Project). In an attempt to find turf that had not been canvassed I drove to disparate parts of Clayton County and was unable to locate a neighborhood that had not been canvassed.
We decided to switch turf and work Union City in the southernmost part of Fulton County; this turf was being
as thoroughly canvassed by multiple groups as Clayton County. By December 20 early voting had been open for a week and the most common responses we were getting on the doors were one of the following: "I voted early, I mailed in my absentee ballot, you are the second (or third) group to come by in the past week and I have a plan to vote." The combination of these responses and the fairly high percentage of not homes or doors not being opened (probably due to Covid precautions), we could spend 4 hours doorknocking and be lucky to get 2 or 3 Count on Me's signed. If no one else had been out canvassing we would have kept our operation open through Jan. 4, but since we could not find any turf that had not been canvassed we suspended our canvass right at Christmas confident that if canvassing was going to make a difference the work had been done.
ROUGH PROJECTIONS ON VOTES PRODUCED FROM CANVASSING
In the 4th edition of their classic Get Out the Vote Donald Green and Alan Gerber (2019) state:
"The overarching conclusion that emerges from rigorous voter turnout research may be summarized as follows: the more personal the interaction between campaign and potential voter, the more it raises a person's chances of voting. Door-to-door canvassing by enthusiastic volunteers is the gold-standard mobilization tactic (p. 17)."
Green and Gerber say the effectiveness of a canvass changes based on the probability of voters going to the polls without being canvassed. There are three types of elections in terms of probability of turnout: high, low, and average. High turnout elections are almost always Presidential and the Trump-Biden election certainly qualified as a high turnout one. On November 3rd, a record 5 million Georgians cast ballots. Runoff elections are almost always low turnout affairs, and though turnout was high for this runoff, 515,000 fewer votes were cast on Jan 5 compared to Nov. 3. After conducting a meta-analysis of over 50 randomized controlled experiments on GOTV canvassing, Green and Gerber estimate that it takes 16 canvass contacts to produce one additional vote in an average turnout election. In low turnout elections, it takes 21 canvass contacts to produce a vote.
The progressive coalition of GOTV organizations America Votes (2021) documented 60+ organizations that doorknocked in some capacity in Georgia for the runoff election. They state it was the largest GOTV effort in their 17-year history and estimate canvassers hit almost
10 million doors and had almost 3 million conversations with prospective voters. Even if these figures are highly inflated, they suggest that canvassing is probably responsible for the Ossoff and Warnock victories. For example, if canvassers had 1.5 million conversations (half the America Votes estimate) using the 21 doors per vote metric (assuming the runoff was a low turnout election as most runoffs are) would result in 71,428 additional votes for a Democrat. Ossoff only won by 54,000 votes. If we use the 16 contacts per vote metric (assuming this was an average election) canvassers generated 93,750 additional votes. Warnock won his runoff by 93,550 votes. In sum, without the massive door-to-door canvass effort by all these organizations, it is highly unlikely both Warnock and Ossoff would have won their elections.
EVIDENCE FROM THE NEW VOTER RESTRICTION LAW THAT CANVASSING MADE THE DIFFERENCE
Immediately after the election, the Republican-dominated Georgia State Legislature passed a bill that makes it harder to vote absentee (new ID requirements and shorter time frames to request and return ballots) and limits the number of drop boxes allowed (which primarily effects the most densely populated counties). Shrewdly, the designers of the bill expanded voting in rural counties by requiring more days of early voting in all counties. Most dense metro- Atlanta counties already had early voting on two Saturdays. So the bill writers can claim the bill "expands voting" while it only does that in the more Republican rural counties.
The popular press has focused on issues such as the ban on anyone other than election officials handing out water to voters waiting in long lines and limiting the number of ballot drop-boxes. The press has paid very little attention. The Republican party in Georgia understands that the evidence from the January 5 runoff demonstrates that when both parties make an all-out effort to get out the vote that they are likely to have a losing hand.
It is hard to exaggerate how personally uplifting it has been to have played a small role in shifting the balance of power in Washington. Every time
I see or hear either Senator Warnock or Ossoff on the news, it gives me a positive jolt of energy and more spring in my step.to the biggest change that will drastically curtail the ability of either party to mobilize a canvass for the runoff. The new law shortens the time frame for runoff elections from 2 months to just 28 days (5 weeks shorter). If Perdue and Loeffler had won the runoffs, it is highly unlikely the Georgia Legislature would have shortened the time frame for runoffs. Considering how long it takes to raise money, print materials, hire and train a canvass staff, the new law will make it extremely hard to run a sizable, effective canvass for more than a week or two. If this Senate runoff election had occurred on the first Tuesday in December rather than January 5, it is quite likely that Jon Ossoff would not have overcome the 88,000 vote deficit from the Nov. 3 election and Senator Perdue would have been re-elected. The upshot of this change will make GOTV canvasses prior to general elections even more important because mounting sizable operations for runoffs will be next to impossible.
PERSONAL REFLECTION AND A LOOK AHEAD
I think, "I helped put these two fine gentlemen into positions of power and they are making a difference."
Entire books are currently being written about this historic election in Georgia (look for one soon by Greg Bluestein, the Atlanta Journal Constitution's chief political reporter). Any book not including a chapter on the impact of canvassing on the runoff will be missing the primary explanatory variable in my opinion.
If anyone thinks progressive organizers can spend the next few years sitting back and celebrating this victory, they are wrong. Since Reverend Warnock defeated an appointed incumbent in a special election he has to run again in 2022. All eyes are on Stacy Abrams to announce she will make another run for Governor against either incumbent Brian Kemp or a more Trumpian Republican if Donald Trump comes to Georgia and successfully backs a challenger to Kemp in the Republican primary. While this sounds ridiculous, Trump is threatening to do so since he doesn't believe Kemp did enough to overturn the legitimate results of the election in Georgia that Trump lost. I was delighted last week, that while riding to work on a MARTA train, I was asked if I was registered to vote by a canvasser from The New Georgia Project, one of the formidable organizations founded by Stacy Abrams. The canvasser was going car to car registering voters a year and a half before the next big election in Georgia. This is exactly the work that needs to continue to build on the success of this past election.
If progressive GOTV operations mount similar canvass operations for the 2022 elections they could play a role in re-electing Senator Warnock and electing Stacy Abrams
as the first African-American, female Governor in U.S. history!
Can Georgia have two historic election results in the space of two years?
My response: "Hand me a clipboard; let's hit some doors!"
REFERENCES
America Votes (2021, January 6). Statement from America Votes President Greg Speed on Georgia Runoff
Victories: Largest-Ever Voter Mobilization Program by America Votes Partners Delivers. Retrieved from https:// americavotes.org/statement-from-america-votes-president- greg-speed-on-georgia-runoff-victories/
Green, Donald P., & Gerber, Alan S. (2019). Get Out the Vote: How to Increase Voter Turnout. Fourth Edition. Washington, D.C.: Brookings Institution Press.
FRED BROOKS is Associate Professor at the Georgia State University School of Social Work, a former ACORN organizer and canvass director, and a frequent participant and reporter on Organizers' Forum International Dialogues.
Details

Written by SP Editor

Aline Mayanu lives in a social housing apartment in Aubervilliers in the northern suburbs of Paris and spends up to 3000€ each year on heating, more than 15% of her income, putting her, like 2 million French, in a situation of energy poverty. Health issues add to financial problems because her children have chronic bronchitis. All this comes from a very poorly insulated appartement where Aline recorded temperature of 10°C in the morning in an early February day. She and her neighbor have organized a tenant union and joined the Alliance Citoyenne (ACORN France) to change the situation.
In France, badly insulated homes are nicknamed thermal strainer homes. Tenants unions and ecology groups have used this label to help to name the issue and push the political agenda as a social and climate priority. Homes are classified with a diagnoses of energy performances (DEP) starting with A (perfect insulation) to G (very bad insulation). F and G are the thermal strainers homes whose inhabitants have colossal heating bills.
Eradicating these thermal strainer homes has become a major goal. This objective is close to being met in public housing. The social housing stock counts 7% of units labeled F and G compared to 19% in private housing stock. ACORN tenants unions and others have pushed hard to finish the job by 2023. The urgency of the energy transition requires us to demand that public housing agencies take the responsibility to lead on energy renovation.
Collective actions on this issue have started in 2016, with a first campaign in Grenoble. They then spread to the Paris region where it has gained momentum over the last year. The housing sector in France represents 25% of greenhouse gas emissions. Taking up the tenants unions claim, the Citizens' Climate Convention set up by President Macron in 2020 proposed to make the global renovation of thermal strainer homes mandatory.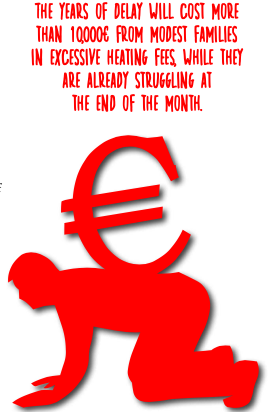 The government issued a decree in 2021 which was a first national victory. The government decree for the first time a linked the energy consumption in housing with indecency, given that the indecency of an appartment makes the housing retrofit mandatory for the owner. This gives tenants new leverage against landlords reluctant to repair their homes.
The government postponed this obligation to 2028, much later than the Citizens Convention proposal and the ACORN members' demands. The years of delay will cost more than 10,000€ from modest families in excessive heating fees, while they are already struggling at the end of the month. In all, it could be up to 20 billion euros of thermal surcharges paid by low-income families, ten times the annual volume of the wealth tax collected from the rich in the whole country; a massively unfair transfer of wealth. A Greenpeace expert calculated that the postponement to 2028 would generate up to 11 million tons of CO2 that could be avoided (that's double the emissions in one year for domestic flights producing 4.5 million tons). Even worse, the Housing minister proposed in December 2020 a new system of calculation in the energy classifications taking hundreds of thousands of houses out of the F and G categories if the heating system was electric. Aline's home and her neighbours in Aubervilliers were caught in this reclassification.
Aline and other ACORN members of Aubervilliers, Saint Ouen and Saint Denis launched public actions and were joined by tenants in Lyon, Grenoble and Montpellier. A petition quickly gained 3,500 signatures, sit-ins in front of the city hall or buildings housing the local MPs offices, raised local then national media attention. In Lyon, the tenants living in thermal strainers homes boarded a « popular ecology bus and raided the cities officials in different part of the cities. They invited MPs to come to sleep in their thermal strainer appartements and were star speakers during the Climate march in front of 50,000 persons. An action with Greenpeace in front of the Ministry in Paris led to further discussion with the Minister.
After a new meeting with stakeholders, the arbitration with the government on the reform of the diagnoses of energy performances (DEP) was unexpectedly favorable. Eventually, the new classification system reinstated Aline's home and the 800,000 similar appartements and houses into the category requiring mandatory retrofits. According to Jack Azoulay, Minister Barbara Pompili's chief of staff, the media coverage on Aline and the Aubervilliers cases was decisive in swaying the government.
 This victory was encouraging for the coalition. The alliance of "shows that the coalition of housing experts, our Greenpeace environmental activists and tenants unions of ACORN are a powerful changemaker, explained the Greenpeace campaign director. We are on the right track. Our message is good and hits the mark".  The climate law is still disappointing because the 2028 timeline is too far. But the campaign achievements have brought hundreds of tenants into the local unions and thousand of climate justice activists have joined to support them. The campaign's next stage is named Zero thermal strainer home in my district. The goal is to push local authorities to go faster than what the law recquires. With District elections coming this summer, there are already candidates who have endorsed the campaign.
From local campaigns to national campaign and then back to local campaigning, Aline and other tenants are fighting to scale up to an international campaign, if possible. Similar circumstances "have been found in Belgium, the Netherlands, Scotland, and Canada. The Cop 26 will take place in Scotland where the Living Rent tenants' union, affiliated to ACORN international, is powerfully effective. Aline's fight goes much beyond her family and appeals to the millions that live in similiar homes. This is a social and climate justice fight, and it won't end until it is victorious both in France and international.
ADRIEN ROUX is the head organizer and national director of the Alliance Citoyenne, ACORN, headquartered in Grenoble, France with offices in the Paris region and Lyon.
Details

Written by SP Editor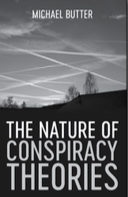 By: Michael. Butter 
Most at risk of becoming the target of such conspiracist-induced violence are minorities and other already stigmatized groups, followed by representatives of the state and 'ordinary' politicians. As far as their personal safety is concerned, there is little danger for leaders such as Barack Obama or Angela Merkel. Conspiracy. Theorists may think that they are reptilians, members of the Illuminati, or complicit in the 'Great Replacement', but they are so well protected that assassination attempts on them are unlikely. Politicians like Jo Cox and the members of the Michigan legislature, however, are far more vulnerable, and the same goes for police officers and others who might be perceived as representatives of a thoroughly corrupt state. When the likes of Donald Trump add fuel to the fire via Twitter, the situation becomes particularly toxic.
Conspiracy theories that deny established medical knowledge, such as those surrounding the coronavirus, occasionally have the potential to lead to violence, too,
as the armed protests in Michigan show. But what is far more problematic about them is their ability to make those who believe in them endanger themselves and others involuntarily. This is not the case with conspiracy theories that falsely proclaim a virus to be particularly dangerous because it was allegedly manufactured in a biological weapons laboratory, as some people (still) believe about the HIV virus and now about the coronavirus. But it is a problem in the case of those who foster a false sense of security by claiming that diseases like COVID-19 or AIDS do not exist, and that the public is being deceived by sinister forces pursuing a hidden agenda. Vaccination conspiracy theories also fall into this category, whether they claim that vaccines can cause serious harm yet continue to be used for financial reasons, or maintain that vaccinations are used to implant chips allowing the conspirators to trace and control people.

As Karen Douglas and Daniel Jolley found in a study on the social consequences of conspiracism, someone who believes that all or most politicians are the puppets of hidden evildoers who are using them to pursue their own sinister goals is highly likely to stop voting altogether at some point. Another finding of the study was that the belief that climate change is a lie designed to achieve some dark purpose can lead people to behave in a less environmentally friendly way. Such behaviour does not pose a direct risk to life and limb, but it has the potential to aggravate the crises we are currently witnessing in the democratic systems of Europe and North America. The same is true for the other option open to those who think that politics is just a sham. They may join populist movements or parties that present themselves as the only genuine alternative in a rotten political system or as the true voice of the people. As members of such movements, they may occasionally take their protests to the streets to exert pressure on those they perceive to be acting against the interests of the people.

The term 'crisis actor' appears to have been coined in 2012 by James Tracy, then still a tenured professor of communications at Florida Atlantic University. Tracy, who later lost his job, claimed that the Sandy Hooks Elementary School massacre of 14 December 2012, when twenty-six people, among them twenty children, were killed, never took place. Another danger of conspiracy theories is that they can lead to profound distrust in the political system and disrupt the democratic processes necessary to deal with the many challenges humanity faces in the twenty-first century.
Finally, so-called crisis-actor conspiracy theories can do a lot of harm to people who have lost loved ones in tragedies that, according to the conspiracy theorists, never really occurred but were staged for the media and public to further the goals of the conspirators.
Conspiracy theories, then, are dangerous, and belief in them can have grave consequences. The discouraging cliché that hardened conspiracy theorists cannot be reached with arguments is, alas, all too true. Such absurd claims could be dismissed with a shrug if many conspiracy theorists did not harass the families of those who have lost loved ones in the tragedies concerned. Conspiracy theorists like Tracy and Jones have accused the parents of the Sandy Hooks victims of faking their children's deaths, and at times even claimed that their children never existed. Others have attacked the families of the victims of other shootings. It is not hard to imagine the enormous suffering that this has caused parents, spouses, and other relatives already working through the trauma of losing people dear to them.

As such, studies that highlight the evils of conspiracy theories have fallen on fertile ground in the media, particularly in recent years and never more so than in the COVID-19 crisis. Many journalists and other observers tend to pathologize and demonize them altogether. In some sections of the public, anti-conspiracism has reached panic proportions, sometimes leading to obsessive reporting on topics such as which politician believes in which conspiracy theory and how many theories of this kind Trump bandied about during the election campaign. Not that such scrutiny is without justification, of course – particularly in Germany, where the myth of the global Jewish conspiracy paved the way for the Holocaust. But is it really the case that all conspiracy theories are dangerous?
There are plenty of people who believe in conspiracy theories and interact in virtual and real communities, but who show no inclination to violence, do not endanger others by doubting established medical knowledge, do not support right-wing populists, and do not harass the bereaved. The 9/11 Truth movement or believers in David Icke's reptilian theory are just two examples.
In fact, many of the academic studies that attest to the dangers of conspiracy theories are more complex than they are sometimes given credit for in the media. After all, just as there are conspiracist groups with no history of violence whatsoever, so there are plenty of examples of violent organizations in which conspiracy theories play no part, such as the IRA, for instance. In his survey of the link between conspiracism and radicalization, Benjamin Lee accordingly concludes that 'the exact role of conspiracy theory in radicalization remains an open question'. And while there is a lot that we do not know, it seems clear that in all cases it was not just belief in certain conspiracy theories that prompted the crime; there were other factors at play, too. Moreover, tragic though such incidents are for the victims and their families, they are, thankfully, extremely rare. Similarly, some of the psychological studies on the problematic consequences of conspiracism need to be taken with a pinch of salt. Extrapolating from the laboratory to the real world is no easy matter.
It is therefore important not to panic when it comes to conspiracy theories. They need to be taken seriously, as their repercussions can clearly be problematic, but a degree of discrimination is also necessary. Whether conspiracy theories per se are dangerous is the wrong question. Quite apart from the fact that we need to specify what we mean by 'dangerous', it also depends on which conspiracy theories we are talking about, whom they are directed at, who believes them, and who voices them since these are not necessarily the same people. Equally important are contextual factors: are conspiracy theories regarded as legitimate or illegitimate knowledge in the given context? How popular are they? Are they spread via official or alternative channels? Do they draw on existing prejudices against minorities or elites? If so, do they put a new spin on them? And what effects do they have in the case in question? In short, it will always depend on the concrete situation.
This resistance to any attempt at falsification is due to the fact that conspiracy theorists generally work on an entirely different set of basic assumptions from those who don't believe in large-scale plots. Consequently, although a dialogue is possible in theory, it will not normally yield the desired results. In fact, empirical studies have shown that confronting conspiracy theorists with conclusive counterarguments only confirms them in their beliefs. This is because conspiracy theories fulfill a hugely important function in terms of their followers' identity. To challenge the theory is to shatter the self-image of the person you are attempting to persuade. That may be gratifying for the challenger, but it serves little purpose beyond that of self-affirmation. Any education campaign should therefore be aimed at those who have already encountered the explanations offered by conspiracy theories but are not yet convinced. Provided certain ground rules are observed, this approach has a reasonable chance of success. It is important, for example, not to dwell too much on the assumptions you are attempting to refute, lest these – rather than the non-conspiracist explanation – become fixed in your interlocutor's mind. Naturally, it is impossible to argue the case without making explicit reference to the conspiracy theory and its supposedly clinching arguments. But this should only be done briefly, after presenting the better explanation and making it clear that you are merely summarizing false information. Another reason for concentrating on the counter-narrative is that it offers the other party a way of making sense of events, this being one of the main attractions of conspiracy theories. Lastly, it is important to restrict yourself to the key arguments, as too many details can produce the opposite effect.
Moreover, research has shown that it makes a lot of sense to 'inoculate' people against specific conspiracy theories. This 'prebunking', as it is also called, usually consists of two steps. First, the target audience needs to be alerted to the dangers of a specific conspiracy theory; second, and crucially, the logical flaws and contradictions in its arguments need to be exposed. Social literacy would form the cornerstone of a strategy designed to curb the spread of conspiracy theories but would need to be complemented by two other essential elements which I would describe as media literacy and historical literacy. In the current situation, where the watchdog role of the media and the interpretative authority of traditional elites such as the academic community have sharply declined, and the seductive explanations offered by conspiracy theories are accessible at will via real and virtual alternative channels, the importance of media literacy should be only too clear. We have all had to learn – and must go on learning – to discriminate between reliable and unreliable sources of information, and to recognize the difference between someone's personal YouTube channel or blog and the website of a quality newspaper. We need to realize that the results of our Google searches and Facebook newsfeeds do not reflect reality but, to a large extent, our personal preferences, and that news that spreads fast may be popular but is not necessarily true. There have always been conspiracy theories and always will be but, historically documented cases differ significantly in terms of scope, impact and effectiveness from the assumptions of conspiracy theorists about how plots work and what they can achieve. It would be important to communicate this by way of examples – and this is where historical literacy would overlap with social literacy. Convinced conspiracy theorists will probably groan at the manifesto I am outlining here, and I would therefore like to make it absolutely clear that I am not talking about an uncritical acceptance of established interpretations and submission to traditional authorities, but the empowerment of people to think for themselves and reach their own judgments, based on rational assumptions about human nature and social processes. These are precisely what conspiracy theories lack – yet they are a vital tool if we are to carry conviction when exercising the urgently necessary critique of power structures and those wielding power. A further problem of conspiracy theories – particularly those directed at elites – is that their often legitimate concerns and justified complaints are easily dismissed because of the problematic paradigm through which they are articulated.
Key factors are the nature of the conspiracy theory itself, its impact on the life of the conspiracy theorist and those around them, and their relationship to the challenger. There are good reasons not to talk to people who spread racist, sexist or anti-Semitic conspiracy theories, in the interests of avoiding an erosion of the boundaries of acceptable speech. Even so, it is important not to project such characteristics onto their theories.
Applying stigmatized labels such as 'paranoid' or 'conspiracy theorist' to the other party will have a similar effect. Rather than attacking the fundamental assumptions of their ideology from the outset, it probably makes more sense to begin with a more low-key approach, such as enquiring after the sources of some of their statements or detailed allegations. From my own experience, I can say that there is often a lot to be gained by simply listening in the first instance, since many conspiracy theorists feel – not always unreasonably – that they are not taken seriously outside their own echo chambers.
Publics in which conspiracy theories are still stigmatized coexist with publics where they have undergone a relegitimization. This fragmentation of society, does not necessarily follow ideological lines, but rather stems from radically differing assumptions about how history and society operate. It is this fragmentation that seems to me to be the real problem we are facing today, and it is particularly apparent in the context of conspiracy theories. As such, the current debate, that sees some sectors of the public panicking over conspiracies and others over conspiracy theories, is symptomatic of a deeper crisis afflicting democratic societies. After all, if societies can no longer agree on what is true, they will not be able to resolve the pressing problems of the twenty-first century.
MICHAEL BUTTER is Professor of American Studies at the University of Tubingen. This work was translated from the German by Sharon Howe. The Nature of Conspiracy Theories is available from politypress.com.
Details

Written by SP Editor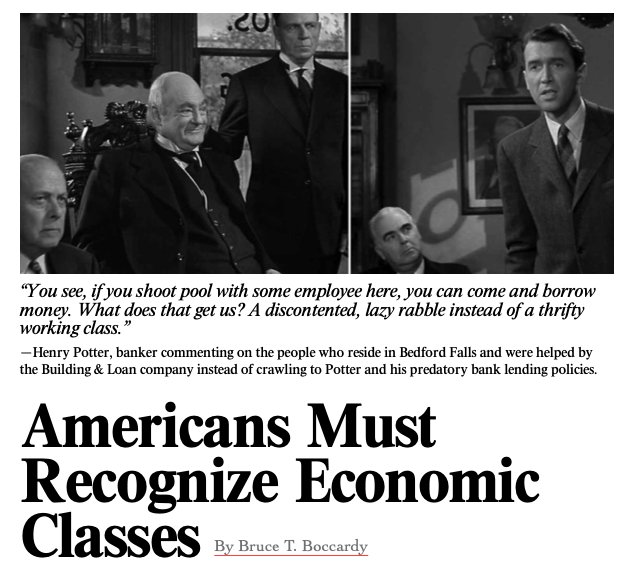 Class Identification:
"You see, if you shoot pool with some employee here, you can come and borrow money. What does that get us? A discontented, lazy rabble instead of a thrifty working class."
-Henry Potter, banker commenting on the people who reside in Bedford Falls and were helped by the Building & Loan company instead of crawling to Potter and his predatory bank lending policies.
This was excerpted from the holiday classic film "It's a Wonderful Life." It is one of the few times when the term "working class" was used in a widely seen cultural medium. There appears to be a reluctance in the United States to wear the mantle of "working class." Its connotation appears to be a relic from the economic revolutions of Europe in the late nineteenth century. In the United States, the denotation is not worn proudly, but rather as having a slight tinge of being beneath the other more affluent and educated classes above it. President Biden asserted in his speech to Congress on April 28:
"And it recognizes something that I've always said: Wall Street didn't build this country. The middle class built this country. And unions built the middle class."
The president misrepresented the demographic "middle class" as building this country. Sorry, Mr. President, but the working class of all races built this country. Also, his assertion that the "unions built the middle class" is only accurate if income and wealth is how "middle class" is defined. Moreover, it was only attained after unions were established by working-class people in epic conflicts with the United States' controlling class. Regardless, it shows how reluctant politicians are to identify the vast majority of employees in the United States as "working class." However, they remain the economic class that built the nation's now failing economy.
CONVENTIONAL VIEWS
Scholars and academics analyze, define, and redefine social classes. There are truckloads of literature that identify the historical development of social, political, and economic groups by income and wealth. Mainstream sociologists tend to parse and expand social classes from a distinct, controlling economic class. C. Wright. Mills was an acclaimed social conflict theorist. Mills argued in his classic 1956 book, The Power Elite, that a small group of individuals within the political, military and corporate realms actually held the majority of power within the United States. Mills asserted that a small group of largely males dominated the social, political, and economic structure of America. However, he rejected the identifier "ruling class." His description of the demographic that dominated American life was the "power elite."
G. William Domhoff, a prominent sociologist presented the case that there was a "power elite" in his 1967 book Who Rules America. O.C. Cox, esteemed black sociologist, however, did not avoid the distinct economic class dominance in American society in his exhaustive study in 1948, Caste, Class and Race. Professor Cox emphasized that "economic class" was the basis in determining social classes. Unquestionably, there exists a comparatively small economic class in the United States that controls the political, social, environmental, and foreign policies of the country. Their policy views often do not comport with the views of working people on issues that affect the vast majority of Americans and why would they? Maintaining their economic status drives every important policy issue in the country.
ACTUAL ECONOMIC CLASSES
The Controlling Class, aka the "One Percent, the "Ruling Class," the "Power Elite," the "Ruling Elite" and the "Upper Class." They own most of the income and wealth in our economic model, but that's the cursory view. What matters is their power. This class is comprised of owners and boards of directors. They exist at the municipal, state, federal and international levels. They own or control the primary methods of producing goods and services in the country; they decide the organization and distribution of those goods and services. They control the workplace of those in the working class and "middle class." They are the bulwark against a democratic economic model.
WORKING MIDDLE CLASS
The "working middle class" is below the controlling class. In the media and literature, this demographic is identified as the "middle class." This class identification resonates with most Americans. "Middle class" is often used to promote the existing economic model in the United States implying that everyone existing in the expansive "middle class" is economically comfortable or should be. However, it is clearly an artificial metric that merely serves to give a measure of false security to working people against the perceived judgments of others. It is promoted by the controlling class to keep working people divided. Polls also reflect Americans' preoccupation with it.

For example, in a 2015 poll by the Pew Research Center, people were asked to self-identify their economic class. The poll noted that there were at least 12 different definitions of "middle class." When all 12 definitions were considered, over 90 percent of the U.S. population would qualify as "middle class."
T.G. Bottomore, a leading authority on classes wrote about the "middle class" in his 1966 work, Classes in Modern Society. He asserted that the prevailing economic model served to create the "middle class." Bottomore saw it as a social construct that emphasized status rather than economic position.
However, noted economist Michael Zweig, articulated the similarities between the "middle class" and the working class in his 2006 book, America's Working Class Majority:
Indeed, the working middle class shares many of the same associations with the controlling class as working-class people do. Economists can also muddy up basic, clear definitions of class."America's claim to a democratic society is seriously threatened."
He identified the "middle class" as professionals, small business owners and managers, and supervisors. They share many of the same conditions as working-class people do such as the instability of the market, government overreach, comprehensive healthcare and retirement security.
Also housing purchases, non-healthcare insurance, exorbitant education costs, and prescription drug prices are similar conditions for both classes. He also included college teachers, public defender lawyers, medical professionals, and public school teachers in the demographic. They may be compensated better, but the power to control their economic reality is similar to the working class. Their positions depend entirely on the decisions and caprices of the controlling class.
The tiny number of celebrities in the entertainment and sports industries must be mentioned. They are often compensated with lucrative contracts. They can live lifestyles that most people only dream about if that's a dream in the first place. However, they are still employees, no matter how bloated their bank accounts or portfolios. Unless they become owners of entities that employ others, they are merely high-paid workers dependent on the controlling class of billionaire owners and boards of directors. To be sure, some of these individuals must be complimented for using their celebrity platforms to advocate for issues affecting working people. However, their numbers are insignificant to the demographic and they remain as outliers to the rest of the working middle class.
WORKING-CLASS

 "Economists can also muddy up basic, clear definitions of class". Guy Standing, a prominent British economist came up with a novelty in his 2011 book "The Precariot: The New Dangerous Class." Standing asserted that we now have an international social class of people who are in a constant state of precarity without predictability or stability in the workforce. He combined the words "proletariat" and "precarious" to arrive with the identifier "precariot." With considerable respect to Professor Standing's impressive work, this identifier is gratuitous. The working people described here are still a demographic in the working class. There is no reason to single out these people with a fanciful portmanteau that brings little insight into the composition of the working class. This applies to the "gig" economy as well. It is consistent with America's narrative that about 62 percent of employees in the workforce are working class.
Zwieg identified the working class as white-collar bank tellers, call-center employees, cashiers, blue-collar machinists, construction workers, assemble line employees, secretaries, nurses, and home healthcare employees.
Also included are the significant numbers of service industry and healthcare employees. These employees have little control over the content or conditions of their workplace unless they are fortunate enough to be unionized. However, without a robust resurgence of the labor movement, the number of union members today will remain pitifully small.
POWER, NOT INCOME OR WEALTH
The ultimate definition of economic class rests with the identification of power in the economy. We must identify who has it, who doesn't and how our society strives for democratic ideals if that is what we seek. Political democracy is impossible without economic democracy.
Martin Gilens and Benjamin I. Page, respected economists, wrote a paper in April 2014. They reported that policymaking in the United States is dominated by powerful business organizations. They concluded that This was not a cataclysmic revelation to those who track corporate "crime, fraud and abuse" as Ralph Nader aptly described it. However, their conclusion was disturbing and prescient in light of recent events as elements of the country veer toward fascism manipulated by oligarchs of the controlling class.

FORWARD
No political movement, however, motivated by righteously moral intentions can advance without a blueprint that accurately identifies the demographics involved. From spiritual progressives relying on faith-based initiatives to secular progressive organizations the participants must be identified accurately by their economic power or lack of it.

We must present a simplified definition of economic classes; it will allow us to convey a better understanding of political machinations to ourselves and the American public. It will also facilitate a plan to address the continuing issues of racism and sexism in our society.
Economic class is the basis of both. Although the mainstream media painstakingly avoids that view, the F.D.M. crowd (Facts Don't Matter) will eventually figure it out at some level. Consider that the frustration and venom of Mr. Trump's base would evaporate if they had opportunities for decent, sustainable jobs with healthcare, education, housing, nutrition and a clean environment. Instead of the relentless and witless indoctrination from the controlling class through its coopted and corporate supported media they might redirect that discontent to the source.
The working middle class and working class are natural allies. They exist largely in the same power associations controlled by the controlling class. Their numbers approximate 99 percent of working people if defined by economic power. If we subscribe to the concept of democracy, it must be acknowledged that the continuing economic plague visited on a vast majority of the American people must change. They deserve better from an economic model.
George Bailey, said it best, again in "It's a Wonderful Life" when addressing Henry Potter's attempt to take over the Building and Loan company.
"Do you know how long it takes for a working man to save five thousand dollars? Just remember Mr. Potter, that this rabble you're talking about... They do most of the working and paying and living and dying in this community." They still do.
BRUCE BOCCARDY is economics/labor advisor for the Small Planet Institute; former president, Massachusetts Service Employees International Local 888; former labor representative, Massachusetts Joint Labor-Management Committee; former consultant for National Association of Government Employees.
Details

Written by SP Editor

 My mom, Maureen Dolan, showed that sixteen-second video to everyone she knew in the four months she had left on this Earth. It was the best present I ever gave her. My mom was recovering from cancer surgery in the fall of 2019 when I recorded this video with Jane Fonda before we started marching to the U.S. Capitol for that week's Fire Drill Friday rally and non-violent direct action.
My mom is the reason I am an organizer. She got involved in the welfare rights movement in Buffalo in the 1970s when I was a kid and we were on AFDC and food stamps. She was a peace activist who fiercely opposed the Vietnam War. She was a feminist who fought for every scrap of respect she ever got. She was a union worker who helped lead a multiracial local in an epic strike. In her later years she became a teacher, a swami, a founder of a limited equity housing cooperative, and an organizer of women's spiritual and political circles.
Jane Fonda was a lifelong hero to my mother and someone who also found fresh purpose throughout her life. She opens her latest book, What Can I Do? My Journey From Climate Despair to Action (2020), with a declaration: "Now here I was once again in need of transformation." What Can I Do? is self-aware and intimate, and had me alternately crying and cheering.
Fonda describes feeling what a lot of us feel - overwhelmed and depressed about our climate emergency and at a loss for what to do. Yet she finds, and shares, hope. "What I have found repeatedly is when my body is feeling despair," she says, "the moment I step into community and take action, the despair lifts."
Inspired by the youth-led climate strike movement sparked by Greta Thunberg and others in the Fridays for the Future, Fonda then read her friend Naomi Klein's
On Fire: The (Burning) Case for a Green New Deal (2019) and realized that we have, "Ten years to reduce fossil fuel emissions roughly in half and then reduce to net zero by 2050 to avoid uncontrollable unraveling of the natural life- support system."
Once Fonda was clear about the problem, what next? What Can I Do? brings readers along this journey, asking questions to understand what science and justice tell us must be done to avert catastrophic climate change, and overcome a fossil-fueled opposition that is oriented only toward politics and profits no matter the cost to people and planet.
The answers Fonda finds are simple: end fossil fuel expansion, pass a Green New Deal, and implement a plan for a responsible, just transition to renewable energy as rapidly as possible. To get there, we need direct action. Fonda created Fire Drill Fridays (FDF), which combine live streamed teach-ins with direct actions, calling together a diverse cast of campaigners, scientists and allies. The youth and climate activists who inspire Fonda are the stars here: celebrities are present only to amplify their voices.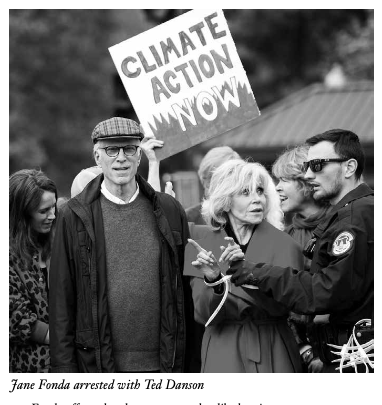 Fonda offers a hand to everyone who, like her, is alarmed by climate change but needs some help on what to do about it. The obstacles to ambitiously addressing today's climate emergency are not technical but political," she says.
Each chapter in What Can I Do? tells the story of an FDF teach-in and the non-violent direct action that followed it. Each week, FDF examined the climate emergency through a different lens such as oceans, forests, plastic, militarism, women, and youth. Chapters are filled with long-form quotes and short vignettes from that week's speakers, and close with sections on "What Can I Do?" that offer guidance on individual and collective actions readers can take.
The book is a how-to manual for people who want to get to root causes. One big thing people can do, modeled by Fonda's Fire Drillers, is ramp up the pressure on decision-makers. Fonda is clear about her privilege in choosing to be arrested, and acknowledges this is a choice many BIPOC and immigrant communities cannot make as easily. But for those who can put their bodies on the line in this way, Annie Leonard, Greenpeace US's Executive Director and a close conspirator with Fonda on FDF, makes the case for civil disobedience:
For forty years, we've been polite, we've shared the science, we've petitioned, we've marched, rallied, written, pleaded. We've used all the levers of democracy available to us,
and our elected representatives haven't listened. Now we have to do more, step it up. Risk arrest if that is what it takes. It's the fossil fuel industry who've led us to this. It's time to be bold. Science demands it. Morality demands it. The moment demands it.
What Can I Do? speaks directly to all of us who, like Fonda, "acknowledge there's a man-made crisis; who support the climate movement and are thinking about maybe doing more but don't know what that could be; who are confused, paralyzed, or tilting toward hedonism or fatalism." This is the brilliant essence of Fonda's journey. The Yale Program on Climate Change Communication says at least 40 million Americans share her concern that our climate emergency demands action now. She articulates this in a way that can spur these millions into action.
Fonda's first fans may be white, middle-class women who shared her outrage about patriarchy and the Vietnam War, yet are unsure of how they fit in today. Fonda dispels this, by placing class-conscious, anti-racist and decolonizing feminism at the heart of her climate activism. She calls on all of us to build a Bigger We that is millions strong, aligned with BIPOC-led organizations and movements, with the power to confront our climate emergency and win.
Organizers - veteran and new - will embrace Fonda's wise advice: "Think solidarity, not savior." And, most importantly, "Be sure to include those most affected by
a problem in any proposed solutions, which results in better solutions overall. As environmental justice advocates demand, 'Nothing about us without us.'"
This message is loud and clear in Alicia Garza's The Purpose of Power: How We Come Together When We Fall Apart (2020). The Purpose of Power is chock-full of organizing stories and lessons from Garza's experiences as a grassroots organizer and co-founder of Black Lives Matter, a movement which has reignited the call for racial justice not only in the United States, but all around the world.
What connects Fonda and Garza is the decisions women can make to be powerful - by being in relationship with people on the frontlines, building community, and taking collective action. This is a path to power through relationships with others, never alone.
While it's not the focus of her book, Garza describes the deep influence that her mother had on her life, and the utter heartbreak of losing her to brain cancer in the spring of 2018. This was the same way I lost my own mom.
The Purpose of Power feels like two books in one: her own story and a primer on organizing for today's movements. The connective tissue between the two is the hard-won wisdom Garza developed with groups such as POWER in San Francisco and through the birth and growth of the Black Lives Matter movement. Every one of her lessons is spot on, so we should all pay close attention.
Number one, "You cannot start a movement from a hashtag. Hashtags do not start movements—people do."
Garza zeroes in on something many people get wrong: that somehow "finding a group of people who think like you and being loud about your ideas is somehow building power." Or more explicitly, building organizations is the key to the success of movements: "Organizations are the places where we learn skills to take action, to organize to change the laws and change our culture. "Number two takes this deeper. Movement building, according to Garza, "isn't about finding your tribe—it's about growing your tribe across difference to focus on a common set of goals."
Number three is that movements shape the terrain upon which we fight, "Movements shape us, and we shape them—sometimes consciously, other times unconsciously. My generation was and is still being shaped by the conservative consensus and the right's rise to power." Once we understand the terrain, we can work toward changing it as we contest for governing power. This is called politics. Garza explains, "Politics is a place where power operates, which means it's a place where there are opportunities to move our agenda. Politics is also
a space for learning: It's a terrain where you can expose what priorities are dominant and who sets those priorities, and where you can battle for hearts and minds to reshape and reorganize those priorities."
Number four is that, "organizing is as much about human connection and building relationships as it is about achieving a political goal." If you are not about the project of building relationships, discovering self-interest, and moving people toward clarity about their vision and path to power as part of a greater collective, then you are not creating a political change that can last.
Garza describes her early organizing with POWER in San Francisco. One summer they set a goal of recruiting one hundred people from West Oakland to learn about an outside developer's plans for their neighborhood, and to make their own plans to have their interests drive decision- making in their community. Garza, along with fellow community organizers and leaders, knocked on thousands of doors and had conversations with one thousand people. That kind of fierce commitment to people-centered organizing and the discipline to do this work landed her a full-time job with POWER that summer. "Community organizing is often romanticized," explains Garza, "but
the actual work is about tenacity, perseverance, and commitment."
This brings us to lesson number five, "Organizing is about building relationships and using those relationships to accomplish together what we cannot accomplish on our own—but there's more to it than that. The mission and purpose of organizing is to build power. Without power, we are unable to change conditions in our communities that hurt us."
Power, in Garza's sense, is not about ego: it is about reaching down to the root. So, if you are not power-hungry in this positive sense, she argues, then you are not serious about the structural change needed to improve people's lives.
Number six is that "without Black communities, a progressive agenda can never be truly achieved. Any progressive agenda that does not include the well-being and dignity of Black communities as a fundamental pillar is not really progressive at all. It will, at best, win big changes for some while still excluding others."
Taking this further, Garza says, "I believe that Black communities have the potential to unlock a new democracy, a new civil society, and a new economy in the United States. I believe that Black communities have the power not just to save the country but to lead the country."
Garza's insight here is critical to our current moment and movement. There can be, she says, a broad-based and enduring movement in this country that unites different bases around the leadership of people whose lives tell us the most about what is wrong and how to fix it. The way in which many organizations aligned around the goals and leadership of the Movement for Black Lives last summer in the wake of George Floyd's murder, and kept this momentum to defeat Donald Trump in November, is strong evidence this can work.
Number seven is a lesson from Garza's organizing with POWER on the Bayview Hunters Point campaign. "Building broad support did not mean we had to water down our politics. It didn't mean we had to be less radical. It meant that being radical and having radical politics were not a litmus test for whether or not one could join our movement." The Radical Right figured this out more than fifty years ago, when they began to expand their base on multiple fronts simultaneously, to expand corporate power and concentrated wealth.
Garza's lesson eight is about building Bigger We, a united front. Because, As organizers, our goal was to get those in the 99 percent to put the blame where it actually belonged— with the people and institutions that profited from our misery. And so, "unite to fight" is a call to bring those of us stratified and segregated by race, class, gender, sexuality, ability and body, country of origin, and the like together to fight back against truly oppressive power and to resist attempts to drive wedges between us.
Garza's local and national organizing, and life as an outsider and a radical queer Black woman, led her to write the words #blacklivesmatter on Saturday, July, 13, 2013,
at 7:14 p.m. Nothing earth-shattering happened at that moment because words don't start movements: people do. Garza insists that her work in Ferguson, Missouri after the murder of Michael Brown at the hands of the police, which brought her international fame, would never have happened without her community organizing with POWER. If Garza hadn't had that grounding in door-knocking and community organizing, she would not have been able to work with a team in Ferguson to knock thousands of doors over ten days, talk to 1,500 people, hold 50 house meetings, and get commitments from nearly a thousand to attend the weekend of action and join the movement.
Garza does not set out to tell the definitive story of Black Lives Matter in The Purpose of Power: she is telling her story of politicization and her orientation toward power and change. "My story is not the story of the Ferguson uprising," she says. "My story is only of my time there, what I saw, what I did, and what I experienced."
In doing this, Garza draws our attention to the deeper lessons that she - and we - can learn from such moments. What really matters, she says, is that, "I've learned we need bases, not brands."
Garza and Fonda close with guidance for everyone on finding and following their path to power. "Build communities," says Fonda, "stand with love. Stand brave, stand fearless, because we're in this together."
"Hope is not the absence of despair," says Garza, "it is the ability to come back to our purpose, again and again...I am not, and we are not, defined by what we lack—we are defined by how we come together when we fall apart."
Put both of these books on your summer reading list. Then, as Fonda and Garza invite us to, get to work in new ways that will result in a future full of joy and justice.
JAMES MUMM is a longtime community organizer who is now the campaign director for Greenpeace USA, the international environmental organization.