Winter 2020
Written by SP Editor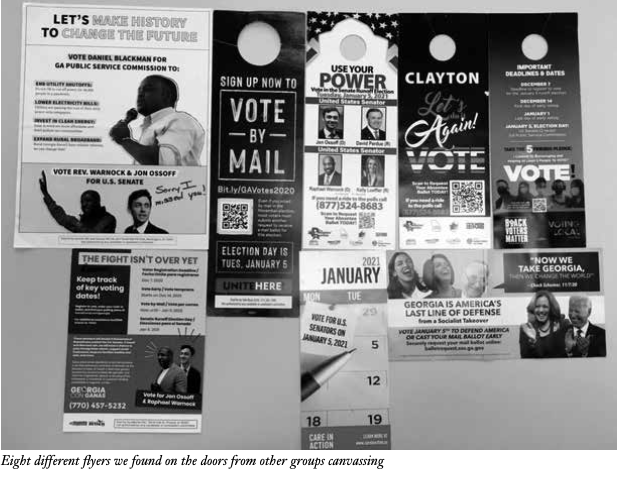 If you, your family, friends, or anyone you organize received a $1400 stimulus check, a child tax credit, an extension on unemployment compensation, or in any other way benefitted from the $1.9 Trillion Covid relief bill that President Biden signed on March 11, you can thank the thousands of canvassers in Georgia that knocked on millions of doors and motivated enough voters to elect Democratic Senators Raphael Warnock and Jon Ossoff in the January 5, 2021 runoff election. Without both of them winning, Republicans would still control the US Senate, Mitch McConnell would be the Majority Leader, and Biden's stimulus bill would have been dead in the water. Just a few months into the new administration the two freshmen Senators from Georgia have already made a difference in legislation improving the quality of life of low and moderate income citizens.
Less than a week after the Nov. 3 election, I was having a conversation with Wade and (half jokingly) told Rathke if he could raise some money, we should run a straight up GOTV canvass in Atlanta. He told me to come up with a budget and he would see what he could do. This article takes the position that Get Out the Vote (GOTV) canvassing by some 60 community and labor organizations was the difference-maker for these come-from-behind, upset victories by both candidates, neither one having ever held elected office.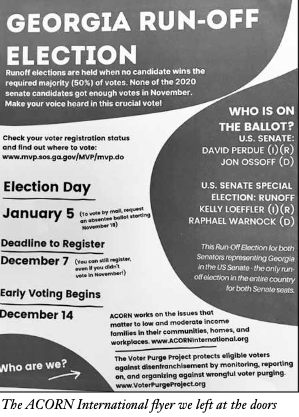 Jon Ossoff overcame an 88,000 vote deficit in the Nov. 3 election against incumbent Senator David Perdue to beat him by 54,000 votes in the runoff just eight weeks later. It is extremely rare for someone who has never won an election to defeat an incumbent U.S. Senator. Reverend Warnock defeated appointed incumbent Senator Kelly Loeffler. By any measure these were historic victories, Warnock is the first black Democratic Senator from the south in history, while Ossoff is the first Jewish Senator from a southern state in over 120 years. This article offers a rather detailed view from the canvassed turf.
BACKGROUND
I had the good fortune of having the right skill set at the right time to make a small difference in this historic election. Having a decade of experience directing canvass operations in multiple cities for ACORN, in addition to
Over lunch I spent 30 minutes calculating the costs of 10-15 canvassers x 6 days x 6 weeks, and within two days Rathke had raised enough money to fund the operation through the holidays. Rathke told me that in his 50+ years of organizing this was the easiest money he ever raised!
I wasted no time and on November 14, I selected the northern-most neighborhood in Clayton County, an 85% BIPOC (eg. Black, Indigenous, People of Color) county just south of Hartsfield-Jackson International Airport, and I hit the doors for four hours to pilot my rap so I could start training canvassers two days later. Biden & Harris won 85% of the vote in Clayton County, so it appeared to be great turf for a non-partisan GOTV rap. The neighborhood I canvassed that day turned out to be very diverse: 50% African American; 30% Asian (with some language barriers for myself); 20% Latinx, African and other. Within a two block area there was a store-front Mosque and a Buddhist Temple. Over that weekend I posted a Job Announcement advertising part-time canvassing jobs, and began zoom interviews with applicants interested in earning $20 an hour doing GOTV canvassing from 2:00 to 6:00pm. Within a week I had trained and was fielding a full crew of volunteer GOTV canvassing for the John Kerry, Barack Obama and Hillary Clinton campaigns, I am no stranger to the doors.
I also collaborated with Wade Rathke and the Voter Purge Project during the summer of 2020 knocking on doors in metro Atlanta collecting data on the percentages of voters who were illegitimately purged from the voter rolls earlier in the year. Prior to the Nov. 3 election, Rathke and I shared the same emphatic position that if Biden & Harris lost the election it would be because of the Democratic party's reluctance to mask-up and hit the doors. It was well established that Republicans were canvassing extensively in many states in the run-up to the general election, but with a few exceptions (e.g. UNITE HERE in Nevada, Arizona, and Pennsylvania) Democrats were largely absent from a widespread ground game during summer and fall 2020. In Georgia, Mijente was the only organization I was aware of that canvassed for Democratic turnout prior to the General Election. They exclusively targeted the Latinx vote. Since Harris and Biden had the narrowest of winning margins in Georgia, just 11,000 votes, Mijente canvassers are probably responsible for that victory, the first Democratic presidential candidate to carry Georgia since Bill Clinton.
A FAST START-UP

12 canvassers! As someone who has run canvasses across the country, this was the fastest start-up I had ever seen! I found out later that we were paying canvassers considerably more than most other groups which seemed to be in the $14-$15 range.
Since everyone in the country was aware that the balance of power in Washington depended on the outcome in Georgia we had organizers and canvassers coming out of the woodwork and emailing me about coming to Georgia to help out. In the end, we welcomed two experienced canvassers from Pittsburgh (former ACORN organizers), and two Local 100 union organizers from Arkansas and Texas, and even Wade Rathke himself hit the doors on the chilly Atlanta nights the week before Christmas!
Voter registration re-opened between Nov. 3 and would close on December 7, so our strategy was to hit every door, encourage all registered voters to vote, ask if anyone in the household needed to register (rare, but we registered 25 new voters during that brief window). To tighten down registered voters' commitment to vote we asked people to sign a "Count on Me" pledge card that included name, address, signature, and cell phone number. The plan was to follow-up with respondents by text or phone to insure they had voted. After December 7 we continued to knock on every door, asked to speak to any registered voters, hear about their voting plans, inform them of early voting starting Dec. 14 and the locations near them where they could vote early, and asked them to sign the Count on Me cards.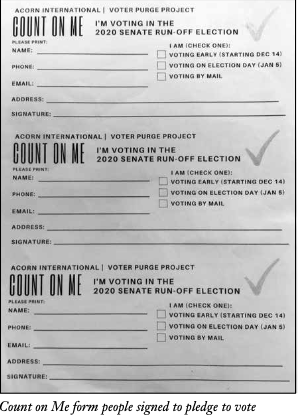 CANVASSING DURING COVID

Our canvass operated by observing the standard CDC protocols: all canvassers wore masks, stood 6 feet from the door, stayed outside (with Georgia weather most days this was not problematic, but a few cold and breezy days made this challenging for the people who opened their doors). No canvassers tested positive during the six-week operation.
Canvassing during Covid seemed to cut both ways. Compared to canvassing during non-pandemic times, fewer households came to the door and a higher percentage did not open the door. We assigned 70 homes a night and pre-Covid we would expect to make 50 in-person contacts; during Covid, this was reduced by 10 to 15 doors per night. So the typical night a canvasser would talk to 35 to 40 people. Canvassing 6 feet away with a mask on also probably diminished the quality of the interaction and resulted in fewer respondents taking the clipboard to sign the Count on Me pledge. On the upside, many respondents, especially senior citizens who might be living alone, seemed delighted that someone dropped by to talk about the highest-profile election in the history of Georgia. The isolation associated with the pandemic seemed to make some people more welcoming of a friendly conversation with a canvasser at the door.
Having directed plenty of fundraising canvasses I have a bias toward managing canvassers around a quota. On a good day at the start of our GOTV canvass, I was getting 3-4 Count on Me's signed per hour and hoped to establish a quota of 15 signed pledges a night. In reality, individual canvasser productivity varied widely from a low of only 2 or 3 to our star canvasser turning in 32 Count on Me's on her best night! Two other factors in this time-limited operation made it difficult to establish a quota: 1) early voting opened December 14 so we quickly began canvassing people who had already voted either absentee or in-person; 2) crowded turf.
CROWDED TURF

I personally canvassed only one household where the person that answered the door stated the registered voters could not come to the door because they were sick with Covid. I apologized for disturbing them and quickly moved on. For the first week or two we did not bump into any canvassers from different organizations but that quickly changed and by late November we discovered numerous flyers on doors from other organizations and on a number of occasions we ran into canvassers covering the same turf on the same day as we were! If we had been canvassing for donations this would have been a serious obstacle that we would rectify by coordinating with the other organization(s) to space out our canvassing operations. I made calls to the two largest organizations canvassing including UNITE HERE labor union and the New Georgia Project to try and coordinate turf. My contact at UNITE HERE informed me that their union was fielding 1000 of their laid-off hospitality workers and they were aware of another 300 canvassers going out for NACA (Neighborhood Assistance Corporation of America). While it was not clear that the largest organizations were partitioning the turf, if they were my small operation was never invited to the meetings. We just shrugged our shoulders, considered this a good problem to have, and kept canvassing.
Evidence that turf was not being coordinated in metro- Atlanta was such that by mid-December we were able to count GOTV flyers on the doors we were canvassing by
5 other groups (UNITE HERE, Black Voters Matter, Sunrise PAC, Care In Action, Mijente and New Georgia Project). In an attempt to find turf that had not been canvassed I drove to disparate parts of Clayton County and was unable to locate a neighborhood that had not been canvassed.
We decided to switch turf and work Union City in the southernmost part of Fulton County; this turf was being
as thoroughly canvassed by multiple groups as Clayton County. By December 20 early voting had been open for a week and the most common responses we were getting on the doors were one of the following: "I voted early, I mailed in my absentee ballot, you are the second (or third) group to come by in the past week and I have a plan to vote." The combination of these responses and the fairly high percentage of not homes or doors not being opened (probably due to Covid precautions), we could spend 4 hours doorknocking and be lucky to get 2 or 3 Count on Me's signed. If no one else had been out canvassing we would have kept our operation open through Jan. 4, but since we could not find any turf that had not been canvassed we suspended our canvass right at Christmas confident that if canvassing was going to make a difference the work had been done.
ROUGH PROJECTIONS ON VOTES PRODUCED FROM CANVASSING
In the 4th edition of their classic Get Out the Vote Donald Green and Alan Gerber (2019) state:
"The overarching conclusion that emerges from rigorous voter turnout research may be summarized as follows: the more personal the interaction between campaign and potential voter, the more it raises a person's chances of voting. Door-to-door canvassing by enthusiastic volunteers is the gold-standard mobilization tactic (p. 17)."
Green and Gerber say the effectiveness of a canvass changes based on the probability of voters going to the polls without being canvassed. There are three types of elections in terms of probability of turnout: high, low, and average. High turnout elections are almost always Presidential and the Trump-Biden election certainly qualified as a high turnout one. On November 3rd, a record 5 million Georgians cast ballots. Runoff elections are almost always low turnout affairs, and though turnout was high for this runoff, 515,000 fewer votes were cast on Jan 5 compared to Nov. 3. After conducting a meta-analysis of over 50 randomized controlled experiments on GOTV canvassing, Green and Gerber estimate that it takes 16 canvass contacts to produce one additional vote in an average turnout election. In low turnout elections, it takes 21 canvass contacts to produce a vote.
The progressive coalition of GOTV organizations America Votes (2021) documented 60+ organizations that doorknocked in some capacity in Georgia for the runoff election. They state it was the largest GOTV effort in their 17-year history and estimate canvassers hit almost
10 million doors and had almost 3 million conversations with prospective voters. Even if these figures are highly inflated, they suggest that canvassing is probably responsible for the Ossoff and Warnock victories. For example, if canvassers had 1.5 million conversations (half the America Votes estimate) using the 21 doors per vote metric (assuming the runoff was a low turnout election as most runoffs are) would result in 71,428 additional votes for a Democrat. Ossoff only won by 54,000 votes. If we use the 16 contacts per vote metric (assuming this was an average election) canvassers generated 93,750 additional votes. Warnock won his runoff by 93,550 votes. In sum, without the massive door-to-door canvass effort by all these organizations, it is highly unlikely both Warnock and Ossoff would have won their elections.
EVIDENCE FROM THE NEW VOTER RESTRICTION LAW THAT CANVASSING MADE THE DIFFERENCE
Immediately after the election, the Republican-dominated Georgia State Legislature passed a bill that makes it harder to vote absentee (new ID requirements and shorter time frames to request and return ballots) and limits the number of drop boxes allowed (which primarily effects the most densely populated counties). Shrewdly, the designers of the bill expanded voting in rural counties by requiring more days of early voting in all counties. Most dense metro- Atlanta counties already had early voting on two Saturdays. So the bill writers can claim the bill "expands voting" while it only does that in the more Republican rural counties.
The popular press has focused on issues such as the ban on anyone other than election officials handing out water to voters waiting in long lines and limiting the number of ballot drop-boxes. The press has paid very little attention. The Republican party in Georgia understands that the evidence from the January 5 runoff demonstrates that when both parties make an all-out effort to get out the vote that they are likely to have a losing hand.
It is hard to exaggerate how personally uplifting it has been to have played a small role in shifting the balance of power in Washington. Every time
I see or hear either Senator Warnock or Ossoff on the news, it gives me a positive jolt of energy and more spring in my step.to the biggest change that will drastically curtail the ability of either party to mobilize a canvass for the runoff. The new law shortens the time frame for runoff elections from 2 months to just 28 days (5 weeks shorter). If Perdue and Loeffler had won the runoffs, it is highly unlikely the Georgia Legislature would have shortened the time frame for runoffs. Considering how long it takes to raise money, print materials, hire and train a canvass staff, the new law will make it extremely hard to run a sizable, effective canvass for more than a week or two. If this Senate runoff election had occurred on the first Tuesday in December rather than January 5, it is quite likely that Jon Ossoff would not have overcome the 88,000 vote deficit from the Nov. 3 election and Senator Perdue would have been re-elected. The upshot of this change will make GOTV canvasses prior to general elections even more important because mounting sizable operations for runoffs will be next to impossible.
PERSONAL REFLECTION AND A LOOK AHEAD
I think, "I helped put these two fine gentlemen into positions of power and they are making a difference."
Entire books are currently being written about this historic election in Georgia (look for one soon by Greg Bluestein, the Atlanta Journal Constitution's chief political reporter). Any book not including a chapter on the impact of canvassing on the runoff will be missing the primary explanatory variable in my opinion.
If anyone thinks progressive organizers can spend the next few years sitting back and celebrating this victory, they are wrong. Since Reverend Warnock defeated an appointed incumbent in a special election he has to run again in 2022. All eyes are on Stacy Abrams to announce she will make another run for Governor against either incumbent Brian Kemp or a more Trumpian Republican if Donald Trump comes to Georgia and successfully backs a challenger to Kemp in the Republican primary. While this sounds ridiculous, Trump is threatening to do so since he doesn't believe Kemp did enough to overturn the legitimate results of the election in Georgia that Trump lost. I was delighted last week, that while riding to work on a MARTA train, I was asked if I was registered to vote by a canvasser from The New Georgia Project, one of the formidable organizations founded by Stacy Abrams. The canvasser was going car to car registering voters a year and a half before the next big election in Georgia. This is exactly the work that needs to continue to build on the success of this past election.
If progressive GOTV operations mount similar canvass operations for the 2022 elections they could play a role in re-electing Senator Warnock and electing Stacy Abrams
as the first African-American, female Governor in U.S. history!
Can Georgia have two historic election results in the space of two years?
My response: "Hand me a clipboard; let's hit some doors!"
REFERENCES
America Votes (2021, January 6). Statement from America Votes President Greg Speed on Georgia Runoff
Victories: Largest-Ever Voter Mobilization Program by America Votes Partners Delivers. Retrieved from https:// americavotes.org/statement-from-america-votes-president- greg-speed-on-georgia-runoff-victories/
Green, Donald P., & Gerber, Alan S. (2019). Get Out the Vote: How to Increase Voter Turnout. Fourth Edition. Washington, D.C.: Brookings Institution Press.
FRED BROOKS is Associate Professor at the Georgia State University School of Social Work, a former ACORN organizer and canvass director, and a frequent participant and reporter on Organizers' Forum International Dialogues.