Winter 2020
Written by SP Editor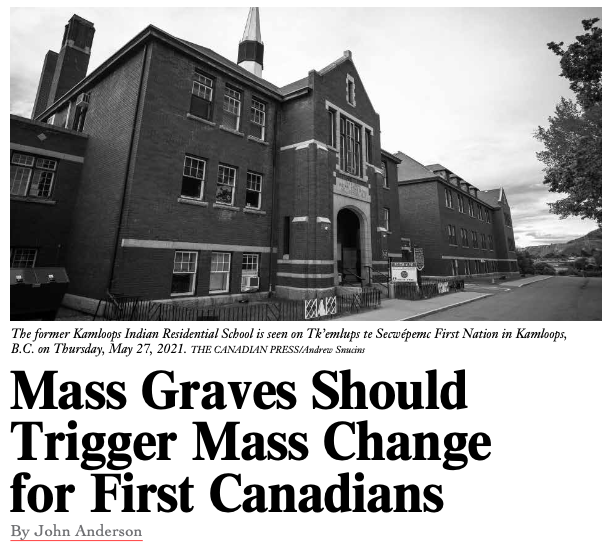 A mass grave of 215 Indigenous children was uncovered at the Kamloops Indian Residential School in British Columbia. The children,
one only three years old, were students at the school, but the words "kidnapped," "tortured," "imprisoned," "captives," and "stolen" would serve as more apt descriptions of this indisputable and genocidal horror, than the words "school" and "students." As far as we know, the deaths were undocumented by the government, and the children simply did not return to their families.
I was taught as a young boy that Canada assimilated Indigenous people into western culture. The textbooks given to me in the early nineties would say Residential Schools were not good, but also use the word assimilation to describe their purpose and effect. The curriculum I was taught never explained the horror and violence that was integral to the residential school's existence and role it had in the genocide of Indigenous people in Canada.
Canada's colonial history is deeply rooted, and whitewashed to the point that it is rare that the public can decipher clear atrocities like the mass murder that took place in Kamloops. The school I went to was Prince of Wales, named in 1876 after then Prince George V, who would later become the King of England presiding over the British iworld empire from 1910 to 1936. The town I'm from, Brockville, Ontario, is named after Isaac Brock. He was a general that led the British army in the War of 1812 against the Americans, as well being the Lieutenant Governor of the British Colony Upper Canada (now Ontario). The Queen is on all of our money, and while my son won't sing God Save the Queen at his public school, like I did at mine, the colonial history is central to Canada's existence.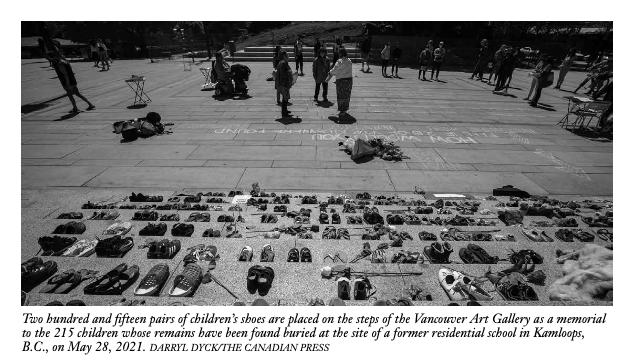 Residential Schools first opened in the 1830's, and were formally established in 1876 under the passage of Canada's Indian Act, which was later amended in 1894 to make it compulsory for all indigenous children to attend Residential Schools. Children were forcibly separated from their parents at a young age, then taken to the schools where they were violently forced to unlearn their own culture. The last residential school in Canada closed in 1996.
The reaction to the horrific discovery in Kamloops has been powerful and widespread. For non-Indigenous people it finally revealed the extent of the abhorrent practices that took place. The mass murder of children and attempt to wipe their existence from historical records by putting them in mass graves hits hard.
With that, the conditions seem unprecedented for a fundamental reckoning of Canada's abhorrent, violent, and genocidal past that hopefully goes far beyond bland acknowledgments happening before meetings or taking down the statues of Sir John A MacDonald.
The 215 children were found using radar detectors that are able to scan underground around the residential schools. One of the many recommendations of Canada's Truth and Reconciliation Commission was to conduct these radar scans at every residential school in Canada. Tragically, Canada's allegedly progressive Trudeau Liberal government never funded the radar scans. This first scan was done by the Tk'emlúps te Secwepemc Nation who paid for the project themselves.
The Canadian Government, woefully and eagerly ignorant as they are of such things, now say they will help do radar scans at the hundreds of residential school sites across the country. "Expect to find more" was a headline I saw this morning as the government is now preparing us all for something they knowingly did not very long ago.
Indigenous activists are skillfully revving up campaigns in the wake of what was uncovered in Kamloops. In the last decade there has been increasing solidarity between Indigenous activists and non-Indigenous activists on environmental and land claim disputes. Indigenous movements in Canada are an awakening for many of us, but supporting any demands or campaigns that come out in the wake of this will be transformative for progressives and all Canadians as we gain full consciousness of these horrors.
One can hope that Nations, like Tk'emlúps te Secwepemc, will be able to attract more attention to the long neglected and urgent issues that are faced in their communities. Necessities for life such as access to clean drinking water, remediation of contaminants left from resource development or energy projects, healthy and affordable housing, and good jobs and income for all Indigenous people are all desperately needed across the country.
The mass graves that will continue to be uncovered in the coming years will be a constant reminder to Canadians of our genocidal past and present. Here is hoping that the grief from this will result in concrete victories on First Nations reserves and the fundamental and systemic change that finally deals with Canada's genocidal colonial past.
JOHN ANDERSON is the Field Director for ACORN Canada. Since 2004 John has helped to develop the ACORN Canada operations in Toronto, Ontario, and British Columbia. He is a graduate of the University of Winnipeg.