Winter 2022
Written by Ellen Cassedy
"Secretaries Unite!" 
Excerpted from Working 9 to 5: A women's movement, a labor union, and the iconic movie, by Ellen Cassedy (Chicago Review Press, foreword by Jane Fonda).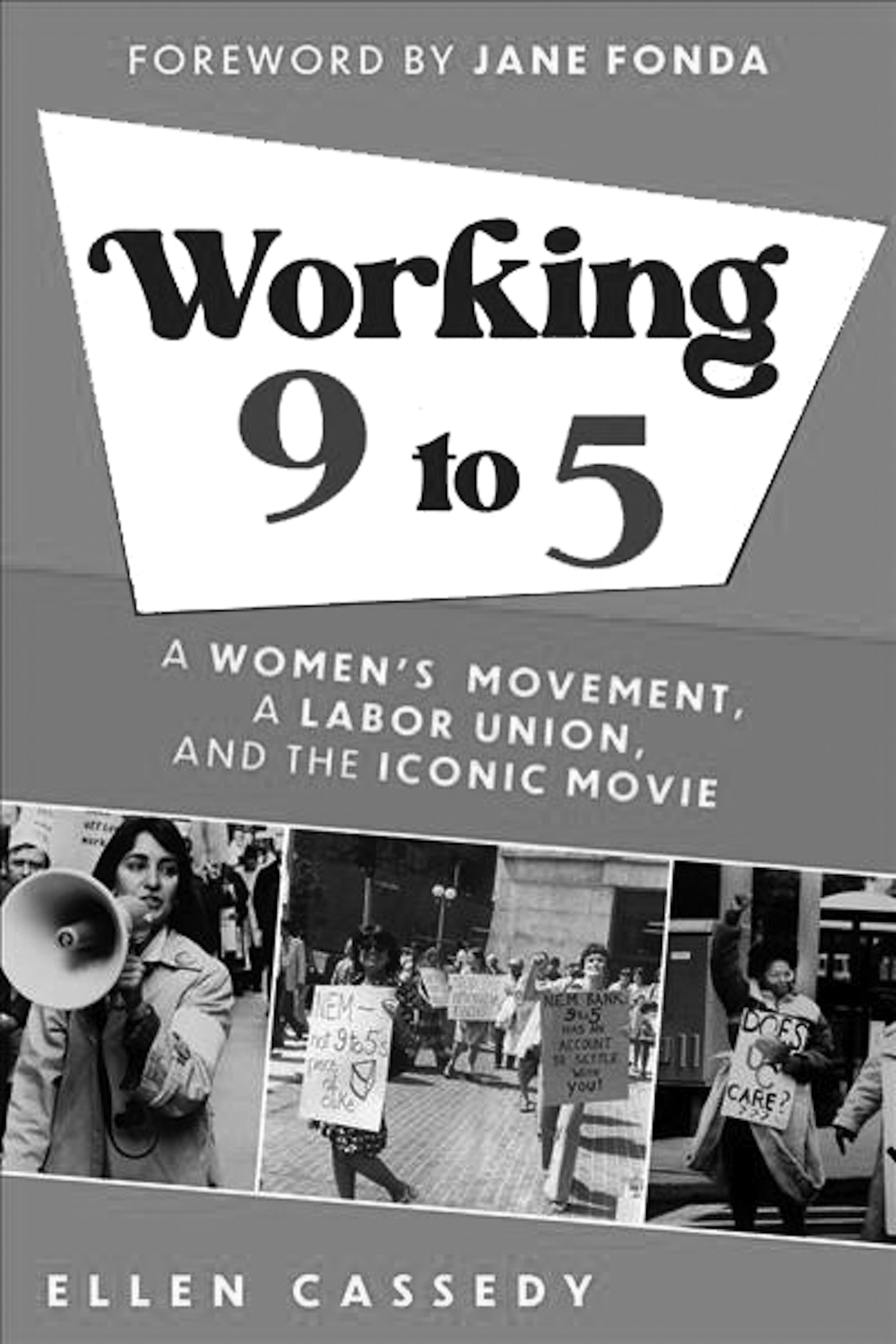 The stories we heard from women who worked at Boston's banks and insurance companies were the worst of all. Most workers in finance were women, and more than three-quarters of them held clerical jobs. Full-time bank employees didn't make enough to qualify for a mortgage or a car loan. Some earned so little that they were eligible for food stamps. We heard from insurance workers who couldn't afford to get sick. A full-time office worker at the John Hancock insurance company told us she'd been forced to give up custody of her child when a judge ruled that her salary was too low.
Banks and insurance companies had the assets, the expanding workforce, and the influence to take the lead in implementing enlightened employment policies. They weren't doing so. The problems were as clear as day. The solutions were obvious. The question was how to make it happen.
The barriers to organizing were huge. The industry's culture was so authoritarian that supervisors grabbed our leaflets right out of women's hands as they came in the door and explicitly warned them not to attend our meetings. People were scared.
How do get around these obstacles?  The strategy we came up with had three elements.
Element #1 was government pressure. We unearthed an obscure executive order that allowed the state insurance commissioner to regulate employment policies. The order had never been used, but our governor had just appointed a new insurance commissioner. We brought a few dozen women to his office at lunchtime, showed him the executive order, and urged him to use it to bring the insurance companies of Massachusetts into line.
OK, he said.
We sent a group of our members to work with the commissioner to draft standards for fair employment in the insurance industry. What they came up with included unisex job application forms, written job descriptions, job
posting, posted pay scales guaranteeing equal pay for men and women in the same job, no more dead-end jobs, new bridge jobs to create career ladders, and equal benefit plans for men and women.
The commissioner signed the regulations—the first of their kind in the nation—and the day they arrived in the mail at the 9 to 5 office, screams of joy filled the air.
Immediately, however, two insurance companies challenged the regulations in court and won an injunction. The new regs were moved to the "speedy trial list," and there they sat.
But government pressure was only part of our strategy. Now for element #2: creating safe ways for women workers to make their voices heard—to act as "whistleblowers," you could say. As soon as the new regulations were signed, we leafleted all the major insurance companies with a "scorecard" for employees to fill out and mail to us anonymously. "How well does your company adhere to the new standards?" We slapped the survey results onto a flyer tailored to each company.
Element #3 was public embarrassment. The finance industry was huge, wealthy, and powerful, but banks and insurance companies had an Achilles' heel: image was everything. Simply bringing women's grievances into public view would take us a long way.
The John Hancock Mutual Life Insurance Company was the largest employer in Boston. Of its six thousand employees, four thousand were women. More than 85 percent of the lowest-level jobs were filled by women. There were only six women executives, and none of them were people of color. Entry-level pay for file clerks and typists was at the bottom of the barrel. We issued a call for a 10 percent raise for all nonmanagement employees, full job posting (currently only lower-level job openings were posted), expanded training and promotion opportunities, and funding for day care for children of employees.
We taped leaflets inside the stalls in the ladies' rooms. We set up a hotline and reported what we were hearing in a newsletter called The Hancock Observatory. A full one-third of respondents to the survey we passed out said they'd trained men to be their supervisors.
We released a list of twenty-one organizations, churches, and unions that were endorsing our demands. Local unions that had invested their pension funds in the company wrote to Hancock management in support of our campaign.
By the end of a year of pressure, management had signed an agreement with federal affirmative action officials promising to increase hiring and promotion of women and people of color. The company set up a committee to develop career paths for all levels of employees and created a "complaint review process"—similar to what is known in union contracts as a grievance procedure. And the company announced that through the United Way, it would be donating $100,000 to three community childcare centers.
Finally, the company increased starting salaries for clericals by fifteen dollars a week and announced an across-the-board pay raise of 10.5 percent. It was the largest increase in company history—and more than we'd asked for.
We launched our campaign against the biggest bank in town, the First National Bank of Boston, on National Secretaries Day in 1979.
Immediately, a bank spokesperson announced that job posting would begin in six weeks. First victory at the First!
We rushed out a leaflet congratulating the bank for making progress and distributed it at lunchtime outside the building. We opened an anonymous hotline exclusively for First employees. The line immediately began ringing off the hook.
Within days, rumors of an across-the-board raise began circulating within the bank.
We invited churches, unions, and other organizations with accounts at the First to join a "shadow board" that would monitor the bank's progress toward fair employment. We demonstrated outside the annual stockholders' meeting. We asked mayoral candidates to pledge not to invest city funds at the bank until changes were made.
By the end of the "Year of the First," fifty-one women had been promoted to officer jobs. Training opportunities and vacation time had been expanded. And employees had been awarded raises of up to 12 percent, the largest increase in the bank's history.
Our three-pronged strategy – government pressure, "whistleblowers," and public embarrassment – had proved stunningly effective.
---
Ellen Cassedy was a founder of the movement.  Reach her at www.ellencassedy.com. 
Working 9 to 5 tells the story of the working women's movement that began in Boston in 1973, won millions of dollars in back pay and raises, started a woman-led union, expanded nationwide into a multiracial organization, inspired the 1980 Hollywood hit movie and Dolly Parton's toe-tapping song, and made countless bosses get their own coffee.