Available for Pre-Order from Social Policy Press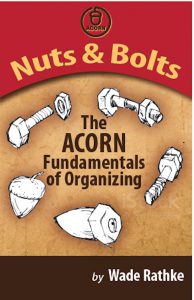 Wade Rathke shares almost 50 years of organizing experience with a look at the "nuts and bolts" of how ACORN was organized and able to build a mass membership and major victories in the United States, Canada, and around the world in plain language that can inform organizers, leaders, activists, and policy makers about how to change and build power.
$35 (plus  $4 shipping & handling)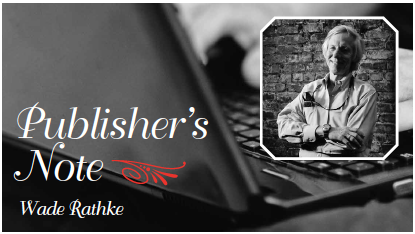 Wow what a couple of months we have had! Ongoing Trumpster antics, a scorching summer and then end-of-times floods and hurricanes, crises from top to bottom, Klan rallies and statutes toppling, war and the threats of war... doctor, doctor, we all need something now and bring it to us on the double!
Appropriately, we lead off with a piece that talks about the "unthinkable," which is almost a watchword for our times. In this case veteran organizer, Randy Cunningham, is talking about the "Q" in Cleveland, another one of these massive taxpayer subsidies of athletic venues for the super rich, in this case Dan Gilbert of Quicken and a big whoop from Detroit to the Cleveland Cavaliers. What is perhaps most "unthinkable" is not that Gilbert would line up at the taxpayer trough like every other owner, but that a grassroots community campaign had won, at least that was the story when I first got the piece from Randy. Within days he was reaching out to provide an addendum as defeat was pried from the jaws of victory. Greater Cleveland Congregations, an Industrial Areas Foundation affiliate and one of the key movers of the initiative drive stopping the project, made a side deal with the developers for a couple of mental health facilities, and pulled the petition. Unbelievable, but read the article to see the how and why.
Which is what we get next in a behind-the-scenes, we-were-there-in-Charlottesville piece by progressive city council member, Kristin Szakos and the rest of the story of that horror which now also defines our times. Kenya Lewis, a noncommerical radio activist, adds a unique perspective about the contribution community radio made to the post-Charlottesville dialogue, largely by doing what
they do every day, listening to people and giving them voice.
If Charlottesville was a shock, Jessica Early and Shay Totten provide a more pleasant surprise in a deep look at an organization many might not have heard about, but need to follow, called Rights & Democracy, which they describe as "a grassroots social, economic, health care, and environmental justice group based in Vermont and New Hampshire." Given the Sanders surprises last year, attention must be paid!
Away from the countryside, frequent Social Policy contributors and former organizers, Moshe ben Asher and Khulda bat Sarah, add another piece to their series arguing that community and local organizations need to build a movement around accessing and controlling power power and services. Let's bring the Non-Partisan League back into the organizing conversation again!
Bruce Boccardy, a former union leader, plays Paul Revere with a well-argued reminder of how difficult our future will be if conservative efforts to eviscerate unions and their dues payments succeed through pending court cases. Longtime contributor, Mike Miller, started with a review of James Foreman, Jr's recent book, but ended up with a long and thoughtful essay on police community relationships and where organizations and others can play a role.
We offer excerpts that flesh out some of these very concerns. Lane Windham, a former labor communications whiz and now scholar at Georgetown makes a case in the piece she share on 9to5, about the often overlooked excitement of labor initiatives in the 1970s from her new book, Knocking on Labor's Door. Of course we had to have something from any book that gives props to door knocking! We haven't forgotten about the international perspective either. Arthur Brooks in his new book, The End of Development: A Global History of Poverty and Prosperity takes a huge subject and comes to solid conclusions. The last excerpt probably had some readers scratching their heads, saying what is George Romney, former Republican governor of Michigan and frequent candidate for the Republican nomination for President in his day doing in Social Policy? Another surprise perhaps, but when Romney was HUD secretary he may have initiated some of the first – and last – efforts to weave affordable housing and diversity into the suburbs. Had he succeeded, America would be a different country.
Our columnists don't slack off of the shock and awe of the summer either. Phil Mattera reminds us of what we might be facing in the mega-merger of Dow Chemical and DuPont, and it isn't pretty. John Anderson reports from the north about the refreshing and progressive prospects of the new government in British Columbia led by the New Democratic Party. Backstory looks at the toxic mess of hurricanes and President Trump's immigration madness.
After this summer, we're all wondering, what next?