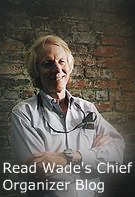 I was reading the publisher's note in a recent issue of Granta, the England-based quarterly of new writing. The issue was about the West, or what they called "the American Wild." The points about the West were confusing to me, but they included a charming reference to the publisher's first cross-country trip in the U.S. as a naïve seventeen year old, a fearless young woman with a boon companion on a great coming of age adventure. Her note also included an inarguable point, almost as a throwaway, to the effect that a journal invariably reflected the views and taste of the editor.
The Fall issue of Social Policy certainly makes that point in spades! I have fulfilled a long-expressed promise to Aaron Schutz and Mike Miller, the co-editors of People Power: The Saul Alinsky Community Organizing Tradition¸ which is largely a collection of readings, that when their volume was ready, we would include some generous excerpts to make sure that readers understood the work and thinking of some of the great community organizers over the last more than fifty years. In many ways this is more of a montage of segments than our usual excerpts. We could have as easily just presented a couple in a number of issues, but while working with a colleague from ACORN Canada to do some organizing and training in England and Scotland this last summer, I was surprised when this crack community organizer admitted really not knowing who Saul Alinsky was. That is easy enough to fix, but it was like cold water hitting me in the face. If she didn't know Saul, then how could she imagine the contributions made by Fred Ross, Sr., Cesar Chaves, Delores Huerta, Tom Gaudette, Shel Trapp, John Bauman, Ed Chambers, Arnie Graf, Dick Harmon, Heather Booth, and so many other great organizers who, whether we agree or not, have shaped our work and taught us all both in action and reaction? For my part it is not a matter of my standing on some of their shoulders, which no doubt I have, but also my commitment to honor their work and legacy and the pride I have had to know so many of them and stand shoulder to shoulder with them for so many decades in doing the work. As we learned from Willie Loman, "attention must be paid," and so we do with respect and thanks to Miller and Schutz.
And, if we're going to look back, then we want also to look at what is happening now. David Bacon, an always valued contributor, has favored us with an insightful, and deeply personal, reflection and analysis of the forces behind the headlines about children from Central America crowding the U.S.-Mexico border. A new tag team of contributors from North Carolina, Jim Hickey and Alicia Araya, has joined us in another giant leap, as they try to pull at the puzzle pieces beneath the surface in the current crisis in Ukraine. This won't be the last we hear from them!
With respect to organizing, Paula Fynboh developed a piece for us based on her research at Tufts into organizing communications. Visiting Little Rock and driving along the Wilbur Mills Expressway, I stumbled on a paper by Darcy Pumphrey that she had done for the masters' program at the University of Arkansas at Little Rock on ACORN's fight to stop construction, which she has now developed into an article for Social Policy.
Besides the excerpts from Schutz and Miller, we also have a timely excerpt from Tom Gallagher's book about his experience in California schools as a substitute teacher with some hard-won, field-tested observations about the impact of student suspensions. We appreciate that our old friends and frequent contributors, Gregory Squires and Chester Hartman, allowed us to excerpt an essay on the Occupy movement from their recent book From Foreclosures to Fair Lending, which John Atlas has also reviewed for this issue.
We have the usual excellent columns from Phil Mattera on Payday Predators, Noorin Ladhini on Computer Code, John Anderson on the surprising attack by of the Canadian government on nonprofits, and my own piece about the age-old organizing debate between art and craft. We even leaven all of this with a couple of nicely turned political poems by Nathalie Kuroiwa-Lewis.
For my money this is a great issue, because it was such a joy to put together. I'll be interested in hearing whether or not you, our readers, enjoy it as much as I have. Here's hoping!