Available for Pre-Order from Social Policy Press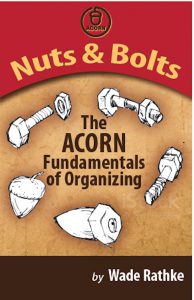 Wade Rathke shares almost 50 years of organizing experience with a look at the "nuts and bolts" of how ACORN was organized and able to build a mass membership and major victories in the United States, Canada, and around the world in plain language that can inform organizers, leaders, activists, and policy makers about how to change and build power.
$35 (plus  $4 shipping & handling)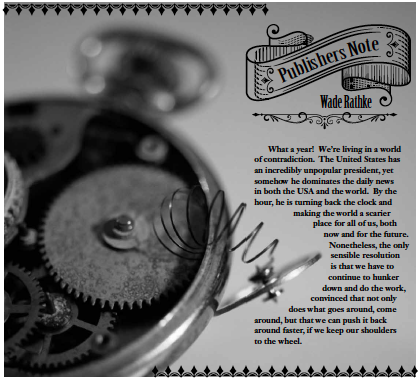 And, that's what this issue does to end the year: it hunkers down. To paraphrase the quote from Mary Rowles' excellent piece on the hard road that unions – and others – have to travel to achieve reconciliation with Aboriginal people, in Grand Chief Steward Philip's words, this is "not for wimps." Or as the case study of a surprising victory by ACORN in Bristol, England in preventing an increase in local taxes proves, it takes creativity, persistence, and constant vigilance. As Lyuba Batembergska writes of the fight to preserve the last of the undeveloped beachfront along the Bulgarian Black Sea, we also have to be willing to face the odds and keep fighting in the same way they are confronting both developers and the local governments there. As regular contributors Moshe Ben Asher and Khulda bat Sarah argue it also depends on deep leadership development able to master "swimming with sharks." They're all around us!
That's certainly what this year's Organizers' Forum delegation reports from their International Dialogue in Morocco where they met activists, women's organizations, unions, artists, political partisans, community based groups and others in Rabat and Casablanca, and heard about many "sharks." They were inspired by the courage and commitment of women and political activists, while enraged and saddened in meeting the families of political prisoners now being held for years for actions many of us  might have thought mundane in Europe or North America, like posting a video on a blog. A simple whistleblower in the West is a political threat in Morocco. As the reports indicate repeatedly, this was a different country than we expected to find, and that's why the Forum continues to embark on these journeys, and, thankfully for our readers, reports back as they do in this issue.
The excerpts from recent books included in this issue are clear that there are paths forward. Professor Goldsmith argues that the cities are the laboratories for change, and given the progressive stalemate nationally, that's good advice. Organizer Gordon Whitman plants the signposts to help us navigate the road to social change and survival in these times. Professor Bryant Simon in his harrowing tale of the tragedy of the Hamlet Fire in North Carolina reminds us why the fight against the dilution of regulations and the evisceration of government allowing business and industry to have their way in the most brutal displays of capitalism and competition, have to be opposed.
Our columnists weigh in on the need to dig in as well. As Phil Mattera argues, corporations need to be named and shamed for their behavior: no spinning accepted. Noorin Lahdini reminds us that the brave new future cannot be trusted in the hands of Facebook and its profit maximization strategy which knows no limits or boundaries, while John Anderson draws some hope in the election of new political leadership in Canada, if we are willing to do the work with people directly and recruit them into participation, and I join him in seeing hope as well in the willingness of women to stand up and demand change in our culture and society.
The message from 2017 going into 2018 has to be that Trump is temporary, but real social change around the world is permanent, if we keep at it. Let's make that our resolution!