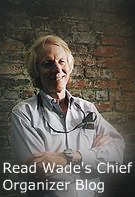 There's no doubt that progressives in the United States have slightly more spring in their step as the results of the midterm elections are still be absorbed. After a long undertow since 2016, it was definitely surf's up! Not that there was really a sea change, but at least with the shifting control of the House of Representatives there was finally a barrier island against the Trump tsunami. Governor's races in some cases were also encouraging, especially where legislatures are willing to actually respect the will of the voters.
Trump definitely knows he is now in trouble on many fronts, just as we must realize that with every day of his administration, we are watching seismic shifts in programs where there has either long been deep consensus or where we might have thought we made progress under the Obama administration. The front-page headlines may be full of his problems, tweets, and incipient crises, both domestic and foreign, personal and political, but the back pages are full of our collective problems as programs are gutted, agencies are disgorged, rules are rewritten, and initiatives around the environment, the safety net, healthcare, and so much else are clawed back.
Too many politicians are focused already on 2020, but even as we prepare for the end of the year and hope for some holiday peace and quiet reflection, our contributors are mindful that the fight is still in the trenches to protect and advice the rights and standing of people. There's news, good and bad, on that score, as they write, but there are also directions they point that are worth taking.
Kim Harman shares the story of community organizations with local leaders and allies rallying to create a state bank in…American Samoa of all places. If that wasn't a big enough surprise, the fact the Federal Reserve Bank was on the right side of an issue for a change gives hope in and of itself. In another look at the current impact and interest in the work and thinking of political philosopher, Murray Bookchin, Moshe ben Asher and Khulda bat Sarah examine the application of his thinking on radical municipalism in practice and theory, and although they find it interesting, they also find it wanting, especially in the domestic context.
Paraguay is a landlocked country in South America that turned out to have endless fascination for the Organizers' Forum's delegation. Reports by Doug Dykens, Willie Cosme, Ode Lunardi, Tyler Lewis, and Andrew Marciniak look at developments in labor, education, social and economic development, housing, indigenous rights, and communities that will both educate and surprise.
Keeping our readership current and engaged, the excerpts from new works go to the heart of the policy questions before us in these times. Emily Bloch, an organizer who ran the Merrimack Valley Project's immigrant rights campaign in Lawrence, Massachusetts, shares an informative case study based on her successful experience in that campaign, which is taken from the thirty essays of Campaigns: Lessons from the Field, the latest publication from Social Policy Press, one of our sisters at Labor Neighbor Research & Training Center. Author and veteran's health expert, Suzanne Gordon, deliberately challenges the new Democrats in the House over whether they will protect veterans' healthcare which is under assault as she details in her new book, Wounds of War. Randy Shaw is no stranger to these pages as a tenant organizer and advocate, as well as an author, but his new, hot-off-the-presses book, Generation Priced Out, looks around the country at the ravages of gentrification as does his essay included here, "Post-Boom San Francisco," examines its bleeding edge. Finally, in our excerpts selections, a new voice, Edgar Villaneuva, speaks fiercely and frankly from inside the gilded cage of foundations and what he refers to as the "plantations" of the rich, to talk about the problem of "house slaves," meaning foundation staff, being touted as diversity, but having their voices stifled in conformity to the wishes of their donors and institutions.
James Mumm offers a superb review of three books, two of which, one by Bond and Exley and the other by Whitman, we have excerpted earlier, and argues that they collectively outline a middle ground for organizing progress. Whether you have read the books or the earlier pieces or not, we guarantee that you will find Mumm's argument engaging – and challenging.
We've added a new regular columnist to our concluding section, Drummond Pike, the founder and former CEO of the Tides family of philanthropic and service organizations, who knows that Money Matters. Last issue, he challenged the tendency of the rich to establish donor advised foundations (DAFs) as little more than a tax dodge with limited to nonexistent accountability to the public or state. In the current column, he argues that we need to take away the cap on FICA for the millions of upper middle income and above earners in order to achieve equity and justice, as well as needed revenue. In his column, Phil Mattera notes that corporate harassment based on racial and sexual grounds is commonplace with over 300,000 cases filed in the last eighteen years, but that movements like #MeToo and the Fight for Fifteen through lawsuits, publicity, and direct strikes, may finally be turning the tide with collective action rather than individual initiative. John Anderson brings us some good news from the north with a story of organizational and political success in protecting affordable housing from the "demovictions" of speculators and gentrifies in the embattled working-class bedroom communities of Vancouver. I add some notes in Backstory on the everyday challenges of water both writ large in climate change concerns and an everyday concern in low income communities and slums whether in Paris or Kampala.
No matter what happens with the clown on the front of the stage, backstage where the fighting is most intense, we have to be there every day and, in every way, that we can be effective. Readers will find this issue useful in the fight.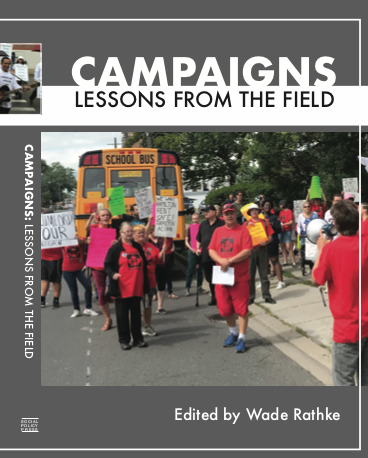 Campaigns: Lessons from the Field outlines how issue-based campaigns build peoples' power and deliver victories, with sections on Jobs, Income, Health, Housing, Rights and Safety, Taxes and City Services, Land and Resources, and Development.
Essays include contributions from Nik Belanger, Lew Finfer, Mike Miller, Drew Astolfi, Claire Gallagher, Bill Pastreich, Steven Kest, Judy Duncan, LeeAnn Hall, Zach Polett, John Anderson, Marva Burnet, Davin Cardenas, Adrien Roux, Randy Shaw, Dine' Butler, David Tozzo, Beth Butler, Ruth Rinehart, Joe Szakos, Emily Bloch, Nick Ballard, Anny Cullum, Robert Fisher, Fred Brooks, Daniel Russell, Eloise Maulet, Dominic Moulden, Gregory Squires, Randy Cunningham, Darcy Pumphrey, Kenneth Reardon, Antonio Raciti, and Wade Rathke, who also served as editor for the volume.
If you want to move an issue to a solution, you need a campaign and Campaigns: Lessons from the Field details the way it is done by community organizers and community organizations every day working in field. Paperback $15 (plus shipping).
You can also purchase on Amazon
or direct from Social Policy Press