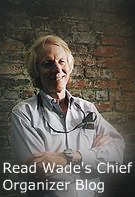 Having survived the United States presidential election and breathed a sigh of relief with Obama's victory, we then teetered on the fiscal cliff, barely making it once again, until we were sequestered. Is this any way to live? I don't think so! Is this any way to run a railroad? No way!
But, at least in Washington, we seem to be finally in the fight now, which was confusing to many of us in the past, and this issue of Social Policy is all about fights and how to win them on the ground, on the air, in the workplace, and even on the internet.
The struggle to save the last 500 units of public housing in Memphis, Tennessee, probably makes many of our readers feel a bit nostalgic after more than twenty years of the federal government's shrinking the number of public housing units in city after city. I first met with representatives of the Vance Avenue Collaborative and related groups trying to save historic Foote Homes as a facilitator for their long-term planning at the Highlander Center and have visited with them over the last year whenever I was anywhere close by. This case study is worth reading, though because, believe it or not, the odds have shifted from impossible to about 50-50. HUD should be ashamed to have allowed the chicanery to go this far, and Ken Reardon is perhaps too professional in his piece, but he has been a warrior in helping this hardy band bring this battle so close to victory. When Professor Reardon was at Cornell, he was our partner in rebuilding New Orleans after Katrina, so Memphis won the lottery this time now that he is behind the barricades at the University of Memphis.
Aziz Choudry and Eric Shragge are two scholars and activists from Montreal, and we were fortunate that they were willing to share a "second draft of history" with Social Policy on the lessons learned from the literal barricades and marches of the students on strike in 2012. Let's hope the Maple Spring is flowing down south this season!
The political scenery around the world is constantly shifting around neo-liberalism as well. The reactions in Italy to the European calls for austerity are producing dramatic political reverberations, as Laura Sajik from the University of Catania in Sicily reports in an excellent election postmortem. The long term economic crisis in that country could finally tilt from the tragic to the absurd to something more hopeful.
With the passing of Venezuela's Hugo Chavez's, Ecuador's Rafael Correa, fresh from a stunning election victory in mid-February, becomes an even more important barometer of progressive change in Latin America. Having spent significant time in recent months in Quito, I join with Marcos Gomez to offer some reflections on Correa's efforts to concentrate power and to hold widespread support with progressive economic policies fueled by continuing high petroleum-based prices.
Daniel Rossides may be a retired Sociology Professor from Bowdoin, but he is still working overtime to help all of us understand some of the current contradictions at the heart of the United States economy. Every time I read his essay on what he calls our "rent-based oligarchy," I enjoyed it more and marveled at the depth of his insights. This would not have been the first piece I picked up from the pile, but perhaps it should have been!
We have a special section this issue on Jane McAlevey's book, Raising Expectations and Raising Hell, where she takes a look at her ten years as a labor organizer. I've known Jane for years, so at first I made a mental note that she had a book coming out that I should read, and thought no more of it. Once it was published, the next thing I knew, in the regrettably small world of progressive labor organizing, Jane was the woman who kicked the hornet's nest. People wanted to submit reviews to Social Policy, and I hadn't even read the book. Organizers were for, against, and often both for and against simultaneously. After struggling with this for months, the compromise that satisfied me and I hope Social Policy readers is running an excerpt from the book, one review that is mostly favorable and another is a little less so. Both of the reviews are from veteran labor organizers. After first suggesting that we print the "Epilogue," which is part of where the bees were buzzing, I instead let Jane pick an excerpt she most wanted people to read and that she felt best presented the work which made her write the book.
Trying to find a "happy medium" is rarely the Social Policy way and probably means everyone will be mad at how it was handled, but not only does this seem the fairest way to handle this to me, even more so it takes the work seriously that Jane, Dana, Peter, and thousands of us do, and I can sleep well on that account if no other.
Aaron Schneider was a Tulane University professor in New Orleans and now is connected to the University of Denver and on his way to India for six months, but in working with him on a fascinating project that seeks to unravel the shadow government in New Orleans and its relationship to the power structure, I managed to pry from Aaron a piece that he had written about the economic direction of the city as he tried to sort out his own thoughts about post-Katrina New Orleans. We went long on this piece because I think you will find it speaks to the contemporary urban dilemma more than just this piece of geography.
For many, keeping up with labor and its many struggles around the world starts with Eric Lee and his LabourStart website and updates. When I read that Edd Mustill and he had written about what LabourStart had learned about internet and other solidarity campaigning for labor, I sought him out. The tips in this except from their recent book are solid. Go and do likewise!
We have the usual great columns with Phil Mattera tabulating the rap sheet on corporate criminals from last year, Noorin Ladhani noting the passing of an internet and open information pioneer, and John Anderson bringing a new movement for native rights, Idle No More, to all of our attention, while finally I go backwards and reflect on whether or not we are getting as much as we should from community-based radio.
It's spring now. Time is literally changing. We need to put a spark in our steps and suit up for the fights that mark the season and our opportunity to see change.