Written by GREGORY D. SQUIRES
Among the many casualties of the Trump election may be the demise of the Consumer Financial Protection Bureau, a key piece of the Dodd-Frank Wall Street Reform and Consumer Protection Act designed to protect consumers from the abuse that was so rampant during the recent financial crisis. "We have to get rid of Dodd-Frank" Trump told Fox News in October. Whether he is able to keep this promise, or whether he will even try, remains to be seen. In any case, the future of the CFPB is by no means guaranteed.
With the world's worst economic crisis since the Great Depression fading in the memory of many, debates continue to rage regarding the causes, consequences, and appropriate responses. We know that the economic costs included more than five million homes lost to foreclosure, a $20 trillion loss in household wealth and 9 million lost jobs. A significant contributing factor, if not THE most significant factor, was a wide range of fraudulent, unfair, and deceptive practices by financial service providers who exploited vulnerable consumers. A critical piece of the response was the creation of the Consumer Financial Protection Bureau. Michael Barr, University of Michigan law professor and one of the Obama Administration's chief architects of the Dodd-Frank Wall Street Reform and Consumer Protection Act when he served as U.S. Department of the Treasury's assistant secretary for financial institutions, observed "we got what we needed and the CFPB worked really well." Five years out, perhaps the critical question is, was he right? This question becomes even more salient in light of the recent election.
The answer is, probably, but it depends. The Bureau can point to many achievements in terms of it's rule-making activities, the money it has recovered for victims of abusive practices, and changes that have resulted in some industry business practices. But a critical lesson that recent years have taught us is that the CFPB has always been contested terrain, and likely will be for years to come. From the earliest discussions of just the idea of an independent consumer watchdog, to observations of its first five years of operation, and on to debates over what the future should hold, there has been vigorous debate over what should be done.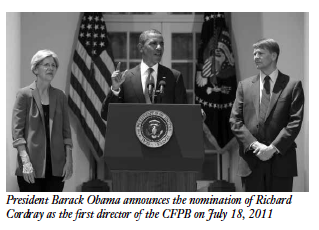 It is important to recall that the CFPB is an invention that was created on the fly as the crisis was being played out. There was no real blueprint and it was given many mandates to be achieved in a tight time frame. Though the brainchild of Elizabeth Warren it got off and running because it attracted many highly skilled and committed people from various backgrounds. Veterans from regulatory agencies, consumer advocacy groups, financial service providers, and elsewhere were eager to make this work. And it had an ambitious agenda.
Three broad strategies provided the framework. First, consumer protection would be consolidated in this one agency and that would be its sole mission. Previously this function had been carried out in a fragmented fashion by several agencies that all had other higher priority (and often conflicting) missions. Second, consequently it would improve the tools and skills devoted to consumer protection. Third, it would extend the boundary of consumer protection to many service providers (e.g. independent mortgage brokers, investment banks) that had not previously been supervised or regulated by any federal agency.
The broad sweep of the strategic objectives was matched by the wide ranging responsibilities that were granted to the agency including the following: writing rules and regulations pertaining to consumer protection, supervising financial service providers and enforcing applicable laws and related legal requirements, receiving and investigating consumer complaints, promoting financial education, conducting research on consumer behavior, and more.
But, again, there was no blueprint. Offices within the Bureau had to be created. People had to be recruited. Priorities had to be set. The Bureau has achieved some important victories. At the same time, challenges clearly remain.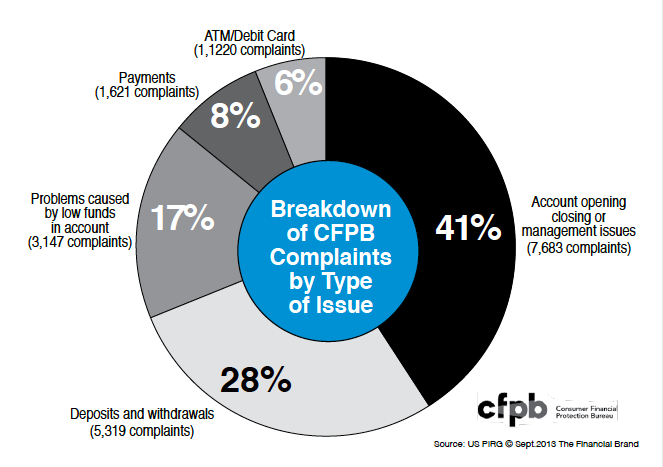 Victories
Perhaps the most significant sign that the Bureau is accomplishing much of what it set out to do is its often-repeated reference to the $11 billion in restitution it has recovered for more than 25 million consumers during its first five years, numbers which jumped to $11.7 billion and 27 million by July 2016. (See, Consumer Financial Protection Bureau (July 2016). "Fact Sheet") In addition to the monetary relief, these settlements also incorporated important changes in the business practices of lenders.
These victories include settlements of several discrimination complaints against indirect auto finance companies. (Auto dealers themselves were exempt from Dodd-Frank.) Ally Financial Inc. and Ally Bank, Fifth, Third Bank, and American Honda Finance Corporation are among those that agreed to widely reported multi-million dollar settlements with CFPB in collaboration with the U.S. Department of Justice. In addition, both Fifth Third and Honda agreed to cap the discretionary dealer markup rate to a maximum of 1.25% for auto loans with terms of five years or less and 1% for longer terms, or move to non-discretionary dealer compensation. (See, Consumer Financial Protection Bureau (April 2016) "Fair Lending Report of the Consumer Financial Protection Bureau.") The auto dealer exemption under Dodd-Frank and the discretionary markups by dealers remain contested issues. But the Bureau has achieved significant success in compensating victims of abusive lending in this area.
The Bureau can also point to important progress in its rule-making. A key contributor to the financial crisis was the origination of loans to consumers who lenders knew (or should have known) would not be able to repay them. One of the earliest objectives of the Bureau was to assure that adequate underwriting would be required to avoid this scenario in the future. The critical balancing act was to promulgate rules that would be stringent enough to protect consumers but not be so strict as to cut off the supply of credit and would in fact expand access to credit. And it appears the ability-to-repay and qualified mortgage (ATR-QM) rules have done just that.
Challenges
Yet problems persist in the nation's credit markets. Student loan debt and household debt generally create news headlines seemingly every day. Traditional redlining practices appear to be making a comeback as the Department of Justice reported in late 2015 that it had more active redlining complaints than at any other time in the previous seven years (See, Swarns, R.L. (October 31, 2015). "Biased Lending Evolves and Blacks Face Trouble Getting Mortgages," New York Times. http://www.nytimes.com/2015/10/31/nyregion/hudson-city-bank-settlement.html?_r=0). There are more than 650,000 complaints in the CFPB's complaint data base. (See, Consumer Financial Protection Bureau. Consumer Complaint Database. http://www.consumerfinance.gov/data-research/consumercomplaints/ (November 3, 2016).) They involve mortgage and automobile loans, servicing issues, and other types of financial products and services. These challenges suggest some additional steps that can be taken to address ongoing issues.
• In the area of auto lending, Congress should eliminate the auto dealer lending exemption from Dodd-Frank.
• Auto dealers should be required to disclose to consumers the buy rate (the interest rate required by lenders) and the discretionary dealer mark up (the additional amount dealers often add on to the lender requirements).
• Mortgage lenders should be required to comply with a duty of suitability, similar to that which applies to investment advisers, obligating them to act in the best interests of the borrower. This would be an obligation that extends beyond what current ATR and QM rules require. It also is broader than the obligation brokers generally have to recommend products that are consistent with the best interests of their clients. This would even require that mortgage lenders put borrowers' financial interests above their own. (See, Furmann, R.C. (2016.) Investopedia http://www.investopedia.com/articles/ professionaleducation/11/suitability-fiduciarystandards.asp (last accessed July 5, 2016). McCoy, P.A. (2004), "Predatory Lending Practices: Definition and Behavioral Implications," in Squires, G.D. (editor) Why the Poor Pay More: How to Stop Predatory Lending. Westport CT and London: Praeger. Engel, K.C. and McCoy, P.A. "A Tale of Three Markets: The Law and Economics of Predatory Lending," Texas Law Review 80 (1255-1367).)
• Each month the CFPB should provide all members of Congress with a short report on all complaints it received from residents of each member's district. This would help educate the public about ongoing concerns while bolstering political support for the CFPB.
But achieving these objectives requires recognizing challenges that remain. Some of these involve logistical issues that the Bureau can address internally. Others involve the broader political environment in which it is embedded.
One challenge is attracting staff with appropriate experience and skills. When the Bureau opened its doors the crisis was fresh in everyone's mind. The enormity of the crisis and the innovation of the CFPB made it an attractive place to be. But as the agency matures and as the crisis fades further away in time and memory (if not in fact), attracting the right mix of people may become more difficult.
A related issue is the Bureau's ability to work with other federal agencies, state and local law enforcement organizations, advocacy groups, industry representatives and others. It has collaborated effectively with DOJ on several cases. More, and more effective, collaborations may be essential to enhance the power of the Bureau and, more importantly, nurture more comprehensive and sustainable consumer protection generally.
The trickiest relationships may be those the Bureau attempts to maintain with the industry. This involves a number of balancing acts. As noted above regarding the ATR-QM rules, an ongoing balancing act across all credit markets is the effective protection of consumers while assuring effective access to credit. No agency or collection of agencies can police every transaction. Meaningful consumer protection requires voluntary compliance on the part of most financial service providers. It is essential that they understand and buy into the goals of the CFPB. Effective internal industry compliance systems must be in place. Cooperative working relationships between the CFPB and the service providers it oversees is essential.
Yet conflict at some points is inevitable given the mission of the Bureau. Regulators and regulatees are rarely on the same page in all circumstances. Perhaps the origins of any differences are also rooted in competing perspectives of the causes of the crisis in the first place. The approach of the Obama Administration, culminating in Dodd-Frank and the CFPB, was predicated on the perspective that irresponsible if not unfair and deceptive practices by financial services providers were at the core and the fundamental solution requires closer oversight and regulation of industry practices. Others have argued that too much regulation, and particularly well-intended but misguided efforts to steer more credit to low-income and minority consumers and communities, created the crash. (For example see Wallison, P.J. (2015). Hidden in Plain Sight: What Really Caused the World's Worst Financial Crisis and Why it Could Happen Again. Encounter Books.) No doubt a combination of material and ideological differences have shaped these debates.
The broad outlines, as well as some of the on-the-ground details, of specific concerns rooted in competing perspectives manifested themselves in the earliest discussions of the CFPB and have persisted through its first five years. No doubt they will continue for the foreseeable future. Much criticism has focused on the way the Bureau's budget and leadership have been structured. Financial service providers and their friends in Congress have long protested the fact that the Bureau receives its funding directly from the Federal Reserve rather than via Congressional appropriation with all the oversight and power that entails. They also have expressed their preference for the Bureau to be led by a commission rather than a director.
To illustrate, on October 11, 2016 a three judge panel of the DC. Circuit Court of Appeals ruled unanimously in the case of PHH v. the Consumer Financial Protection Bureau that the independence granted the director of the CFPB in its current structure was unconstitutional calling for the director to report to the President. In its October 12 editorial "The Unconstitutional Mr. Cordray" the Wall Street Journal (A-12) referred to this decision as "a triumph for democratic accountability." Consumer groups disagreed. For example, Brian Simmonds Marshall, policy counsel for Americans for Financial Reform (a coalition of over 200 civil rights, consumer, and labor-oriented community groups), asserted, "There is a need for the banking regulators and the financial regulators to be able to make independent judgments on the merits, outside of the needs of the electoral cycle and concerns about blow-back from one lobby or another." (see Marte, Jonnelle. (October 12, 2016). "Consumer agency's structure is ruled unconsitutional," The Washington Post A-13.) This decision is likely to be appealed.
No doubt at least some of this is politically motivated. It is doubtful the industry would have the same concerns if a Republican president were to appoint the director. And under those circumstances those who support the director today might see the wisdom of a commission.
Other points of contention arise as the industry attempts to weaken the Bureau's rule-making initiatives, protest some of its enforcement actions and attack other Bureau activities. A fundamental critique was levelled by Jeb Hensarling, Chair of the House Financial Services Committee, when on the fifth birthday of the CFPB he told the American Enterprise Institute that the crisis was the result of "dumb regulations" and claimed the Bureau had made the banks less stable, the nation less prosperous, and the population less free. (see Hensarling, J. (July 21, 2015). Presentation to the American Enterprise Institute.
In June 2016, he subsequently introduced The Financial CHOICE Act that would weaken the CFPB's ability to meet its mandate. Among the "reforms" that it would introduce, this bill would replace the director with a five-member commission, give Congress oversight of the Bureau's budget, reduce its rule-making authority (e.g. repeal auto lending guidance) and require a cost benefit analysis of all proposed rules, and provide an off-ramp from Dodd-Frank generally. (See, The Financial Choice Act, (June 7, 2016). In a Trump Administration, with Republicans in control of the House and Senate, suddenly the prospects for passage of this bill, if not repeal of Dodd-Frank and elimination of the CFPB altogether, look much brighter.
The financial services industry will always have its army of well-healed and highly-skilled lobbyists. But there is a consumer protection infrastructure that has emerged. Organizations like the Center for Responsible Lending, Consumer Federation of American, Americans for Financial Reform, Consumers Union, National Fair Housing Alliance, National Community Reinvestment Coalition, Center for American Progress, and many more have become effective players in these debates. They have been aided by supportive foundations, reporters, faith-based organizations, scholars, elected officials, and some within the industry itself. (See, Kirsch, L. and Mayer, R.N. (2013). Financial Justice: The People's Campaign to Stop Lender Abuse. Santa Barbara: Praeger. Sidney, M.S. (2003). Unfair Housing: How National Policy Shapes Community Action. Lawrence: University of Kansas Press. Squires, G.D. and Chadwick, J. (2009). "From Redlining to Reinvestment: Economic Justice Advocacy, ACORN, and the Emergence of a Community Reinvestment Infrastructure," in Fisher, R. (ed) The People Shall Rule: ACORN, Community Organizing, and the Struggle for Economic Justice. Nashville: Vanderbilt University Press.) Squires, G.D. (ed) (2003). Organizing Access to Capital: Advocacy and the Democratization of Financial Institutions. Philadelphia: Temple University Press.)
One question is the staying power of these groups. Particularly as we get further away from the height (or perhaps depth) of the crisis and as they turn their attention to other challenges that the Trump Administration will no doubt present, it remains to be seen how long and how effectively they will engage in financial services consumer protection matters. The sustainability of the CFPB as an effective force for consumer protection, and for the consumer protection movement generally, may well turn on the staying power of these oppositional forces. As Elizabeth Warren has concluded, "For me, the watchword is vigilance. Together, we must make sure the agency can do its job."
To return to Michael Barr's observation about the Administration getting what it needed and the CFPB working well, and the question as to whether he was right, overall he was correct. Certainly the Bureau was given at least some of the tools that provided the opportunity for it to pursue and, so far, accomplish much of its mission. If accompanied by the requisite eternal vigilance going forward, perhaps that is all that could be asked.
Gregory D. Squires is a Professor of Sociology and Public Policy & Public Administration at George Washington University and co-author, with Larry Kirsch, of the forthcoming book about the CFPB's first five years, Meltdown: The Financial Crisis, Consumer Protection, and the Road Forward, to be published by Praeger in Spring 2017.