Written by DAVID J. KARJANEN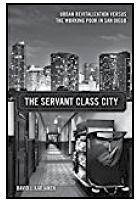 A significant challenge facing low-income workers in terms of job seeking is the need to keep up with employers' shift toward web-based hiring. As employers increasingly move toward electronic, primarily web-based, human resources management, this includes not only managing one's personnel records, but also applying for jobs and even applying for promotions. What is particularly a problem for the urban poor is that many of the entry-level positions in the city for lower-skilled workers (retail sales, cashiers, and even restaurant positions) are increasingly with major retail or restaurant chains, and these jobs are shifting toward Internet HR management (even McDonald's has switched a preference to online employment applications). This poses a new challenge for people seeking employment among urban poor and minority communities, and the trend appears likely to grow. An HR manager at a major retailer explained to me that it is an excellent prescreening tool: "If someone can get on a computer, speak English, upload a resume, has an e-mail address, types in their ID information. . . it saves us a lot of time in the scheduling and interview process. We can eliminate a lot of basic questions right away simply because we know they have navigated our hiring page and submitted an application."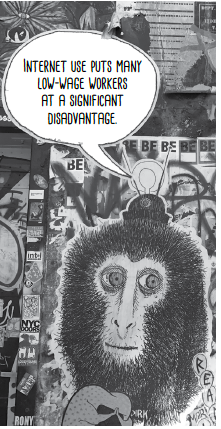 Research on this digital divide in job searches shows that there is a clear and growing trend of job search activity among whites, with nearly double the rates of Internet access, job searching, and successful Internet-based job searches (Kuhn and Skuterud 2000). The barriers here for many low-income job seekers are multiple. First, there is a persistent digital divide among poor and minority communities in the United States (Warschauer 2004), with fewer Internet connections at high speed (the speed required to apply for a position generally), and fewer computer literacy skills. This is particularly pronounced in rural areas, but it affects urban communities as well, as local resources, such as public libraries, often are not equipped for Internet demand or for assisting users with computers if they do not already have the skills to use the Internet (Healy 1998). Overall data show that nationwide half of poor households have personal computers and 43 percent have Internet access (USEIA 2011), while in central San Diego communities the figure is slightly higher: 52 percent have computers, and 45 percent have Internet access. One of the drawbacks of these data, however, is that they do not clarify what types of computer and what type of Internet access are available. Many people have only partially working or outdated equipment that will not run the Internet browser required for some websites, and many have low-speed connections, making job applications and searches virtually impossible. Overall, less than half of lower-income residents of central San Diego have these resources, and when broken down across racial lines the figures drop much further for African Americans and Latinos.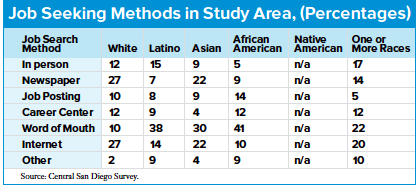 The consequences of this trend are that many minority communities and the poor in the United States are becoming increasingly isolated not just from information technologies, but older, recent immigrant, and other populations may increasingly be unable to access many formerly non-Internet-based employment resources (Hogler, Henle, and Bemus 1998). Although job placement and career preparation programs and schools do provide readily available access to the Internet and free computer time (at the edge of downtown, San Diego City College's job placement office offers free use and assistance with job searches on a daily basis for anyone attending a class), these are not always accessible to members of low-income communities.
To assess job-seeking methods in central San Diego, the table above shows the distribution of job-seeking methods by ethnicity. The responses in this study are similar to national trends across racial and ethnic groups. As the table shows, whites tend to have approximately double the rates of Internet-based job searching as Latinos and African Americans. Asians are close behind, with 22 percent conducting Internet searches for employment. As other research on the digital divide indicates, part of the problem here is that Latinos, particularly nonnative English speakers, may be at a disadvantage in web-based hiring practices as most employers do not have multilingual sites (although the number in Spanish and English appears to be increasing). For African Americans the issue has tended to be access; they have far lower rates of Internet access at home and lower rates of computer usage in general. Accessing Internet-based hiring for African Americans, therefore, may require using a public library or other public service provider who can provide computer access, and that requires time and potentially money for transportation. Again, here the barriers are not simply a matter of access, but the cumulative disadvantage that different minority groups, or anyone who is unable to afford Internet access and a computer, must contend with.
It is not just private-sector employers that have shifted toward Internet-based hiring. Nonprofit and government entities have also moved in this direction. A case from an applicant to the San Diego Community College District illustrates how the application process requires significant resources. I met Ronaldo by accident in the new Logan Heights library, an architecturally stunning $14 million building providing Internet, computer classrooms, and nearly four thousand square feet of space. Ronaldo was in the midst of several online job applications for various positions. The most frustrating case, he explained, was the Community College District. The district had two jobs that were a good fit for his skills and background. He registered in the human resources system, created and uploaded his files, and created a username and password to manage his job applications. He prepared a scanned copy of his credentials, and went through the lengthy application and online questionnaire. Twice the system froze, and he had to return the next day to attempt to complete his application. After a third day of attempting to submit his application, it went through, and he waited for a reply.
When he didn't get any phone call after two weeks, Ronaldo checked the e-mail account he had used when registering, but he had no message regarding the job (he did have several offers to refinance his house, something he doesn't actually have, and a message about getting rich while working from home). He assumed that he didn't get the position, but wanted to know that his information was in the system properly so that he could at least reapply for a different position in the future and not have to go through every part of the process again. After trying without success to reach the human resources office on the phone, he sent them an e-mail message. A few weeks later he got a reply that they had his information in the system, but that his first application had not been successful, and that he should check his application status from the human resources website, something he wasn't aware of.
All told, his unsuccessful application and follow-up took an estimated fourteen hours. He bemoaned the fact that he couldn't do this from home, but it didn't make sense to purchase a computer and pay for Internet access when it was free at the library. He did, however, have to invest a tremendous amount of time just for a single, unsuccessful job application. The broader problem this points to, however, is that the San Diego Community College District only accepts applications online. This limitation effectively screens out a large segment of the inner-city labor force. Staff are available to answer questions about the site, but do not provide any assistance with completing an application. In other words, this type of employment application system already screens out most people who do not have regular and reliable access to a computer and Internet connection.
While only 25 percent of unemployed job seekers regularly report using the Internet for job searches (Hadass 2004), far fewer low-income unemployed appear to use the Internet for job searches. At the same time, many employers are moving entirely to online hiring or prefer online hiring to in-person/paper applications. One of the potential problems with online hiring systems is that the applicant pool can become skewed toward those with greater access to the Internet and greater computer skills (e.g., updated browsers are needed for most websites, and a high-speed connection is essential for most applications). At Starbucks, for instance, relatively real-time openings can be searched by location and applied for fairly easily, but this tends to advantage those who are actively searching online; these job seekers can find out about positions quickly and apply instantly. Those with less frequent access to the Internet are therefore left out of the hiring queue at many entry-level service positions in retail, food service, and even nonprofit and educational institutions.
This is clearly a concern for the urban poor, who have less Internet use, but also for older workers who may not be computer literate. While there is still a great deal of research needed on how the digital divide affects the employment of inner-city workers, the data here suggest that this trend puts many low-wage workers at a significant disadvantage.
Excerpt from "The Low-Income Trap: Barriers to Economic Mobility" from The Servant Class City: Urban Revitalization versus the Working Poor in San Diego by David J. Karjanen appears courtesy of the University of Minnesota Press. Copyright 2016 by the Regents of the University of Minnesota. All rights reserved. www.upress.umn.edu

David J. Karjanen is associate professor of American studies at the University of Minnesota.