Articles
Written by Tatiana Jaunzems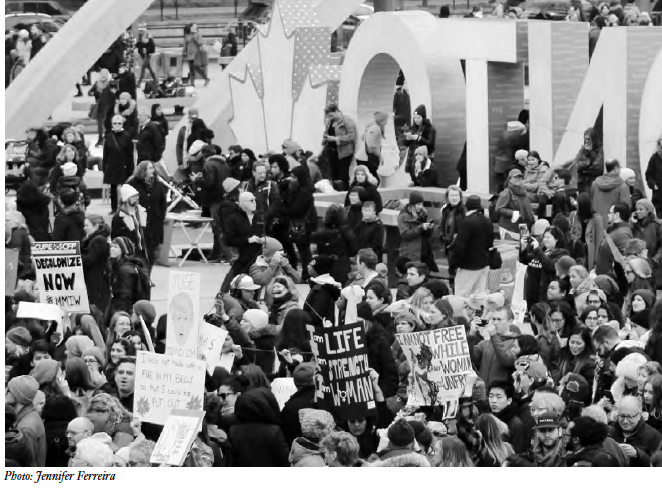 Over six hundred Canadians made the overnight journey to the United States for the Women's March on Washington to walk in solidarity with their American sisters, and to express their own discontent over the rhetoric of the new Trump administration. For those who couldn't afford the time or money to make the trip, thirty events were planned in Canada, representing every major city and many small ones. Given my background in community organizing, I found the Canadian events remarkable because they turned out some of the largest crowds the nation has ever seen at picketing events, radically surpassing the expectations of event organizers, many of whom are highly skilled and have been organizing political protests for decades.


Women's March on Washington: Toronto
I interviewed two members of the Organizing Committee of the Women's March in Toronto, which turned out roughly 60,000 people downtown on January 21, 2017, coinciding with the Women's March in Washington. From the interviews two themes were returned to again and again:
1) It couldn't have been as good without Facebook
2) It wasn't really all about Trump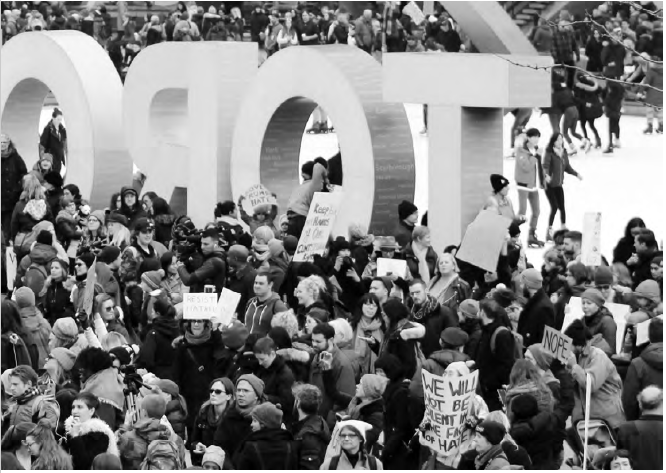 The Revolution will be Digital
Deb Parent, Co-Founder and Member of the Lesbian Speakers Bureau, Collective staff member of the Toronto Rape Crisis Centre/Multicultural Women Against Rape (1980-2001) and previous community organizer with the Ontario NDP, initiated the planning committee for the Women's March on Washington: Toronto. She sees the election of Donald Trump as a "watershed moment" in history, the likes of which she has only seen a couple times in her long history of organizing within the Queer community. The major difference in this case, however, was the huge role of social media in giving individuals direct access to their politicians and other individuals on the same platforms, enabling organizers to generate discussion and momentum continuously.
Janelle Brady, another Organizing Committee member, is a Ph.D candidate at the University of Toronto and co-founder of the Black Women's Caucus at the Ontario Institute for Studies in Education (OISE). Janelle, who is spearheading a campaign on campus that is fighting to protect free access to technology and printing (ATP) for students at OISE, stresses the limitations students face when their access to the internet is restricted at their schools, and how much is possible from an organizing perspective when people can get online.
Both Deb and Janelle cite Facebook as the committee's most powerful turnout tool, noting the usefulness of its feature which allows individuals to "commit" to or show interest in attending an event. This feature allowed organizers to assess and re-assess their fundraising efforts on a daily basis, as responses grew by the hundreds and even thousands overnight.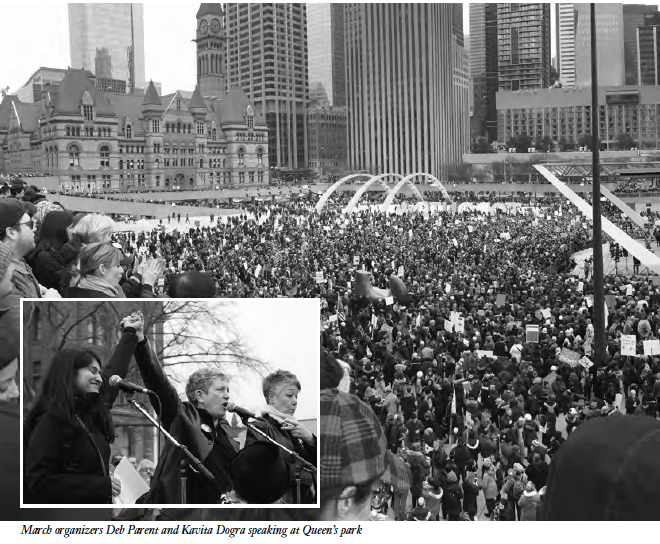 Deb, recalling her early activism against the Canadian Broadcast Corporation (CBC) for refusing to air "gay content" in public service announcements in the 1970s, and again in the early 1980s as an organizer of the first Dyke March during Toronto's Pride festival, remembers the popular political slogan and song lyric from 1970s "the Revolution will not be televised" a comment on the media's refusal or inability to capture the reality of a movement.
Now, she says: "but it will be digital."
In November, the Organizing Committee established a GoFundMe page with a goal of $3,000 based on turnout expectations in the low thousands. When that goal was met, and Facebook interest surpassed 10,000 committed attendees in January, organizers started a second GoFundMe page with a $9,000 goal – which was raised in their first night of being live. With the help of the unions, the March raised $24,000 in total – but the rapid increase in online interest and donations from the general public as the event drew closer reminds us that people will give to things they care about, if we seize the moment and make it easy.
But digital tools are not without their deficiencies. Organizers opted for wireless microphones because of the obvious benefit of speakers being able to move about unimpeded by cables. The level of social media activity on personal cell-phones in the unexpected 60,000-person crowd crashed the network, making the microphones and sound system unusable for part of the March. There was also no way, though social media, to accurately predict turnout. As a result, March infrastructure including sound systems and porta-potties, and human resources like volunteer marshals and chant-leaders with megaphones, were prepared only for a crowd of 10-15,000 (roughly the Facebook response).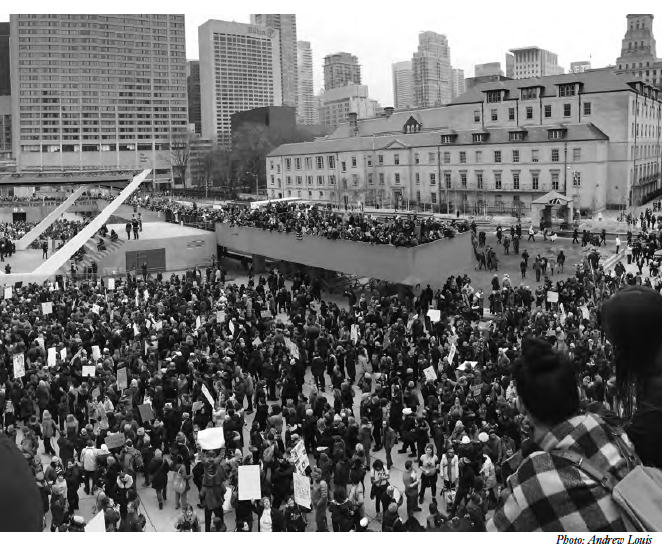 It's not all about you, Trump
Despite the massive under-estimation of turnout size, the Women's March remained peaceful and manageable both on behalf of the participants and the police, a contrast to the G20 marches in downtown Toronto that ended in sporadic vandalism and fire-setting by the Black Bloc, followed by the largest illegal detention of citizens in Canadian history.
Organizers attribute the "positive vibe" of the March to its ability to successfully communicate an overarching theme of inclusiveness and a focus on local issues as opposed simply to hate for President Trump. The Organizing Committee even attempted to limit the number of times the word "Trump" was used in the speakers' remarks.
Shauna Harris, a seasoned community and labor organizer in Toronto, attended the March as a regular citizen, noting that she received constant notifications through social media from different organizations, each with an evolving narrative about a variety of domestic issues, like Canada's policy on refugees, and pay equity for women. She was impressed by the range in age in the crowd, and became increasingly aware that many of the marchers had never been to a picketing event. Social media made it possible to watch international protests in other time-zones and to see how many local people were climbing aboard, while continually reinforcing messaging.
Since the Women's March on Washington, there have been new concerns around Trump's attempt at an Immigration ban in seven Muslim majority countries, resulting in widespread panic at airports all over the globe. While Trump's executive order has been tied up in the courts, Deb Parent is among many alarmed by the speed with which the President was able to get government machinery rolling.
"It makes us worry that everything we have fought for over decades could be gone with the stroke of a pen."
Canadian activism and the Law
I spoke with Mary Eberts, renowned Toronto-based constitutional lawyer, co-founder of Women's Legal Education and Action Fund (LEAF) and former counsel to the Native Women's Association of Canada, about the role of law in Canadian activism, and where things might be headed in the Trump era. She makes three important points, drawing from her 40-year history of litigating in Canada ranging from Women's Rights and Indigenous Rights to the securing the present language of Section 15 of Charter of Rights and Freedoms.
1) People take to the streets when it is no longer possible to use ordinary measures within the political system to make change, or to make change quickly enough to deal with an emerging crisis.
2) Court cases and grassroots actions can productively work together.
3) Lasting change requires steady application of pressure within the political system, through large demonstrations and within the courts.
In a similar analysis to that made by Deb Parent, Eberts describes the Trump election as an "accentuated moment" in history, in which people feel that it is not possible to use traditional political channels (such as meeting with elected officials or through lobbying) to have their positions and values recognized. Trump is, in fact, challenging every institution that people rely on in order to have a constructive relationship with the government, including the press.
Donald Trump is almost literally telling the public: "You can't trust anyone but me".
With specific reference to Canada, Eberts believes that the public is in a state of figuring out what to do. The rallies and protests are a signal that people are actively worried that their core values are being threatened, and are assessing if the Canadian government can be trusted to protect them – or if it will be necessary to orient the government in the right direction.
Canada's "cautious optimism": language and activism
Community organizers and grassroots organizations in Canada have a long-standing frustration with how difficult it is to maintain people-based efforts that address contemporary Canadian issues. In recent years the phrase "cautiously optimistic" has become an over-used cliché in political discourse used to describe a prudently passive attitude toward the uncomfortable and the unknown.
"Canada's ambassador to Washington, who sat in on the Donald Trump-Justin Trudeau summit this week, says he's now cautiously optimistic about any forthcoming changes to the North American Free Trade Agreement (CBC online – Feb 15, 2017)"

"The feds are indeed prepared to offer more cash for health care, he said — but only if the provinces will work with Ottawa on its goals. And if we are able to get to those agreements, at a level of investment that we are comfortable with, then we will have a positive day on Monday," said Morneau, saying he's "cautiously optimistic" the provinces will agree." (Maclean's Online – Dec 17, 2016)

"As Mexico's president struck a bold tone and called for no new tariffs, the Schwarzman visit left the Canadian ministers cautiously optimistic as they wrapped up their first day of meetings." (Financial Post online – Jan 24, 2017)
The phrase "cautiously optimistic" is noteworthy in that it is made up of two contradictory ideas and is ultimately submissive in nature. It suggests that it would be unwise and impractical to actually do something – that it is best to take an observational role as opposed to an active one, and wait hopefully for politicians to do the "right thing". It's demoralizing for citizens to hear politicians or prominent figures, who have the power to act, explaining politely why they are not going do anything.
The recent increase in grassroots activity that has sprouted from the Donald Trump election suggests that there is an opportunity for community organizers to mobilize an increasing number of Canadians who are starting to feel like they aren't being, and haven't been, active enough around local issues like homophobia, Islamophobia, immigration reform, violence against women, disability rights, anti-black racism, pay equity for women, Indigenous rights, electoral reform, and a lack of affordable housing.
What's Next?
Organizers of the Women's March are putting together a follow-up Town Hall they hope will draw in the numerous participants from the January 21st rally who have been reaching out through social media asking "what now?" The goal is to use this unique opportunity to link newly motivated people with existing organizations, including the Ontario Coalition for Better Child Care, Idle No More, Ontario Coalition for Abortion Clinics, International Women's Day Committee, South Asian Women's Centre, Uniting Muslims and Allies for Humanity, OXFAM Canada, ACORN Canada, Toronto Rape Crisis Centre/Multicultural Women Against Rape, Latin American Education Network, and the Ontario Coalition Against Poverty.
Perhaps it is time for a new type of language in political discourse that better reflects the evolving attitude of Canadians – something more active. The recent burst in civic engagement is a signal that something out of the ordinary is taking place. Donald Trump makes a great target and created the impetus for collective action around the globe; but the Toronto rally demonstrated that folks are paying attention to a lot more than what is south of the border. The assumption that Canadians are passive and subdued seems to be eroding – as it should – and our government would be wise to take notice.
Tatiana Jaunzems currently works as political staff at Toronto City Hall. She was the former Field Director for Toronto ACORN, and holds an M.A. in Sociology from the University of Toronto.