I have been traveling almost constantly in 2018, and it has been fascinating, as I've listened to people around the United States and the world, to hear how desperate people are for change. There's a hunger and an impatience. Meeting the challenge needs to be a mission for all of us.
Ironically, nowhere was that truer than when I visited Slovakia recently. I had no sooner left Bratislava for Grenoble, than protests broke out over the assassination of a journalist and his fiancé who had been investigating corruption. Protests have now sprung up throughout the country where 40,000 hit the streets there recently and 4000 (see picture) in the central provincial capital, Banska Bystrica. In timely fashion our lead article by Martina Strmenova details the work by activists and organizers in assembling a coalition that was part of the effort to defeat a rightwing, populist (nee Nazi) party in regional elections at the end of last year. Lew Finfer, a veteran Boston-based community organizer, shares a parallel set of encouraging developments in his companion reports on organizing in Hungary and Romania
In these times of rising authoritarianism, politics is increasingly center stage. Frequent contributors Moshe ben Asher and Khulda bat Sarah, former organizers, look at the confluence of community organizing and lobbying and how it can build power in Part One of a two-part discussion of this issue. Mike Miller, another Social Policy veteran, also looks at the rewards and risks for community-based organizations of active involvement in electoral politics. Phil A. Neel more controversially makes a case on how direct action, even including street riots, can disrupt the political equation as a factor for change. His argument, along with that of our other contributors, indicates how this debate demands attention.
Almost everywhere I traveled recently, and certainly in Slovakia where workfare has become mandatory, the United Kingdom where universal credit is being implemented, and Canada where fights against clawbacks of social benefits are ongoing, welfare benefits are under attack. This issue shares an excerpt from Sam Royston looking at the way welfare "reform" has become perverse and painful.
A special treat this issue can be found in our book reviews. We recruited one of regular contributors, Steve Early, to take a look at several books on Vermont and its place in the current USA social and political discussion, and darned if a picture from his youth wasn't in one of the books he was reviewing. Every place I've been recently, questions about Senator Bernie Sanders are routine, so perhaps you will find insights about this ongoing phenomenon in these reviews as well. Maggie Calmes takes an even closer look at the shaping factors of environment in a review of a fascinating book about Florida and the way nature rules.
Our columnists don't let up. Phil Mattera examines the Trump retreat from corporate abusers. John Anderson looks at the crippling divisions that have come to the labor movement in Canada, while I look at lessons labor can learn from close attention to work being done by unions legislatively in Canada and organizationally in the United Kingdom.
Readers will find this issue both thought provoking and tool producing for these fraught times.


Available from Social Policy Press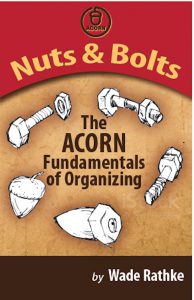 Wade Rathke shares almost 50 years of organizing experience with a look at the "nuts and bolts" of how ACORN was organized and able to build a mass membership and major victories in the United States, Canada, and around the world in plain language that can inform organizers, leaders, activists, and policy makers about how to change and build power.
$35 (plus  $4 shipping & handling)