Written by Randy Shaw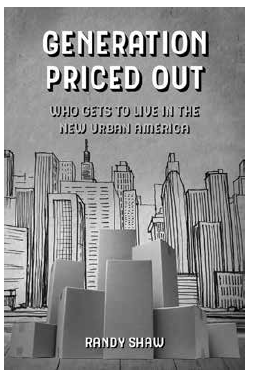 San Francisco's housing prices rose steadily from the mid-1990s until the national financial crisis put a stop to most real estate activity in the fall of 2008. But the respite was brief. The national economy's revival in 2011 and San Francisco's new tech boom brought back the rising prices and evictions of the dot-com era.
Most San Francisco residents are tenants. The displacement of long-term tenants has come to define the city's housing crisis. The impact of these evictions goes far beyond those actually displaced; tens of thousands of renters fear that one day they will come home to an eviction notice that seeks to remove them from their home, neighborhood, and the city they love.
The stories of Teresa Dulalas and other San Francisco tenants set forth below reveal the human costs of a city in which renters are continually priced out. I've been touched by many of these stories, as THC attorneys represent the vast majority of tenants in San Francisco's high-profile eviction cases. I sometimes feel akin to an emergency room physician as the victims of rising unaffordability and civil strife come to our office seeking help. Their experiences are also stories of resistance and show the power of fighting back. Contrary to what many believe, displacement can be stopped. And San Francisco can still increase housing opportunities for the working and middle class.
San Francisco tenants will not be moved. Those targeted for removal, like Teresa Dulalas and her family, never gave up fighting to stay in their homes.
They always insisted that they had the same right as rich people to live in San Francisco.
This resistance has kept the dream of a more affordable San Francisco alive.
It's a question of political will.
Teresa Dulalas: "Moving Was Not An Option"
Teresa Dulalas's tenancy began in 1979, soon after San Francisco's housing crisis started. She moved with her parents to an apartment in a South of Market Victorian in 1979. Theirs was one of three flats located at 1353–1355–1357 Folsom Street. The three-story 1912 building is above a garage that has two parking spaces and storage. There is a communal backyard. The three flats are quite spacious; each has four large bedrooms and hardwood floors.
Dulalas and her family had previously lived one block away. The family liked their new home because it was bigger and still part of the neighborhood's active Filipino community. Two years earlier, the mass eviction of elderly and working-class tenants at the International Hotel in the heart of the city's Manilatown had garnered international attention. As many as 10,000 Filipinos had once lived in the five-block stretch of Kearny Street from Bush to Jackson that included the I Hotel. The evictions were the culmination of a process that led to the disappearance of the Manilatown neighborhood, and the center of the Filipino community shifted south of Market Street.
Dulalas's flat was located in a section of the South of Market (SOMA) neighborhood that was still very affordable. On the eastern side of SOMA, adjacent to downtown, the San Francisco Redevelopment Agency had demolished thousands of similar Victorians as part of its urban renewal efforts in the 1960s and 1970s. But western SOMA was a different world. Filipino immigrant families lived in alley flats and along the major thoroughfares that ran through the neighborhood. Western SOMA had a strong sense of Filipino community identity that continues to this day.
Unlike many San Francisco tenants, Teresa Dulalas and her family faced no steep rent hikes or eviction threats through the 1980s. They had such a good relationship with their Italian-American immigrant landlord that they called him Uncle Randy. Parts of SOMA were becoming trendy, but theirs had yet to be targeted by the speculators who had begun transforming other longtime working-class neighborhoods like Noe Valley, the Castro, and Haight-Ashbury. These communities were already seen as gentrified by the end of the 1980s.
In 1991, the Dulalases were joined at the three-unit building by Ricardo Samaniego. Samaniego's brother, Carlos, had moved into the unit a year earlier (their mother, Maria, would join them in 2001). Samaniego was a tow truck operator, a busy profession in San Francisco. The Samaniegos, like the Dulalases, were working-class families with multiple generations living in the same flat. Having multiple generations under one roof is quite common in San Francisco's immigrant communities. It helps explain why so many immigrant tenants never move once they find a family home, and why their potential displacement is so wrenching.
No Heat, No Water
In 2001, after the death of the longtime owner, a speculator couple named Hung and Judy Cheng bought the Dulalases' Folsom Street home. The tenants' problems soon began.
The Chengs owned six buildings in the city. Hung Cheng was a licensed contractor in the business of demolishing buildings and/or renovating them for resale. Cheng's practice was to buy only vacant buildings. He bought the Folsom Street building because he was in a rush, for tax reasons, but went on to treat the property as if it were vacant. The Chengs did not even bother to tell the Dulalases or the other tenants how to contact them.
From the very start, tenant complaints about lack of heat, plumbing leaks, a pigeon infestation, and other problems were ignored. In October 2001, Teresa Dulalas called the Public Utilities Commission and asked why her building suddenly had no water. She was told that the owner she knew as Uncle Randy had called to shut the water off.
"I was shocked," Dulalas remembers. "I told them Uncle Randy had died and I didn't know that someone who died could rise from the dead and call the PUC to turn off the water." The person she was talking to hung up.
Dulalas then followed a pattern she would continue for the next decade: she turned to SOMA's tight-knit Filipino community for guidance. "We didn't know about tenants' rights so we asked community people what to do." She met with the South of Market Community Action Network,
known as SOMCAN. Angelica Cabande, SOMCAN's longtime leader, referred her to the Tenderloin Housing Clinic for legal representation. THC Attorney Dean Preston met with Dulalas and advised her to address the immediate crisis by opening an account in her name and paying the water bill for the entire building. It worked. This began over a decade of THC's legal representation of Dulalas and her building, first by Dean Preston and then Raquel Fox.
The lack of water reflected a larger problem of landlord neglect. The Department of Building Inspection issued housing citations for several months beginning in November 2001. They were ignored by the landlord. Living conditions got so bad that the Dulalas family thought the owners had abandoned the property. Teresa Dulalas's elderly parents particularly suffered from the lack of heat and the owners' neglect.
This was likely the landlord's goal. San Francisco has the nation's most aggressive housing code enforcement, but some landlords still try to get tenants out by making living conditions so miserable that their health forces them to move. These landlords figure that the cost of paying housing fines is far less than the huge profits gained from ousting long-term tenants paying below-market rents and re-renting their units at market rates.
But if the Chengs thought that refusing to maintain the Folsom Street building would get the tenants to move, they bought the wrong property. My office filed a lawsuit on behalf of Dulalas and her family against the Chengs for money damages and injunctive relief. On May 31, 2002, attorneys Dean Preston and Raquel Fox obtained a court order requiring the owners to provide heat and make necessary repairs. The lawsuit was eventually settled. The tenants won compensation for living in such bad housing, long-overdue repairs were made, and the Chengs' strategy to displace their tenants was left in the dust.
The Chengs sold the building to Joe Nim Chan and Alda Chan on March 12, 2004. For the tenants it was like going from the frying pan into the fire. The new owners immediately obtained the names of all the tenants in the building for what they claimed were insurance purposes. Every tenant soon received an eviction notice under the state's Ellis Act, leaving little doubt that the Chans purchased the building to convert the units into tenancies in common (TICs) and re-sell them.
Dulalas Resists Eviction
When Teresa Dulalas and her fellow tenants were served the Ellis eviction notices, she felt "I have to protect my family. We'd lived in our home for so long. Now we couldn't be certain that this would still be our home. I felt we had to rally the tenants together to fight for our family. We lived so long with the other tenants that we saw them as family too."7
The Ellis Act, California Government Code 7060, preempts local eviction protection laws. It requires the owner to "go out of the rental housing business," but court rulings have given owners the right to then sell the tenant's former unit as a tenancy in common. Once described as the "neutron bomb" for evictions because it removes tenants while keeping vacant buildings intact, the courts turned the Ellis Act into a powerful weapon that real estate speculators use to displace elderly and vulnerable tenants throughout California.8
The Dulalas family had experienced bad landlords before the Chans, "but we never expected to get an Ellis Act eviction. I had to keep telling myself, 'Protect. Protect the people you love.' I prayed so much. I know that life is never a smooth journey but did not think we could ever lose our home." After the initial shock, Dulalas's resolve kicked in: "I was seeing the goal of victory. I didn't want to lose. You can't think of losing when you are talking about your family's life." Dulalas recalled that she and the other tenants were really worried about the eviction notices until attorney Dean Preston "told us tenants had rights. Once we learned that we could beat this in court it strengthened our resolve. I felt that with Dean, Raquel, and the community behind us we would win."
When the Ellis eviction notices were issued, the building housed over twenty people, including seniors and young children. Teresa Dulalas's father, Uldarico Barclay, had retired from his state job in 1999. He and his wife, Lolita, lived with their children and Dulalas's children in the affordable, rent-controlled flat. Owner Alda Chan suggested to Dulalas that she "could always move her parents to an assisted living home." This outraged Dulalas. She recalled telling Chan, "We Filipinos are not like that. That's against our community values."
Amparo and Romulo Garcia, both seventy-two years old, lived with their son Hector in another apartment in the building. Hector worked for a local landscaper and his parents were retired. The third apartment housed the Mexican immigrant family of Maria Samaniego, age sixty-two, her son Ricardo, and other family members. Three working-class families now faced losing their longtime homes. None could afford to relocate in the city at the current market rents. Their potential displacement symbolized how blocks, neighborhoods, and ultimately cities change.
The Folsom Street tenants were also getting community support. Ellis Act evictions were becoming all too common in SOMA, and groups like the San Francisco Tenants Union were building grassroots opposition to them. This led to a May 4, 2004, rally at the Folsom Street building organized by tenant activists on behalf of Dulalas and the other tenants. At the rally Teresa Dulalas thanked fellow tenants and activists for supporting her effort to save her home and for calling attention to the harmful effects of Ellis Act evictions: "I moved here with my parents and brother when we were very little. Now I'm married and have three young children and I still live here. We don't want to move."9
In August 2005, THC attorneys Dean Preston and Raquel Fox got the Ellis eviction notices thrown out by the court due to a technical defect. Because Dulalas's parents were seniors (her father was seventy and her mother sixty-seven), the owners would have to issue another one-year Ellis notice. In December 2005, the Ellis notices for the other tenants on the property were thrown out for the same defect. This required the issuance of new one-year Ellis notices as well.
With huge potential profits looming if they could vacate the Folsom Street property, the Chans quickly issued new Ellis notices. A year later new eviction lawsuits were filed against Dulalas and her parents, Ricardo Samaniego and his family, and the Garcias. On September 21, 2007, THC attorneys Raquel Fox and Steve Collier again got the court to throw out the eviction notices on procedural grounds. The tenants' skilled legal representation had stopped the evictions once again. The Chans issued a third round of Ellis notices but then changed course and resumed accepting the tenants' rent.
After almost six years of nonstop battles with their landlords, Teresa Dulalas and her fellow tenants were safe from eviction. But these battles take their toll. Dulalas had tried to shield her children from the potential loss of their home but eventually had to tell them. She recalled, "My kids are very strong. They were connected to the community and did not want to move. They were worried over being uprooted. I kept telling them that 'Moving was not an option.' My parents were constantly anxious. I kept assuring them that we would not be moving anywhere." Dulalas's confident attitude masked her own inner fears. She told me, "I cried in my bedroom at night because I didn't want others to see that I was worried."
Many tenants find the stress of these conflicts too much to take and prefer to move rather than continue fighting eviction. The tight-knit family networks at the Folsom Street building helped the tenants cope with the emotional turmoil of their housing situation. Some landlords try to evict time and time again just to wear out vulnerable tenants. Tenants with health problems are often targeted because speculators see them as particularly vulnerable. Jeremy Mykaels had full-blown AIDS when he got an Ellis eviction notice to vacate the home he had lived in for nineteen years. He described the stress it caused: "It's a pretty high level of anxiety not knowing what's going on with your future and at the same time dealing with . . . [your] own health . . . The citizens of San Francisco need to realize what's going on."10
Teresa Dulalas and her fellow tenants would find their break from eviction threats short-lived. In January 2012, Sergio Iantorno, doing business as Golden Properties, bought the Folsom Street building. He quickly sought to triple the rent. The tenants successfully challenged the rent increase, so on November 26, 2012, Iantorno sent the tenants a letter offering to pay them to move. They rejected the buyout. Two months later, the owner again made a buyout offer. The tenants rejected that as well.
His prior attempt at tripling rents having failed, in midsummer 2013 Iantorno sought a San Francisco Rent Board determination allowing the tenants' rents to be significantly raised. Once again, Dulalas and her fellow tenants fought back. After they provided the full rental history of their tenancies, Iantorno dropped the rent board petition.
Unsuccessful at getting the tenants out by other means, on December 30, 2013, Iantorno did what many other owners have done when tenants resist moving: he issued Ellis Act eviction notices for the building. This was the fourth set of Ellis notices the building's tenants had
received since 2005. Dulalas had been almost constantly fighting off landlord efforts to get her out of her home since the heat and water were cut off to her unit in 2001.
By 2015, Teresa Dulalas deserved a break from battling her landlord. She was fifty-five years old. She had a heart condition and had survived a cancer scare that required surgery. Her three children had all been raised at 1357 Folsom. Her father still lived there. He was now an eighty-two-year-old widower with prostate cancer and was undergoing chemotherapy. They were joined by Teresa's mentally disabled brother, Joseph Barclay; her brother Luciano Barclay, a low-income worker; her daughter Daynelita Dulalas, a full-time college student; her daughter
Marti Dulalas, who would be studying in Japan for the next two years; and Teresa's eighty-seven-year-old aunt Felisa Barclay, who moved into the home in 2002–2003 and regularly spent time in the Philippines.
In 2015, the Dulalas family paid monthly rent of $560.45 for 1357 Folsom Street, a large four-bedroom flat. Ricardo Samaniego and his family had moved into 1353 Folsom in 1991, and their rent in 2015 was $910.00. Similar four-bedroom flats on the open market were renting for $5,000 to $7,000 per month. The rents in Dulalas's building seem remarkably low in San Francisco's current market, but they reflect the success of rent-control and just-cause eviction laws expressly designed to keep long-term tenants in their homes. All of the owners of the Folsom Street building paid a relatively low price for it because the tenants paid below-market rents, yet each sought to reap huge profits by getting the tenants out.
Speculators in San Francisco seize on opportunities to buy buildings at a bargain due to below-market-rent tenants on the premises. After purchase, speculators either move to get the tenants out so they can re-rent the units, or they use the Ellis Act to vacate the building and then sell the units to buyers as TICs. Speculators tried both approaches with Teresa Dulalas and her fellow tenants. The huge gap between what the Folsom tenants paid and market rents led landlord after landlord to try to get the residents of out of their homes. If they had succeeded, the profits would have been enormous.
Because nearly all of those trying to displace long-term tenants are speculators whose profits come from quickly flipping properties, time is of the essence. Some only have short-term financing that requires a quick turnover; others lack the capital to pay attorneys for lengthy litigation. When tenants like Teresa Dulalas or Ricardo Samaniego resist, many landlords start to recognize that this was not the quick route to easy profits that they anticipated. And they often rethink their strategy.11
Small Sites Program Brings Victory
That realization is what led Sergio Iantorno, the Folsom Street building's landlord, to reconsider his Ellis evictions in that building and others he owned. And fortunately, San Francisco had come up with a win-win option for owners like Iantorno who wanted to drop their Ellis Act evictions: a proactive, anti-displacement strategy called the Small Sites Acquisition Program (SSP).
The SSP funds nonprofit groups to buy properties to protect existing tenants from eviction. The program keeps middle- and working-class families in the city, enabling them to stay in their homes and in the neighborhoods where they have built a community. Housing acquired through the SSP is permanently affordable.
The SSP was launched by San Francisco Mayor Ed Lee in 2014. Over a decade earlier, I had joined with the late San Francisco Tenants Union leader Ted Gullicksen in asking then-mayor Willie Brown's administration to buy small buildings whose tenants faced eviction. But because the
nonprofit housing sector was geared toward larger properties with vacant units, the mayor's housing director would not go along. Hundreds of working- and middle-class tenants who could have been saved by the SSP were instead displaced.
After Iantorno issued the eviction notices for Folsom Street in 2014, Teresa Dulalas was at a SOMCAN event where she reached out to the director of the San Francisco Community Land Trust (SFCLT), Tracy Parent, asking her to buy her building: "I told her that we are facing eviction again. Please see if you can help us."
The SFCLT purchase of Dulalas's building was announced in February 2016. It was one of five Iantorno properties acquired through the SSP. When Dulalas got the news that the sale was happening, she told me she "broke down and thanked God and everybody. I felt God had sent Dean Preston and Raquel Fox as angels to protect us. I knew we could not give up when we loved the city and the neighborhood and our family. I had the most wonderful team and I trusted everybody." Dulalas could not be happier with the building since SFCLT's purchase. SFCLT got a grant to make upgrades and Dulalas describes the once unmaintained property as "beautiful. It is way better than when we first moved in back in 1979."
Dulalas's long struggle to stay in her home had a wonderfully happy ending. But many tenants are not so fortunate. Their stories go to the heart of the human cost of San Francisco's affordability crisis.
Randy Shaw is the author of several books on urban development and organizing and is the director of the Tenderloin Legal Clinic in San Francisco. His recently published book, Generation Priced Out is published by the University of California Press and available at www.generationpricedout.com or at www.ucpress.org.
End Notes
1. Anonymous, interview by the author, April 12, 2017.
2. Anonymous, interview by the author, July 26, 2017.
3. Anonymous, interview by the author, July 20, 2017.
4. Anonymous, interview by the author, July 18, 2017.
5. D5 Coalition, Foundations Facilitate Diversity, Equity and Inclusion, September 2, 2014, http://www.d5coalition.org/wp-content/uploads/2014/08/D5_OMGreport_072814-1.pdf, p. 8.
6. Anonymous, interview by the author, April 12,2017.
7. LM Strategies on behalf of ABFE, The Exit Interview, May 2014, http://www.abfe.org/wp-content/uploads/2014/05/ABFE-The-Exit-
Interview.pdf
8. Anonymous, interview by the author, July 20, 2017.
9. Courtney Martin, "The Trouble With Philanthropy is that Money Can't Buy Equality," The Guardian UK, September 2, 2016, https://www.theguardian.com/globaldevelopment-professionals-network/2016/sep/02/philanthropists-revolution-librariesgrassroots
(accessed September 23, 2017).
10. D5 Coalition, State of the Work Year Five, April 2016, http://www.d5coalition.org/wp-content/uploads/2016/04/D5-SOTW-2016-Final-webpages.pdf p. 7.
11. Ibid.
12. Gara LaMarche, "Democracy and the Donor Class," Democracy, Fall 2014, Number 34, https://democracyjournal.org/magazine/34/democracy-and-the-donor-class/ (accessedSeptember 15, 2017).
13. Patrick Caldwell, "The Financial Industry Doesn't Want You to Know About its Lack of Diversity," Mother Jones, March 11, 2014, https://www.motherjones.com/politics/2014/03/financial-firm-diversity-jobs/(accessed June 12, 2017).
14. CB Insights, Venture Capital Human Capital Report, August 3, 2010, https://www.cbinsights.com/research/venture-capitalhuman-capital-report%20 (accessed June 12,2017).
15. Robert W. Fairlie, Ph. D. and Alicia M. Robb, Ph.D., Disparities in Capital Access between Minority and Non-Minority-Owned Businesses,
Minority Business Development Agency, U.S. Department of Commerce, January 2010, https://people.ucsc.edu/~rfairlie/presentations/Disparities%20in%20Capital%20Access%20Report%202010.pdf (accessed June 10, 2017).
16. Michael A. Cohen, Maria Figueroa Küpçü, and Parag Khanna, "The New Colonialists," Foreign Policy .November-December 2008, reprinted online in the Utne Reader http://www.utne.com/politics/the-new-colonialists(accessed June 15, 2017).
17 Caldwell, "The Financial Industry Doesn't Want You to Know About its Lack of Diversity."