Who would have ever imagined that we would be sitting in the USA with less than four percent statistical unemployment? Who would have imagined that the Trump tragedy is soooo bad that you hear of people honestly saying, "maybe if we had a small recession, just a little bit of one, just enough that it keeps Trump from winning?" I've heard it. Heck, if it weren't for the pain, I'd take that pill! That's how bad it's gotten, and it's hard to keep it out of this issue.
Take the climate for instance. Please, and make it change! Extinction Rebellion make the news worldwide with a set of creative actions. We reached out through our friends in England to find someone to spread the word from the inside, and Nathan Williams, a XR activist and longtime campaigner did a brilliant job. What he learned from earlier work drove him to XR. Lew Finfer, a veteran Boston-based community organizer, shares his own inside-story of the tragedies of the Great Recession and the foreclosures it wrought, and the weaknesses of the Obama response. Where might his frustration now lead him as well in the coming fights. In the second and final part of Dayan Kiuranov's extensive essay on the use of open societies to open societies, it is hard to see a simple answer there either.
When Mike Miller shares his life experience and perhaps even nostalgia for a time in his youth when a brand was not a marketing concept, but a political community, his real point is not "where have the good times gone?" His point is that we have to be transparent and be clear where we stand and who we stand by in order to build a community. Old fashioned? Hardly! I heard the same theme in meetings throughout the Netherlands in recent days, and often it was coming out of my own mouth.
Some of the other conversations I was having with organizers in Europe and North Africa were about the declining power of institutional unions. There are many reasons for that, but one is the inability to embrace the exploding informal economy in developing countries, as well as the nations driving the world economy. We share an except from a new book by Collin Williams who offers four policy choices, none of them are easy, and all of them are unlikely given the current state of political dysfunction.
We keep on keeping on though. James Mumm looks at veteran activist and organizer, Lisa Fithian's book and Dean Richards draws lessons from another volume on the civil rights movement to keep us moving forward.
As a treat we share two prose poems or poems with prose from Michael Gallagher, long time labor and community organizer, who in these two poems poignantly shares the courage and commitment of leaders as they organize. "Ready" comes out of a laundry organizing campaign in New Orleans and "Defining Victory" is a priceless piece of poetry-in-motion as a home care workers leader in Boston pulls victory out of the jaws of struggle. Social Policy Press is proud to be the distributor for Red Nose Mike.
In this issue's columns, Phil Mattera can't restrain himself over the paradox of big companies claiming there are changing their mission, when their records are so abysmal. Drummond Pike is equally aghast at the imperial presidency of King Donald. John Anderson is scornful of both national and local politicians' ineptness in addressing the Canadian housing crisis, but find help in the aggressive program being tipped off in Burnaby in the Vancouver suburbs. For my part, I'm lost in trying to recalibrate the political spectrum when there is no moral compass and the right has become the radical wing in one country after another while the middle has snuggled up to the left, and they are the voices of seeming moderation.
In this issue there's evidence aplenty that we're searching for solid ground in heavy winds, we're not alone, and we're moving quickly, and the direction will be forward.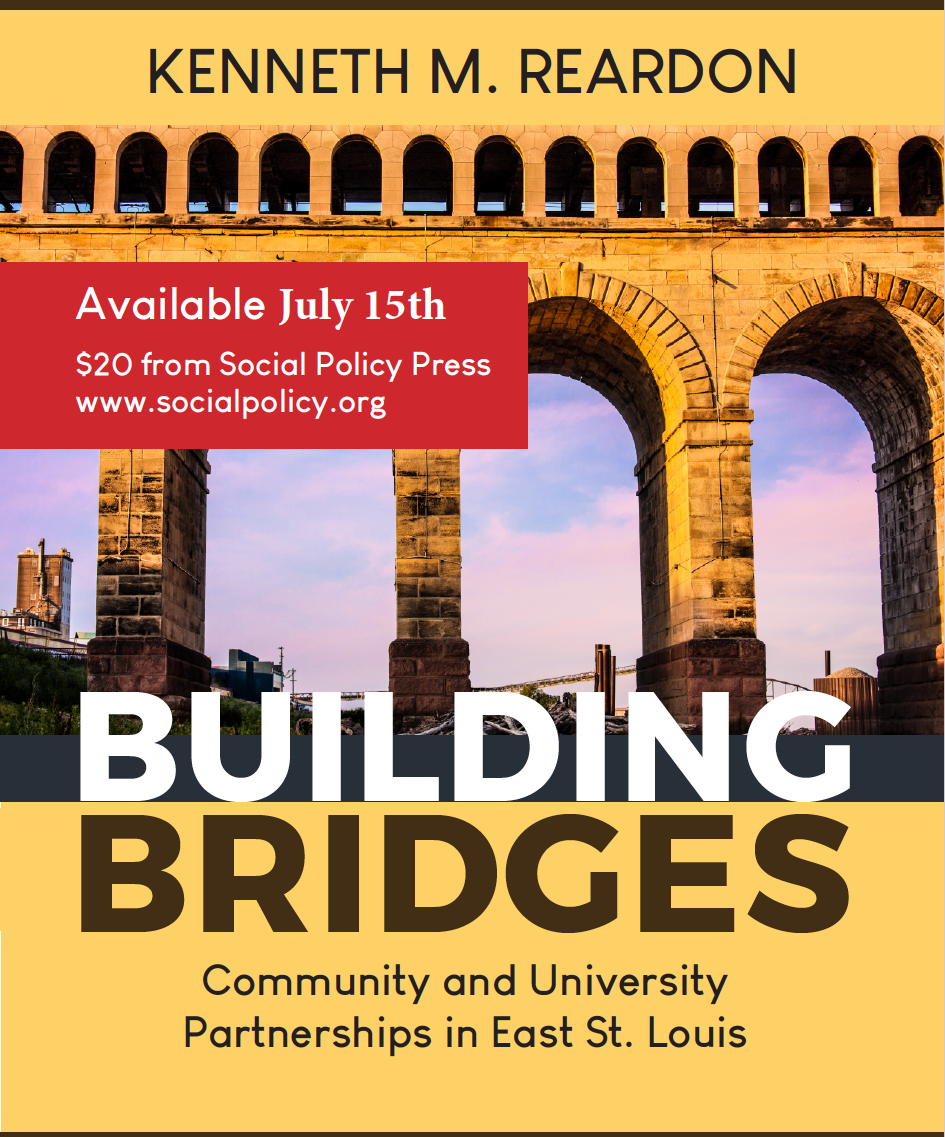 Professor Kenneth Reardon in Building Bridges tells the 10-year saga of building partnerships between a university in Illinois and various community groups in East St. Louis, which transformed their neighborhoods and the lives of students and participants against all obstacles.
If you want to build effective partnerships between academia and community, you need Building Bridges: Community and University Partnerships in East St. Louis. Paperback is $20 (plus shipping).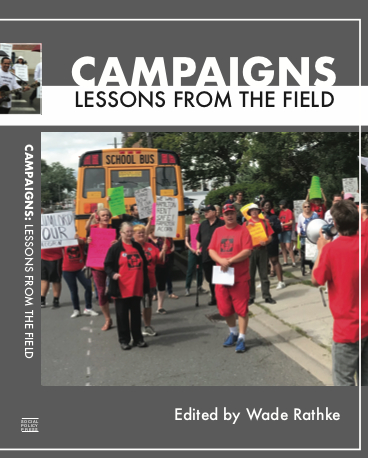 Campaigns: Lessons from the Field outlines how issue-based campaigns build peoples' power and deliver victories, with sections on Jobs, Income, Health, Housing, Rights and Safety, Taxes and City Services, Land and Resources, and Development.
Essays include contributions from Nik Belanger, Lew Finfer, Mike Miller, Drew Astolfi, Claire Gallagher, Bill Pastreich, Steven Kest, Judy Duncan, LeeAnn Hall, Zach Polett, John Anderson, Marva Burnet, Davin Cardenas, Adrien Roux, Randy Shaw, Dine' Butler, David Tozzo, Beth Butler, Ruth Rinehart, Joe Szakos, Emily Bloch, Nick Ballard, Anny Cullum, Robert Fisher, Fred Brooks, Daniel Russell, Eloise Maulet, Dominic Moulden, Gregory Squires, Randy Cunningham, Darcy Pumphrey, Kenneth Reardon, Antonio Raciti, and Wade Rathke, who also served as editor for the volume.
If you want to move an issue to a solution, you need a campaign and Campaigns: Lessons from the Field details the way it is done by community organizers and community organizations every day working in field. Paperback $15 (plus shipping).
You can also purchase on Amazon
or direct from Social Policy Press