As the world turns, January 6th insurrection, according to Tucker Carlson, was just another peaceful protest, a stroll on a winter afternoon, and after seven years of rejection of my Indian visa applications, I was approved for a ten-years of travel there, so it's wheels up tomorrow.  Fox and the House crazy caucus could care less what the rest of what our "lying eyes" saw at the Capitol in the famous words of Richard Pryor.  Narendra Modi, the conservative, communalist autocratic Indian president doesn't seem to care about what the world thinks about his cozying up to Russia for oil and exports in the face of their Ukrainian invasion, but does in fact want a crowd when he hosts the G-20, so is finally willing to once again let the likes of me come into the country.  You figure?  I better make the most of it!
Which is what our contributors have stepped up to do in this first, Spring issue of our 53rd year, starting with a deeply researched report on the carbon footprint of housing stock in countries throughout Europe and North America by David Thompson and Mia Saito Callahan.  Turns out that if there are strong tenant unions in a country that direct correlates directly with accelerated retrofitting of heat emitting housing.  Mark my words, this is going to be a global campaign marrying tenant rights, energy poverty, and climate protection.  Moshe ben Asher and Khulda Bat Sarah in part I of a two-part essay share the details on evaluating the essential skills for organizers.  Bruce Boccardy, another frequent contributor, asks the hard questions about the rosy job numbers being announced these days by the White House. 
In a new "people speak from the grassroots" feature, we share an interview with two local leaders in Ottawa, Canada, who put the lie to any notion that community organizations are not leader led.  Jon Melrod also brings us a little reported story from the Philippines.
Our book reviews this issue are led by an insightful reading by James Mumm of several books that center of women in organizing, as I write this on International Women's Day, but James also gets personal by sharing his perspective on his mother as an organizer and activist.  Mike Miller reviews Saket Soni's book on the campaign he organized in post-Katrina New Orleans over Indian workers hoodwinked into forced labor in the cleanup and how that has shaped his mission in recent years.  Mike also remembers Casey Hayden in her own words, as I also remember Mike Davis and share some of his insights into Katrina as well.
Our excerpts this issue are outstanding.  Noted professor and historian John Womack, Jr. and esteemed labor organizer Peter Olney confront the long odds for labor power by sharing a dialogue on how critically positioned workers, if organized at the chokeholds and winning associational support, might be able to breakthrough many of the barriers we face.  Helena Worthen and Joe Berry have been activists, organizers, and leaders in uniting precarious, contingent higher education workers and share tips on what it takes to accelerate this organizing, which has been increasingly successful.  Organizing requires a lot of things but the freedom to speak is one essential, and Professor Dennis Baron takes what has now become a contentious political issue, despite how foundational it has been to the American experience, and sorts out our prerogatives while pointing out the boundary lines.
In our regular columns, Phil Mattera finds child labor violations by corporations outrageous, and Drummond Pike feels the same way about our modern robber barons and the shortcuts that caused the Palestine, Ohio's train derailment and toxic spill.  John Anderson is scratching his head at the way conservatives are claiming to be populists and flipflopping on tenants in Canada.  Importantly, Gregory Squires reports on research that directly connects better health outcomes with affordable housing and inclusionary zoning.  In backstory, I worry that we aren't paying attention or digging deeply enough in our pockets to make sure that we care adequately for our elderly in the US, UK, or elsewhere as people or societies. 
`The weather is getting better for a walk in the park, and as this issue details, there are many slogans we could put on signs and sing about loudly while we're at it.
Written by David Thompson & Mia Saito Callahan
- A Survey of the Relationship Between Countries' Retrofit and Tenant Policies - 
It's widely understood that in order to significantly reduce carbon emissions and slow the pace of climate change, we must improve the energy efficiency of our housing stock. Buildings account for 37% of emissions, and residential buildings' constitute 63% of those building emissions. But the road to better energy efficiency for rental housing runs through the no-man's land of the "split incentive"--an economist's term for a "market failure" where the benefit of a transaction does not accrue to the one who pays.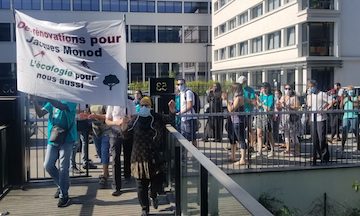 Read more: Renting and Retrofits: To Decarbonize More Housing, Organize More Tenants
President Biden says he has a plan to fix any potential shortfall in Medicare:  tax the rich and corporations.  I'm for it.  Go, Joe!
Here's a problem though.  The problem of caring for the elderly is not just about Medicare.  In some ways, it's not even just about money, but money is a big whooping piece of it.  We just don't know what to really do about the elderly, and in many cases, the elderly are unsure what to do about themselves in this changing economic environment.
In France, millions are hitting the streets to protest their President's plan to move the retirement age from 62 to 64.  In another world, the United States, more people over 65 years old are going to work than we have ever had.  In fact, the largest growth in the workforce between now and 2030, according to the Department of Labor, is going to be among workers older than 65.  That's a longer timeline than can be described by current inflation.  It speaks to insecurity and the precarity of age.
Besides, work looks a lot better than ending up in a nursing home, especially in the wake of the pandemic when nursing homes seemed to be ground zero of Covid.  Our union, Local 100 United Labor Unions, represents a mess of nursing homes and assisted living centers all over Louisiana, as well as a ton of care workers in facilities in Arkansas, so we are too close to this problem and see the impacts firsthand.  Where cynically perhaps decades ago we saw some of the home operators basically as real estate speculators temporarily wearing white coats and pretending healthcare was there business, now we literally watch some of our homes bandied about by private equity companies and real estate investment trusts.  I'm not sure Wall Street is where you want to put grandma. 
Don't get me wrong.  Extensive research done during the pandemic found that if you were a client in a unionized nursing home, you were 11% less likely to die of Covid and 8% less likely to catch Covid in the first place.  Nonetheless, even our most skinflint operators are realizing that few want to do this work for so little money, no matter how much they care about the patients, and in some cases are coming to us in the middle of contracts to give wage increases, because they can't staff the homes. 
Believe me, all managers complain that reimbursement rates at the state and federal level are too low.  Sometimes it's an excuse, but they have a point.  Our government, our society, even our families don't make the kinds of investment and support for these kinds of care institutions that speak to the love and respect we should have for the lives and dignity of the elderly.  All of this hit home for me in my mother's last years with dementia.  When she was in a nursing home after breaking a hip and with her memory fading, ever day at lunch, when I would go to see her when in town, she would ask if I was there to take her home and beg to go.  She couldn't take it, and neither could I, so she spent her last years at home with sitters 24/7, even though at best, it was a hardly a real solution.
This isn't just an American problem, though we should still hide our faces in shame compared to many countries.  I read an essay in the London Review of Books that reviewed three books about the crisis in care and was unsparing in its critique of the system and support in the United Kingdom as well. 
The author of the piece, James Butler, ends it this way: 
It would be a failure if the only answers sought were economic.  The problem of care raises questions that lie outside the typical bounds of policy work….What degree of indignity, pain, degradation or abuse are we prepared to see the people around us suffer?  And what, if we are unable or unwilling to do it ourselves, are we prepared to pay for the work most intimate and essential to human life?  Politicians may not wish to acknowledge these issues, but circumstances will force them on us regardless.
With the demographic bulging of the baby boom now an increasing bulk of our elderly, it will be impossible to avoid these issues now, ready or not, even if the odds of us doing the right thing about our senior citizens, based on our record, seems very long.