Fall 2022
Written by Toby Terrar

Jean Boulier's I was a Red Priest and the Holocaust
In 1977 Father Jean Boulier (1894-1980), a French priest, wrote an autobiography, J'étais un prêtre rouge.[1] Like his American Catholic contemporary, Dorothy Day (1897-1980), he was on the left. And like Day, who is being made a "saint" by Rome, Fr. Boulier is in a similar process, but it is Israel (Yad Vashem) that is considering conferring its equivalent honor, "Righteous among the Nations."[2]
As part of honoring Fr. Boulier, an English translation of his autobiography, I was a Red Priest, is now being published.[3] As a red priest, his book described his dealings with the French Communist Party (PCF), priest workers, Eastern Europe, the post-war peace movement, Vatican II, Jesuits, Thomism, liberation theology, liturgy, ecumenism, mysticism and the church hierarchy. His thinking and actions paralleled those of his American counterpart Day, as did the reaction of the civil and religious authorities.
It was his politics in World War II, however, which were on the side of the Jews and against the Nazi and Vichy government that both endeared him to Israel and pushed him permanently into the communist camp. As his book summarized, in 1938 he was appointed to be the pastor of Sainte-Devote Parish in Monaco. In June 1940, France fell to the Nazis and the independent principality of Monaco followed France.
By September 1940 Fr. Boulier was a member of the resistance movement, where he initially worked with a network of railroad workers that tracked for the allies the number and type of arms shipments going to Italy (RP, p. 136). Eventually the same network helped Jews escape to Spain and North Africa. Along the same lines, Dorothy Day early on took the offensive against the Nazis. In 1934, she started demonstrating in front of the German consulate against Hitler's anti-Semitic legislation.[4]
In July 1941, a year after the Nazi take-over, the first law governing the Jews was enacted. It required a census of the Monaco Jews, which was a step toward arresting and deporting them. As a public figure, Fr. Boulier's reaction was to lecture and write against the census. His position was, as he put it, "By what right are you [the Jews] asked such a question? France is a secular republic, that I know! The state does not have to know the religious convictions of its nationals" (RP, p. 137). The anti-Semitic law resulted in the deportation and deaths of ten Monaco Jews.[5]
Because Fr. Boulier had a following, the top government official in Monaco, Minister of State Émile Roblot, summoned him to his office and said to him: "It seems that you do not agree on the measures taken with regard to the Jews? … You do not just say it, you write it. What you have written to MM. Lunel and Pollack [several Jews] proves it" [RP, p. 137].[6]
The Monaco government had significant power over Fr. Boulier. Catholicism was the state religion and the priest was both paid by the government and considered a state official. He and his bishop could lose their place for serious misconduct. Following the warning, Fr. Boulier kept quiet for a month, but was provoked to speak out on Sunday October 26, 1941, which led to his downfall. He described the circumstances:
The German presence was beginning to prevail in the Principality. It applied to the cinema. Their propaganda included… the Jew Süss, about the systematic bleeding of a small German Principality in the eighteenth century by a roguish and debauched Jew, who was supported by the favor of the Prince. "It's Monàco!" said someone in the room; at least that is what the Comtesse de La Fortelle told me later.
They had been running this last film for a few days when, on a Saturday evening, as I was dining with Pierre Naquet [a resistance leader], his daughter, a fifteen-year-old schoolgirl, told us that battles had been taking place at the Lycée for and against the Jews. Thinking of the denunciations of which I was the object, I was determined to remain silent from now on, but listening to this girl, my duty appeared to me to speak the following day, to the masses, of this dirt, especially at the 11 o'clock mass. I had seen a growing number of Lycée students attending my services, encouraged by their parents who would say, "Go listen to Curé Boulier! You'll be interested in what he says!" I saw more and more coming [to mass] and congratulated myself, knowing that, on leaving the church, more than one would go to meet his girlfriend at the port. That Sunday, I therefore decided to talk about the Jew Süss. I did it from a strictly religious point of view. "I feel," I said, "that it is not the place of a Christian to go to this show that leads to lust, cruelty and hatred among citizens." On this ground I knew I was irreproachable (RP, pp. 138-139, English  pp. 176-177).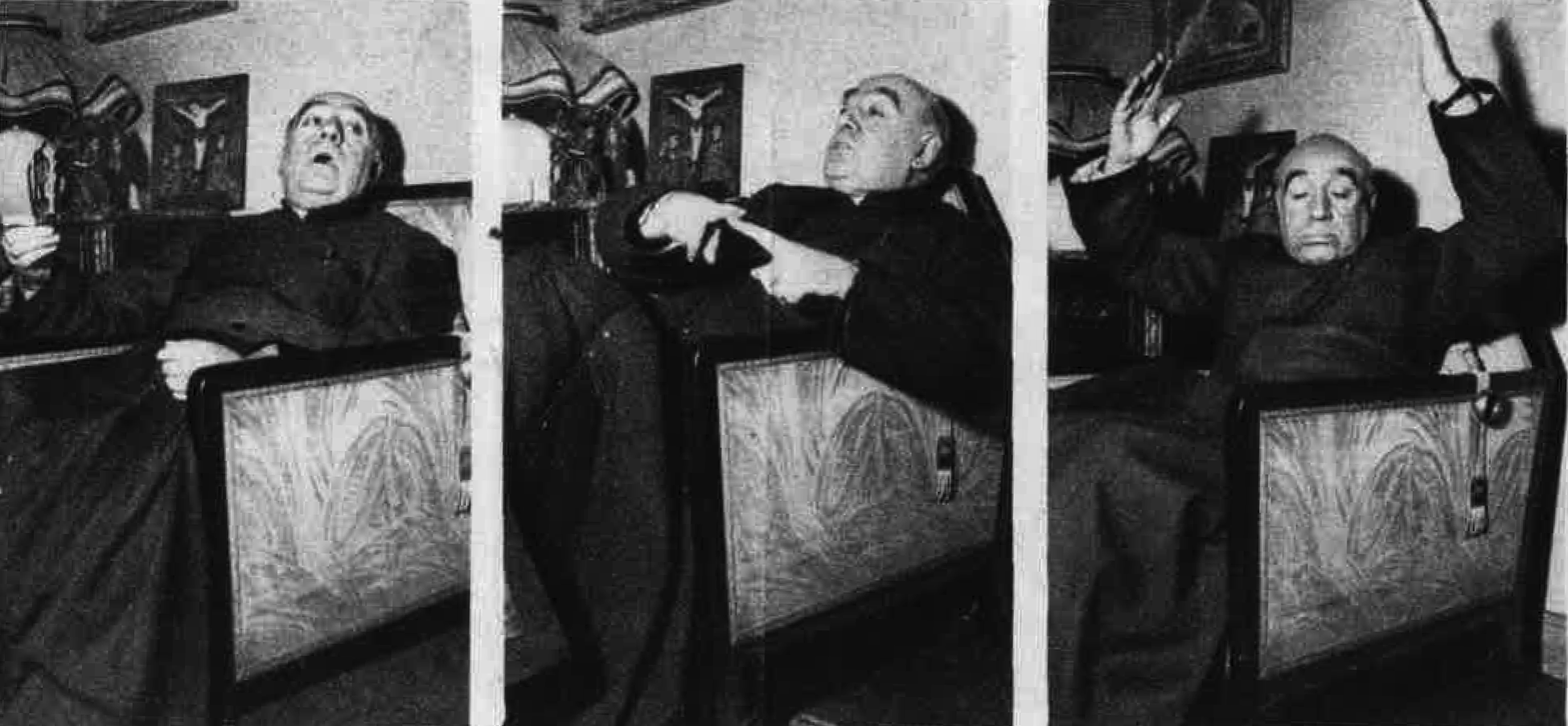 Fr. Boulier's sermon resulted in his being fired two days later as pastor of Sainte-Devote by his bishop, Pierre Rivière and expelled ("deportation order") from the Principality of Monaco by the government while being hunted by the Gestapo in France, where he went into hiding.
Fr. Boulier had supporters in Monaco who did not want him deported, including the police chief, Commander Major Garsonnin. In the process of defending the priest, the police commander found that it was actually the bishop that was the source of the deportation order, not the Minister of State. The bishop reflected the thinking of Rome, which was that the Vichy "revolution" against the secular state, including collaboration with the Nazi anti-Semitism, was a good thing.
In his memoir Fr. Boulier summarized the church's involvement in the anti-Semitism:
I could hardly believe Commander Garsonnin when I had confirmation of his words. The Mayor of Monaco went to find the Minister of State to try to get him to reverse the expulsion order. He slipped into the conversation: "Besides, you cannot make such a decision without referring to the bishop." – [The minister replied] 'The bishop! For weeks he has been at me ... that I take this measure!"
The evolution of the situation and the development of the National Revolution proclaimed by Vichy with the support of the episcopate had allowed Mgr. Rivière to exert increased pressure on the Minister of State. (RP, p. 140).
The hostility to the Jews and to Fr. Boulier was promoted at the national as well as the local level. At the time of Fr. Boulier's expulsion, some 800 of his young parishioners sent a petition to the French head of state, Marshal Pétain, seeking the return of their pastor. His office replied on February 12, 1942:
It appears that the conduct of the one for whom you have intervened, is not [deserving]. His attitude is clearly hostile to all the principles of the National Revolution and compels us to lose interest in his case.[7]
That Fr. Boulier was not arrested by the Gestapo was only because he went into hiding after being tipped off that they were looking for him. Other priests, such as Giuseppe Girotti (1905-1945) and Bernhard Lichtenberg (1875-1943), who defended the Jews, were not so lucky.[8]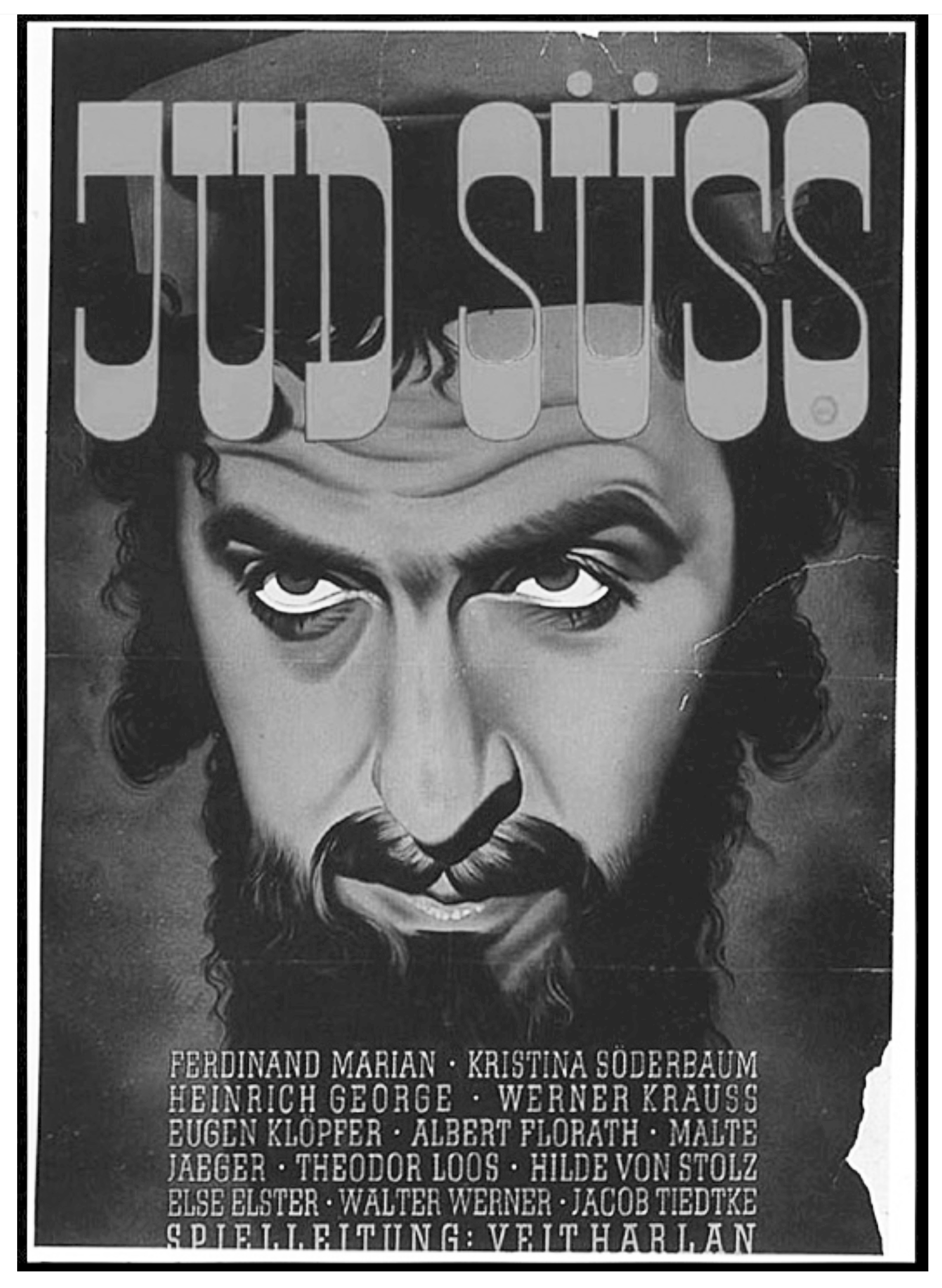 When this Nazi propaganda, the anti-Semitic film, Jew Süss was shown in Monaco, Fr. Boulier preached against it. He stated "this show leads to lust, cruelty and hatred among citizens." As a result he was fired from the Sainte Dévote ministry and deported.
One might think, as did Fr. Boulier, that as a pastor, he was just doing what he was paid to do, that is, to teach his flock the truth. But under the circumstances of World War II, the government and church changed the meaning of truth. From the Pope on down, the truth meant collaboration with Nazi and Vichy morality. The government paid Fr. Boulier to be quiet. But he was righteous and engaged in "serious misconduct" – he spoke out. In Monaco he was like the above-mentioned  Fr. Bernhard Lichtenberg who historian Raul Hilberg says, "fought almost alone" and who Yad Vashem called Righteous among the Nations.[9]
For resisting the persecution of the Jews, Fr. Boulier suffered materially and spiritually. For the rest of his 40-year ministry as a Catholic priest, he was not allowed to be a pastor. For one whose vocation was to be a pastor, that was a significant price to pay.
After the war Fr. Boulier lived and ministered in a Parisian working class parish and became a "red priest." For some 40 years the district was governed by a communist mayor. Like Dorothy Day, he did not join the French Communist Party (PCF), but he published his writings in their press, spoke at their events, advised them on church matters, and was active in their auxiliary organizations, such as Red Aid and their communist seashore summer youth camp. In 1950 the campers named one of their groups, the "Fr. Boulier" group. Another group was named after party head Maurice Thorez. Fr. Boulier counted PCF leader Jacques Duclos among his friends and in 1954 they jointly planned a national, year-long birth centenary celebration for Jean Jaurès, the trade-union and peace movement leader.
Dorothy Day was positive towards Fr. Boulier's ministry and wrote of it when her friend Fr. Clarence Duffy came under attack for addressing a 1949 peace demonstration in Lawrence, Massachusetts. In defending the priest, Day quoted Fr. Duffy's use of Fr. Boulier's example as a justification for collaborating with the communists. Day wrote:
But as Fr. Duffy likes to point out with Abbe Boulier who was rebuked for being on the platform with communists, "Your Eminence, the Communists are on the platform with me, not I with them." There is a clerical touch to this little joke, not an arrogance, but a realization of the dignity of the priesthood. Fr. Duffy epitomizes the hunger of many young priests throughout the country, for freedom to throw themselves into active work with the poor, and with organized labor.[10]
Like Dorothy Day, who was arrested in 1955 because of anti-war activism, Fr. Boulier in 1958 was convicted of a felony for defaming the French military concerning its conduct in the Algerian War. The PCF helped pay the fine. Because of his support of the peace movement at a time when Rome required collaboration with the cold war, he was suspended from practicing as a priest multiple times and over lengthy periods. This included  a "secular reduction" from 1962 to 1971.
From within the peace movement in the early 1960s during the Second Vatican Council, Fr. Boulier worked with Fr. Marie-Dominique Chenu, OP (1895-1990), a Dominican theologian and with Cardinal Leo Jozef Suenens (1904-1996) to help it support the peace movement. The language in the constitution Gaudium et Pax [Spes] contained the essence of Fr. Boulier's proposed text, "Every act of war which tends indiscriminately to the destruction of entire cities or vast regions with their inhabitants is a crime against God and against man himself and it must be condemned firmly and without hesitation." (RP, pp.  253-255).
Also from within the peace movement in the early 1960s Fr. Boulier helped in the identification and prosecution of Nazi war criminals such as Dr. Hans Globke, who had been allowed to become a leading member of the Federal Republic of Germany (West German) government. In this work, Boulier published several books: Nazi judges in the state apparatus of the Federal Republic of Germany (1962) and The Trial of Dr. Hans Globke (1963).[11]
Fr. Boulier never expected or received any payment for defending the Jews. When he died in 1980, he was lucky to simply be in good standing as a member of the Parisian clergy. Viewing his coming death and the problems in the church, Fr. Boulier commented in his biography:
The Church will survive. How? I do not know. And I'm going to die having experienced too much. Before sinking, I seal this story of my life in a bottle and entrust it to the sea. I hope someone will find it and perhaps will learn from it. I only ask him for a prayer and to soothe my poor soul in pain at the peril of the waves. (RP, p. 10)
Some 40 years later someone in Isreal found Fr. Boulier's bottle and learned from it. Maybe in another 40 years someone in Rome will do likewise.
Figure 2: Candid photos in 1939 of Fr. Boulier at his parish of Sainte Dévote in Monaco between 1938 and 1941.[12] 
Figure 3: When this Nazi propaganda, the anti-Semitic film, Jew Süss was shown in Monaco, Fr. Boulier preached against it. He stated "this show leads to lust, cruelty and hatred among citizens." As a result he was fired from the Sainte Dévote ministry and deported. (RP, pp. 176-177).
---
Toby Terrar is a Faculty Reader (1991-Present) City University of Los Angeles, L.A., now based in Silver Spring, Maryland. 
---
[1]Jean Boulier, J'étais un prêtre rouge: Souvenirs et témoignages  (Paris: Editions of L'Athanor, 1977), 254 pp.
[2]Colleen Dulle, "An inside look at Dorothy Day's contested canonization process," America: The Jesuit Review (December 16, 2021), online at https://www.americamagazine.org/faith/2021/12/16/dorothy-day-canonization-cause-dulle-242046
[3]Jean Boulier, I was a Red Priest: Memories and Testimonials) (New York: Red Star Publishers and CWPublisher, 2022) 726 pp., with annotations and appendix, $19.00, order at This email address is being protected from spambots. You need JavaScript enabled to view it.. A free PDF English translation is online at: https://cwpublishers.files.wordpress.com/2020/11/bk-33-boulier-red-priest-plus-glossary-ed-trans-t.-terrar-11-4-20-.4.pdf.
[4]Patrick Henry "Dorothy Day: Fighting Anti-Semitism," Today's American Catholic (Hamden, CT: April 28, 2021), online at https://www.todaysamericancatholic.org/2021/04/dorothy-day-fighting-anti-semitism/
[5]Report: Delivered to H.S.H. [His Serene Highness] the Sovereign Prince on 12 February 2015, p. 3, online at http://www.monacostatistics.mc/content/download/188420/2168781/file/Report%20of%20experts%20group%20-%2012th%20February%202015%20.pdf.
[6]Biographer Susan Ronald in A Dangerous Woman: American Beauty, noted Philanthropist, Nazi Collaborator: The Life of Florence Gould (New York: St. Martin's Press, 2015), pp. 253-254, described Monaco's ruler, Prince Louis II, as elderly, frail and entirely dependent on Roblot, who in 1940 became the Vichy plenipotentiary. Ronald, ibid. p. 258, pointed out that in the early part of the war the Nazis used the principality as a source for much-needed foreign (American and British) currency. Roblot facilitated German agents in acquiring multiple luxury hotels and casinos and he approved several Third Reich banks in opening local branches. These ayranized the "enemy assets" looted from French banks. Toward the end of the war the same system helped move German capital to Argentina. The principality had done the same for the White Russians in moving capital to France after the 1917 Bolshevik Revolution.
[7]Pierre Abramovici, Monaco sous l'Occupation [Monaco under the Occupation] (Paris: Nouveau Monde éditions, 2015), p. 111.
[8]In 1995 Yad Vashem declared Fr. Giuseppe Girotti to be Righteous Among the Nations. In 1996 it gave Fr. Lichtenberg the same honor. Professor Raul Hilberg in The Destruction of the European Jews (New Haven: Yale University Press, 2003), 3rd ed, vol. 2, p. 489.
[9]Ibid.
[10]Dorothy Day, "The Case of Father Duffy," The Catholic Worker (New York: December 1, 1949), vol. 16, no. 7, pp. 1, 4 at p. 4; online at https: //thecatholicnewsarchive.org/. Grateful appreciation to historian Rosalie Riegle for pointing this passage out.
[11]Jean Boulier, Les juges nazis dans l'appareil d'Etat de la Republique federale allemande [Nazi judges in the state apparatus of the Federal Republic of Germany] (Bruxelles: Editions de l'Association internationale des juristes démocrates, 1962) 126 pp. and Jean Boulier, Der Prozess gegen Dr. Hans Globke (Dresden: Verlag Zeit im Bild, 1963) 47 pp.; (English edition titled, "The Trial of Dr. Hans Globke," OCLC: 72011167).
[12]Abramovici, Monaco sous l'Occupation, p. 108