Fall 2022
Written by SP Editor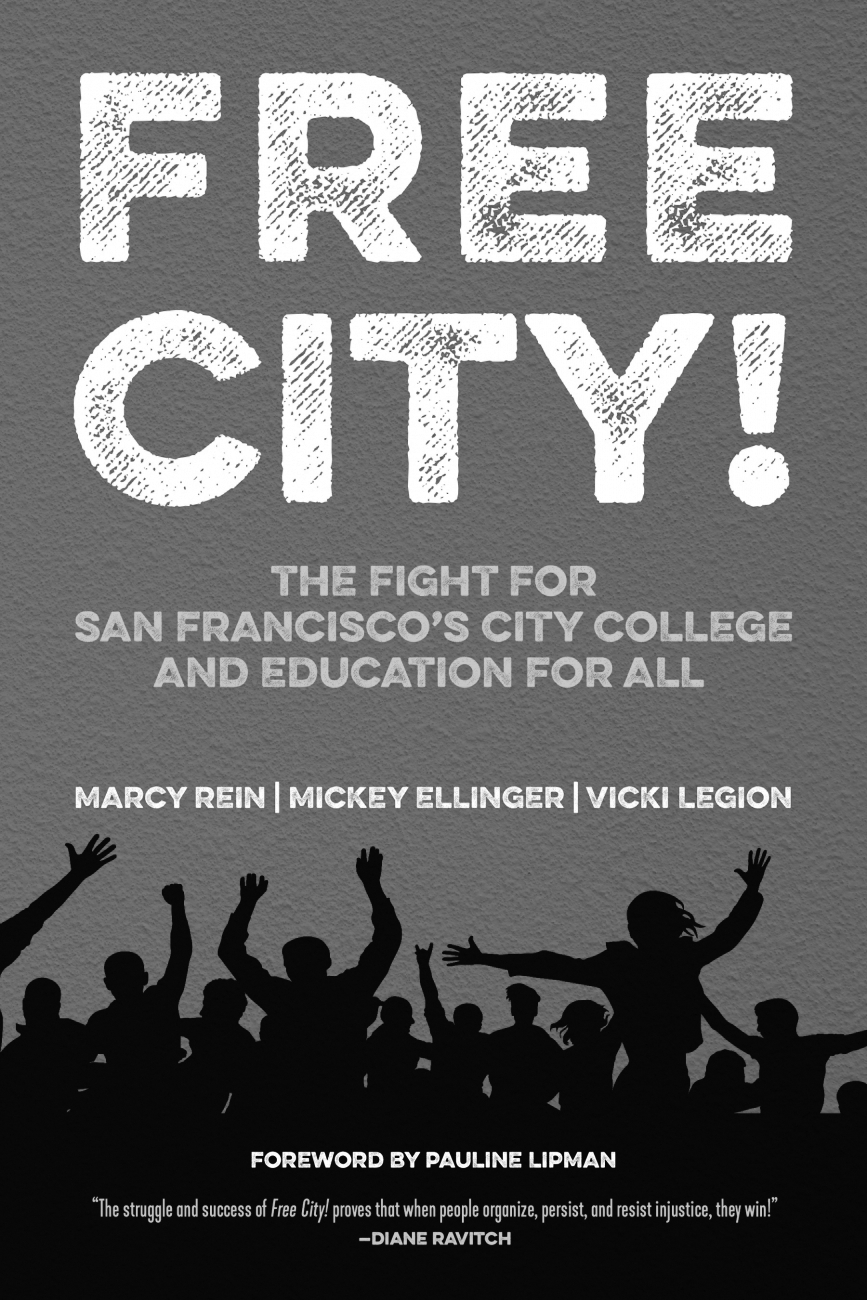 Free City! The Fight for San Francisco's City College and Education for All
City College of San Francisco, one of the largest community colleges in the country, is widely recognized as one of the best. But in 2012, the Accrediting Commission for Community and Junior Colleges told City to prove it deserved to stay open. A year later, the Commission moved to close the school, and the California Community Colleges Board of Governors put it under state takeover.
Free City!  tells the story of the five years of faculty/student/union/community organizing that kept the school open and won the most inclusive free college measure in the US. The following excerpt comes from Chapter 13, "Central City Rising." College administrators installed by the state-appointed "Special Trustee with Extraordinary Powers" announced the closure of Civic Center Campus one day before the start of the 2015 Spring semester. Citing seismic safety concerns, they said classes would move to the basement of the administration building at 33 Gough St.
The fight for the campus at 750 Eddy St. mirrored the larger fight for City, against a national "reform" agenda for community colleges that drives students towards debt and sidelines lifelong learning and community-serving programs.
The neighborhood around 750 Eddy St. had morphed over the years from San Francisco's red-light district to one of its most diverse and affordable areas. Neighborhood organizing in the 1980s won zoning restrictions that kept out luxury high-rises, and non-profit housing developers bought up land when it was still relatively cheap. Waves of immigrants from Southeast Asia joined the Greek, Arab, Indian, Filipino, African American, and LGBTQ residents of the neighborhood. By 2015, it was also home to large numbers of Latinx families displaced from the Mission.
Sunny Ngo left South Viet Nam in 1978 aboard a 42-foot boat with her brother, her parents, and 139 other people, reaching San Francisco two years later. A week after she arrived, a friend brought her to Eddy Street. A year later, she started working in the campus counseling office. By 2015 she was the dean's assistant, handling many of the day-to-day details that kept things running. Most students found out about the school the same way she had, Ngo said.
 "In the early years when a lot of refugees arrived, those were Grandpa and Grandma, and later those grandpas and grandmas sponsored their children. When the children came, Grandpa and Grandma brought the children to school and saw me and talked to me, 'Look, they just came,' [so I] introduced them to teachers… and later the grandchildren came," Ngo said.
For many of the new arrivals, the campus was the first friendly space they would find in their new country.
First responders
ESL Teachers were resources and counselors for the students. "They'd come up and tell you their problems," said Kevin Cross, who'd taught ESL at Civic Center for twenty-one years. "They'd get a phone call from their doctor or some government agency and they couldn't understand it, so [he pantomimed handing over a phone], 'Here, listen, teacher', so you'd have to listen, and be able to distill it down to 'You need to call or you don't need to call, and this is the number.' I've called, I've gone to the hospital because somebody got knifed as he was walking in the Mission. We've gone to marriages, we've gone to funerals, that's what we do."
Faculty at Eddy Street had developed strong bonds. Most of the full-timers had worked together for more than 20 years. They engaged in the broader City College community as well, serving in the Academic Senate, active in the unions. Many participated in the protests for more education funding and against the Student Success Act that set the stage for the accreditation crisis—and in the response to the crisis itself.
At the end of the meeting where they learned of the campus closure, faculty members exchanged private emails so they could plan more securely. Over the weekend they met at the AFT 2121 office. How could they inform their students and ease the blow of the closure? Dean Carl Jew told them not to show up at school on the first day of classes, but they unanimously rejected that directive. They made their own handout to give students. One side bore a simple message in English, Chinese, Vietnamese, and Russian: "The building at 750 Eddy Street is unsafe. School will open on Monday, February 2, 2015 at 33 Gough Street." The other side showed maps with directions from 750 Eddy to 33 Gough on foot and on the bus—a 20-minute journey. By phone, email, and Facebook messages they recruited higher-level students to come help translate into the 33 different languages spoken by the beginning students.
Early on Monday January 12 teachers gathered outside 750 Eddy to meet the students. The dean denied their request to set up tables in the parking lot, so the teachers counseled the baffled students standing on the sidewalk in the raw January fog. Eventually they were allowed to use part of the first floor, but congestion in the cramped hallway contributed to the chaos.
Students were angry, sad, confused, disbelieving. Teachers tried to reassure them that classes would start soon, and close by. They also asked more advanced students (ones they thought would understand) to sign a letter to the Board of Trustees. "We protest the surprise closure of our school…and demand to be included in plans for our school," it said in part. Veteran teacher Sally Winn drafted the message and presented the letter to the Board of Trustees at their next meeting.
A few teachers left Eddy Street to join AFT 2121 officers (President Tim Killikelly and Secretary Jessica Buchsbaum) and staff, ESL Chair Greg Keech and Academic Senate President Lillian Marrujo-Duck in a meeting with Chancellor Art Tyler and other top administrators.
Why now?
They met in the chancellor's "bunker," as many teachers called the bungalow on Ocean Campus that Tyler had appropriated for his office. The chancellor kept them waiting. When the meeting finally convened, AFT 2121 President Killikelly took the administration to task for their lack of transparency and failure to work cooperatively with the faculty.
 "We need to know who is saying that this building is not safe and needs to be closed now, and on what basis you made that decision, particularly in the way the decision was made at the last moment," Killikelly said. "If it's true that the documentation you sent me was the basis for the decision, we should've been discussing this last semester."
Tyler punted, saying that they'd been looking for alternative locations since November. General Counsel Steve Bruckman backed him up, saying they'd engaged real estate agents to help.
The Eddy Street building had been known to have structural issues ever since City College acquired it from the school district in 1973. It is made of brick, the type of building most vulnerable to earthquake damage. The city had red-tagged the building in 2000. In 1999, 2003 and 2007, the college made plans for seismic repairs at Eddy Street, but didn't follow through.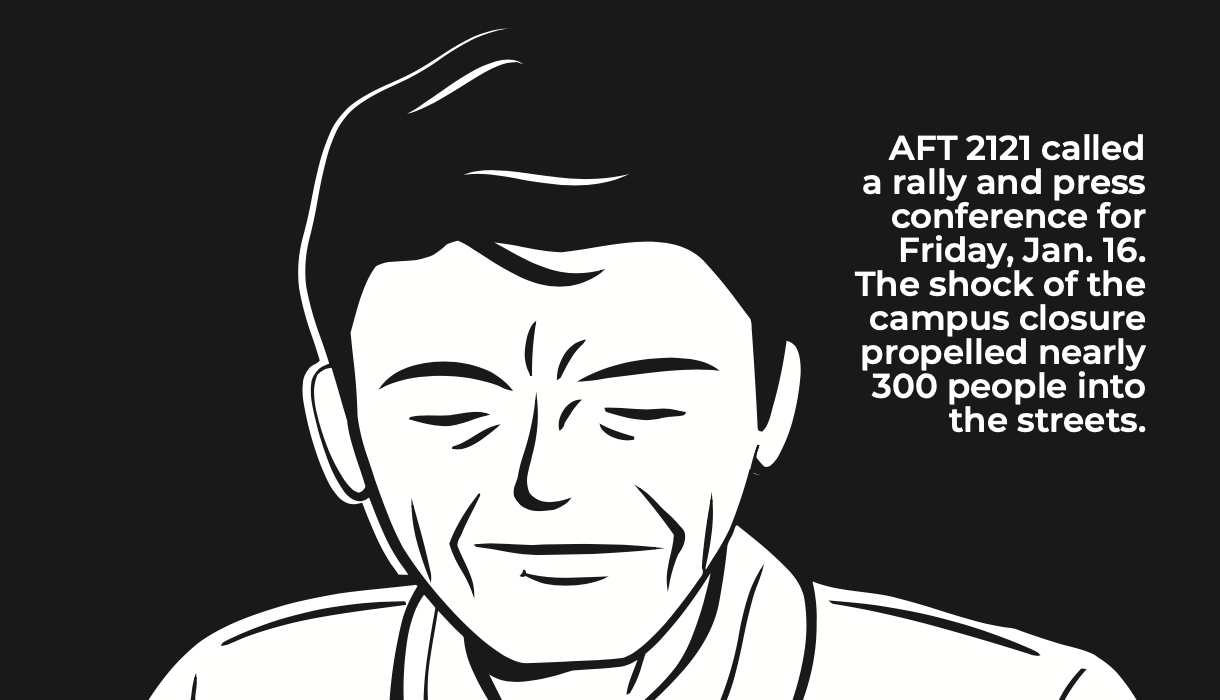 "Why would you not, over the course of eight weeks, turn to the experts in the location, in the neighborhood, in the classes, in the languages being spoken, in the students' needs—why did you decide—repeatedly, as you've said—that you would choose not to communicate?" Academic Senate President Marrujo-Duck asked.
"Because I didn't have a solution," Tyler said, sticking to his guns. After more sparring, Tyler finally agreed to consult faculty on the Gough Street move and negotiate over schedule changes that would be needed due to the semester starting three weeks late. . . .
AFT 2121 called a rally and press conference for Friday, Jan. 16. The shock of the campus closure propelled nearly 300 people into the streets. Civic Center students and faculty, bolstered by colleagues from other campuses, massed at 750 Eddy and marched to City Hall. In signs and impromptu speeches, they denounced the top-down decision to close the campus and demanded a return of democracy. "We Are All Civic Center," the union declared on its web page, echoing the slogan that united people from the beginning of the accreditation crisis, "We Are All City College."
The Gough Street quake
Teachers continued preparing to move to Gough Street, despite their concerns about working conditions there. . . .
Around 9 p.m. on Wednesday, January 28, Civic Center faculty got an email from administration summoning them to a meeting at Ocean Campus the next day at 10 a.m.
A 9 p.m. notice for a 10 a.m. meeting? About a dozen faculty turned on a dime and showed up the next morning, bolstered by the Local 2121 officers and the Academic Senate's Marrujo-Duck. They got there ahead of the administrators and took the seats in the front of the room.
 "The administration came in with the suits, Tyler and [President of Campuses Virginia] Parras and some other suits. There were chairs set up in the front of the room and they went to sit down there," said Kevin Cross. "Jessica Buchsbaum said no, those are for us. It was totally on the terms of the teachers," he said.
Then the chancellor announced that Gough Street, too, had seismic issues and would need to be closed. "Since 1973, two years after we acquired the building, we have been non-compliant. That was not known to me or my staff." He went on to blame past facilities staff, and the fact that "our records are in boxes instead of a retrieval system" for the late discovery. Faculty pressed for clarity on why the sudden closure was needed, why the administrators had once again failed to consult them—and why boxes were still being moved from Civic Center to Gough. . . .
For more than an hour and a half, faculty members upbraided the administrators for shutting them out of the process, for taking drastic action that would wreak havoc on their students. The meeting ended with formation of a task force that was to include teachers, students and administrators. Planning for how to immediately relocate classes was dumped on Vice Chancellor Susan Lamb. She gathered ESL Department Chair Greg Keech and a few of the campus deans and ESL coordinators. They figured out how to disperse classes between the Mission and Chinatown campuses.
What was to be the first day of classes at Gough Street was far more organized than January 12 at Eddy Street, if no less traumatic. The prospect of having to leave their neighborhood and schlep to the Mission or Chinatown on the bus dismayed many students.
 "I had students who came to Gough Street and they came and hugged me and cried right there, we were crying," Sunny Ngo said. The first day of the semester we had told them we would be teaching them at Gough Street and they thought, 'oh, not too far,' but when we told students we can't teach them there either they cried, they came and hugged me, when would they see me again? It was like the end of the world, no more school." . . .          
Central City comes together
With the dispersal of students to the Mission and Chinatown campuses, it looked like CCSF might lose its presence in the Tenderloin for good, stripping ESL classes from the neighborhood so many immigrants called home. AFT 2121 put staff organizer Athena Waid on the case.
She talked to the union's longstanding allies in Jobs with Justice. Community Housing Partnership owned seventeen affordable buildings in the Tenderloin, and JWJ board member James Tracy was a veteran of San Francisco's anti-displacement struggles. "Let's go talk to some people," he said. He introduced Waid to key organizations in the Tenderloin, and teams of faculty and students visited the community groups.
 "We framed it as an equity issue: We needed to keep a campus in the Tenderloin," Waid said. "We discovered a lot of feeling in the community that City wasn't good at checking in on community needs. We said this could be an opportunity to make it better," she said.
Some groups jumped on right away, like La Voz Latina, an organizing project of the Tenderloin Housing Clinic. "Within a day or two [of the closure] "people were coming here, what do I do? I've been going to this campus for many years, what do I do?" said Kelly Guajardo, program manager at La Voz.
 "We meet a lot of people who are new here and they just take intensive courses for a few months just to have some basic competency and it opens doors," Guajardo said. "It's hard for me to spell it all out because it's everything:  It's how do you take the bus, how do you navigate this transit system, how do you apply for jobs, read postings, apply for housing. Everything's in English. . . so it's the difference between being able to thrive and have some self-determination and relying on interpretation which is often really flawed," she said.
The Central City Coalition for Public Education (3CPE) took shape, with Community Housing Partnership, the Vietnamese Youth Development Center, Young Workers United, and the Chinatown Community Development Center joining La Voz and Glide Memorial United Methodist Church, a famous social justice church in the Tenderloin.
 "We built trust among coalition members by going to each other's meetings and helping with events," [ESL Resource Coordinator] Vivian Ikeda said. Coalition meetings and facilitation rotated among the different organizing groups.
James Tracy approached the office of Jane Kim, the San Francisco supervisor for District 6, which included the Tenderloin. Kim's aide Bobbie Lopez challenged him to show that the community cared, saying that if they could get 400 people in the streets, the supervisor would take it on. 3CPE put together a petition that asked Kim to sponsor a resolution urging the City College administration to immediately find a new campus in the central city area. They translated it into six languages and collected more than 2,000 signatures.
Around 600 people answered the call to protest at City Hall March 5, and they reflected the spectrum of the neighborhood itself. . . .
 "Anytime you can get six hundred people from a neighborhood slandered as a collection of calamities, it shows another face of the Tenderloin the press doesn't get," Tracy said. Six days later, Supervisor Kim introduced a resolution that urged the City College administration to present a plan for a prompt retrofit of 750 Eddy St. and find a temporary location in the Tenderloin/Central City for the displaced classes. When it came to a vote, it passed unanimously.
Back on campus
[The task force created out of the January 29 emergency meeting was slow to convene and even slower to take action.]
The Central City Coalition hit the streets again May 6, this time holding the "Tenderloin Free School" in Boedekker Park. Classes included workplace rights, how to grow plants in an SRO, how to get a driver's license under AB 60 (the recently passed law that allowed undocumented Californians to get licenses), an ESL teach-in, and Vietnamese-American history. "If you won't find us a place to hold classes, we will hold them in the park," Waid said.
Unbeknownst to the organizers, and even to the faculty on the task force, the administration had just issued a press release May 5 announcing that they would rent space from the Art Institute of California at 1170 Market St., on the edge of the Tenderloin. When the news did surface, the allies who worked so hard to make it happen enjoyed a brief moment of victory and vindication.
 "'If we hadn't made all the noise we made, we wouldn't exist as an entity right now. There would be no Civic Center," Venette Cook said.
An unusual constellation of factors lined up to make the win possible, according to James Tracy. "The foremost was that City College of San Francisco, still reeling from its accreditation crisis, needed to preserve political goodwill with members of the city's Board of Supervisors. It was a rare moment in organizing when bad publicity, together with the mobilization of sympathetic politicians, actually amounted to real leverage," Tracy said.
Despite the outreach efforts, class sizes hovered around seven to ten that first semester on Market Street…. Compounding the enrollment losses at Civic Center, another 1,400 students were robo-dropped under the pay-up-front policy and didn't return.[i] Faculty ranks had been thinned by close to 400 since the accreditation crisis hit, and the school was seeing its physical footprint downsized as well.
Realizing that the 1170 Market St. site would only be temporary, 3CPE organizers kept pressing for updates and a timeline on the restoration of 750 Eddy. . . Some administrative workers carried on at 33 Gough St., despite its being declared unsafe for students—and the fact that STWEP Agrella had already put the building on the real estate market early in 2014.
The sudden and seemingly careless closing of 750 Eddy St. was "confusing, yes, and students were worried," said Kelly Guajardo of La Voz. "Is this part of a larger plan of just shutting it down? They're just going to take it and chip away, chip away, chip away? …It's In the trend of taking away resources from the most vulnerable, doing it in this way that's careful enough, it's not obvious or overt but in fact it's huge," she said. But for the moment, the alliance of City College teachers and their union, students and their community had halted the erosion—and the relationships they formed in the process would prove pivotal a year later.
---
[i] Figures from a presentation to the CCSF Board of Trustees on Oct. 22, 2015 by Vice Chancellor of Student Development Samuel Santos, item XI. A. The policy enforced by STWEP Agrella required students to pay all their fees at the time of enrollment, before their financial aid had even arrived. Those who couldn't pay were automatically dropped ("robo-dropped") from their classes.
---
Marcy Rein is a writer, editor, and organizer who worked for the International Longshore and Warehouse Union.
Mickey Ellinger is an author and writes regularly for News from Native California and other California-based publications.
Vicki Legion has been on the faculty at City College of San Francisco since 1984 and was a core activist of the Save City College Coalition.
Pauline Lippman is a professor in the Educational Policy Studies Department, University of Illinois-Chicago.