Written by Fred Brooks and Eloïse Maulet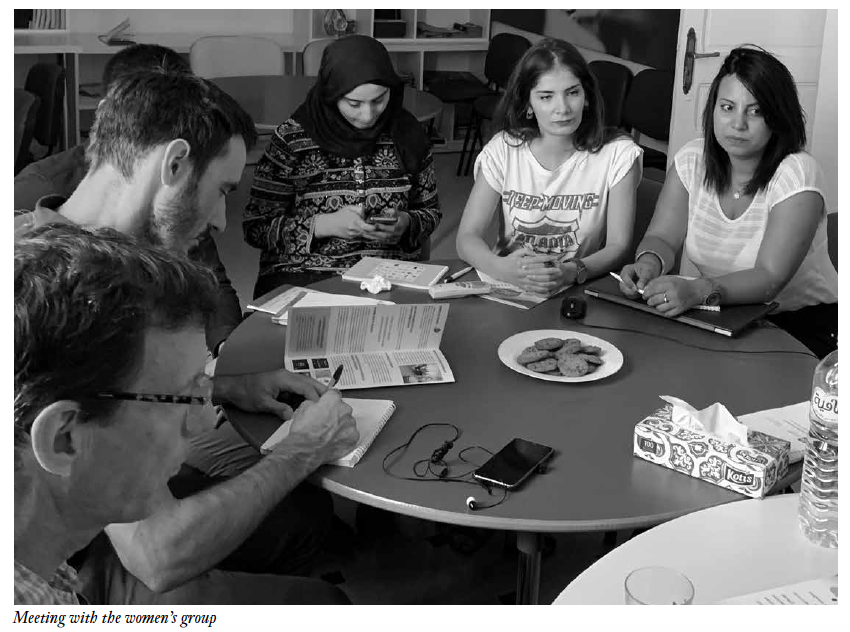 Since the 1956 break from French colonial rule women have consistently won an expansion of rights, freedoms and equal treatment under the law. This began in 1956 with the Personal Status Code that abolished polygamy, gave women equal rights to file for divorce, created the first minimum age to marry, and eliminated the code requiring a wife to obey her husband. Tunisia was not only the first Arab country to codify into law these rights for women, but has remained at the forefront of the fight for women's rights in the entire MENA region. These new family codes had been promoted by a liberal faction of Islam that had been brewing for more than fifty years in an effort to make Islam more compatible with modernity.
One activist author and scholar who promoted this interpretation of Islam was Tahar Haddad in an influential book published in 1930 titled Our Women in the Shari'a and Society. While this new interpretation of Islam was not dominant, and continues to be controversial, President Bourguiba decided to support it and was a strong defender of the Personal Status Code throughout his thirty-year rule. Under Bourguiba's administration women won access to birth control in 1962, and the right to abortion in 1973.
According to Hayat Alvi, some scholars argue the expansion of women's rights during the Bourguiba administration should be considered "institutional feminism" or "state feminism," and that Bourguiba expanded women's rights less as a response to grassroots activism and more as a political strategy to curry favor with western governments. Regardless of their origin, since the 1980s and especially since the 2011 Jasmine Revolution, a number of grassroots feminist organizations rose up and have continued the fight for expansion and full implementation of women's rights and equality. The Tahar Haddad club was prominent in the 1980s for creating forums and debates on numerous issues affecting women. Although it only lasted two years a feminist magazine titled Nissa was founded in 1985. In the 1980s the two most prominent and enduring women's organizations were founded. In 1982 the Association Tunisienne des Femmes Démocrates had an activist orientation. The research based Association des Femmes Tunisiennes pour la Recherche et le Développement was founded in 1986. Both organizations have been active and at the vanguard of fighting for women's rights in Tunisia for more than 3 decades.
Women's Rights and Empowerment Since 2011 Jasmine Revolution
Just as they were in Egypt, women in Tunisia were front and center in the massive protests that toppled dictator Ben-Ali. Since 2011 numerous civil society and women led organizations were created including Aswat Nissa (Women's Voices) which we met with during the Organizers' Forum. Aswat Nissa is organizing projects in four areas: 1) preventing violent extremism, 2) advocating to include women's voices in security sector reforms, 3) leadership training of women to run for political office, and 4) organizing to prevent violence against women. It is beyond the scope of this article to describe and analyze the organization's accomplishments in all four areas, but we will expand on Aswat Nissa's organizing to prevent domestic violence and to increase the number of women elected to political office.
In 2017 Aswat Nissa pushed for and helped win passage of Law 58, designed to prevent violence against women. On paper, Law 58 is one of the strongest anti-domestic violence laws in the world. Over 3,000 women per month file violent abuse complaints at local police departments (and it is well established that most domestic violence goes unreported). Law 58, like many others, lacks full implementation on the ground. Shortcomings include the following: requiring women to travel long distances to district offices to file reports, a lack of trained personnel to take domestic violence complaints, and not providing private spaces to file complaints. Aswat Nissa is continuing the fight on multiple fronts to fully implement Law 58. These organizing campaigns include the following: 1) creating more domestic violence shelters (currently only seven in entire country), pushing local and national governments to adopt gender-sensitive budgeting (which would fully fund Law 58), and in conjunction with the International Day for the Elimination of Violence Against Women Aswat Nissa sponsors sixteen days of activism every year from November 25 to December 10.
According to the 2018 Global Gender Gap Report, Tunisia ranks high in gender equality for education and health, but gaps between men and women are wide in the areas of economic and political empowerment. Tunisia has low rates of women with powerful positions in government and private corporations. Large income gaps exist between women and men. Since the new constitution was approved, Tunisian women have made significant gains in terms of elected office; in 2018 women made up 31% of parliament. Some of these female parliamentarians were trained in political skills through Aswat Nissa's Political Academies.
Over the past seven years over 200 women have graduated from these leadership training sessions, and numerous graduates have run for office and won elections. Seven of the twenty graduates of the 2018 Political Academy were elected to either city councils or parliament.
This quote from Takwa Ghanjati, a graduate of Aswat Nissa's seventh Political Academy sums up the challenges and satisfaction of being a young woman from an interior rural area entering the fray of local politics:
"It's true that political work in the inner regions of the country can be difficult, but it's a challenge that women face. It's one of the most beautiful experiences of my life. It is true that I lived many negative moments but I learned a lot and appreciated this experience. I do not want women to miss this opportunity, on the contrary they have to integrate politics to live this experience." (from Aswat Nissa website).
With the kind of courage and grit Ms. Ghanjati exhibits, the future of women's rights and empowerment in Tunisia is bright!
Eloise Maulet is the African director for ACORN International and a long-time organizer with ReAct, the transnational campaign organization, splitting her time between Douala, Cameroon and Grenoble, France. Fred Brooks is a professor with Georgia State University School of Social Work in Atlanta.