Summer 2022
Written by Suzanne Gordon, Steve Early, and Jasper Craven
How A "Rent-a-Vet" Strategy Helped Big Business in California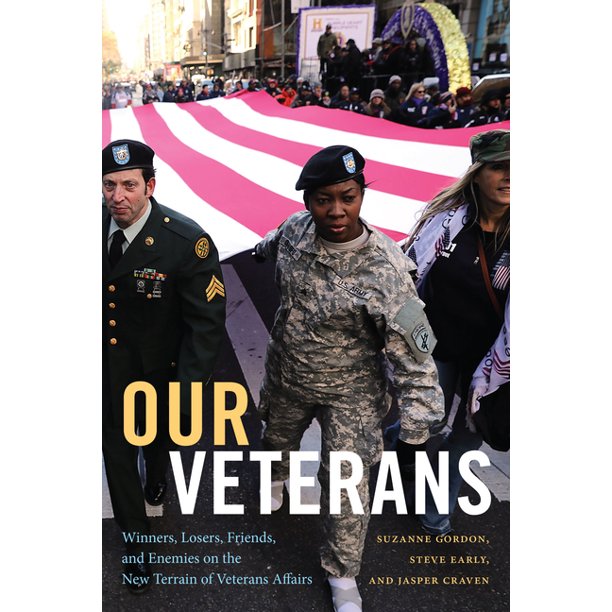 Editor's Note: In their new book Our Veterans: Winners, Losers, Friends and Enemies on the New Terrain of Veterans Affairs (Duke University Press), co-authors Suzanne Gordon, Steve Early, and Jasper Craven take a critical look at the advocacy role of Veterans Service Organizations (VSOs). At the national, state, and local level, VSOs not only lobby for better benefits for the nineteen million Americans who served in the military; they also take positions on foreign and military policy questions, and social programs that would benefit all poor and working-class people. Unfortunately, as the authors report, some VSOs have not been supportive of efforts to universalize programs, like the GI Bill or the veterans' healthcare system, so that millions of non-veterans could attend college or get medical care on a more affordable basis. In this excerpt from a chapter of their book, entitled "Stolen Valor," the authors describe one of the more egregious examples of what they call the "corporatization of veterans affairs," which has even undermined on-going union efforts to save the Department of Veterans Affairs (VA) from privatization.
For more information on how to order Our Veterans, see https://www.dukeupress.edu/our-veterans)
Too often, advocates for U.S. military veterans have regarded wider social access to government benefits, like free higher education or universal healthcare, as a threatening encroachment on what should be, now and forever, a veterans-only entitlement. This narrow and ultimately self-defeating mindset has led some Veterans Service Organizations (VSOs) down a not-so-valorous path. In California, the point man for these tawdry expeditions has been a state capital insider long known simply as "Mr. Veteran." Until his recent retirement, Pete Conaty spent two decades as president of Pete Conaty & Associates, a lobbying firm that boasted about its involvement in "over 500 legislative bills dealing with military and veterans' issues." Among Conaty's personal achievements is a state law making it easier to prosecute "stolen valor phonies"—non-veterans who claim to have served in the military—and a measure designating March 30 as "Welcome Home Vietnam Veterans Day" in California.
Conaty was decorated for his own combat role in Vietnam. He remained in the Army until 1986, when he retired as a lieutenant colonel. After leaving the service, he joined the staff of a newly elected State Assembly member, later becoming his chief of staff and then chief consultant to a key Assembly committee. After Conaty opened his Sacramento lobbying shop in 1996, he signed up, as clients, VSOs directly representing over 800,000 veterans in the state. These California voters belonged to more than 1,000 local posts of the American Legion, Veterans of Foreign Wars (VFW), and other groups. Conaty's well-advertised connection to this grassroots network enabled him to devise a "rent-a-vet" strategy that became a big money maker for his firm and a winner for corporate clients in several high-profile California referendum campaigns. 
Win or lose, Conaty's rallying of veterans behind state legislation or ballot measures has put them—without most even knowing about it—at odds with labor, consumer, and tenant groups, whose membership also includes many veterans. In 2012, for example, Mercury Insurance and its wealthy CEO, George Joseph, wanted to deregulate auto insurance in California and roll back consumer protections previously approved by voters in the state. The big auto insurer spent $17 million to get Proposition 33 on the ballot. However, to win voter approval, backers of the measure needed a display of public support from outside the insurance industry.
 Among those willing to be Mercury's beard for a fee was Pete Conaty. As Jamie Court, a Prop. 33 foe and leading California consumer advocate, reports, Conaty made a paid appearance on behalf of Mercury in the state capitol "wearing his veterans' cap and brass." Then, says Court, Conaty's "veteran clients were trotted out across the state in order to falsely drape an American flag on an anti-consumer measure" that would allow firms like Mercury "to charge low-income drivers, including retired military personnel, more if they had a lapse in their auto insurance coverage." Fortunately, Court's own organization, Consumer Watchdog, and allied groups were able to defeat Prop. 33, even though they were outspent 200 to 1.
A Friend of Asbestos Makers
Four years later, Conaty went to bat for asbestos manufacturers and their attorneys around an issue directly affecting Navy veterans. About 30 percent of all those who have died from asbestos-related lung cancer served in the military during the era when this flame-retardant material was used in naval vessels and buildings on bases. After years of litigation about their liability, the firms that produced asbestos—and long denied that it was hazardous—were forced to set up compensation funds that have paid out more than $17 billion to about three million victims, most of them civilian workers.
In 2016, however, lobbyists for the industry persuaded Blake Farenthold, a conservative Republican from Texas, to file a House bill mandating public sharing of sensitive personal information about veterans and other asbestos fund claimants under the guise of reducing fraudulent claims. Then Democratic Minority Leader Nancy Pelosi challenged Farenthold's own claim that the Republican majority was only interested in assuring greater "transparency." According to Pelosi, their bill was designed to "support asbestos companies and intimidate victims."
In a letter to the House leadership, fifteen national veterans' organizations all agreed with Pelosi. They denounced the bill as an "offensive invasion of privacy to the men and women who have honorably served" and pointed out that it did "nothing to assure their adequate compensation or to prevent future asbestos exposures and deaths." Yet back in Sacramento, Conaty responded to a request for lobbying help from the US Chamber of Commerce by getting state officials of Vietnam Veterans of America (VVA), the Military Officers Association of America, the Legion, and three other groups to send a letter to Congress backing Farenthold's bill, even though their national organizations were all opposed to it. The House proceeded to pass Farenthold's bill anyway, despite President Barack Obama's veto threat.
Veterans Against Drug Price Relief?
Later in 2016, Conaty assembled an even bigger coalition of state veterans' groups on behalf of Big Pharma. This time, his efforts were not disavowed by any of their parent organizations, including the VVA. Both Conaty and local veterans' organizations were financially rewarded by an industry that spent more than $90 million to defeat Proposition 61, the California Drug Price Relief Act. According to Consumer Watchdog, Conaty's firm received $5,000 a month, and then $10,000 monthly as part of this "vote no" campaign; local veterans' groups received thousands of dollars for Prop. 61–related "meetings and appearances."
Backers of Prop. 61, like the California Nurses Association, collected hundreds of thousands of signatures to place it on the ballot so future bulk purchases of prescription drugs by the state would be tied to prices paid by the VA for the same drugs. The VA is empowered by federal law to negotiate better drug prices for its nine million patients, so it pays less for pharmaceuticals than any other public agency in the US, including the state of California. In 2017, for example, the VA paid an average of 54 percent less for prescription drugs than Medicare did." Prop. 61 promised California taxpayers similar "drug price relief" to the tune of $1 billion per year by lowering the cost of prescriptions for millions of people covered by the state's Medicaid program.
Prop. 61 in no way undermined the better deal on drug prices that veterans get as VA patients. If approved by the electorate, Prop. 61 would have greatly benefitted lower-income Californians who are people of color. But voters in Richmond, California, a majority minority community, would never have known that from the billboard that suddenly appeared on 23rd Street, just several blocks away from the city's Veterans Memorial Hall. Paid for by Big Pharma, the billboard depicted an older African American wearing a generic veterans' organization cap. His message to local voters, courtesy of Pete Conaty, was that Prop. 61 was a threat to veterans and their healthcare. Billboards like this, with images adjusted to local demographics, popped up all across the state.
A Front for California Landlords
In 2018 similar messaging helped sway voters against Proposition 10, which was defeated after $74 million worth of negative advertising. This time, millions of California voters got glossy mass mailers from "a coalition of veterans" that relied on "major funding" from the California Association of Realtors and two big real estate investors. Among the groups listed were Pete Conaty's usual VSO clients, like the American Legion, VFW, and AMVETS, along with their lesser-known cousins like the American GI Forum, the Women's Veterans Alliance, and Jewish War Veterans. In one mailer, California voters were told by Latino veteran Frederick A. Romero from the GI Forum that "Prop 10 will eliminate homeowner protections and could reduce average home values by $60,000." In the same mailer, there was a full-page photo of Col. Lorna Griess (ret.), a veteran of twenty-six years in the Army Nursing Corps, who is holding a framed display of her service decorations. Said Griess: "I was a veteran in Vietnam. Prop 10 will make housing less available for homeless and struggling veterans."
What was Prop. 10 really about? As housing activist Amy Schur explains, it would have removed "a state impediment to municipal action against rent gouging and skyrocketing rents" by repealing a state law that limited local rent regulation to housing built after 1995 and allowing big rent hikes when tenants move out of rent-controlled units. Prop. 10 had the support of the state Democratic Party, the city councils of San Francisco and Los Angeles, and major unions representing state employees, teachers, nurses, and other hospital workers.
As one former Sacramento lobbyist, also a veteran, told us, "rent control is not going to harm veterans. It's going to absolutely help veterans who need a leg-up, who are elderly or just coming back from military service." But, as this Conaty critic observed, the truth mattered little as long as "Mr. Veteran" was being paid the "ton of money" that eventually enabled him to sell his lobbying firm, with its lucrative client list, and retire. Before that career transition, Conaty swung into action, one more time, on behalf of Big Pharma. As he had done so often in the past, according to this critic, he rounded up "the most conservative, whacked out vets he could find" –in this case, to repeat "Republican talking points" at a forum on veterans' healthcare in the state capital.
VA Bashing for Big Pharma
That gathering of California VSO officials was held at the Sheraton hotel in Sacramento in January, 2020. As posed by Conaty, the question for discussion was intentionally provocative: "Does the VA Think Veterans' Health is Worth It?" To a more neutral observer, that framing seemed somewhat askew from the outset, since the Department of Veterans Affairs (VA) obviously values veterans' health care and spends more than $100 billion a year delivering it. Under heavy fire at the meeting was a promising new partnership between the VA's Department of Pharmacy Benefits Management Services and the Boston based Institute for Clinical and Economic Review (ICER). The ICER is a non-profit, non-partisan independent research organization that "evaluates the clinical and economic value of prescription drugs, medical tests, and other health care and health care delivery innovations."
The VA had wisely sought ICER advice to better inform its own negotiations with big pharmaceutical firms about appropriate pricing of VA bulk purchases for its nine million patients--and to provide data about the cost-effectiveness of various drugs on offer. Within days of this partnership being announced, the powerful drug industry lobbying arm known as the National Pharmaceutical Council, unleashed a campaign to discredit the ICER and undermine its work on behalf of veterans. The main vehicle for this effort was an industry-backed, as an advocacy group called the Partnership to Improve Patient Care (PIPC), which claimed that ICER price metrics were "discriminatory" against patients. 
PIPC is chaired by former California Congressman Tony Coelho, a Democrat forced to resign in 1989 after a scandal involving his non-reporting of junk bond purchases made with money he borrowed from a savings and loan official. Among past PIPC initiatives on behalf of the drug industry was a 2016 lobbying effort aimed at blocking the federal Medicare program from securing similar cost savings on expensive infusion drugs. (To this day, federal administrators of Medicare's Part D pharmaceutical benefit, are prohibited, by law, from negotiating better prices with the pharmaceutical industry.)
Throughout its then two-year collaboration with the VA, ICER assessments of drug quality and pricing had never resulted in a single veteran being denied access to any needed drug. Where the ICER did help the VA save tax-payer dollars on its prescription filling, that just freed up money for other patient treatment. At Conaty's Sacramento forum, this track record of achievement was debunked and attacked by his main guest, a drug industry lobbyist and corporate lawyer named Sara van Geertruyden, who serves as PIPC's executive director.
With no representative of either the VA or the ICER present to set the record straight, van Geertruyden launched into an attack on their collaboration that invoked the specter of healthcare rationing and discrimination against the disabled. Conaty joined the fray by accusing the VA of taking drugs off its formulary, in cahoots with ICER and without any explanation to patients. This intervention triggered a rant, by a GI Forum official, about federal health care administrators in general and Medicare for All advocates in particular. "They are just doing rationing," he charged. "They are trying to get single payer here in California and trying to put us in single payer. So pretty soon someone who needs a sex change operation will be more valuable than veterans who served the country."
Later in 2020, Pete Conaty's "rent-a-vet' strategy succeeded again in another statewide referendum campaign. He enlisted his VSO clients in "Californians for Responsible Housing/Vote No on Prop. 21 Coalition." Like Prop. 10 before it, Proposition 21 tried to expand the scope of local rent regulation so more tenants could be protected from unreasonable increases at a time when millions of Californians faced loss of their rental housing due to pandemic-related unemployment. After heavy corporate spending against it, Prop. 21 was defeated by roughly the same 20-percent margin as Prop. 10 two years earlier.  Among the prominent Californians on the losing side, for a second time, was ninety-year-old Dolores Huerta, a longtime social justice advocate and cofounder of the United Farm Workers. Along with Cesar Chavez, Huerta braved beatings, death threats, picket-line arrests and jailing when they struggled to improve housing conditions and workplace protections for immigrant farm workers. In tribute to those valorous efforts, Chavez's name now adorns countless schools, streets, and community buildings throughout California. Thousands of units of low-income housing have been built or renovated by a foundation named after him.
Yet, thanks to Pete Conaty, the most famous name in Latino labor history popped up on the "Vote No" side of the Prop. 21 campaign. Among the eighteen veterans' groups opposed to making housing more affordable in the Golden State was the Cesar Chavez Chapter of the American GI Forum in Sacramento. 
---
Suzanne Gordon is the author of two previous books on veterans' issues, Wounds of War and The Battle for Veterans Healthcare, both published by Cornell University Press. Steve Early is a former organizer for the Communications Workers of American and longtime labor journalist. Jasper Craven is a widely-published investigative reporter and researcher for the Veterans Healthcare Policy Institute. For more on their current collaboration and a schedule of book-related events, see https://ourvetsbook.com/